It is common for financial advisors to meet a fair number of successful entrepreneurs. But in addition to that normal experience, I also had another career as a professional geologist in the oil and gas business. In both careers I met some truly unique people with life stories that had business and life lessons embedded in them. Here are a few more that I think are interesting cases, and my thoughts about what they taught me. Again, in all of the anecdotes to follow I will use false names, as many of these entrepreneurs would shun any sort of publicity, however mild.
Tim, "Bartlett Resources"
I met a man we'll call Tim many years ago in Colorado when I was working as a consulting geologist. His firm needed some oil and gas work done on a project basis, so I worked for them for a while. Along the way I heard Tim's story. Tim had a PhD in physics and had invented a few scientific instruments. The one that grabbed everyone's attention was a magnetometer. These could be towed behind an airplane to make aerial magnetic surveys very rapidly. The precision was so high that the instrument could tell the magnetic signal difference between a large piece of iron ore sitting on a table on the second floor of a building, and one resting on the ground floor, all while traveling 1,000 feet above the surface at 150 mph! This was incredibly useful in exploring for both petroleum deposits and ore deposits.
Aeromagnetic Survey Plane With Exploration Magnetometer: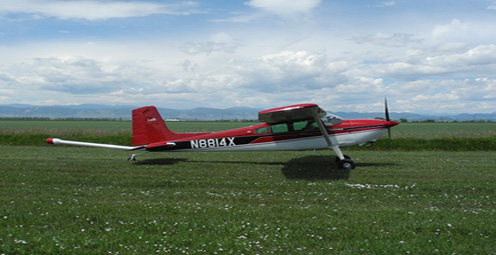 Source: fourwinds10.net
But the US Navy loved it too, because it was a fantastic device for detecting submerged submarines. Indeed, during the Cold War this was a big deal, since the Navy's defense doctrine was to know the whereabouts of all potential enemy subs at all times. I learned later that my brother had used these devices on anti-submarine patrol when he was in the Navy. It is still used in this way by many nations, as far as I know. So this was the premier instrument of its type on earth at the time (1985). There had once been a problem with it though. When Tim started out after getting his patent on the new magnetometer, he set up a manufacturing facility and proceeded to put them out by the hundred. Unfortunately, something went wrong in the manufacturing process and one by one they were all returned for repair or rebuilding. Soon enough, Tim had a warehouse full of broken and unusable magnetometers.
US Navy P-3 Orion With Submarine Detection Magnetometer: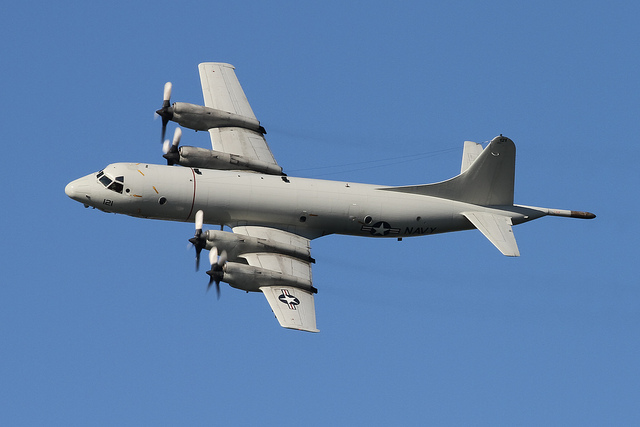 Source: flickr.com
Here is where Tim proved his skills were not confined to simply inventing technological things. He realized that his business would die if he didn't find a quick solution and get some new instruments out to his customers. I don't know who approached whom, but I know Tim made contact with a skilled manufacturing firm that was capable of retooling to build his instruments in high volumes with very good quality controls. In negotiating with them he realized that he would only get a deal if they controlled the production and cash flow, and simply paid him a royalty of 12.5%. He somehow found a way to accept the loss of control and ownership involved, apparently reasoning that a bird in the hand was worth two in the bush.
It was a very wise decision. Within a few years his magnetometer dominated global sales and he was extremely well off, even though he only got his royalty payments. He also avoided the worry of running a business he knew he was unqualified to run. The manufacturing firm saved the day by putting out large numbers of well-constructed instruments, and Tim's reputation recovered nicely. When I look at new technology firms nowadays I take a special interest in whether the inventor has hired appropriate business staff to run the thing, or whether he or she insists on control.
I also take a special interest in evaluating whether a firm's founders are reasonable when they make an IPO of their stock, or if they expect the world in exchange for a story. I have even avoided a couple of small-scale venture capital fiascos because of this lesson. In the realm of publicly traded companies, I have been unwilling to buy into the famously pricey IPO for Alibaba Group Holdings Ltd. (NYSE:BABA), and also the IPO for GoPro Inc. (NASDAQ:GPRO). It is true that they both surged in the early goings, but where are they now? Neither has worked out in the long run.
Aeromagnetic Survey Map: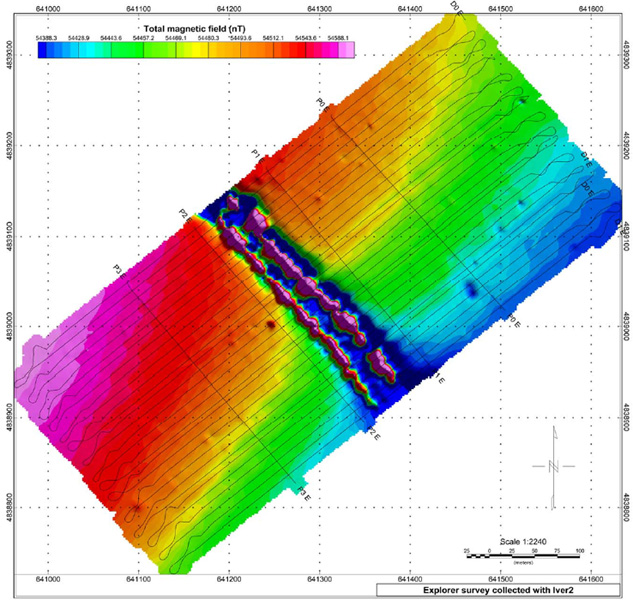 Source: earthexplorer.com
On the other hand, a company I have admired is Garmin Ltd. (NASDAQ:GRMN), the long-time makers of GPS devices. I first ran into Garmin when I led my oceanography classes on ocean-going field trips using oceanographic vessels off Sandy Hook, New Jersey. We dropped instrument arrays attached to buoys off-shore to measure the tidal salt wedge coming into the bay, and the GPS unit allowed us to find and retrieve them easily, even under terrible weather conditions. More recently Garmin has faced secular decline in their automobile-based GPS business because of cannibalization by GPS-capable smartphones, but they still have solid marine and aviation sector market share with their larger applications. To compete on personal products they are now moving fairly successfully into wristband (wearable) technology as a new line. Two of the founders have been involved from the start in 1989, all the way up until 2013. But the company has been run by a good business team hired to make sure they made money, and they did. I am a little concerned about their potential for growth, but they pay a nice dividend of around 5.07%.
Garmin Marine GPS: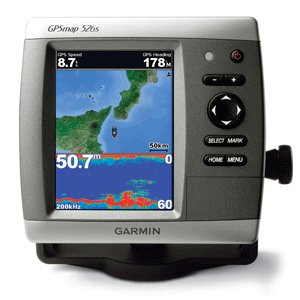 Source: awardpedia.com
Bob and Phil, "Southwestern Irrigation Services"
I met the men I'll call Bob and Phil when we all worked at the same oil firm in Oklahoma. Bob and Phil had a great business on the side, and it eventually made their fortunes. The irony is that oil and gas didn't really do that for them, because it was too cyclical. When I asked them to explain their business to me I nearly fell asleep, it sounded so boring. I couldn't relate to their business line back then, and I really didn't care about it. Foolish me! What they did was provide natural gas to run the pumps for the irrigation systems that peanut farmers used. This was a business akin to watching paint dry (in my mind), but the key was that it was mainly counter-cyclical.
Peanut Farm: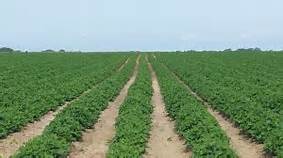 Source: blog.extension.uga.edu
Bob and Phil worked part of every day on keeping their system working properly, extending new gas lines to new farms to expand their business, and making sure that they had adequate gas supply from producers to maintain a steady flow and handle problems, such as when the weather changed (i.e., became even drier). Naturally with peanuts the demand for irrigation pumping was highly seasonal, but of course some years were relatively wet and some were relatively dry, so you couldn't always predict what demand would be. Consequently, theirs was a line of business where execution was everything. They sweated the small stuff every day, and that is why they kept growing and prospering. Interruptions in service could doom a crop and ruin one's reputation with the farmers, so they did all that they could to make sure they never let anyone down. Many times things would come up during the day that they would have to deal with, and they did so with speed and efficiency.
Seasonal Variation in Peanut Irrigation Demand: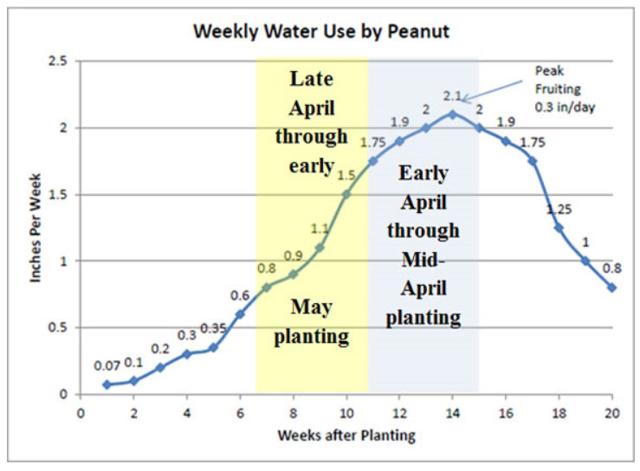 Source: blog.extension.uga.edu
Bob and Phil's success taught me that there are niches for business opportunity where the key is solid execution of repetitive tasks, production of standard high-quality but everyday products, and high standards of service. Examples in the publicly traded realm include Waste Management Inc. (NYSE:WM), Kroger Co. (NYSE:KR), and Colgate-Palmolive Co. (NYSE:CL). I don't own all of these right now, but I have in the past and I will again.
Colgate Toothpaste: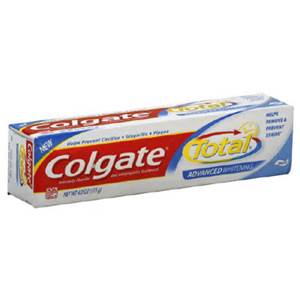 Source: newyorkorthodontists.net
Joe, "Big Movers Equipment Co."
I met the man I'm calling Joe about nine years ago, when he was working at another firm. Joe had already been very successful in building a machinery company with his partner over a period of years, and then selling it to a private equity firm, which was then in turn sold to a publicly traded firm. Joe decided to leave the first firm and start another one, "Big Movers Equipment Co." (this time alone), and he decided to start in 2009, at the bottom of the cycle. He had some exciting ideas about creating a new track-driven machine for heavy industry that would combine an existing chassis and motor combination, but provide a whole new suite of attachments and features that he thought equipment operators would really like. The reason he thought this is that he actually went around to firms all over the world and asked their people what was missing from available equipment, and what new features they would like to see. He then hired engineers to help design the new machines, and started staffing up to build and sell the new products.
Bobcat for Multiple Uses: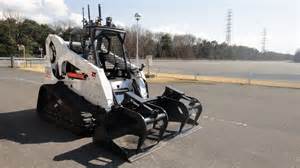 Source: blog.machineryzone.com
He soon ran into pretty significant capital requirements, which he initially met with part of his own capital in combination with that of some partners. He arranged for small business loans and special state-sponsored development loans which he got because he planned on hiring at least 100 workers. Eventually they built prototypes and tested them, and then after about a year started manufacturing and selling them. They were a little expensive but apparently well-received, and the orders started coming in, especially from Europe. It was difficult to build up inventory at first because of low cash flow, but additional loans were obtained, and Joe put the rest of his fortune into the venture - he was all-in. He even went back to his partners for a little more money.
Heavy-Duty Equipment on Hauler: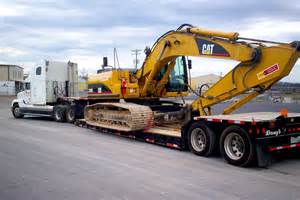 Source: equipmentworld.com
Orders were still slow because of the global recovery, but Joe and his team persevered, cutting costs wherever possible, and maintaining a positive attitude throughout. Joe hired an accomplished financial executive to serve as company president, and things ran a bit more efficiently, funding and cash flow improved, and costs decreased even more. Finally, about five years after they started, Joe and his team were able to form a joint venture with a huge, internationally well-known manufacturer, which allowed them to use that company's logo on their machines. Sales took off again in a relative sense, and profits took off as well.
The huge risks and daunting levels of debt had worked out in the end, and they had made it. They are now dealing with the global slowdown, but I have no doubts that they will survive this as they have survived everything else. The lesson I drew from this story was that innovative thinking and knowing the customer's needs were not enough; it also took perseverance, positive thinking, the courage to take risks, and an indomitable drive to succeed. This Joe has in spades, and he built a team around him that helped get the job done. I have never been more impressed with an entrepreneur's determination to make a go of it than I have in Joe's case.
Tracked Equipment (Bulldozer):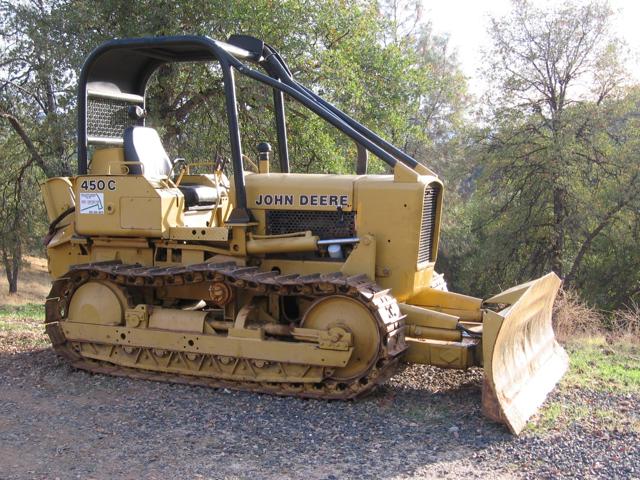 Source: zeropowerhouse.com
There are a few publicly traded firms that have benefited from having management teams with these kinds of histories and personal characteristics. There are others that have made a practice of buying smaller firms that demonstrate the same positive stories. These might include Dover Corp. (NYSE:DOV), Caterpillar Inc. (NYSE:CAT), and Deere & Co. (NYSE:DE).
Disclosure: I am/we are long DE, GRMN, KR.
I wrote this article myself, and it expresses my own opinions. I am not receiving compensation for it (other than from Seeking Alpha). I have no business relationship with any company whose stock is mentioned in this article.
Additional disclosure: This article is intended to provide information to interested parties. As I have no knowledge of individual investor circumstances, goals, and/or portfolio concentration or diversification, readers are expected to complete their own due diligence before purchasing any stocks or other securities mentioned or recommended.