The situation is quite complex.
In the present time, oil prices fluctuate around $ 40 per barrel, as a number of fundamental factors raise doubts regarding further reductions in crude production. On the basis of preliminary data on oil production indicators as of January 2016, global supply has increased by 0.03 mb/d since the start of the meltdown on the commodities market. Thus, the average value of oil supply totaled 95.64 mb/d. Due to the gradual reduction of investment attractiveness in emerging economies (Non-OPEC), their production has decreased by 0.10 mb/d. The main reason was the negative PMI for countries with the highest GDP. As a consequence, these countries reduced oil consumption in Q4 2015. The share of oil produced by OPEC countries has risen to 33.8% of total global oil production, indicating a significant reduction in production in non-OPEC countries. The reason for that was the removal of limitations on Iranian oil production.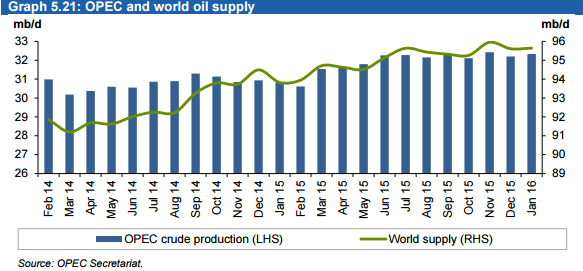 (Source: OPEC)
OPEC predicts global oil consumption will overtake the supply in Q3 2016. This optimism is mainly dependent on the confidence in the success of the monetary policy of negative interest rates. I think the recovery in global production will begin from countries with emerging economies, as their inflation is higher than in countries with developed economies, helping to attract foreign direct investments.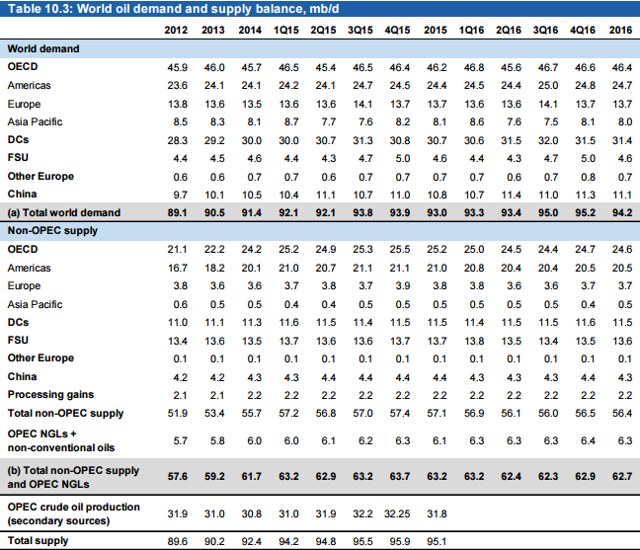 (Source: OPEC)
All OPEC members, as well as other oil-producing countries, are waiting for April 17, 2016, the date for the next Doha meeting, which should determine oil price behavior for the foreseeable future.
One of the most important nuances in understanding causal relationships in the oil market is that the economic systems of the major oil producing countries are founded on the exports of crude oil: that is, they are focused on resource exports. In these countries, the services sector is often underdeveloped; production is not diversified and, most importantly, the social and legal institutions are weaker than in other countries. The latter does not allow these countries to fully develop their economic potential or massively attract foreign direct investment. The lack of economic stability often causes civil unrest in such countries. Therefore, at the meeting in Doha, all parties, including non-OPEC producers, are interested in reaching agreements that contribute to the rise in oil prices.
Iranian government's commitment to its pursuit of a solid market share on the oil market is a major obstacle to the reduction of global oil production. Due to increasing risks of deterioration of the political and economic situation in Iraq, as well as due to the constant terrorist attacks, the government has increased production to 4.55 million barrels a day. Iran's complex relationship with Saudi Arabia may undermine the possibility of a favorable outcome of the meeting. However, Russia is a partner of Saudi Arabia and an ally of Iran. Iran, in its turn, has an enormous influence on Iraq, due to the fact that Iran is the main importer of Iraq's basic goods. These relationships increase the likelihood of reaching agreements aimed at limiting global oil production.
Conclusion
Thus, the weak growth of the global economy, particularly vivid in countries that depend on commodities' exports, contributes to the unification of interests of the Doha meeting's participants. We believe that investors can expect arrangements that will cause global oil supply to converge with demand in the mid-term.
Disclaimer: Societe Financiers is an investment research team focused on long-term, long- and short-only ideas. Our research objective is to cover equities in various regions, such as North America, EMEA, Asia, Australia, and Emerging Markets. Readers should consider whether any advice or recommendation in our research articles is suitable for their particular circumstances and, if appropriate, seek professional advice, including tax advice. The price and value of investments referred to in our research articles and the income from them may fluctuate. Past performance is not a guide to future performance, future returns are not guaranteed, and a loss of original capital may occur. Fluctuations in exchange rates could have adverse effects on the value or price of, or income derived from, certain investments. Certain transactions, including those involving futures, options, and other derivatives, give rise to substantial risk and are not suitable for all investors. Transaction costs may be significant in option strategies calling for multiple purchase and sales of options such as spreads.
Disclosure: I/we have no positions in any stocks mentioned, and no plans to initiate any positions within the next 72 hours.
I wrote this article myself, and it expresses my own opinions. I am not receiving compensation for it (other than from Seeking Alpha). I have no business relationship with any company whose stock is mentioned in this article.