"Life and investing are long ballgames." - Julian Robertson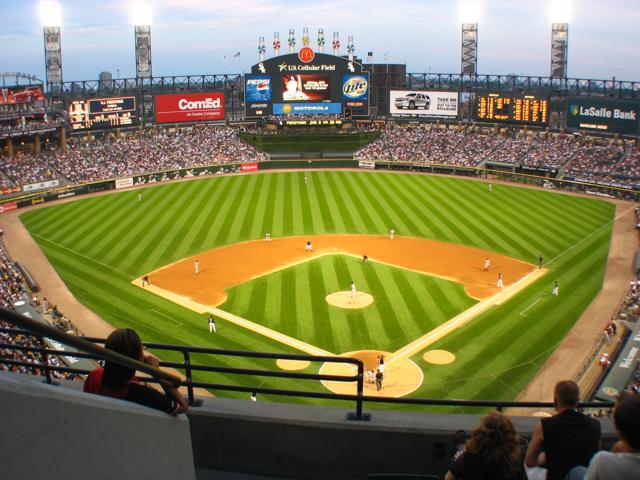 Introduction
The start of 2016 was shaping up to be the final nail in the coffin of the current bull market, cementing the bear market in a majority of the world's equities, until a miraculous rally eviscerated the speculative money betting on further downside.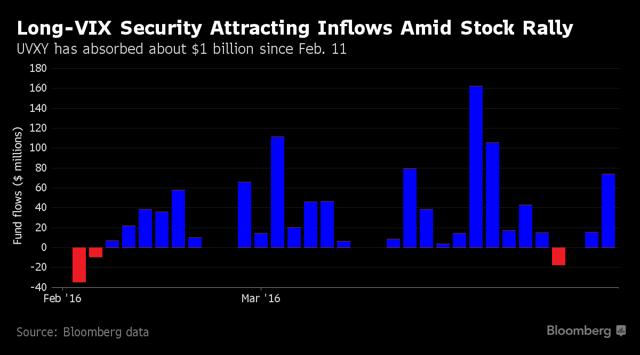 How miraculous was the rally? For the first time since 1933, the S&P 500 Index, as measured by the SPDR S&P 500 Index ETF (NYSEARCA:SPY) finished in positive territory, after being down 10% or more, for the quarter. The seemingly unending, improbable rally continues to be driven by central banks, led by the Federal Reserve, which appear to be determined to generate inflation at any cost.
The one-way rise in asset prices has constrained and crippled the hedge fund universe. Put simply, winning trades have gone on for so long, that hedging has gone out of style as hedge funds have gone out of business.
Emerging markets, commodities, and commodity stocks have been even more out of favor than hedge funds, but these depressed and deep value asset classes are seeing a renaissance, as a long awaited rotation into inflationary assets is finally occurring.
The good news is the rotation is a healthy sign for the continuation of the bull market. The bad news is that inflationary assets typically lead in the late innings of a bull market, and their leadership typically precedes losses in the broader bond and stock barometers.
Thesis
The bull market has entered its final innings. Inflationary assets are set to outperform.
The Dot Plot Undershoots
Like a repeating record, we have lived with the expectation, and fantasy, of a more normal monetary environment ever since normalization of monetary was discussed in 2010, after the unconventional measures were implemented in 2008 and 2009. However, just when it seems like Fed speakers are ready to retreat to the shadows, where they belong; central bankers are pulled back to the forefront with renewed promises of liquidity and quantitative easing coalescing every bout of global weakness.
The end result is that monetary policy has consistently undershot its projected path, and the bond market has taken to simply not believing the Fed's projected path for interest rates as this December 2015 table illustrates.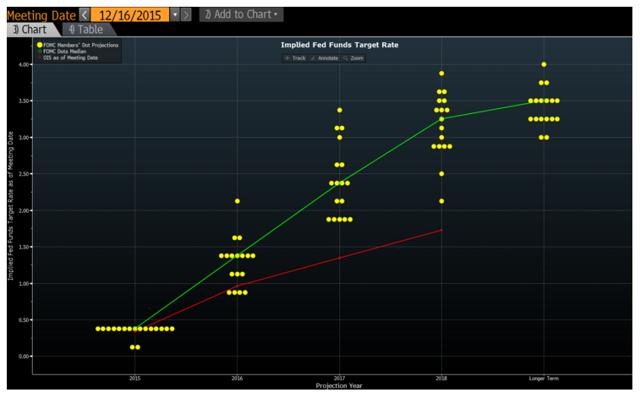 With the interest rate glide path lowered following the March 2016 FOMC meeting, as shown below, there is a growing consensus that the Federal Reserve, under chair Janet Yellen, will always lean dovish.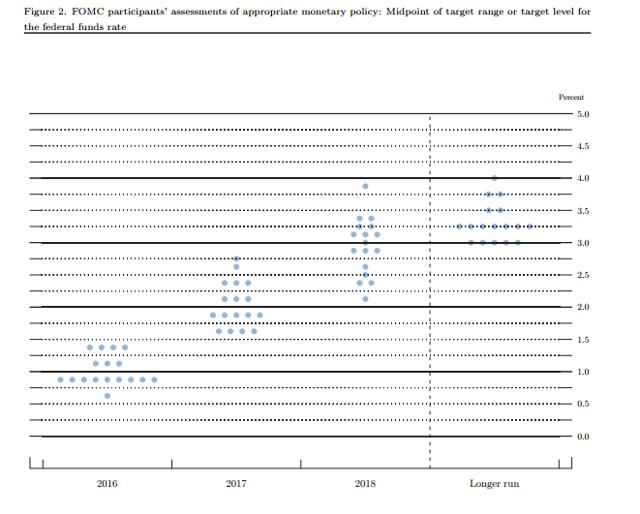 Dovish Fed Torpedoes Dollar & Buoys Risk Assets
After five years of absolute and relative underperformance, inflationary assets were set for a period of outperformance, and that has happened in 2016. The weakness in the U.S. dollar is becoming more noticeable as the strength of the last several years fades into the rear-view mirror.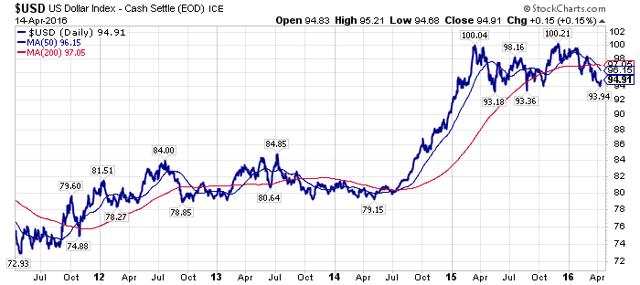 The decline in the U.S. dollar from its 2015 highs has given a tailwind to late-cycle bull market plays, including emerging markets, commodity stocks, and energy plays, as shown by the charts of the iShares MSCI Emerging Markets ETF (NYSEARCA:EEM), the SPDR S&P Metals & Mining ETF (NYSEARCA:XME), the Market Vectors Gold Miners ETF (NYSEARCA:GDX), the Energy Select Sector SPDR ETF (NYSEARCA:XLE), and the Market Vectors Oil Services ETF (NYSEARCA:OIH), which are all now trading above key long-term moving averages for the first time together in years.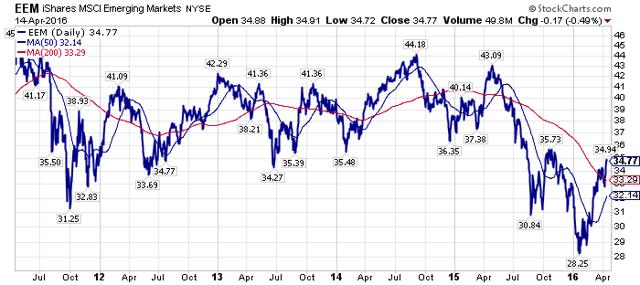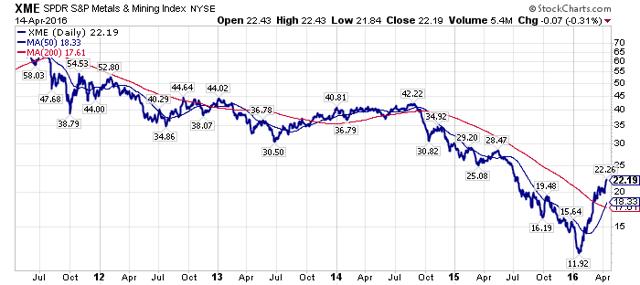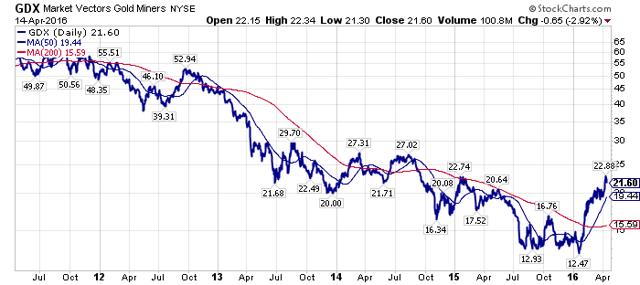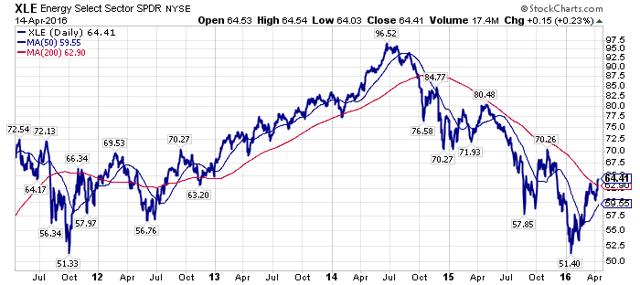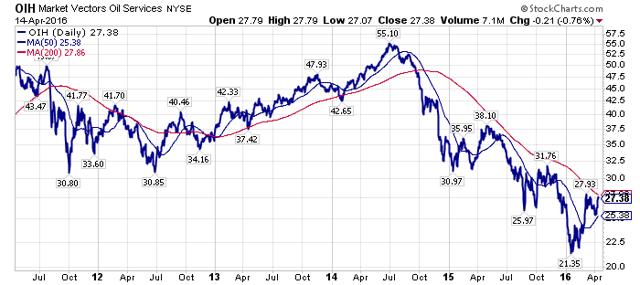 Underlying stocks within these ETFs have done even better, with firms like Barrick Gold (NYSE:ABX), U.S. Steel (NYSE:X), which I authored a bullish take on earlier this year, Cliffs Natural Resources (NYSE:CLF), AK Steel (NYSE:AKS), and Kinross Gold (NYSE:KGC) all sporting triple-digit percentage gains on a year-to-date basis in 2016. Firms pushed to the brink of restructuring, like Carl Icahn's holdings in Chesapeake Energy (NYSE:CHK) and Freeport-McMoRan (NYSE:FCX), have revived as copper and crude oil prices have rebounded. Even industry giants like Exxon Mobil (NYSE:XOM) and Chevron (NYSE:CVX) sport respective gains of 11% and 10% in 2016.
The Stock Market Rise Leaves Hedge Funds Behind
The revival of economic-sensitive and inflation-oriented assets has given new life to the S&P 500 Index, which has seemingly advanced in a non-stop fashion over the past five years, as shown by the chart of the SPY.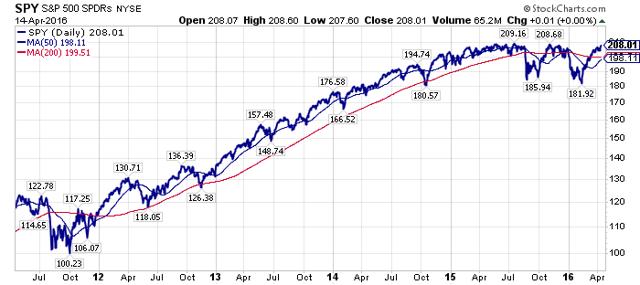 The near uniform rise, without material pullbacks, has made life difficult for hedge funds, which by definition are hedged. Nir Kaissar, a Bloomberg columnist, wrote a terrific piece on March 24th, 2016, titled, "Hedge Funds Have A Performance Problem."
In the article, he examined the declining performance of hedge funds, as the rise of competition and the increased fund flow to passive investment approaches, in my opinion, have changed the investing environment, leading hedge funds to suffer steadily declining return profiles.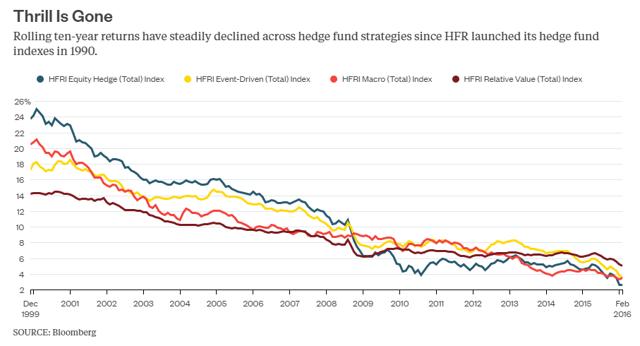 My prediction, bookmark it, is that hedge funds and active managers will have their day in the sun, once again, as value stocks are set to outperform growth stocks after five years of underperformance.
Bonds & Utility Shares Set To Fall
The large-cap U.S. stock market has risen almost continually, with very little volatility, and this has negatively impacted hedge fund managers, and active investment managers. Strangely, in an environment of rising stock prices, over the past five years, safe-haven long-term U.S. Treasurys have also risen to new highs, as the chart of the iShares Barclays 20+ Year Treasury Bond ETF (NYSEARCA:TLT) shows: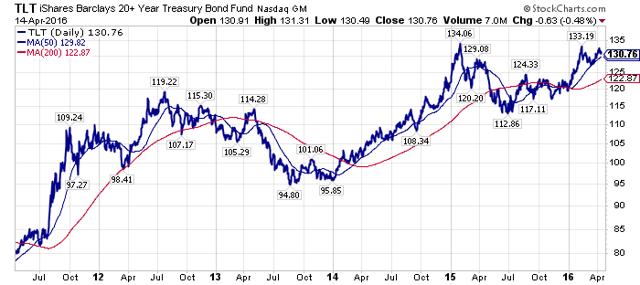 As bond prices have risen, yields have fallen, and investors do not seem concerned about inflationary pressures or rising yields at all. This is confirmed by the price action of utilities. The Utilities Select Sector SPDR ETF (NYSEARCA:XLU), and the iShares Dow Jones US Utilities ETF (NYSEARCA:IDU) have risen 86% and 84% respectively over the trailing five years, outpacing the 75% gain in the S&P 500 Index over this time frame.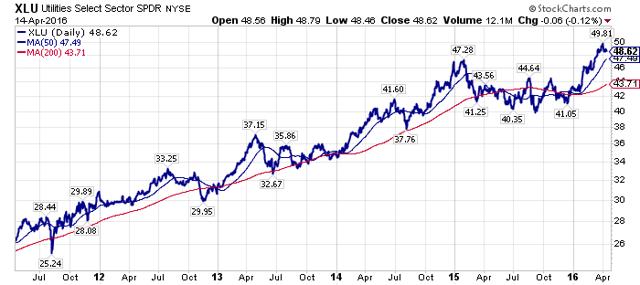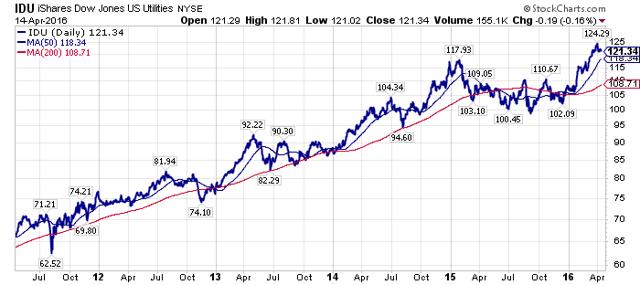 The top three holdings in both ETFs, NextEra Energy (NYSE:NEE), Duke Energy (NYSE:DUK), and Southern Company (NYSE:SU), have risen 151%, 82%, and 68%, respectively, over the past five years. Dominion Resources (NYSE:D) is up 101%, American Electric Power (NYSE:AEP) is up 132%. Exelon (NYSE:EXC) has struggled, yet it is still up 9%. PG&E Corp. (NYSE:PCG) is up 65%, PPL Corp. (NYSE:PPL) is up 92%, Sempra Energy (NYSE:SRE) is up 131%, and Public Service Enterprise (NYSE:PEG) advanced 86% over the last five years.
Clearly, the stoic and staid public utility sector, which has been anything but stoic and staid over the last decade, has profited from low natural gas and coal prices and benefited from investors' ever increasing appetite for yield-orientated investments.
Watch Small-Caps & Transports For Clues
While inflationary assets are suggesting the return of an inflationary environment, bonds and utilities have not yet given the confirmation. Thus, investors should look to sectors that led the broader market lower, small capitalization stocks, as measured by the iShares Russell 2000 ETF (NYSEARCA:IWM), and transportation stocks, as measured by the iShares DJ Transportation Average ETF (NYSEARCA:IYT), to confirm that more economically-sensitive stocks are headed in the right direction.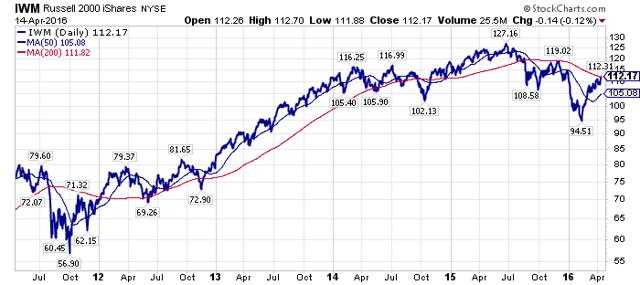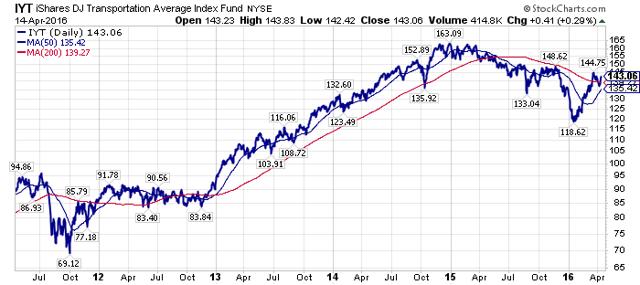 So far, so good, as both IWM and IYT have recovered from their early 2016 swoon, and these barometers have each rallied strongly from their 2016 lows. Transportation stocks have been particularly robust in 2016, after a dismal showing in 2015. Leading transportation stocks like FedEx (NYSE:FDX), up 11%, United Parcel Services (NYSE:UPS), up 11%, Union Pacific (NYSE:UNP), up 6%, Kansas City Southern (NYSE:KSU), up 23%, and J.B. Hunt Transport Services (NASDAQ:JBHT), up 18%, have all shown strong gains this year. The underperformance of airline stocks, including American Airlines (NASDAQ:AAL) and United Continental (NYSE:UAL), in an environment of low oil prices is concerning, but it may speak more to the intense competition that has historically characterized the airline sector in boom times.
Conclusion - A Transition
The strength of the reversal in inflationary assets has been impressive and suggests that we are transitioning into a different investment environment than the one that has existed over the past five years. If that is true, look for bonds and utility shares to underperform, as Martin Pring's business cycle work illustrates.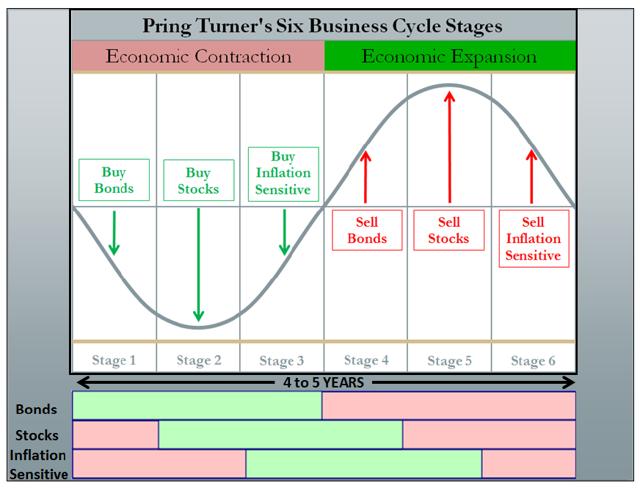 Admittedly, the business cycle investment theory has not worked in its historical manner; at least when thinking about the United States, as central bank intervention has distorted the traditional investment framework. Nonetheless, with monetary authorities around the globe hell-bent on creating inflation, perhaps we are finally due for a sustained rotation into inflationary assets.
Historically, the rotation into inflationary assets, which appears to be getting underway now, marks the last innings of the bull market. Thus, fortunate investors, which generally do not include active participants, value investors, and most hedge fund operators should break open their bottles of wine to celebrate the end of an investing era. While doing this, these investors should contemplate alternative investment strategies, particularly those that have been out of favor.
Disclosure: I am/we are long AAL, ABX, CHK, CLF, FCX, UNP, X, AND SHORT SPY.
I wrote this article myself, and it expresses my own opinions. I am not receiving compensation for it (other than from Seeking Alpha). I have no business relationship with any company whose stock is mentioned in this article.
Additional disclosure: Every investor's situation is different. Positions can change at any time without warning. Please do your own due diligence and consult with your financial advisor, if you have one, before making any investment decisions. The author is not acting in an investment adviser capacity. The author's opinions expressed herein address only select aspects of potential investment in securities of the companies mentioned and cannot be a substitute for comprehensive investment analysis. The author recommends that potential and existing investors conduct thorough investment research of their own, including detailed review of the companies' SEC filings. Any opinions or estimates constitute the author's best judgment as of the date of publication, and are subject to change without notice.