Bionik Laboratories Corp. (OTCQX:BNKL) is a pre-revenue stage company engaged in the development of products for individuals suffering from spinal cord injuries (NYSE:SCI) and certain mobility-inhibiting diseases. The company's lead product candidate, ARKE, is a lower-body powered exoskeleton initially targeted for the rehabilitation clinic market and later, potentially, for home use.
ARKE GEN2, Bionik's second generation (lighter, more control, improved electronics) machine is currently undergoing assembly and testing and is anticipated to be evaluated by select Canadian rehabilitation centers throughout 2016. If all goes to-plan, data could be available later this year, filings in Canada and Europe would follow and initial commercialization in those areas could potentially happen sometime in 2017. The U.S. is a longer-term goal. FDA recently reclassified exoskeletons as Class II devices with special controls which will require formal clinical studies to demonstrate safety and patients' ability to use the device.
Spinal Cord Injuries
It is believed that there are between 270k and 1.3 million Americans living with some form of spinal cord injury. The most common causes are motor vehicle accidents, work-related accidents and injuries caused while participating in sporting or recreational activities. Many people that suffer an SCI will be permanently disabled, may require life-long mobility assistance and undergo regular physical and rehabilitation therapy.
When the spinal cord is damaged messages that travel from the area below the level of the lesion (i.e. injury) through sensory pathways to the brain will be impeded or completed blocked at the location of the injury as will motor messages traveling in the opposite direction. Nerves above the injury level will be unaffected and will continue function as normal.
Spinal cord injuries are categorized by their location and severity. An incomplete injury is one where the individual retains some sensation and function below the area of the injury while a complete injury results in total paralysis below the lesion. Incomplete injuries are further classified by the position of the injury on the spinal cord which can determine the types of functionality and sensation that are lost and retained. These include four categories; Anterior Cord Syndrome, Central Cord Syndrome, Posterior Cord Syndrome and Brown-Sequard Syndrome. While we will not explain each, it is relevant in the context of this report to understand that not all incomplete SCIs are similar with some affording the individual much more function and sensation than others.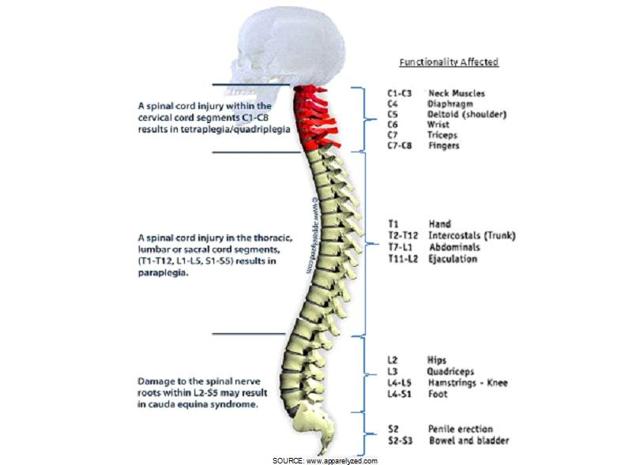 In terms of the major classification of SCIs, there is tetraplegia and paraplegia and complete and incomplete injuries of both:
tetraplegia, also known as quadriplegia, is when the injury occurs at the top section of the spine, C1-C8 (see diagram above, source: Apparelyzed and christopherreeve.org)
- per the Foundation for Spinal Cord Injury, Prevention, Care & Cure (FSCIP), incomplete tetraplegia accounts for approximately 45% of SCIs
- complete tetraplegia accounts for approximately 14% of SCIs
paraplegia is when the injury occurs below C8
- incomplete paraplegia accounts for approximately 21% of SCIs
- complete paraplegia accounts for approximately 20% of SCIs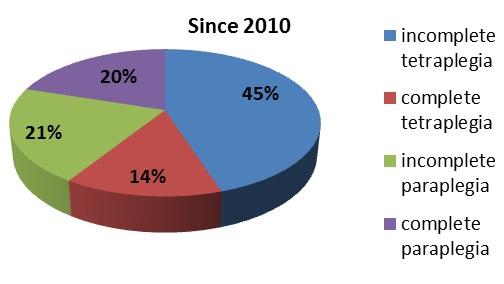 SCI-Associated Health Complications and Costs…
In addition to the obvious medical complications and compromise to quality of life immediately following an SCI, there are other health-related risks that commonly arise over time as a result of reduced mobility and changes to way the body functions.
SCI-related complications include: loss of bladder control, urinary tract infections, renal failure, blood clots, autonomic dysreflexia, pressure sores, respiratory problems (difficulty breathing and coughing), pneumonia, muscle atrophy and spasticity, bone loss and emotional problems (depression, feelings of helplessness), among others.
For those patients with incomplete injuries at C7 and lower (i.e.- that have normal movement of shoulders and can extend their arms) rehabilitation therapy, such as gait-training on a treadmill or walking with the help of parallel bars and/or special orthotics (such as Reciprocating Gait Orthosis) is often used to try and mitigate the risk of many of these complications. Exoskeleton therapy provides the additional benefits of independent mobility (psychological as well as utilitarian benefits) and the ability to potentially induce more targeted effort on the part of the patient which may accelerate therapeutic gains in areas such as bone density, pain reduction, bowel/bladder function and others - which we explain in more detail later.
These complications contribute to a very high rehospitalization rate of SCI patients. According to the Model Spinal Cord Injury Systems Database, 55% of patients in the first year following the SCI incident were readmitted to the hospital and after the first year the rate moved to about 37% where it remained roughly stable for the next 20 years. Life expectancy is also shorter and related to the severity of the injury and motor functionality (which is a proxy for health risks).
High tetraplegia, in the chart below, is defined by the ASIA Impairment Scale as an injury in C1-C4 which essentially affects the entire body below the head including the neck muscles and diaphragm. Christopher Reeve's suffered a high tetra injury above C3. Low tetraplegia is in C5-C8 and affects everything below the neck muscles and diaphragm.

According to NCISC and based on statistics from the National SCI Database (established in 1973), pneumomia and septicemia (i.e. sepsis) have had the most significant impact on life expectancy of SCI patients. And while death rates due to cancer, heart disease, stroke, arterial diseases, pulmonary embolus, urinary and digestive diseases, and suicide have fallen over the last 40 years, life expectancy has remained fairly stable over the last several decades due to an increase in mortality from endocrine, metabolic and nutritional diseases, accidents, nervous system diseases, musculoskeletal disorders and mental disorders.
Treatment of the acute and chronic symptoms of SCI and related high rehospitalization rates are costly and, similar to life expectancy, are directly related and positively correlated to the severity of the injury. A study, Economic Impact of SCI, published in the journal Topics in Spinal Cord Injury Rehabilitation in 2011, estimated that lifetime treatment and living expenses amount to between $1.6M and $4.7M (depending on the severity of the injury) for someone injured at the age of 25 (chart below).
In addition, according to the NSCISC, by developing therapies for those who are already spinal cord injured and preventing new injuries, the U.S. would save as much as $400B on future direct and indirect SCI lifetime costs.

SCI Prevalence / Incidence…
There have not been recent U.S. incidence studies so statistics on the number of people with spinal cord injuries is unknown and, depending on the source, the figures can vary widely. The National Spinal Cord Injury Statistical Center estimates that every year approximately 40 per one million people, or ~12.5k, suffer a spinal cord injury - this figure excludes those that die at the scene. They estimate U.S. prevalence at about 270k people. However, statistics from the Christopher Reeve Foundation, which claims that there are over one million more people in the U.S. living with paralysis than previously thought, indicates that there are almost 1.3M Americans with SCI (i.e. ~5x the NSCISC figure).
We have been unable to find SCI statistics for other territories where Bionik expects to eventually market ARKE (Europe and Canada) although if we apply the U.S. rates, Canadian prevalence could be as high as 150k people and the most marketable countries (i.e. most developed medical device markets) in Europe (UK, Germany, France, Italy, Spain, Netherlands, Denmark, Belgium and Portugal), which aggregate to a total population of ~370M people, could have a combined SCI market slightly larger than that of the U.S.
Other Causes of Paralysis
According to the Christopher Reeve Foundation paralysis, or loss of voluntary muscle movement, encompasses a population of approximately 5.6M people in the U.S. And while most people probably think of SCI when they think of paralysis, the most common cause is actually stroke. Other common causes include multiple sclerosis, cerebral palsy and traumatic brain injury. We provide additional detail on some of these…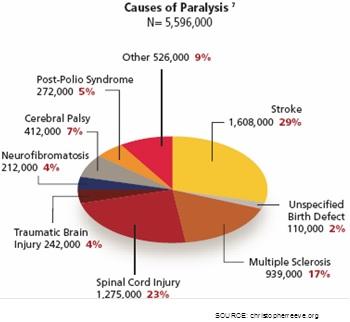 Stroke: there are about 1.6M Americans that have been paralyzed from a stroke, accounting for approximately 29% of all paralysis cases. Strokes occur when the brain is deprived of blood and oxygen due to a circulatory obstruction (ischemic stroke) or from rupture of a blood vessel in the brain (hemorrhagic), causing brain cells to die. Injury to the brain can lead to a variety of impairments including to speech and cognition as well as result in paralysis. Paralysis from stroke is usually confined to one side of the body (hemiplegia) and may affect the entire side of the body or just portions - such as the face, arm/hand or leg. Approximately 80% of stroke survivors suffer from hemiplegia, many of which will require the use of ambulatory aids. For more mild cases this may be a cane or walker. For severe cases this may include wheelchairs; conventional manual, hemiplegic manual or electrical. And while 65% to 85% of stroke survivors will learn to walk without the use of ambulatory aids within 6 months, gait abnormalities may persist indefinitely. Studies have found that practicing walking is the activity that consumes the most time in rehabilitation among stroke victims. 1 And time spent walking is time well spent as a separate study revealed that the ability to walk (400 meters) for stroke victims is a predictor of mortality and cardiovascular disease. 2
- Multiple Sclerosis: there are about 940k Americans that have been paralyzed due to MS, accounting for approximately 17% of all paralysis cases. MS is a chronic disease which can be debilitating and one with no cure. In people with MS the body attacks myelin (which surrounds the spinal cord), disrupting nerve impulse transmission. Symptoms can range from somewhat benign to severe, the latter which may include cognition problems, loss of vision and paralysis. While fatigue is very common in almost all MS sufferers, other symptoms and their severity can be highly variable from person to person. MS attacks can come and go in cycles but often becomes progressively worse. Symptom management may include some type of physical therapy to address fatigue and physical deterioration including muscle loss. Approximately 65% of MS sufferers never lose the ability to walk as a result of the disease and 75% never use a wheelchair. There are about 10k new cases of MS diagnosed each year in the U.S. and approximately 400k Americans currently living with the disease.
- Cerebral Palsy: there are about 400k Americans that have been paralyzed due to Cerebral Palsy, accounting for approximately 7% of all paralysis cases. Unlike SCI or MS, Cerebral Palsy is not due to damage or deterioration in the spinal cord but is instead a result of inadequate development or damage to areas of the brain that are responsible for movement and posture. CP appears very early in life - usually during pregnancy or childbirth and is the most common movement disorder in children, occurring in ~2.1 of every 1,000 births. Symptoms vary from mild to severe and can include tremors, muscle weakness and paralysis. The name Cerebral Palsy comes from the German term zerebrale Kinderlähmung, translated as "cerebral child-paralysis". There are currently about 500k Americans that have some symptoms of CP with ~8k babies diagnosed with the disorder in the U.S. every year. A study (n=95k) published in the journal JAMA Pediatrics found that 31% of children with CP required the use of special equipment such as walkers or wheelchairs.[1]
- Traumatic Brain Injury: there are about 240k Americans that have been paralyzed due to TBI, accounting for approximately 4% of all paralysis cases. While TBI has recently been in the headlines due to head injuries suffered by professional athletes as well as soldiers, the majority of occurrences are from falls (35%) and auto accidents (17%). According to CDC an estimated 1.7M people annually in the U.S. sustain a TBI and ~5.3M have some form of TBI-related disability. Symptoms of TBI can vary from mild to severe and can include memory and cognition problems, behavioral problems, headaches, depression, neurological damage, paralysis and a permanent vegetative state. Our research has not been able to uncover statistics on the percentage of TBI sufferers that use (or have enough function to use) a wheelchair (and therefore may be candidates for exoskeletons). Certainly a portion of the ~240k TBI-related paralysis victims would be candidates although others, with insufficient functionality or strength, would not.
Bionik
ARKE is now in its second generation (shown below) which has a new design, improved walking gait trajectories and much smaller mechanics and actuator components. ARKE incorporates an intelligent positioning system, using information gathered from sensors located throughout the device to determine (based on weight shift or bending) the movement required by the user. Built of carbon fiber and aluminum (as well as steel) to maximize the weight-to-strength ratio, this second generation machine also has (per BNKL) "the highest possible energy and efficiency through both improved battery density and the power-to-weight ratio of the actuators. ARKE utilizes Bionik's proprietary transmission and actuation system, one of the most powerful robotic devices as compared to similar systems". The machine was designed for seamless upgrade to future next-gen versions by using modular electronic components.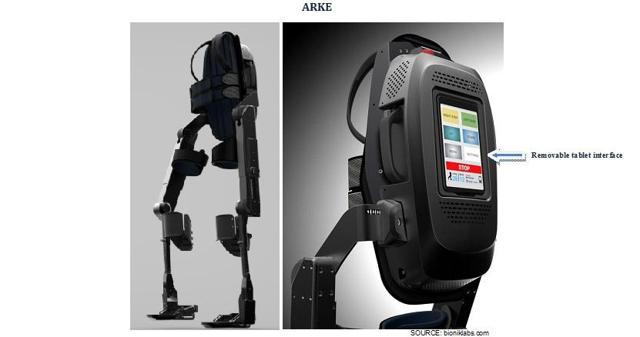 Bionik views their machine as much more than something that just helps someone stand, walk or improve blood flow and mobility. They have built ARKE to do all of that but, perhaps just as importantly, to also provide real-time feedback and data analytics to help clinicians make more informed treatment decisions. Sensors attached at various points on the device will (i.e. once development is completed) provide information on gait, strength and positioning, among other metrics, which will be aggregated, stored in the cloud and analyzed with the help of IBM's (NYSE: IBM) data analytics software which was designed together with Bionik. The data collection, cloud storage and data analytics functionality are still under development and will be incorporated into the ARKE-2 system (current model).
The software incorporated into ARKE is highly complex and despite the Bionik team's technology capabilities, was too complicated to develop in-house - thus the collaboration with IBM. The advantage of the software as compared to conventional paper and chart record-keeping is much more than just convenience, although that is one advantage. The company believes that the additional functionality made possible by the software as well as relatively simple programming through a data interface are major differentiators between ARKE and other medical exoskeletons on the market. This is in addition to what they expect to be a significantly lower selling price than competing devices.
The target market for ARKE includes wheelchair-bound patients suffering from SCI, stroke and other conditions with limited lower-body mobility. Initially BNKL will focus on SCI injuries treated at rehabilitation institutions (as opposed to home-use) for use as a complement or replacement for current rehabilitation methods and devices such as body-weight supported treadmill training, intensive mobility training and neurodevelopment techniques. Other upgrades to ARKE could include partial-assist functionality (which allows for patients to contribute their own power) as well as follow-on indications in other conditions including stroke and TBI.
The goal in the rehab clinic segment is to improve the patient's mobility and health. The focus is on areas such as increasing the individual's range of motion, improving blood flow, slowing muscle and bone density loss, helping bowel/bladder function and mitigating risk of other common health-related complications of mobility-impaired individuals (discussed earlier) such as blood clots and respiratory problems. This could have the effect of reducing the high rate of rehospitalization, reduce total cost of therapy and, most importantly, improve and extend quality of life.
Intellectual Property…
Bionik's intellectual property includes five U.S. and international patents pending and thirteen U.S. provisional patents.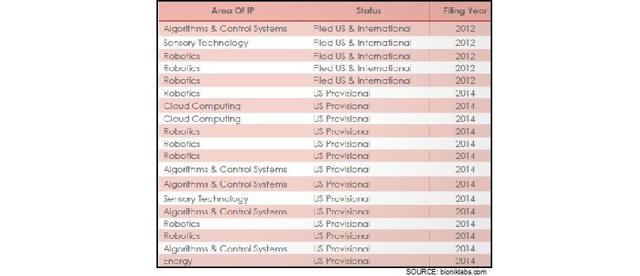 ARKE Regulatory Timelines…
Since the company's founding in 2011 they have been awarded ~$5.5M in grants and Canadian government tax credits (supporting technologies aimed at lowering medical costs). Development has proceeded swiftly with this second-generation model now undergoing pre-clinical validation (assembly and testing), which (per the company's current timeline) is expected to be completed during the first half of this year.
ARKE will be classified as a Class I device in Canada and Class IIa in Europe. Requirements for CE Marking for low-to-moderate risk medical devices generally relate to the manufacturer self-certifying that the device meets certain production and quality controls and includes a technical document. And similarly, Health Canada is an informational filing which also is unlikely to require significant clinical data. Once the requisite information is compiled and submitted, clearance to market the device in Europe and Canada could come shortly afterwards.
Clinical evaluations, to demonstrate that a patient can operate the system, will follow the ongoing pre-clinical validation. BNKL's most recent communication regarding expected timelines (March 23, 2016 Update) notes that they anticipate validation to continue through 2016 and hope to file for both Health Canada approval and CE Marking in 1H 2017. If these timelines are met, commercialization in Canada and Europe could initiate as soon as late-2017.

The U.S. regulatory pathway will almost certainly be more rigorous than Canada and Europe. In February 2015 FDA announced that all powered lower body exoskeletons will be classified as Class II devices and required to meet special controls. The order became effective the following month. The reclassification was prompted by ReWalk Robotics which petitioned the FDA to regulate exoskeletons and classify them as Class II devices. ReWalk's device was the first exoskeleton approved by FDA. As there was no predicate, ReWalk was allowed to use the de novo pathway. ReWalk received FDA clearance in June 2014 for home use (SCI injuries between T7 and L5) and rehabilitation institutions (SCI injuries as high as T4).
The special controls (full list here) includes testing to demonstrate that it performs as intended and is safe. So BNKL will need to perform clinical studies to support an FDA filing demonstrating that ARKE meets all of these special controls. The expectation is that this will be a 510(k) submission and list ReWalk Rehabilitation as the predicate device. The game plan for the U.S. is to gain approval in the least arduous indication and after commercialized, look to potentially expand the label. BNKL has indicated that they will pursue SCI for ambulation in the rehabilitation setting as the initial indication. Longer-term, they may look to expand the label to include use in other conditions such as stroke, MS and TBI, and to seek approval for the home use setting.
The company has not specified what they anticipate in terms of the scope of U.S. trials although we can use ReWalk's studies supporting their FDA submission as a potential proxy. ReWalk performed three single-arm clinical studies which, in aggregate, included 35 patients who finished the studies. Inclusion criteria in two of the studies were individuals with injury locations at C7-C8 or T1-T12. The third study included only injuries at T1-T12. All three studies included individuals with neurological injuries due to SCI.
- Studies 1 (n=6) and 2 (n=22):
o Primary endpoints: 10 meter walk test (10MWT), 6 minute walk test (6MWT)
o Secondary endpoint: spasticity as measured by Ashworth scale
o Methods: 16-24 sessions (~8 weeks) of 60-90 minutes was provided for training on use of the device. Subjects then performed the 10 and 6 meter walk tests. Study 1 (single site) was done on a smooth surface and concrete while Study 2 (2 sites) was done on a larger variety of surfaces which also included carpet and grass as well as some subjects ambulating up and down a ramp and curb cutouts
o Results:
§ Study 1: 6 patients ambulated 10 to 79 meters in the 6MWT. In the 10MWT these 6 patients ambulated 10 meters in 40 to 163 seconds. Four of the patients recorded no average change in average Ashworth score, while two had a decrease in average score. Skin lesions and falls were also recorded: 3 patients had a combined 13 lesions, no falls were reported
§ Study 2: 20 patients ambulated from 0 to 100+ meters in the 6MWT. In the 10MWT 22 patients ambulated 10 meters in 10 to 100+ seconds. 13 subjects recorded an Ashworth score: 8 had no average change, one had an increase and 4 a decrease. Skin tears; six incidents in five subjects. No falls reported
- Study 3 (n=7):
o Primary endpoint: 10MWT, 6MWT and pivot turns
o Secondary endpoint: arresting on gait command, maneuvering to a wall rest, walking on carpet, navigating a push button electric door, navigating a revolving door, outdoor ambulation and stairs.
o Results: 6MWT: ambulated from 51 to 166 meters in 6 minutes. 10MWT: ambulated 10 meters in 20 to 62 seconds. Three of the seven had mild skin abrasions and two of seven had moderate abrasions. No falls reported.
Initiation of U.S Regulatory Program Dependent On First Raising Additional Capital…
ReWalk's Study 1 is most consistent with the conditions of what would be expected in the rehabilitation institution setting as ambulation was only done on smooth surface and concrete. By contrast, Studies 2 and 3 were performed on other surfaces and conditions that are more likely to be encountered in a less controlled environment such as the home. As BNKL will initially only pursue clearance for the rehabilitation setting, the requisite clinical support may be just a small (i.e. n < 10) single-arm, single-site study demonstrating that subjects can use the device as intended which, by default, may be the 6MWT and 10MWT tests.
Timing for start of the U.S. regulatory program will depend on BNKL first raising additional capital (while their most recent investor presentation [March 2016] implies an early-2017 start date, this assumes requisite capital has been raised). A general guide on what to expect in terms of how long a U.S. program may take can be gleaned from ReWalk's experience. The 6-patient ReWalk study spanned about 11 months from start to finish. If we assume a similar timeframe, ballpark about 6 months for study design and site preparation, 6 months for final data analysis, preparation of the filing (including aggregating all other special controls information) and FDA submission and another 6 months for turnaround of FDA clearance, BNKL could be looking at ~2.5 years from initiation to FDA approval. But this is hypothetical until (at the very least) there is more clarity on what to expect in terms of U.S. studies and, in the more near-term, if and when BNKL will even pursue the U.S. market (which, again, will not happen prior to raising additional capital).
Assuming eventual FDA clearance, BNKL would likely be required to conduct a post-marketing study, as ReWalk did. The post-marketing study collects data on rates of adverse events from real-world use during initial commercialization to ensure that the device can be used safely.
R&D Pipeline…
Following securing an initial indication in SCI-related paraplegic rehabilitation, BNKL's current outlook is that they will look to expand ARKE's label to include rehabilitative use for other conditions including stroke and TBI. The plan is that the next-generation model (i.e. "ARKE 3"), a variable assist product which will incorporate hemiplegic functionality in which only one side (i.e. leg) of the device provides assistance, will target the stroke market. Upgrades to add more functionality for TBI, among others including MS and CP, could follow.
Interactive Motion Technologies: BNKL has other irons in the fire. In early March they announced the planned acquisition of Interactive Motion Technologies, a leading innovator of neurorehabilitation robotics. IMT's robotics portfolio, developed at Massachusetts Institute of Technology, currently includes three FDA-approved upper extremity rehabilitation devices as well as two lower body product candidates. IMT, which notes that their robots "are the most thoroughly research technology available in the rehabilitation industry", currently generates approximately $2M in annual sales. The acquisition, expected to close in April (IMT shareholders will receive 23.7M BNKL shares) will provide BNKL with an immediate revenue stream, but more importantly a synergistic product portfolio and technology platform as well as key personnel additions.
Boston-based Interactive Motion Technologies is a thought and technology leader in rehabilitation robotics. The company has working partnerships with the Massachusetts Institute of Technology and some of the leading rehabilitation experts around the world. Their InMotion upper body rehabilitation robots have been validated through dozens of controlled clinical studies, including large randomized clinical trials.
The technology was designed around the latest neuroscience research including motor learning and memory. InMotion robots receive patient movement feedback from sensors and then respond according to the individuals' abilities by guiding an appropriate exercise therapy. As a patient's mobility improves, the robots automatically respond by providing less assistance, ensuring the individual continues to employ effort which furthers the rehabilitation gains. The robots also have a form of variable assist functionality which helps an otherwise immobile patient to initiate movement. Clinicians are able to track patients' progress from quantifiable feedback.
Bionik noted in the March press release announcing the intended acquisition that they had been searching throughout 2015 for "the right opportunities to execute on our growth strategy". Clearly IMT's product portfolio offers synergies with that of ARKE, the most obvious of which is that sales channels and customer call points (i.e. rehabilitation hospitals and clinics) are similar. But also, Bionik almost certainly viewed the potential to leverage IMT's knowledge and technology in further development of ARKE as an important consideration. Expected future upgrades to ARKE include data feedback and variable assist - similar features which are incorporated into the InMotion robots. And while upgrades to ARKE may be on a different platform, IMT's expertise in the field should be an asset in facilitating further development of Bioniks' exoskeletons. In addition, IMT's U.S.-based manufacturing facility is FDA-compliant, which presumably could be used in manufacturing of ARKE.
Following close of the deal, Bionik will retain IMT's office in Massachusetts and IMT's team will be integrated with that of Bionik's. This includes Hermano Krebs, a co-founder of IMT who is also a principal research scientist at MIT's Newman Laboratory for Biomechanics and Human Rehabilitation. Dr. Krebs is considered one of the top thought-leaders in robotic rehabilitation and has published extensively on the subject. Dr. Krebs will assume the role of Chief Science Officer of Bionik. Dr. Neville Hogan, currently an IMT board member will be retained as an advisor to Bionik. Dr. Hogan is also a professor at MIT's Newman Laboratory for Biomechanics and Human Rehabilitation. Dr. Hogan's research is focused on neuroscience, rehabilitation and robotics. IMT's current CEO, Jules Fried, is expected to be assume the position of VP of Bioniks' U.S. operations.
IMT's currently commercialized products are FDA-approved and sold in over 20 countries, including the U.S.. They generated approximately $2M of revenue in 2015 and include;
- InMotion ARM: designed for rehabilitation of individuals with upper extremity neurological limitations. IMT notes that ARM is "the most thoroughly research device for upper extremity neurorehabilitation". It has been used by over 1k patients and completed clinical studies for stroke, cerebral palsy and traumatic brain injury.
- InMotion WRIST: for wrist rehabilitation which can help patients overcome most forms of hypertonicity (i.e. extreme muscular or arterial tension). Has a range of motion of a normal wrist doing typical, everyday-types of tasks. InMotion WRIST can be used either in isolation or in addition to InMotion ARM.
- InMotion HAND: an add-on to InMotion ARM which provides rehabilitation specifically to the hand. Incorporates assist-as-needed (i.e. similar to variable assist) functionality for grasp and release training and rehabilitation.

In addition to these three already commercialized products, IMT has a lower body product which is currently available for research use called InMotion ANKLE as well as a device being developed at MIT for gait training.
Exoskeleton Market
In addition to medical applications, exoskeletons have also been designed for military and industrial use in order to provide for greater endurance and strength of able-bodied individuals. As Bionik is focused solely on the medical market, we confine our market and competition commentary to this segment.
The medical market for powered exoskeletons is still very much in its infancy. ReWalk was one of the first exoskeletons to market, introduced in the U.S. in 2011 and the only one with FDA clearance for use in both the rehabilitation and home setting. It was CE Marked in 2010. ReWalk is already in its sixth generation model. There are also a handful of other exoskeleton manufacturers with commercialized devices and many more with ongoing development programs - we discuss some of these in greater detail later.
The only-recent introduction of these devices, combined with less-than-robust rates of adoption and a less-than-favorable reimbursement environment in most countries (Japan may be somewhat of an exception) has meant that saturation is not an issue. So the market, which industry research firm Research and Markets predicts will grow from approximately $17M in 2014 to $2.1B by 2021 (a portion of which also relates to non-medical use), for exoskeletons is not only virtually untapped today but ripe for significant growth with evolving positive fundamentals. We discuss what we believe are some of the most relevant aspects of the market.
- Expanding Indications Beyond SCI
Prevalence of SCI-related paraplegia is (depending on the source) anywhere between approximately 100k and 500k in the U.S. and up to another ~700k in the other areas of the world (Canada and parts of Europe) where BNKL may establish a commercial footprint. And while significant, the size of the SCI market pales in comparison to the aggregate population of other conditions that may also be effectively addressed with exoskeletons. This includes individuals that have been paralyzed due to stroke (1.6M U.S. prevalence), MS (940k U.S. prevalence), Cerebral Palsy (400k U.S. prevalence) and TBI (240k U.S. prevalence).
The next horizon for exoskeletons is beyond SCI. Hemiplegic functionality for stroke victims as well as partial or variable assist (which will be incorporated into ARKE3), which allows the patient to provide some of his own effort, are some of the newer features of exoskeletons which are beginning to broaden the scope of applications beyond the SCI indication. In April 2016 Ekso GT became the first exoskeleton to receive FDA clearance for use with individuals with hemiplegia due to stroke. And further advancements in functionality should facilitate greater inroads towards expanding labels which will afford access to much bigger markets and potentially help speed a transition of exoskeletons from the novel rehabilitation devices that they are today to, perhaps, mainstream everyday mobility aids in the future.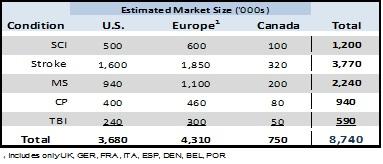 - Evolving Technology
The first exoskeleton didn't enter the U.S. market until 2011. While revolutionary in many ways, today's exoskeleton technology is still unrefined but has the potential to evolve very rapidly. With continued investment, today's models could soon evoke memories of the old brick cell phones; incredibly expensive (~$4k in 1984), too big, too heavy and unwieldy, slow, cumbersome and all-but impractical (10hrs to charge for 30min talk time). Few would say the same about today's smart phones.
The exponential speed that technology is evolving in areas such as microprocessor speed, materials engineering to reduce weight-to-strength ratio, new discoveries in battery technology and improvements in sensors means that we could see consistent, significant and rapid advances in exoskeletons' functionality, performance and ease-of-use. And as technology improves costs should decline and promote adoption - this should be particularly true if it helps facilitate more widespread reimbursement.
The speed of technological progress is an area which could have a significant effect on separating the winners / leaders from the losers / followers in the race to become the exoskeleton market leader. And while most if not all manufacturers likely realize this, some look to be preparing better than others. Modular designs, which Bionik has incorporated into ARKE (as have some others), which allows for replacing or upgrading portions of the system without a full restructuring or rebuild of the entire device, could prove to be key in this regard.
- Home Use
The rehabilitation segment is a fraction of what the home-use market could be. While we have not been able to find a reliable estimate for the number of physical rehabilitation centers in the U.S., there are approximately 5,000 hospitals in America - which is likely a liberal proxy estimate for the number of rehab facilities. And if we assume each center purchases two exoskeletons, this represents a maximum U.S. rehabilitation market of 10k units. Home use, just for an SCI indication, represents a U.S. market 50x as large as the rehabilitation segment, or approximately 500k units (i.e. - estimated number of SCI-paraplegics). The other possible indications (stroke, MS, CP, TBI) represent a higher functioning (in general) population which may find utility of exoskeletons for both rehabilitation and for everyday mobility. So as technology improves to the point where exoskeletons are more practical as mobility aids, demand for the home use market would almost certainly grow. And technological improvements should also bring down costs of the devices, making them more affordable for individual purchase (as opposed to reliance on insurance reimbursement) for use at home.
- Reimbursement
The lack of dedicated reimbursement for rehabilitative use or as a mobility aid is a significant headwind to adoption of these devices. Reimbursement is spotty at best, with anecdotal evidence of manufacturers having some success billing under some of the following CMS (i.e. Medicare) rehab-related codes. .
o 97110: Therapeutic exercises to develop strength and endurance, range of motion, and flexibility
o 97112: Neuromuscular re-education of movement, balance, coordination, kinesthetic sense, posture, and/or proprioception for sitting and/or standing activities
o 97116: Gait training (includes stair climbing)
o 97530: Therapeutic activities, direct (one-on-one) member contact by the provider (use of dynamic activities to improve functional performance)
o 97750: Physical performance test or measurement (e.g., musculoskeletal, functional capacity), with written report
o 97755: Assistive Technology Assessment Assistive Technology Assessment (eg, to restore, augment, or compensate for existing function, optimize functional tasks, and/or maximize environmental accessibility), direct one-on-one contact by provider, with written report
o 97760: orthotic(s) management and training (including assessment and fitting when not otherwise reported), upper extremity(s), lower extremity(s), and/or trunk
ReWalk's experience provides some insight…
These are billed in 15 minute increments at an average rate of approximately $35. A rehabilitation session may average 30 to 90 minutes, which would equate to average reimbursement per session under these codes of approximately $140. For out-patient rehab, this may consist of 2 - 3 sessions per week. For a device that costs upwards of $80k - $100k, this level of reimbursement may not be particularly attractive to a rehab clinic - particularly if payment has not been pre-authorized (i.e. if there is risk that the clinic does not get paid).
ReWalk has been one of the most active manufacturers engaged in improving the reimbursement picture so it is worth mentioning their experiences to provide a better understanding of the insurance-related challenges. According to their publicly available investor communications, they point to reimbursement as the most significant contributor to extending the sales cycle.
They have recently added infrastructure in billing and reimbursement and, per their Q4 earnings call, have had pending insurance claims improve from 31 in Q1 2015 to 128 at year-end. Of this 128, 61 (48%) are in Germany - which may suggest that country's policies may be somewhat more liberal. ReWalk notes that claims are paid on a case-by-case basis however, and it is not clear what the average rate is. And while they have also had some success with auto insurers, auto accidents represent a relatively small part of the SCI segment (17% of SCI are from auto accidents and clearly not all of these claims will cover exoskeletons).
In December 2015 ReWalk announced that the U.S. Department of Veterans Affairs issued a national policy which allows veterans with SCI injuries and which meet certain physical requirements to obtain a ReWalk Personal system (for home use). The coverage policy also defines exoskeletons as the standard of care for qualifying spinal cord injuries. We note that while this coverage policy only relates to ReWalk, that it is conceivable that if and when other manufacturers gain FDA approval for home use (including potentially Bionik), that similar policies may cover those systems as well.
More data could improve the reimbursement picture…
The lack of a dedicated code or otherwise widespread reimbursement is due to the fact that these are still novel devices and there is still insufficient clinical data demonstrating the benefits of exoskeletons. As such, these devices are still considered experimental by many insurers. Clinical data demonstrating benefits of these devices over conventional therapy such as improved patient outcomes (such as reduction in muscle atrophy), cost savings (overall or reduced hospitalization costs, for example) and improvements to quality of life will be key to improving the payer picture and as support for applying for a dedicated CMS code.
ReWalk has led the charge in that regard. They claim to have the most clinical data to-date of all exoskeleton manufacturers. They also have four more studies which they say will all be completed by Q3 2016. The VA is also conducting their own study - a large, multi-center 3-year study with the goal of demonstrating the benefits of exoskeleton use by SCI patients. And other manufacturers including Ekso Bionics also have studies ongoing with the goal of improving reimbursement. And while Bionik is coming later to market than others, in a case like this where there is little reimbursement and only front-end type demand, later to market can actually be a benefit, particularly if competitors are able to improve the reimbursement environment prior to Bionik's launch.
Competition
Along with Israel-based ReWalk (NASD: RWLK), there are several other companies developing exoskeletons for the medical market. Besides ReWalk, the only other product currently on the U.S. market is Ekso GT, manufactured by Ekso Bionics (OTC ADR: OTCQB:EKSO). Ekso, headquartered in California, is a close second with ~170 units placed (as of Q4 2015), compared to ReWalk's 211 (104 in rehab centers and 107 in-home). ReWalk and Ekso GT are also both commercialized in Europe as are devices from the Japanese company, Cyberdyne (OTC: OTCPK:CYBQY), and New Zealand-based Rex Bionics (LSE: RXB.L). And there are others that are in earlier stages of development but which could have products on the market within the next two years, including two other American companies; Parker Hannifin (NYSE: PH) with its Indego device and SuitX (private) which is developing a novel ultra-lightweight exoskeleton.
While there are several other companies that have ongoing exoskeleton development programs, we think the above list represents the most near-term and substantive competition that Bionik will face if ARKE launches within the next two years. We provide some more background of these companies, their lead products and their respective stages of development and commercialization.
Attributes that may competitively differentiate one product from another include (not in any particular order) regulatory approval(s), indicated use(s), clinical data, size of the exoskeleton (i.e. weight, bulkiness), product design, cost, battery life, functionality and ease of use, among potential others.
Relative to cost or price, we think it is relevant to note that, based on our research, it appears that while manufacturers may list a retail price, that this is not necessarily always the selling amount. Instead selling price may vary considerably which can be dependent on the customer, end-user, reimbursement and other factors. The selling prices that we list are approximate averages of what is available in the public domain. We think selling price is relevant as a competitive differentiator and also can be generally interpreted as a proxy for COGS plus similar margin.
-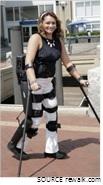 ReWalk Robotics: We view ReWalk as the current leader in the U.S. It is the only exoskeleton approved in the U.S. for both rehabilitation (SCI injuries as high as T4) and home use (SCI injuries between T7 and L5). It is also CE Marked. ReWalk uses tilt sensors to initiate the walking movement. Per the company's Q4 2015 earnings review, they have 208 (106 personal and 102 rehab) units placed and ReWalk is used in 8 of the top 10 rehabilitation centers in the U.S. The company claims to have the most published clinical data of any manufacturer. ReWalk is active in promoting greater reimbursement and just secured national VA coverage for their device. Selling price is approximately $70k which is less than most others. ReWalk claims a walking speed up to 1.6 mph, which based on our research, looks to be the fastest among its peers. We note that walking speed may be more of a competitive differentiator for the home use segment as opposed to for rehab use.
Potential headwinds for ReWalk include that their technology may be the most antiquated despite recent introduction of the 6th generation device, sales flattened from 2014 to 2015, cash burn is significant ($25M in 2015) and gross margins are in the single digits. Their device is also bulkier than some others, including ARKE. And while RWLK was first to market, as we explained above, this may actually be more of a benefit to competitors as the resources that they have already and continue to expend on the benefits of exoskeletons and on clinical trials to support greater reimbursement could benefit all manufacturers.
-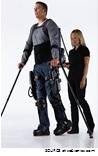 Ekso Bionics: As of 2015 year-end, Ekso had over 170 units placed. Their flagship device, Ekso GT, is CE Marked (2012 rehab use) and has been sold in the U.S. (rehab use) since 2012. Ekso GT had been classified as Class I 510k exempt by FDA but following the agency's reclassification of exoskeletons as Class II devices with special controls, Ekso filed for and received (on April 4, 2016) FDA clearance to market their device for individuals with hemiplegia due to stroke, for individuals with SCI at levels T4 to L5 (i.e. similar to ReWalk Rehab) and for individuals with SCI at levels T3 to C7 (i.e. more severe SCI than ReWalk's indicated use). With the FDA clearance, Ekso GT became the first exoskeleton cleared in the U.S. for use with stroke patients and for spinal cord injuries as high as C7. Probably the most compelling competitive advantage of Ekso GT is its Variable Assist functionality which allows the patient to provide some of his own effort, potentially providing additional rehabilitative benefits. Variable Assist allows for adaptive power on either leg and is what supported Ekso's FDA indication for use with stroke victims. Depending on the mode that the device is set at, movement can be activated via buttons on the crutches or walker or by the user shifting his weight. Ekso GT is only sold to the rehabilitation segment. Similar to ReWalk, Ekso GT requires the patient to be able to support his full weight with the use of crutches.
Similar to RWLK, Ekso has a history of slim margins and large net losses with no obvious future inflection point when financial performance may improve. And while Ekso also has a revenue-generating engineering division which has much higher margins than that of their medical devices segment, the company also uses significant amounts of cash (~$18M in 2015). Ekso's medical device gross margins are also less than 10%. Ekso's device is also one of the most expensive, priced at between $90k and $150k. Ekso GT, at 51 pounds, is also heavier than others. And while certain specifications such as battery life are difficult to find reliable estimates on, from what we have been able to find Ekso's battery life may be on the shorter side.
-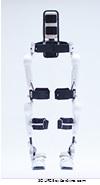 Cyberdyne Inc: Hybrid Assist Limb or HAL is CE Marked and also approved for sale in Japan for rehab use. Cyberdyne filed for de novo FDA clearance in November 2014. Japan and Germany are the company's main markets where they have established reimbursement contracts. This includes with the Public Workmen's Insurance Organization in Germany. HAL received marketing approval as a medical device in November 2015 and the company filed for national health insurance coverage in December. If granted, this would likely significantly accelerate adoption in Japan. Cyberdyne is currently focused only on the rehab market. HAL has two medical versions, a full-body, cyborg-type, exoskeleton and a lower body exoskeleton. The company has approximately 125 units placed in Germany and Japan. HAL is unique as motion is triggered by what the company calls "bio-electric signals" - or the patient's intention to move by the brain sending signals through the skin. Cyberdyne claims that this can teach the brain how to move the legs. In contrast to most other manufacturers which sell their device outright, Cyberdyne uses a form of leasing revenue model whereby they lease it to a treatment center and then receive a portion of the fee that the center receives (from insurance or private pay) for providing therapy. Cost is approximately $4.5k upfront payment and then monthly fees of ~$1.5k or average annual cost of approximately $20k over two years. It is unclear what the status is of the FDA filing. A potentially shorter battery life could also be an issue. Cyberdyne is a big company (~$3B market cap) with several divisions including robots for industrial applications and has significantly more resources than most other manufacturers. They have also stated their intentions to expand their business in Europe, Japan and the U.S. But it is also not clear if HAL is suitable for severe SCI injuries, particularly SCI-complete injuries as the device requires the patient to initiate an intention to move to operate it. So while we think HAL could provide substantive competition, this may be mostly relegated to non-SCI indications and the company may continue to focus mostly on Germany and Japan, areas that have proven receptiveness for their device.
-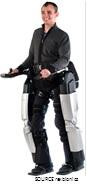 Rex Bionics: Rex Bionics' Rex exoskeleton is CE Marked for rehab and home use. It is also sold in the U.S. to rehabilitation centers under FDA 510k exempt status. The company is pursuing FDA clearance. Rex is unique in that it does not require the use of crutches for support. This allows it to be used with patients SCI injuries up to C4, considerably higher than what competing devices are appropriate for.
Despite having CE Mark since 2010 Rex has placed very few units and generated less than $300k in sales to-date. The apparent cold reception may have to do, at least in part, to it being a relatively very pricey ~$150k. And while the self-supportive feature (i.e. no crutches) allows it to be used for higher SCI injuries, it adds considerably to the weight and bulkiness - at 84 pounds it is by far the heaviest. And, given that it is marketed in the U.S. under 510(k) exempt, Rex could face FDA notice to cease selling the device unless and until it receives FDA clearance. Battery life may also be an issue.
-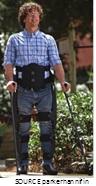 Parker Hannifin: Indego is currently under development and is available for use in the U.S. and Europe for research purposes only. Unique features include robotic assist, which is similar to Ekso's Variable Assist, and functional electrical stimulation (NASDAQ:FES) which uses small electrical impulses to stimulate paralyzed muscles which cause them to contract and presumably improve strength. Indego is billed as being just 26 pounds which would make it one of the lightest. It is being developed to be able to be used while the patient is in a wheelchair which could be a very compelling feature and one which is not commonplace. Parker Hannifin is by far the largest of the companies that are on our competitive dashboard with $13B in sales across a variety of divisions. Their deep pockets, access to capital, potential to accelerate development and commercial infrastructure could prove a competitive headwind to all or most other manufacturers. Of potential challenges, Indego may be pricey - a WSJ article notes that it will be priced at ~$70k - $100k[1].
-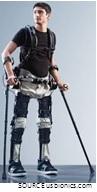 SuitX / U.S. Bionics: The founder of U.S. Bionics previously founded Ekso Bionics. The company bills their flagship product, Phoenix, as "the world's lightest and most advanced exoskeleton." Phoenix weighs 27 pounds which would put it on-par with Indego on this metric. Phoenix has a modular design which allows the user to put on each piece which appeals to the 'ease-of-use' factor. Battery life at 4 - 8 hours may be on the longer end compared to its peers. And similar to Indego, Phoenix is small enough to be worn while in a wheelchair. Phoenix is the only exoskeleton that has a majority or sole focus on the home use market as opposed to rehab. Specifics in terms of expected selling prices are not available although a 2011 article in the San Francisco Chronicle mentions $15k as the expected cost.[2] However, we note that we think this is mostly speculation and actual selling price, if development completes and the device is commercialized, will have to exceed cost to manufacture - which is an unknown.
So how does Bionik and ARKE stack up? Bionik is much smaller in size and with much more scant financial resources than the likes of Parker Hannifin and Cyberdyne. But on those measures is more on-par with the others that we have detailed above. As ARKE is still in the validation / testing phase there are still some unanswered questions regarding its functionality and performance which is similar to Indego and Phoenix. In terms of indicated use - Bionik has intimated that they may seek SCI up to T6, which is the market where most others are focused. ARKE will solely target the rehab market, at least initially, which is also where the bulk of the competition lies. Follow-on indications could include stroke, TBI, MS and other neuromuscular disorders as well as for home use but these will require additional functionality (such as partial assist, hemiplegia) and supportive clinical trials (as well as additional capital) and therefore could be several years off.
Bionik believes their initial competitive positioning lies with ease-of-use benefits and data functionality. They have also indicated that they may pursue a revenue-share / leasing business model as opposed to outright sale - while this differentiates BNKL from most of its peers, we have some reservations about whether or not this is feasible for BNKL and if it indeed is a benefit.
- Ease-of-use: ease-of-use benefits relate to the ability to program using the removable tablet interface which is designed to be more intuitive than competitors' offerings which can require significant training. The benefits of this may be more anecdotal right now but could become more clear with the upcoming clinical validation at the Canadian rehab centers.
- Data Functionality: data, such as information on gait, strength and positioning (among others), collected from sensors on ARKE will be analyzed with IBM's cognitive computing infrastructure and will be available in the cloud. This data will then be used to make adjustments to the mechanical parameters on ARKE, providing rehabilitation regimens customized to the specific needs of the patient. This is expected to provide more effective rehabilitation compared to the more "one-size (i.e. rehabilitation regimen) fits all" approach of most exoskeletons. While the data functionality is slated as a future upgrade, it is expected to be available with the current ARKE model.
- Revenue-share business model: Exoskeletons are pricey - ReWalk, Ekso GT, Rex and Indego are priced between ~$70k - $150k (we think the ~$15k anecdotal price for Phoenix is likely unrealistic and would place no faith that that will be realized). Bionik has indicated that they may pursue a revenue-share business and leasing model. The idea is that rehabilitation centers may not have the capital budget to purchase the device or may not want to bear the risk of underutilization and therefore will be more receptive to a leasing and revenue-share agreement. For in-patient rehab (i.e. - high utilization) Bionik envisions a monthly leasing agreement. For out-patient rehab (i.e. - lower utilization) ARKE would be provided for free or for a nominal fee and then Bionik would share in the fee paid by the patient (or insurer) for therapy. This is similar to the model that Cyberdyne uses. While a leasing model may prove to drive greater adoption than that of outright sales, leasing places most of the risk of underutilization on the manufacturer. It also could mean that the products are carried on BNKL's balance sheet as depreciable assets. This can be a drain on financial resources, particularly if utilization does not cover the cost of financing. And, in the event leasing does prove advantageous, competitors could switch to this model, potentially eliminating any competitive benefit. However, leasing may offer a point of early differentiation and facilitate early share gains and awareness-building. And it may be very do-able, even for a company of BNKL's size. Non-traditional financing such as asset-backed loans or sale-leaseback contracts may prove to be viable options.
Further enhancements to ARKE, including variable assist which are expected to be incorporated in follow-on generations of the system, could provide additional and greater competitive differentiation.
Investment Considerations:
Is There A Feasible Market For Exoskeletons?
This is the most basic and fundamental question that needs to be addressed when considering an investment in Bionik or any other exoskeleton manufacturer. Are exoskeletons just neat inventions with no significant commercial place in the medical rehab / mobility market (similar to what the Segway is for personal transportation) or are these a technological leap forward which will eventually replace the wheelchair and certain traditional rehab equipment and methods?
While it may still be too early to definitively answer that question, we think there are reasons to believe that these are more than just cool contraptions and do have real utility in both the rehabilitation and home-use (personal mobility) settings. In rehab, there is mounting evidence indicating that exoskeletons may provide clinical benefits incremental to those derived from traditional equipment and methods. With more participants entering the space and existing players dedicating more resources towards validating the benefits of these devices, there could be a more definitive answer to this question fairly soon.
For home-use there really is no direct legacy technology that exoskeletons can be compared against - that is, other than the wheelchair. For context on how functionally antiquated and rudimentary this legacy technology is, it is believed that the wheelchair was invented in the year 525 (i.e. almost 1,500 years ago). Of course the wheelchair has evolved since then but its basic functionality has not changed in the 15 centuries since it was initially developed.
Today's exoskeletons are too pricey and not refined enough to make any meaningful dent in the market for wheelchairs as they require too much user effort to operate for more than just brief periods and cannot reliably and consistently navigate up or over rougher terrain (such as gravel, dirt, carpet, etc) or stairs / inclines. They are still relatively clunky, slow and cumbersome and require (per FDA indicated use for ReWalk Personal) "supervision by a specially trained companion" at all times. These aren't exactly endorsements for utility, user-friendliness, autonomy or mass- appeal.
But they do already have significant advantages over wheelchairs in the home setting, not the least of which is the feeling of empowerment, allowing the user to stand upright, walk and look at others at eye-level. While maybe not intuitive to the able-bodied, these psychological benefits are potential game-changers in our opinion in providing the long-term impetus to further development of the technology until it is refined enough for everyday use.
Comments from Cole Sydnor, a 19 year-old quadriplegic who used an exoskeleton for the first time during a clinical trial, which are posted on the Christopher Reeve foundation website seems to sum up the psychological benefits in just a few short sentences. When asked, "What was it like to be upright and walk for the first time since your injury" Cole replied, "It was amazing. Some of my friends made it to Atlanta for the trial to offer their support, and I was able to stand, and actually, to look down on them. I didn't realize how much I'd grown in the past three years, and now I'm 6'3". I was able to stand up and hug my mom, which was a real tearjerker!"[3]
So while there is only a limited market for exoskeletons today (almost all of which is in the rehab setting), we have little doubt that as the technology improves and additional evidence supports the clinical and psychological benefits of the devices that this market will rapidly expand and one day begin to replace the market for wheelchairs.
First-to-Market Not Always Advantageous
While being first to market can be a tremendous advantage for products that are already well refined and for which there exists significant demand, that may not be the case for relatively under-developed novel technologies targeting an immature market. ReWalk, Ekso and other industry pioneers that were early to get a product commercialized have helped pave the way for the medical exoskeleton class of products by building awareness of the benefits of the devices, generating clinical evidence via numerous studies and laying initial groundwork for insurance reimbursement. These early products were also in a sense the 'guinea pigs', helping to determine what worked, what did not, where improvements were needed and provided somewhat of a litmus test of the overall viability of the segment.
So Bionik being a follower rather than a leader to market could be an advantage. They did not have to spend the trial-and-error type of resources that ReWalk and Ekso may have had to in product refinement and certainly should benefit from the clinical data that has already been produced and financed by these earlier entrants. One obvious recent testament to the benefits of this is the national coverage policy announced by the VA - while this only relates to ReWalk, it is conceivable that if and when other manufacturers gain FDA approval for home use (including potentially Bionik), that similar coverage policies may apply to those systems as well. We think this action by the VA also provides additional credence to the long-term viability of exoskeletons as an eventual replacement of wheelchairs.
Dedicated and widespread insurance reimbursement (CMS and private payers) is unlikely to materialize in the U.S. without substantially more evidence related to specific indications (such as lower rate of bone loss or muscle atrophy, improved bowel function, etc) and BNKL should benefit from others' efforts in this regard as well. By the time ARKE launches in the U.S. (assuming it does), the reimbursement picture could be substantively improved.
Competition: Price Could Be Paramount in Rehab, Home-Use More Discerning on Features/Function…
The rehab segment, where a patient will use the device for only relatively very short periods of time (30 - 60 mins) and as little as one to two times per week (although more often for in-patient) may be less discerning in terms of total functionality and performance than that of the home setting. In today's market where reimbursement is scant, price may be paramount in a hospital or clinic's decision-making process regarding which manufacturers they engage. ARKE is expected to enter the market with some less functionality (such as variable assist and FES) than other devices but is also expected to more effectively address the cost constraints of the market via a leasing/revenue share model. And Bionik is positioning ARKE as being more user friendly for the rehab staff in terms of programming, which could prove to be a more important feature than things such as FES, the benefits of which are debatable. As such, we think ARKE does look attractive for the rehab setting for SCI. As Ekso is the only exoskeleton with variable assist technology and which recently received FDA clearance in the rehabilitation setting for use with individuals with hemiplegia due to stroke, they may have an early advantage in the (relatively large) stroke segment (although as we explain below, we question the sustainability of their business model).
Feature and functionality-rich may be the name of the game for home-use, however. The market is still immature but as it evolves the cream of the crop should eventually rise to the top. While ReWalk leads in terms of the size of the installed base, that may have more to do with them being first to market (and the only device approved in the U.S. for home use) than anything necessarily related to attractiveness of their device. Over the long-term we expect market share wars in the home segment to be waged using weapons such as differences in functionality, usability, performance and cost, among others. As we alluded to earlier, the relative effectiveness of these weapons will be determined by the speed of innovation among the various participant(s). Those manufacturers that can lead the technological transformation from the brick cell phone (i.e. today's exoskeleton models) to the flip phone and eventually to the smart phone (and patent the technology along the way) should find themselves towards the front of the pack.
The ultimate goal will be to develop a device that is capable of replacing the wheelchair. While not likely to happen in the near-term, or possibly not for a decade or more, we think the writing is on the wall that it will be a reality one day. For that to happen exoskeleton technology will need to evolve where these devices can be worn for extended periods of time (requires comfort, does not drain energy of the user, long battery life, can be worn while sitting) are able to navigate different types of terrain, are affordable and provide the user with independence.
Market Should Be Capable of Sustaining Several Players
There are ~3.3M wheelchairs in use in the U.S. and about the same number in Canada and Europe, combined. This could be a very big and attractive market. If we assume that just 10% of wheelchair users would be candidates for exoskeletons, the market could be worth $35B ($50k/unit x 7M units x10%) or more. A ballpark estimate for the aggregate rehab market for exoskeletons in the U.S., Europe and Canada is $1.1B (11k hospitals x 2 units each x $50k/unit).
We think it is reasonable to assume that, like with most products and in most industries, that there will be several exoskeleton manufacturers that will emerge and potentially thrive (in serving the rehab and home-use segments). Expect the industry to include niche players with smaller product lines serving more specific parts of the market along with larger companies with broader product menus. Look for differences in technology, functionality, performance and cost as attributes that segment the larger market into smaller tranches and offer exploitable opportunities for those that offer products that can meet specific demand.
So while Bionik is not the most well-capitalized of its peers and does not have the resources of a Parker Hannifin or Cyberdyne, this does not disqualify the company from participating in the market. ARKE lacks some functionality of other exoskeletons but we believe other potential competitive advantages such as a more affordable leasing/revenue share option, data functionality and ease of use are attributes that can be expected to be well-received in the rehab segment.
Expect Visibility to Improve With Further Validation of ARKE
Bionik was incorporated in 2010 but the stock only began trading on the public market in August 2015. As the company remains largely unknown, trades on a third-tier exchange (OTCQX) and has a current market capitalization of just $60M, the shares are very thinly traded. Investors need to be aware that it could be difficult to exit an investment in companies such as BNKL in which the stock has a relatively low trading volume. However, we think liquidity in BNKL's shares will improve with greater visibility of the company which we think will come with further validation of ARKE and other progress towards eventual commercialization.
---
[1] WSJ
[2] SFGATE
[3] Emerging Technologies: Quad Walks with the Help of Robotic Exoskeleton
---
[1] Boulet S. et al. Health Care Use and Health and Functional Impact of Development Disabilities Among U.S. Children, 1997-2005. Arch Pediatr Adolesc Med. 2009;163(1):19-26. doi:10.1001/archpediatrics.2008.506
Disclosure: I/we have no positions in any stocks mentioned, and no plans to initiate any positions within the next 72 hours.
Business relationship disclosure: I work as a Consultant Analyst for Zacks Investment Research. The article is written by me and is 100% my opinion. I receive compensation from Zacks for writing equity research reports and providing valuation analysis on this company's stock and expect to do so in the future. Zacks receives compensation from the company. Please see the Zacks Disclaimer for further information: http://scr.zacks.com/Disclaimer/default.aspx
Editor's Note: This article covers one or more stocks trading at less than $1 per share and/or with less than a $100 million market cap. Please be aware of the risks associated with these stocks.