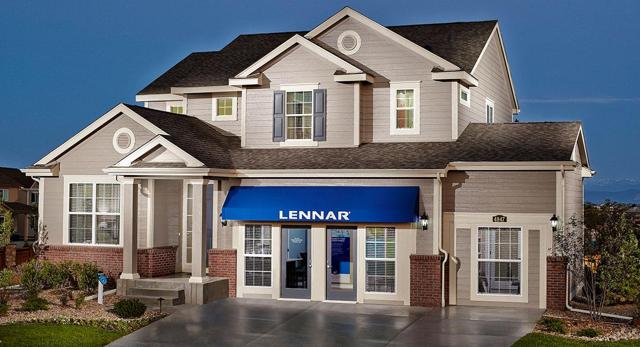 When the United States fell into a deep financial-led recession between 2007 and 2009, one of the biggest hits came in the housing market. Simply put, single family home prices plunged. Institutional-level investors swept in and, pretty much overnight, the single family home rental market became big business. And with that came real estate investment trusts, or REITs, like Silver Bay Realty (NYSE:SBY) and American Homes 4 Rent (NYSE:AMH). But home builder Lennar Corporation (NYSE:LEN) may just remake the market these companies were hoping to build, but in a good way.
Mom and pop

Historically single family home rentals were the purview of small investors. This makes a lot of sense. Since each single family home is unique, creating economies of scale was difficult and the cost of building a portfolio was pretty steep. When the recession hit, however, cost was no longer an issue. And there were so many homes on the market that it was suddenly possible to create scale.
That's when institutional level investors stepped in. It wasn't long before the capital markets were tapped via the REIT structure, with companies like Silver Bay and American Homes coming public. The early business model was pretty simple, buy as many homes as you could, fix them up, and then rent them out. The hope was that the purchase price would be so cheap that the REIT could turn a profit on the rental while benefiting over the long term from capital appreciation.
That said, there was still the problem of maintaining thousands of disparate properties. Each, of course, with its own quirks and needs. It's one thing to get a repair crew up to speed to get newly bought homes on the rental market quick, but maintenance is a bit more of a headache. And don't forget the complexity of renting out homes scattered throughout the country.
In fact, American Homes 4 Rent has increasingly tried to build scale to create a strong business model, it now has over 47,000 homes across 22 states. Silver Bay, meanwhile, is at the other extreme. It has around 9,000 properties in roughly 10 states, with just three states accounting for around 75% of its portfolio. Basically, big and diversified versus small and focused.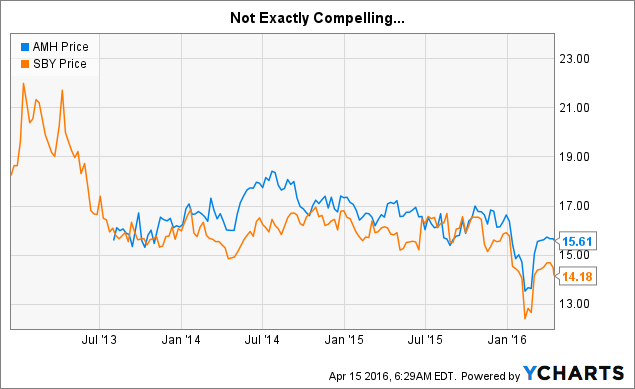 The thing is, neither REIT has turned out to be a sterling investment opportunity. Basically, this still-young REIT subsector hasn't proven it has legs. And now home builder Lennar might be kicking out whatever support the single family home REITs have holding their businesses up...
From the ground up

Indeed, even a cheap purchase price can't take away some of the biggest problems facing single family rentals. But, what if you turned the idea on its head and built a rental community from the ground up? Sort of like a multi-family property, but only single family homes instead of one big apartment building. Well, that's exactly what Lennar has been trying out for about a year in California at its Frontera at Pioneer Meadows development.
If the property works out, this could be the real future of the single family home REIT sector. Why? Built from the ground up, costs are a known variable. Moreover, you only have to build new homes as you need them, which means capital spending can be spread out over time while still building the business. Once scale is achieved, it could even be a self-funding model.
Second, with all the homes in one development, scale is instantly ensured. And so is control over the quality of the neighborhood and the amenities offered to residents. Better yet, since the homes were built by one company they all share basic similarities. That provides economies of scale not just during the construction phase but also on the maintenance side. Essentially, Lennar could be removing many of the barriers that appear to still be holding back the single family home REITs that were created in the wake of the 2007 to 2009 recession.
That said, there are risks here. Owning hundreds of homes in one development is great, unless that development finds itself in a region facing economic hardship. And while the costs of building out a development could be born over time, it's still an expensive process with an uncertain outcome. (What happens if you built it and no one comes?)
A partner?

So far, I haven't been impressed with the single family home REITs. I don't believe they've been able to prove that there's a long-term business in what they do. However, if Lennar's approach catches hold, single family home REITs could be worth a second look. It would be particularly interesting if Lennar and a company like American Homes paired up, with the REIT providing the capital and the home builder creating the property.
That may be a far fetched idea today, but I think it might just be the right path to a sustainable business for single family home REITs. It would be similar, in some ways, to one of Sun Communities' (NYSE:SUI) manufactured home parks - just with a little more permanent home construction. A step up from an RV park, if you will.
The takeaway here is that REITs like Silver Bay and American Homes 4 Rent are still a work in progress. It's interesting to watch the development of the niche, but I'm glad I'm not an investor. However, if Lennar's community-based rental approach takes off (there are others doing the same thing), the single family home REIT space might start to look a lot more appealing.
Disclosure: I/we have no positions in any stocks mentioned, and no plans to initiate any positions within the next 72 hours.
I wrote this article myself, and it expresses my own opinions. I am not receiving compensation for it (other than from Seeking Alpha). I have no business relationship with any company whose stock is mentioned in this article.