The biotech sector has gone from "worst to first" recently. After enduring the longest and deepest bear market since the financial crisis, biotechs have bounced some 15% off their lows in February. That rebound has accelerated during the first two weeks of April. The sector is one of the best performing in the market so far in the second quarter after being the worst in the fourth quarter of 2015 and through most of the opening quarter of this year.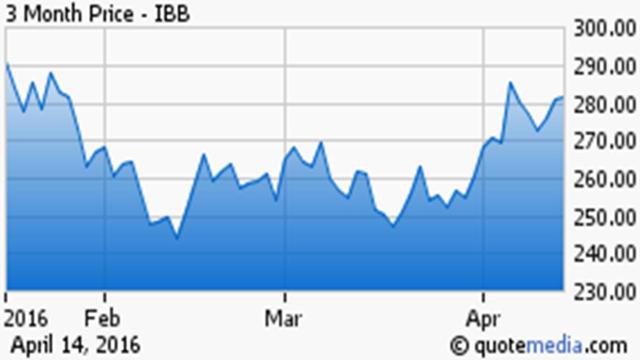 Sentiment has started to shift into "risk on" mode once again across the small caps in the sector. In addition, this sub-sector has been bolstered by increasing speculation around buyouts now that the Treasury Department has derailed the mega-merger between Allergan (NYSE:AGN) and Pfizer (NYSE:PFE). Some recent favorable Ad Comm decisions have triggered some major rallies in selected names as well.
Some of the recent rises in some of the 15 small cap positions within the Biotech Forum portfolio has been nothing short of spectacular. Here are just a few that have jumped recently.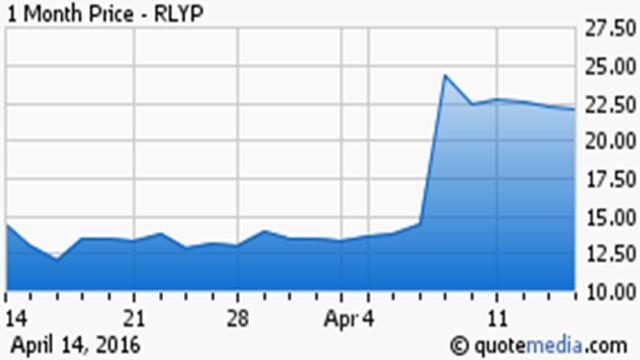 Relypsa (NASDAQ:RLYP) jumped over 65% last Thursday on multiple reports from Reuters and others; the small biopharma has hired an investment bank and is fielding offers. I just provided my take on what this could mean for the stock.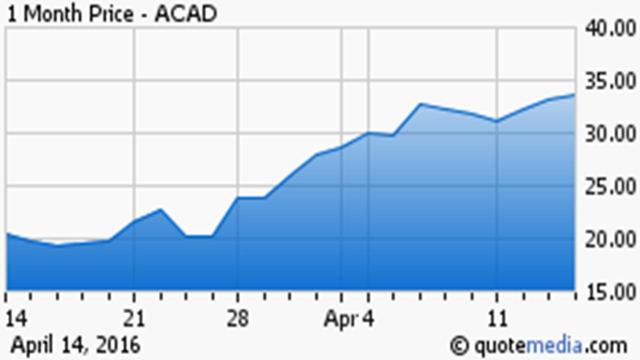 Next, we have Acadia Pharmaceuticals (NASDAQ:ACAD), which has rocketed after an Ad Comm panel voted 12-2 to recommend its drug Nuplazid to the FDA for approval. The drug would be the first compound approved to treat psychosis in patients with Parkinson's Disease. This is potentially a huge market and the drug has a multibillion-dollar potential as it also is being studied for other indications. Its PDUFA with the FDA is May 1st. If approved, which is likely, the stock could rally further depending on what if any label requirements the FDA requires with approval.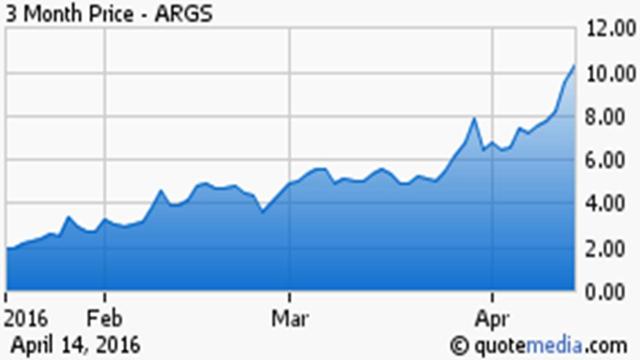 Finally, we have small cap Argos Therapeutics (OTC:ARGS), which as the chart attests, is one of the best-performing stocks so far in 2016. The equity was deeply oversold to begin the year, but even I have been shocked at how fast it has rebounded - not that I am complaining. The company will announce interim results from a critical ADAPT Phase 3 trial for its main drug candidate, AGS-003, for metastatic renal cell carcinoma. Obviously, investors are betting those results will be very favorable and I continue to hold my position as well in front of this possible catalyst.
So what possible goodies do I have for my regular Seeking Alpha readers today? How about two undervalued ~$5 small cap biotech stocks with potential positive near-term catalysts?
Let's start with Progenics Pharmaceuticals (NASDAQ:PGNX), a small biopharma that sells just under $5.00 a share and has a market capitalization of just south of $350 million at the current time. The stock has rebounded and moved higher from the dip the stock had in early April. The trigger for the initial decline was word that the FDA pushed back the PDUFA for its application for the oral version of its drug Relistor by three months. However, this action had more to do with its distribution partner and now pariah Valeant Pharmaceuticals (NYSE:VRX) than the drug's chances of approval, which is quite solid.
Valeant received the rights to this compound when it bought Salix Pharmaceuticals (NASDAQ:SLXP) in 2015. The compound is used for the treatment for opioid-induced constipation and chronic non-cancer pain. The injectable version of relistor is already on the market and seeing solid sales growth. Progenics gets a 15% royalty on relistor sales and will get a $50 million milestone payment upon the approval of the oral version of the drug.
This approval will provide a significant boost to relistor royalties before year-end. Previous partner Salix had projected that peak market for the approved version of relistor was $300 million annually but had $1.3 billion in peak sales for the oral version. Due to its large debt load that is now in junk territory. Valeant has been said to be looking at divesting assets to reduce that debt load. Rights to relistor might be one of those assets, as the company did not directly purchase them in the first place. This would be good for Progenics and might even make it a buyout target as well, if that purchaser decided it just made sense to acquire the rights to relistor, the additional sales going to royalties and Progenics pipeline all in one swoop.
The company has a couple of early stage oncology and imaging compounds in its pipeline which at this price an investor is getting for free as the stock is undervalued just on relistor's potential alone. Brean Capital reiterated its Buy rating and $14 price target on PGNX on April 5th noting it believes strongly that oral relistor will be approved at the next PDUFA date. The $50 million milestone payment will bring the company's net cash past the $125 million mark so funding is not an issue especially when the consensus believes the company will post a profit this year.
Marinus Pharmaceuticals (NASDAQ:MRNS) is up next. This is a small and promising biotech concern that has a market capitalization of approximately $100 million and whose stock trades just above $5.00 a share. I have built a decent stake in Marinus as the company has multiple "shots on goal" within its pipeline. Look for the stock to be active today, as it has just announced this morning that the company had received FDA approval for Orphan Drug Designation to the intravenous formulation of its CNS-selective GABAA modulator, ganaxolone, for the treatment of status epilepticus. A Phase I trial will be initiated by the end of June.
After not having much of anything in the way of analyst coverage for a year, analyst commentary has picked up as of late. On March 8th, Jefferies reiterated their Buy rating but did cut its price target by a buck to $13. That same day, Oppenheimer maintained its Buy rating and $17 price target on Marinus. Its analyst noted in support of his bullish stance "2016 could be a breakout year for Marinus, as the company has a number of catalysts for all of its programs, including epilepsy (focal onset seizures) and Status Epilepticus. Positive results in the first Phase 3 epilepsy study alone could mean significant upside for the shares. We do not anticipate ganaxolone revenues until 2020, and forecast sales of ~$34 million/~$635 million in 2020/2024."
As noted by Oppenheimer, Marinus has a busy schedule of events over the next few months. By the end of the first half of the year, the company will have provided results from its primary drug compound Ganaxolone for the treatment of Fragile X as well as well as female children with epilepsy in two Phase II trials. Perhaps more importantly it will release results roughly in the same time frame for ganaxolone in Phase III trial for the treatment of adult epilepsy. Some five million people were treated for epilepsy in 2012 in the United States, Europe & Japan.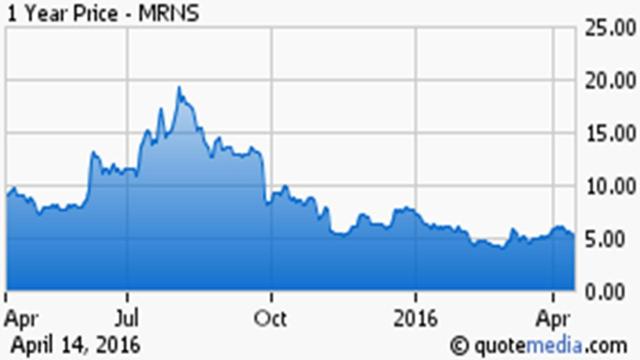 Marinus raised over $25 million through a secondary offering late in 2015, so additional capital raises seem off the table over the near term. Although speculative, I like the risk/reward profile of this small biotech concern. If sentiment continues to improve on the biotech sector, I would expect Marinus will start to recover some of the steep losses it incurred in the recent brutal bear market in the space.
Thank You & Happy Hunting
Bret Jensen
Founder, Biotech Forum
Disclosure: I am/we are long ACAD, AGN, ARGS, MRNS, RLYP, PGNX.
I wrote this article myself, and it expresses my own opinions. I am not receiving compensation for it (other than from Seeking Alpha). I have no business relationship with any company whose stock is mentioned in this article.