Last month I wrote my inaugural article detailing the top monthly picks for a DIY DGI portfolio. My strategy revolved around using Motif Investing but as I mentioned it can be accomplished without it. The pros are directly copied from last month's article:
Dollar cost average into companies that you love and think will do well over the long run
Less emphasis on price as each individual company is a small portion of your purchase
(If using Motif) Keeps transaction fees low per stock per trade
Removes ETF commission fees
Gives you the ability to be an active manager without the common 1%+ fees
Pays out when stocks payout so can create a more steady income stream than an ETF
This is a "living" article in sense, as I am writing this as I do the research to make my starters list for this month.
As noted above, this process is about dollar cost averaging into these companies, I am well aware the market is expensive but I am not interested in market timing here, as it's been said it's more about time in the market. I have no doubt these companies will be worth more decades down the road and paying me more income. If (collectively) they aren't - I imagine there are much larger problems going on than worrying about my retirement.
This style of course can fit any investors portfolio or risk tolerance levels from a current retiree to someone with decades to go. As I fit the mold of having decades to go, the companies by and large are not going to be high yielding / slow growing companies.
One other note, I set this up equal weight 3.3% for each company and dividends from the prior month are used in the current month purchase (Motif doesn't DRIP dividends yet).
Methodology
The process I am following is evolving over time. Much of my original list came from researching the holdings of popular dividend ETFs, namely Schwab's U.S. Dividend Equity ETF (NYSEARCA:SCHD) and Vanguard's High Dividend Yield ETF (NYSEARCA:VYM).
From there I cross-checked those holdings with David Fish's CCC list and added some others of my own.
Finally I added companies that I've come across through different articles here on Seeking Alpha mostly in the "Dividends" section. There are some authors doing fabulous work researching the nuts and bolts of these companies.
After compiling the list, I am generally using Fast Graphs and some of the display metrics available to evaluate each stock. I'm seeing how the current price action fares against its own historical multiple. I am also taking that into consideration with the expected growth, analysts historical accuracy for their 1-2-year estimates and finally the current yield along with the payout ratio.
The screenshots I've included won't cover all of those things, just the pricing action with growth estimates.
At some point this may evolve into a more proper scoring system to guide my selections, but part of the benefit of doing an ETF-style portfolio is that we are going for a lot of singles instead of home runs.
Looking At The Bigger Picture
To kick this off, if you don't use Finviz's "heat map" I highly recommend it. It helps you to step back and look at the big picture with time period selectable. Here is the current YTD look.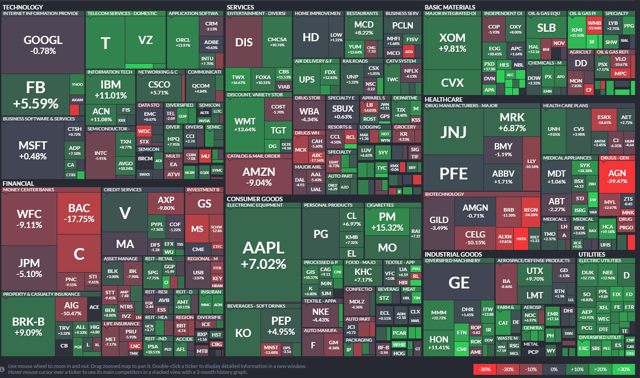 So while the market is up near all time highs once again, we can see pockets of red showing the stocks that are down.
Sectors like financials and healthcare are down over this time period, so it makes sense to look a little bit more for value plays here.
It's easy to look at the overall market level and make presumptions about it but there are definitely still bargains, it's just that other companies have more than made up the slack driving the overall market higher.
Getting Into The Portfolio
I'll present the "starters" that made the cut this month, highlight a few of them and then will do the same for the "bench" players.
Last month I had the notion of a list of "always buy" stocks. Feedback was mixed with this concept, on one hand it is easier to have a batch of stocks that you like for the long term. On the other hand it potentially locks you into buying when they are really overvalued.
This month I decided to be a little looser with my defaults, I was willing to swap some out if I saw better deals along the way. As you'll see the green numbers were my defaults, red indicated they were removed this month.
So without further ado, here are the starters for April.
The Starters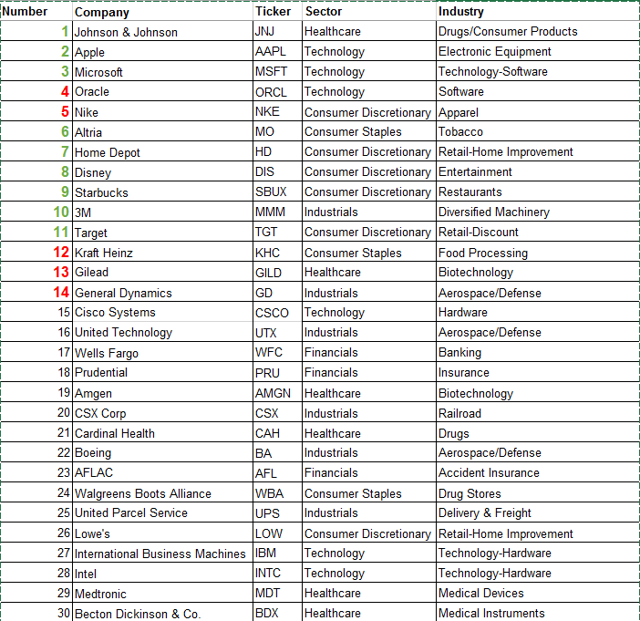 This month I included Oracle (NYSE:ORCL), Nike (NYSE:NKE), Kraft Heinz (NASDAQ:KHC), Gilead (NASDAQ:GILD) and General Dynamics (NYSE:GD) as picks and removed McDonald's (NYSE:MCD), Coca Cola (NYSE:KO), Pepsi (NYSE:PEP), Diageo (NYSE:DEO) and Exxon Mobil (NYSE:XOM).
Just as a quick note, the companies I am about to present are not meant to be compared head to head to say which one is better but from more of a total portfolio perspective.
I am including some Fast Graphs to support some of my selections.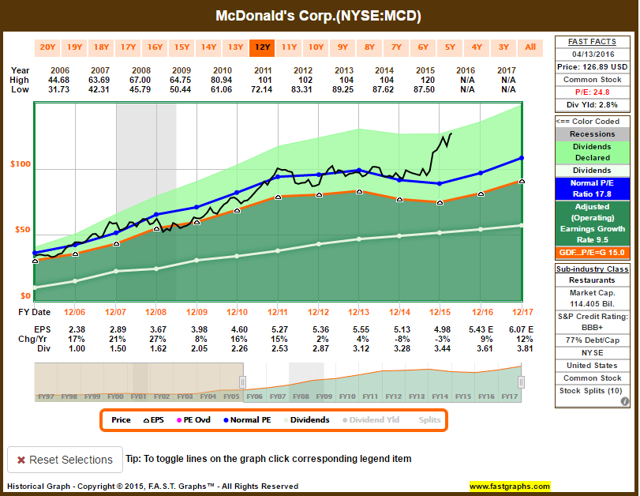 McDonald's is expecting nice growth over the next two years but the company is currently running at a much higher multiple than historically speaking. It's not completely unjustified given the expected growth rates but I decided to swap it out this month for Oracle.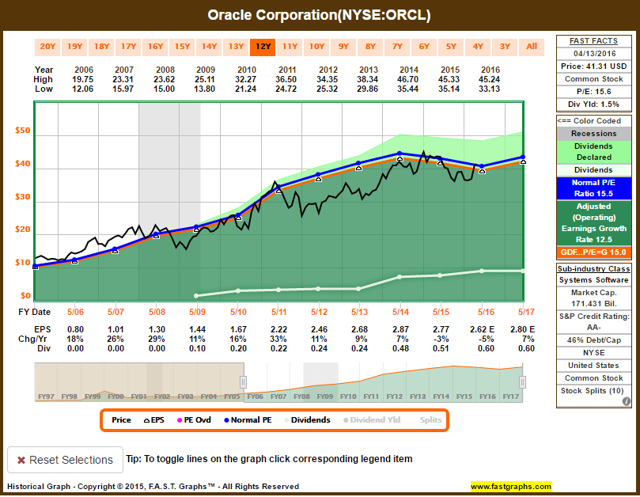 Oracle on the other hand is trading right at it's historical fair value, a multiple just above 15 with essentially no growth expected over the next two years. On the other hand their payout is currently very low (18%) so their dividend growth can be very powerful over the next few years along with utilizing more share buybacks at a lower multiple.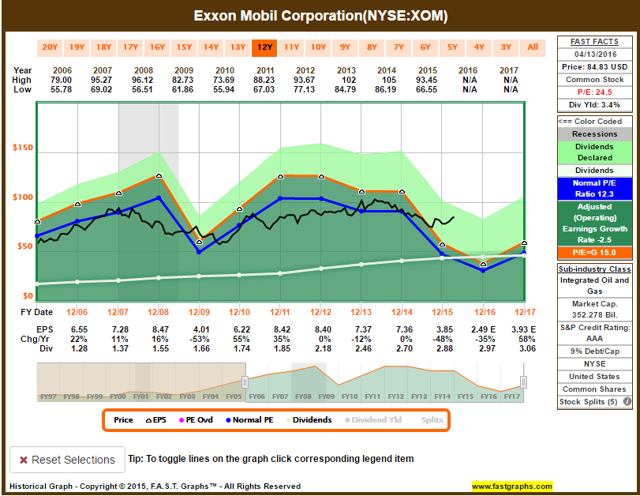 Next up I swapped out Exxon Mobile this month for Nike. The stock is still going through a large earnings decrease during the extended oil downturn. The stock price however has refused to budge driving the multiple higher.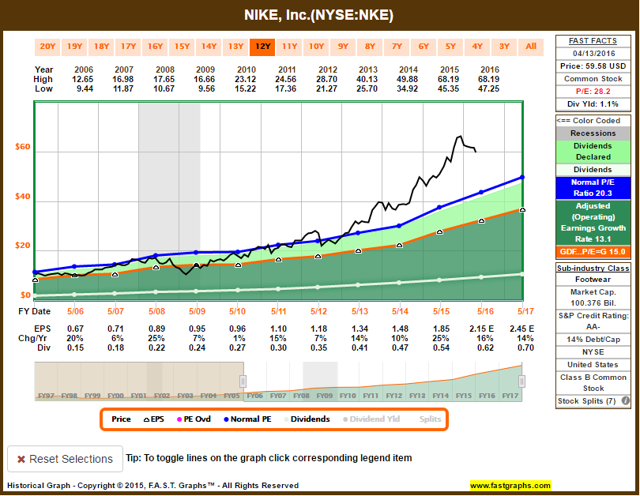 Nike on the other hand is definitely overvalued but the growth rates are quite high which will drive the multiple down if the price weren't to increase. What is exciting is Nike's payout ratio is only about 29% so there will be room to both expand the payout ratio but keeping that the same earnings growth will drive large dividend increases.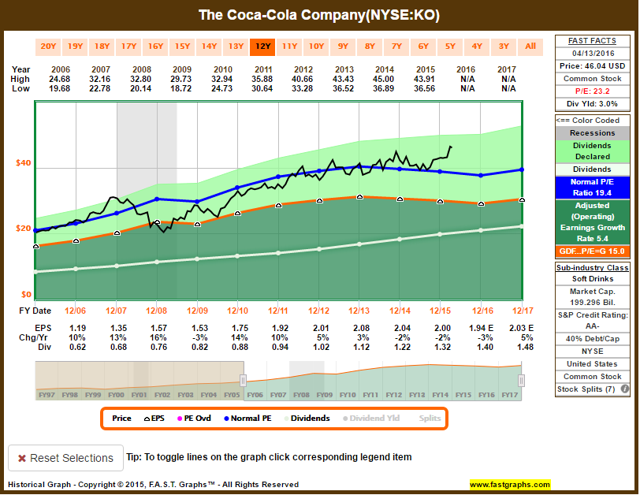 Coca Cola has been on an incredible run as investors seek safety and quality in this more volatile times. The stock is running hot with minimal growth expected it has traded even above it's usual market premium.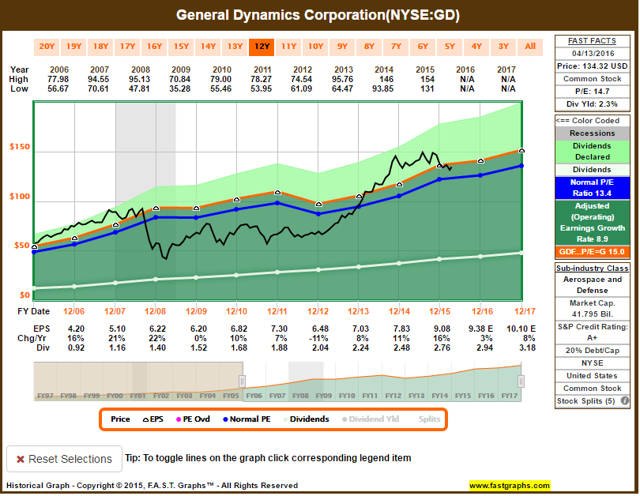 General Dynamics is trading near it's fair value but at 15x earnings the growth it is projecting gives it some extra value. They are the newest dividend champion with 25 years of dividend increases while still maintaining a 30% payout ratio. Expect steady dividend growth here.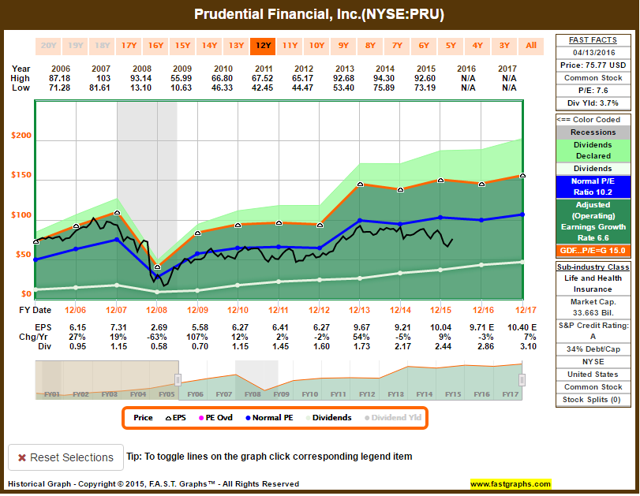 Prudential made this month, the stock is so hated it's trading under 8x earnings which makes it interesting. It yields close to 4% while the payout ratio is still 25%. For a small stake it was too much to ignore.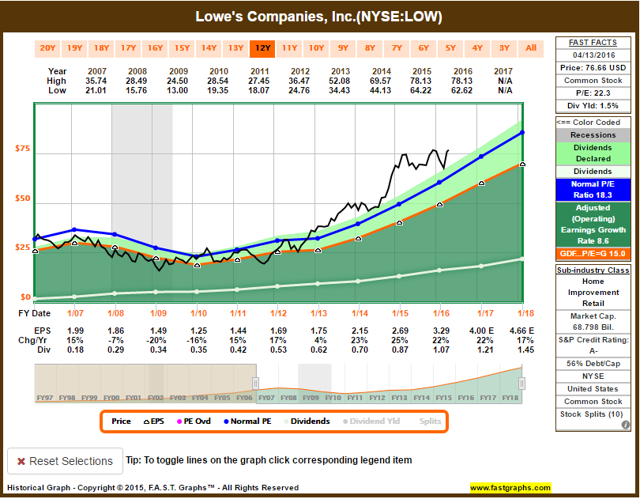 Lowe's (NYSE:LOW) is running hot but the growth expected is fantastic. They are also a dividend champion with over 50 years of raising dividends! The payout ratio is still low at 32% of earnings. Just fantastic, this is a duopoly (with Home Depot) I will gladly be a part of.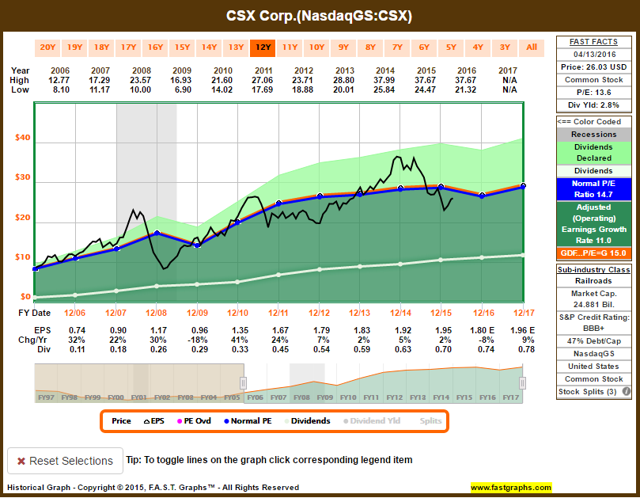 The last one I'll cover is CSX. The stock has been crushed over the past year and is trading under it's historical multiple and under 15x earning which makes it interesting. Growth is expected to be anemic but the stock yields close to 3% with a 36% payout ratio.
The Bench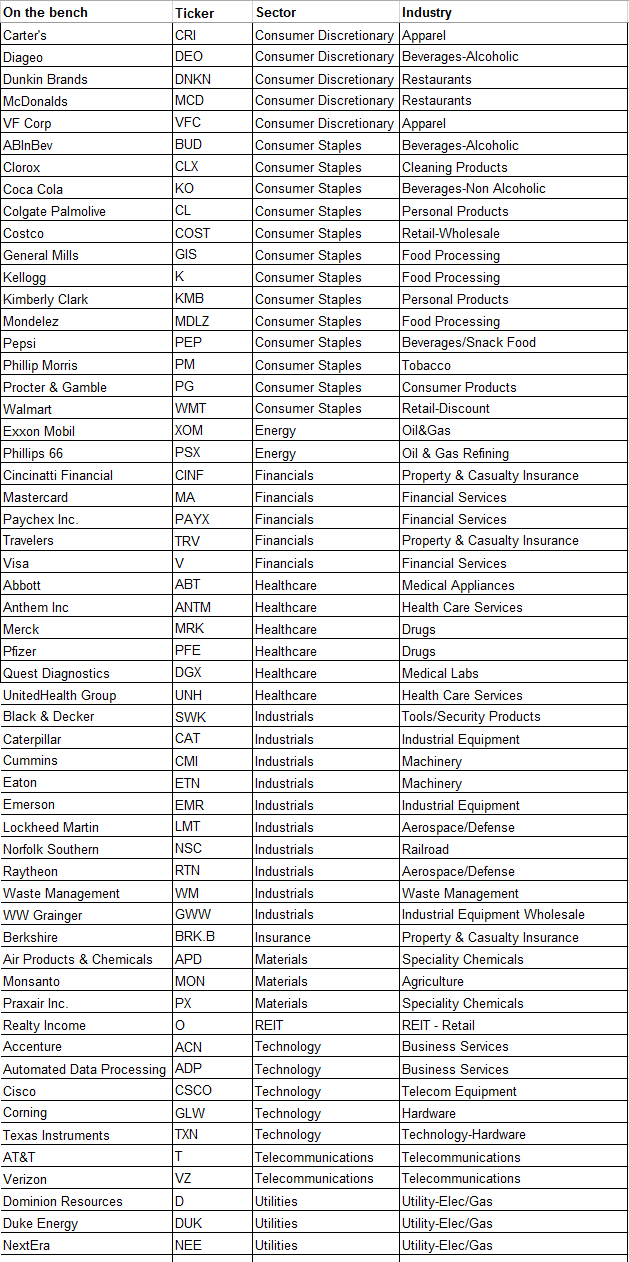 These are the companies that are on my watch list for various reasons and can potentially swap with a company on the starter list. This list is also expanding with several new companies added during research of the past month. Please feel free to suggest additional companies to look at. Again, here's a Fast Graphs that show why they didn't make it.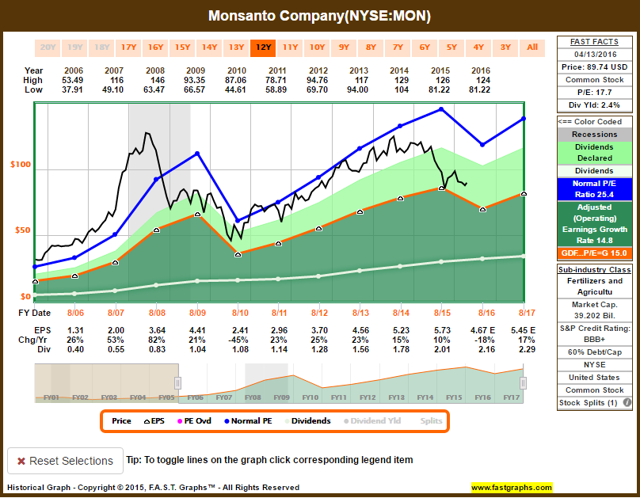 Monsanto is going through the same cyclical earnings as other big agriculture names like Deere but with slightly less earnings whipsawing. I'm encouraged by it trading underneath it's usual multiple but it's still a little pricey compared to where earnings are expected to be at the end of 2017.
Conclusion
With this strategy I am more confident about my long term prospects. Ignoring the overall market level and looking at individual companies in a bubble gives a better sense of where they are heading.
In the course of writing this article I actually surprised myself, it was hard to pick just 30 companies. Many on my list still have either reasonable valuations or the growth prospects help to justify the expanded multiples. One key takeaway is that there are still decent values out there to take advantage of, especially if you have a steady accumulation plan like I do.
Hopefully you find this information useful and can possibly apply it to your own portfolio. I am also always open to other stocks you think I should consider.
For easy searching, the entire selections from this month included: Johnson & Johnson (NYSE:JNJ), Apple (NASDAQ:AAPL), Microsoft (NASDAQ:MSFT), Oracle , Nike , Altria (NYSE:MO), Home Depot , Disney (NYSE:DIS), Starbucks (NASDAQ:SBUX), 3M (NYSE:MMM), Target (NYSE:TGT), Kraft Heinz , Gilead , General Dynamics , Cisco Systems (NASDAQ:CSCO), United Technologies (NYSE:UTX) , Wells Fargo (NYSE:WFC), Prudential (NYSE:PRU), Amgen (NASDAQ:AMGN), CSX Corp (NYSE:CSX), Cardinal Health (NYSE:CAH), Boeing (NYSE:BA), AFLAC (NYSE:AFL), Walgreens (NASDAQ:WBA), UPS (NYSE:UPS), Lowe's , IBM (NYSE:IBM), Intel (NASDAQ:INTC), Medtronic (NYSE:MDT), Becton Dickinson.
Disclosure: I am/we are long ALL STOCKS MENTIONED.
I wrote this article myself, and it expresses my own opinions. I am not receiving compensation for it (other than from Seeking Alpha). I have no business relationship with any company whose stock is mentioned in this article.