INTRODUCTION TO INFRASTRUCTURE INVESTMENTS
I remember long hot summer days as a kid, sitting in the back seat of the car, driving down the tightly packed French motorways to go on holiday. I also remember being dismayed by the motorway tolls. Already being a greedy little toad, I fantasized about the amounts of money that could be made if I were the one charging the toll. After all what was the alternative? Using the beaten up "nationale" roads, where you're limited to km/h.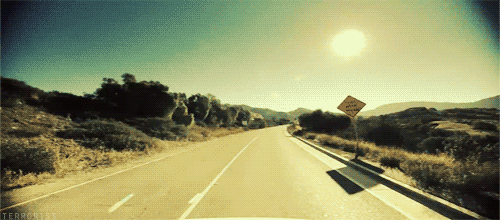 source: giphy
This was probably my first hands on experience of the bargaining power, which a monopoly enjoys. I would be reminded of monopolistic dominance by my economics professors, whose fancy charts pointed to the economic rent companies in such a position could squeeze out of consumers.
I would once again come across the concept last summer while I was studying for the 1st level of the CAIA charter. Within the real assets category, one stood out: Infrastructure assets.
According to the CAIA curriculum:
Investable infrastructure is typically differentiated from other assets with seven primary characteristics:
Public Use
Monopolistic Power
Government related
Essential
Direct cash generation
Conducive to privatization
Capital intensive.
They also underline the fact that no single element is necessary or sufficient, but to the extent that each is more or less satisfied, we can consider the asset to be investable infrastructure.
Investable infrastructure has varying levels of risk depending on geography, nature of the operations and whether the projects are yet to be constructed, which we'll refer to as greenfield projects, or whether they already have a history of operations, which we'll refer to as brownfield projects.
To gain exposure to infrastructure, investors can buy infrastructure stocks or listed funds, invest directly in the assets, or invest in unlisted funds. Given the fact that unlisted funds often come with high management fees, and that direct investment is unpractical and implies high liquidity risk, the choice can be boiled down to infrastructure stocks and listed funds.
Investors usually invest in infrastructure to obtain returns, which are uncorrelated with the market. The asset class is considered to be a "risk diversifier" more than a "return enhancer." I find such categorization to be useless in the real world. In a mean-variance universem such remarks could be useful. In a complex world where both mean, variance, skewness, and kurtosis are heteroskedastic, considering an investment's merits in a portfolio based solely on historical return and standard deviation would seem foolish.
Furthermore, the problem with listed infrastructure ETFs is that you are investing in a set of equities, which are prone to market corrections. As you can see, investing in iShares global infrastructure ETF (NYSEARCA:IGF) wouldn't have done much for your portfolio over the last 5 years, judging by comparison to the S&P 500 (NYSEARCA:SPY). I believe the ETF to be poorly constructed, exposing investors to considerable currency risk.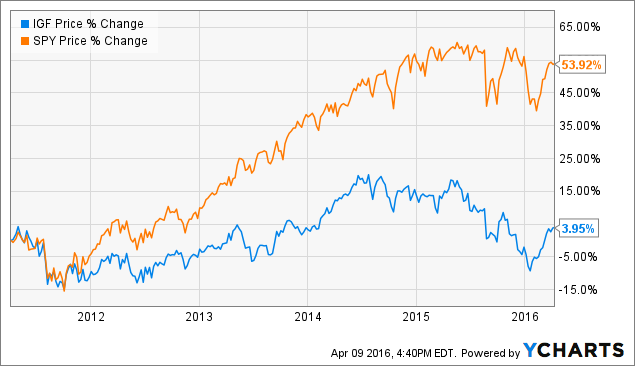 IGF data by YCharts
So if we discard the "modern finance" approach to picking infrastructure investments, we are left with the oldest form of managing risk and return: good old fundamental analysis. I like to pair my bottom up analysis to a top down macro view. Picking the industries, which I want to be exposed to significantly reduces my investment world. Finding interesting companies who operate in industries, which are growing fast stacks the cards in your favor. Without further ado, I would like to introduce Boralex (OTCPK:BRLXF), a power producing company dedicated to the development and operation of renewable energy power plants in North America and Europe.
COMPANY OVERVIEW
Boralex's operations have an asset base of 1094 MW, of which 493 MW are in Canada, 518 MW in France, and 83 MW in the United States. 80% of the capacity is derived from wind power and 15% from hydroelectric power. The rest is split between thermal and solar power. Unless otherwise mentioned, my analysis is done on the security listed on the TSX and figures are quoted in Canadian dollars.
In 2009, the company laid out a clear strategy, which it has been executing successfully ever since:
First, Boralex decided to focus on the highest margin opportunities. These were available in the wind segment, which pushed the company away from thermal energy where the price of fuel had a direct impact on profitability. Less than 5% of revenues come from thermal compared to 57% in 2009.
Second, the firm decided to only invest in assets, which were covered by long-term indexed fixed price government sales contracts. Their main client in Canada is Hydroquebec, and Electricité de France in France. Currently, more than 98% of their capacity is covered by long-term contracts with an average maturity of 15 years, against only 51% in 2009.
Third, the firm will diversify its operations geographically depending upon where the most attractive returns are available.
This transition of the business model implied lower revenues for a few years, but the firm is now much better off. The firm generated record revenues in 2015 and will almost certainly pass the $300 million cap in 2016.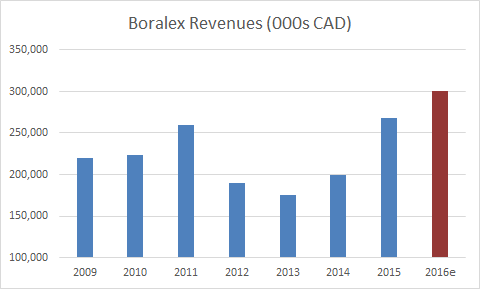 Source: Boralex and Author's estimates.
I will analyze the competitive environments of the markets in which Boralex operates, compare it to the guidance, and give an estimate of a fair price to pay for Boralex.
ECONOMIC LANDSCAPE
In 2009, 39% of Boralex's revenues came from Canada and France (10% and 29% respectively). At the end of 2015, these two countries accounted for 92% of the company's revenues (45% and 47% respectively). Is this a coincidence? I don't think so. France is the world's first net exporter of electricity, and Canada is close behind at third position.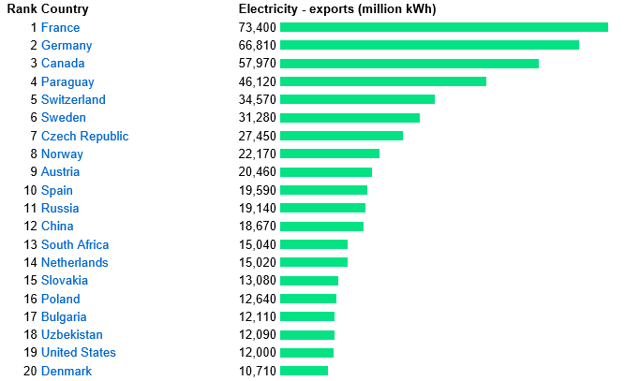 Source: Indexmundi
Net electricity exporters are usually countries whose geographic location gives them the ability to generate large quantities of energy.
When it comes to wind energy, political decisions set the pace for the development of wind turbines.
This makes France a particularly interesting place to invest. A law passed in 2009, the "loi Grenelle I," the French government committed itself to shifting 23% of its total electricity consumption to renewable energies by 2020.
In a national plan released in 2010, appropriately called "énérgies renouvelables," it was then stated that wind turbines would contribute 25,000 MW towards the country's goal.
This would be made possible since the French geography has the potential of 30,000 MW according to ADEME.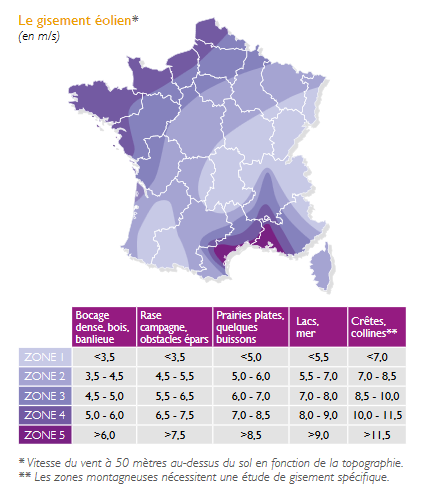 Source: ADEME
As of September 2015, the French capacity was of 10,312 MW. Realistically, the French might expect to get 16,000 MW by 2020. This is quite far from the initial objective, yet it still implies a 12.5% CAGR for the years to come. Not bad for a country whose GDP growth is close to zero. Furthermore, Electricite de France (OTC:ECIFF), the mostly government owned company, will guarantee fixed price 15-year contracts to the owners of wind turbines. Boralex has just above 5% of the French market share.
Canada being a federal country, a state-by-state analysis is more adequate. The vast majority of Boralex's Canadian operations are located in Quebec.
Quebec is the second largest wind energy producing state in Canada behind only Ontario. Of the country's 9,694 MW, 3,262 are produced in Quebec. The Quebecer authorities have committed to increasing their wind energy production 25% by 2020, a 5.7% CAGR for the next four years.
Hydroquebec, the government authority also grants firms long-term fixed price contracts in exchange for their electricity. However, unlike in France, the contracts usually go to the company willing to supply the energy at the cheapest rate. With the recent increase in competition in Canada, Boralex's management sees less opportunities to develop greenfield projects in Canada. However, the firm is still interested in acquiring brownfield projects, which are covered by pre-existing long-term contracts.
Ironically, Boralex's largest competitor in Canada belongs to its sole French customer : EDF.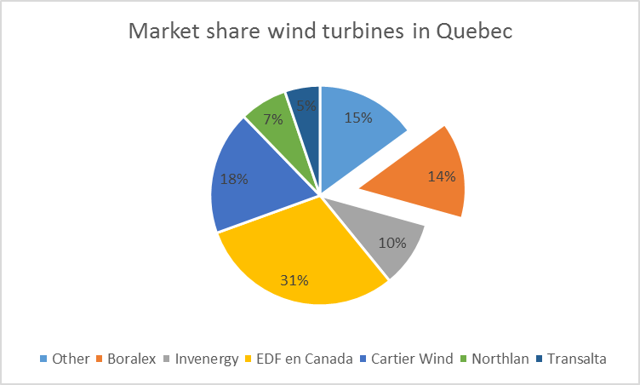 Source: Eolien Quebec
WHY BORALEX?
In this interconnected world, I believe the macro has more than ever an important impact on the micro. And while the Canadian and French markets are interesting places to get exposure as far as the wind turbine industry goes, it is important to look at what sets Boralex apart.
It's as close as you can get to a pure play on wind turbines with 80% of revenue coming from the segment.
Management has a history of successfully allocating capital across different energy generation segments and multiple geographies.
The company is extremely transparent. Rarely have I read an annual report within which the guidance was obvious, the business model was thought through and is exposed clearly to the readers.
Furthermore, Boralex's revenue is extremely predictable, with 98% of their energy covered fixed price contracts with an average maturity of 15 years.
There is little doubt that the company's revenues will be any lower than $300 million in 2016. Of the company's 2015 asset acquisitions totaling 156 MW, 114 were acquired in November and December. Including these assets alone into a full year will suffice to pass the $300 million cap.
The company has huge cash flow potential. Looking at net earnings on this sort of company is misleading given the huge depreciation charge the assets are taking in the early stages of their life, profit can be expected to be meager.
However looking at discretionary cash flows, a non-IFRS measure intended to give an indication of the amount of cash the company has to fund further developments as well as pay out dividends was estimated to be about $0.92 per share, which covers the dividend 1.64 times.

Source: Boralex Annual report
Here we can clearly see that maintenance capex is extremely low compared to total cash used in acquiring PP&E in 2015 (less than 3%). The company is still growing quickly, yet is already generating an important amount of cash. This growth can be attributed to the state of the industry, yet the company isn't commanding a premium to peers who are less exposed to the fast moving renewable energy industry.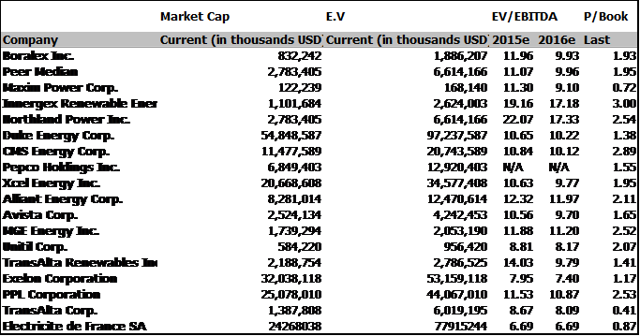 Source: Author's Data.
I believe the company should trade slightly above industry multiples for its growth prospects, the stability of the revenues, and the likelihood of dividend growth.
Right now, the company has a 3.4% dividend yield. The dividend was initiated in 2014, and should increase as the firm's operations grow and mature. The dividend still has room to grow, and I expect it will grow exponentially in a few years when opportunities to reinvest the cash in the company wane as the industry matures.
The firm has planned to attain 1650 MW by 2020. Of the 600 MW increase, 400 to 450 is planned to happen through greenfield project development. If the firm grows in France as to only maintain their market share, this would account for 300 MW of growth. The rest is expected to come from projects in other countries, which are paying dearly to attract wind turbines. Management is looking at potential deals in Denmark for years to come.
VALUATION
Projecting the firm's revenue using guidance and discounting at an 8% rate (the firm's WACC), the company's shares should be worth around $20, 25% higher than right now. A year from now, if the firm increases its dividend, it would likely be by roughly 25%. A $20 price would be needed to maintain the current yield, which would imply 11-12x 2016 EBITDA, in line with my comparable analysis.
| | |
| --- | --- |
| FCF t+1 | 134,213.7 |
| Terminal value (TV) (FCF = grow. perp.) t | 2,718,125.5 |
| | |
| Sum of the PV of FCF | 472,572.8 |
| PV of TV | 2,363,361.1 |
| | |
| Enterprise value | 2,835,934.0 |
| (-) Net debt value | (1,791,676.0) |
| Equity value | 1,044,258.0 |
| | |
| Fully diluted shares outstanding | 52,364.0 |
| | |
| Equity value per share | 19.94 $ |
Source: Author's Data
Given the aggressive growth, which can be expected in upcoming years in the industry, it would not be surprising to see the whole sector see a multiple rerating, with Boralex leading the pack given the company's focus on wind.
Boralex has trumped its index over the last five years (NYSEARCA:GII), and I expect it to continue in years to come.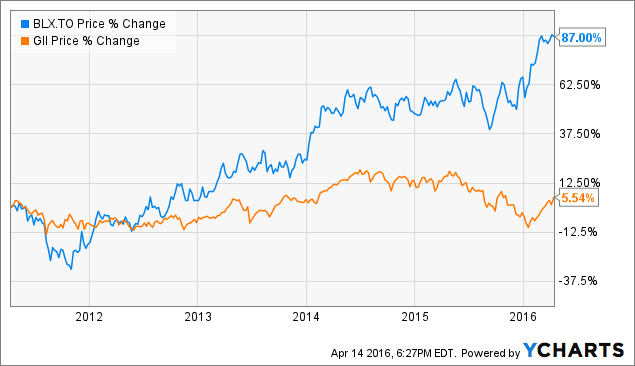 BLX data by YCharts
I would recommend Boralex to investors who are looking for defensive, yield-producing stocks with great prospects. This stock is also worth owning for the potential capital appreciation, and would fit the bill for institutional portfolios requiring a percentage of their assets in Infrastructure type investments.
Disclosure: I/we have no positions in any stocks mentioned, but may initiate a long position in BRLXF over the next 72 hours.
I wrote this article myself, and it expresses my own opinions. I am not receiving compensation for it (other than from Seeking Alpha). I have no business relationship with any company whose stock is mentioned in this article.
Editor's Note: This article discusses one or more securities that do not trade on a major U.S. exchange. Please be aware of the risks associated with these stocks.