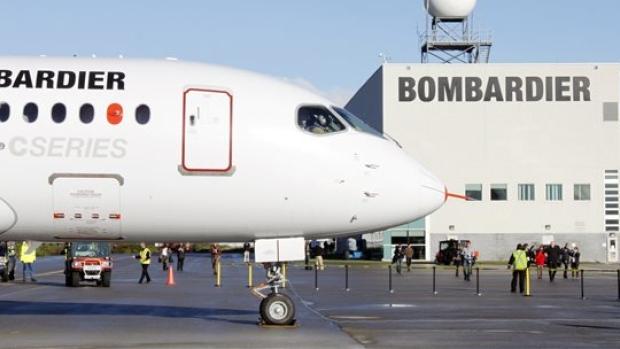 Bombardier (OTCQX:BDRBF) has been soaring higher lately, as the stock doubled from its February as Bombardier's CSeries planes are starting to get a lot of orders locked in. The CSeries has been a long series of many delays and budget mishaps, but finally it appears that Bombardier may be set to finally profit from all its blood, sweat and tears. With the recent rally in the stock, is it finally time to load up on shares in this potential turnaround story or is this rally a fake that is heading for further disappointment going forward?
CSeries orders soar, can the order momentum keep going?
Bombardier's orders jumped to 250 after Air Baltic, who will be the first purchaser of the CS300 aircraft, decided to lock in a deal to buy 20 planes worth $506 million. There is also a letter from Air Canada (OTCPK:ACDVF), which states their intent to buy 45 CSeries planes, as well as news that Delta Air Lines (NYSE:DAL) may be ready to lock in a deal to acquire 125 CSeries planes. There is no doubt that there has been a lot of promising news regarding the much delayed CSeries jet, I suspect the orders will keep coming in, but Bombardier will have to deliver, as the CSeries is now over 2 years behind its original scheduled release, and is over $2 billion over its budget. While Bombardier had issues locking in deals during the 2015 Canadian bear market, it finally looks like the airlines are able to spend on the CSeries planes, now that the economy is picking up.
Latest train is delayed, as project is over budget
Like the plane business, the train business is also delayed, and way over budget. It seems that Bombardier management does not know how to plan a project, and more major changes are needed to get Bombardier back on track. Bombardier has failed to deliver streetcars in the United Kingdom and the United States, which were fantastic contracts that were supposed to earn Bombardier some money to pay off its gigantic debt. Bombardier's issues grew, and the contracts were lost, as the U.S. and U.K. cities which agreed to purchase Bombardier's trains decided to do business with a competitor. This is a very huge concern because Bombardier is now known as the incompetent company who will delay so much that a contract will never be fulfilled. I believe the damage to its reputation will hurt it more than the revenue lost by the sale of its train car.
Bombardier still has a ton of debt
While Bombardier is finally getting orders, which is fantastic news for the business, it appears that Bombardier's financial troubles will keep growing. The massive amount of debt that Bombardier has is still a huge concern. The cash flow is deep in the negatives, and the Quebec government will have to continue to bail Bombardier out since their managers are unable to stick to their budgets or deliver on time. Quebec invested $1 billion for nearly half the stake in the CSeries project. There are many pundits, such as Kevin O'Leary that believe that the Quebec government is making a mistake by bailing out Bombardier with taxpayer's money, and that there is a high risk of losing its investment entirely. There is no doubt that Bombardier is a huge creator of jobs, and the government will continue to bail them out since they can't seem to control their budgets. While this may comfort investors, it is, no doubt, a poorly managed business which relies on the government to succeed.
Conclusion
I suspect the momentum in CSeries orders will continue, and this will be a huge tailwind for the stock, as the orders will drive the stock even higher into the latter part of 2016. Personally, I would not recommend such a stock as a long term investment, but as a short term trade, it definitely looks attractive given the positive news on CSeries jet orders. Bombardier has very poor managers who consistently go over its budget, and miss deadlines. Major management shake ups are needed, but it appears that nothing can save them now, considering the bad reputation that they've established for themselves. If you're going to trade Bombardier, be cautious, as the stock could go half just as easily as it could double again. If you can stomach the risk, go for it -- but personally, I'm staying on the sidelines, as I want nothing to do with this poorly managed company.
Disclosure: I/we have no positions in any stocks mentioned, and no plans to initiate any positions within the next 72 hours.
I wrote this article myself, and it expresses my own opinions. I am not receiving compensation for it (other than from Seeking Alpha). I have no business relationship with any company whose stock is mentioned in this article.
Editor's Note: This article discusses one or more securities that do not trade on a major U.S. exchange. Please be aware of the risks associated with these stocks.