EIA Forecast That Oil Will Be Lower For Longer
On 12 April 2016, the EIA released their WTI crude oil forecast indicating that oil will remain lower for longer with 2016 and 2017 crude oil prices forecasted at USD $34.60 and USD $40.58 respectively. Despite this dour news, there has been a recent uptick of optimism in oil markets largely predicated on geopolitical events (a potential OPEC-Russia production freeze) and reactions to temporary and intermittent declines in US inventory levels. We assess the recent bounce to be a momentary lapse of reason among oil market players.
This article will explore the factors for why the recent bounce in oil prices is not durable and why we are bearish on oil (NYSEARCA:USO). We assess the factors contributing to the global imbalance in oil markets will remain entrenched with the oil market lacking a durable catalyst for further upward price momentum.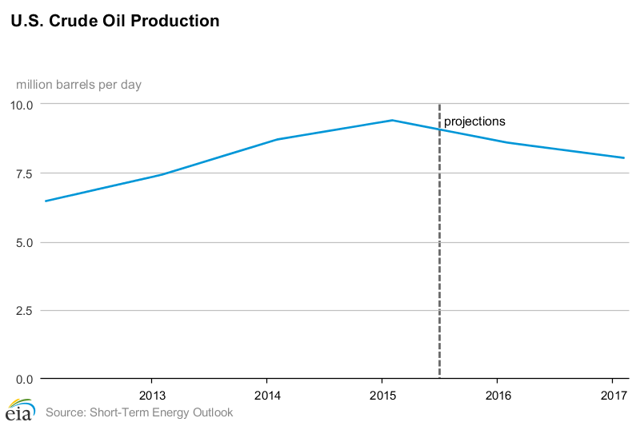 Rising Inventory, Efficient Rigs, And Persistent Production
First, US inventories will likely remain elevated as API crude oil stocks remain near multi-year highs. The below chart illustrates the persistent build-up of inventories. The market has routinely over reacted with bullish sentiment when weekly API crude inventory levels decline, as was the case with a supply drop on April 5, 2016. Such momentary breaks in the persistent long-term upward trend have proved to be nothing more than brief pauses. This week's surplus of over 6 million barrels is evidence of this.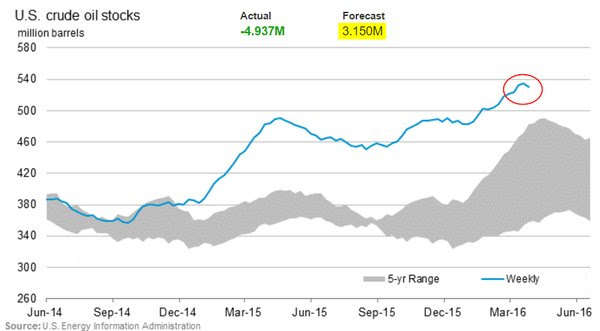 Further, there is increasingly a build-up of unofficial "shadow inventories" as rail cars are being used for storage. With approximately 20,000 oil rail cars sitting idle as of late February 2016 the capacity for "shadow storage" is significant. A single rail car holds approximately 700 barrels of oil, which means there is the potential for 14 million barrels of oil storage not reflected in US inventory balance sheets. No reports have indicated as such, but it is a variable worth factoring.
More concrete evidence of this trend in "shadow storage" can be found in global floating storage (oil tankers). It is estimated that oil tankers are holding 200 million barrels and idling off-shore waiting for market conditions to improve. Even taken anecdotally, these are not signs of an efficient oil market.
Second, US shale rig efficiency has increased resulting in lower breakeven production points for many producers. Therefore, investors should not put too much weight in reports of falling rig count as fewer rigs can produce more oil. The below chart shows this trend.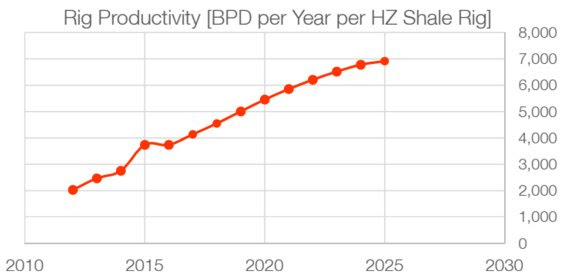 Further, due to the aforementioned increase in efficiency shale producers are increasingly able to produce at a breakeven price of approximately USD $40. Companies such as Whiting Petroluem (NYSE:WLL) and Continental Resources (NYSE:CLR) have stated they would consider completing wells (production) and increasing capital spending if oil stabilizes around $40-$45 a barrel. Even though the business outlook for many shale producers is poor, on the whole we assess more shale producers will stay in the game for longer as the gap between oil's market price and the breakeven production points narrow.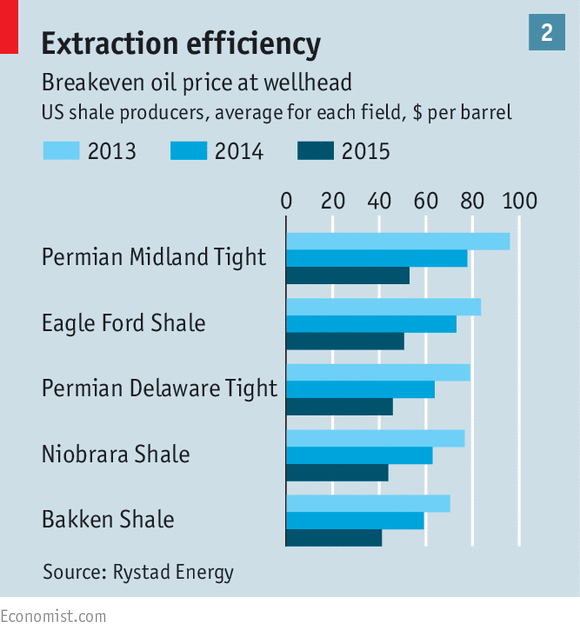 Third, as we highlighted in our previous article Sell The Banks: The Invisible Hand Is Broken, bankruptcies among US shale producers is not resulting in production being taken off-line. Many companies still produce during the bankruptcy process. Additionally, hedge-funds and other well-capitalized investors are buying oil assets on the cheap willing to pump at a short term loss in exchange for prospect of long term gain.
Traditional Growth Drivers Are Slowing
The IMF recently forecasted global GDP growth of 3.4% in 2016 and 3.6% in 2017, a downward revision of .2% from January forecasts. The story in Emerging Markets is similarly weak as EMs are projected to grow by 4.3% in 2016 and 4.7% in 2017, the slowest growth rates since the 2008-2009 financial crisis. On a macro level, slowing global growth combined with increased energy efficiency, especially in industries such as automotive and aviation, will weaken oil demand.
Additionally, China is slowing. The IEA forecasted that demand in China would grow by 330,000 bpd in 2016, a 25% decline over China's ten year consumption average. This is a clear indication that Chinese growth is slowing significantly relative to recent growth trends.
Taking China's headline GDP growth numbers at face value is a mistake as the IEA Chinese oil consumption forecast indicates the Chinese economy is growing slower than official Chinese government GDP figures. China and EMs play a critical role in driving global oil demand accounting for nearly 60% of growth in global oil demand. Therefore, a slowdown in China and EM is cause for concern for global oil demand.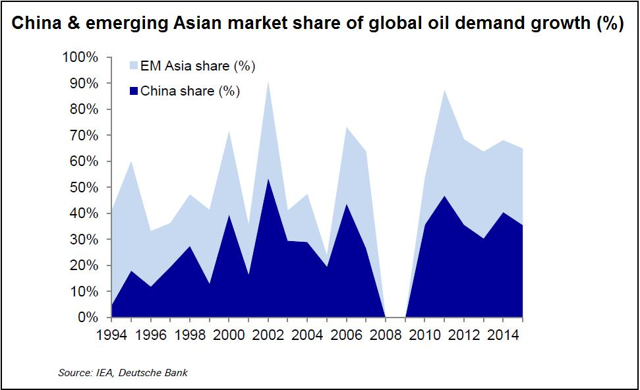 Geopolitical Risks: OPEC-Russia Freeze Will Thaw
We assess that markets are reacting irrationally to the potential output freeze between OPEC and Russia. First, we are skeptical the freeze will be enacted based on anti-freeze rhetoric from the Saudi Government. Additionally, Saudi Arabia, Russia and Iran have all increased production since March 2016. This indicates low levels of trust between these countries. It also highlights the zero-sum nature of a slow growing oil market, which make an agreement unlikely.
Should the freeze be enacted, we assess the freeze will not be durable due to the aforementioned likelihood that countries, especially Russia, will revert to acting in their own national interest. With falling prices and a quick price recovery appearing unlikely (based on EIA forecasts), producers will be able to increase revenue through volume (market share) alone. Further, the freeze will only act to ensconce January 2016 production levels and preserve existing market share. No country is volunteering to cut production. Therefore, the freeze will simply maintain a global supply glut of roughly 2.5 million barrels of oil per day (as of 1Q 2016). This glut will continue to weigh on oil prices.
Lastly, as the below chart shows, the major players responsible for the oil glut can all afford to profitably pump oil at a lower price for longer. While credit ratings will suffer and sovereign debt will pile up, Saudi Arabia, Russia and other OPEC members have already gone "all in" with their current strategy. To change course now would be politically unpalatable and open up the potential for market share loss to non-OPEC producers such as Iran and the United States. Such an outcome would be antithetical to the Saudi-OPEC policy of the last 12+ months.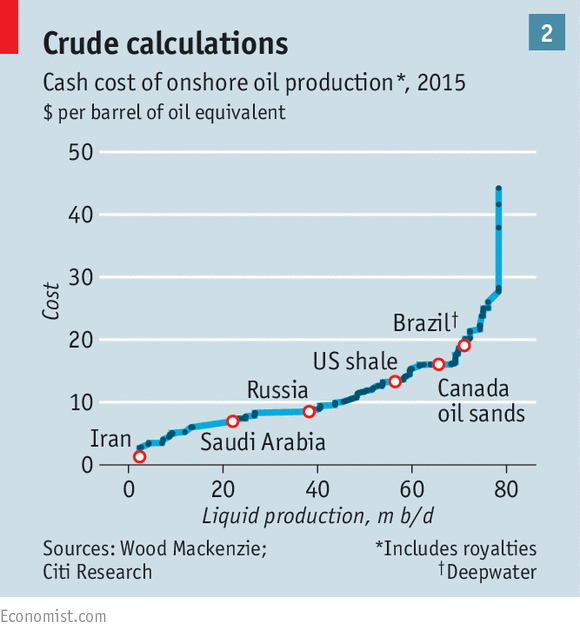 Our Take: USO Not Worth The Risk
We assess that the aforementioned downside risks to the price of oil to be too great to justify making a speculation play in USO. We assess recent market strength is largely due to misguided speculation that an OPEC led production freeze will occur, which we assess will not occur. However, should a production freeze be enacted it will not result in a meaningful impact on the current oversupply of nearly 2.5 million bpd. We will continue tracking the energy sector as we believe there will eventually be solid value plays, just none to be had now.
Disclosure: I/we have no positions in any stocks mentioned, and no plans to initiate any positions within the next 72 hours.
I wrote this article myself, and it expresses my own opinions. I am not receiving compensation for it (other than from Seeking Alpha). I have no business relationship with any company whose stock is mentioned in this article.
Additional disclosure: This article is for informational purposes only.