In an article last week, I had focused on reasons why Yamana Gold (NYSE:AUY) is still a good investment despite an impressive run on the stock market so far this year due to the strength in the gold market due to global economic volatility. But, apart from an improvement in end-market dynamics, there are some more reasons why investors should continue to stay long Yamana Gold. Let's take a closer look.
Robust fundamentals
As far as the balance sheet is concerned, Yamana Gold is in a robust position. The company has around $250 million in cash and debt of around $1.9 billion. Now, this might seem like too much debt at first, but the fact is that Yamana has a low debt-equity ratio of 0.28. Additionally, Yamana's debt maturity schedule is quite favorable, which gives the company a lot of time to capitalize on the improvement in gold prices, increase its cash flow, and repay the debt.
Take a look at the following chart to better understand Yamana's favorable debt repayment schedule: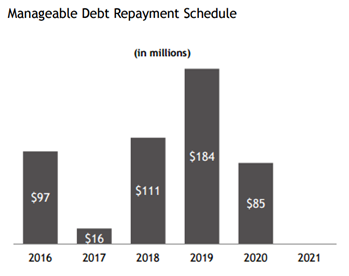 Source: Yamana Gold
As seen above, Yamana does not have a lot of debt maturities to contend with in the next five years, which is a positive since the company can direct its cash flow toward asset development and tap the potential in the end market. But, what's even more important to note here is that Yamana has taken a number of steps to improve its balance sheet and lower the debt burden. This can be understood from the following chart: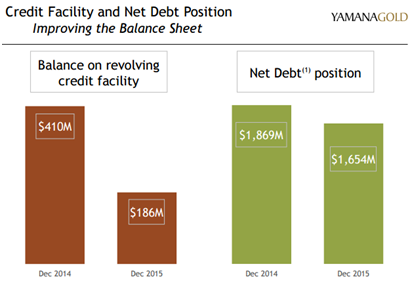 Source: Yamana Gold
As seen above, Yamana reduced its debt by 11.5% last year by using the available liquidity on the revolving credit facility. This was a smart move by the company since lowering the debt will reduce Yamana's interest burden and allow it to improve its bottom line performance.
What's even more interesting to note is that Yamana is focused on lowering its debt further in the coming two years. The gold mining company plans on reducing its total debt by $300 million between the fiscal years 2016 and 2017. As a result of such a move, Yamana believes that it can bring down its net debt/EBITDA ratio in a range of 1.5 to 2.0 times.
An important reason why Yamana can afford to follow such an aggressive debt repayment strategy is because it has seen impressive growth in its operating cash flow in recent months. This is shown in the chart given below: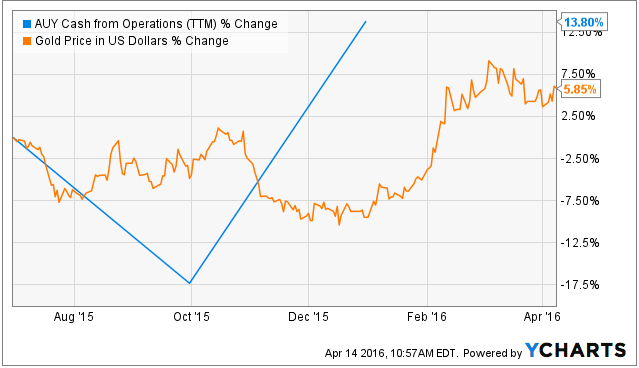 As we can see above, Yamana has been able to improve its operating cash flow by an impressive margin in the past few months. In fact, the gains in Yamana's operating cash flow as seen above were recorded until the end of December, and this was before the gold price recovery began. Now as gold prices have started picking up pace, Yamana will be able to deliver more improvements in the operating cash flow, which will assist the company in debt reduction.
Focus on asset improvements
As a result of a robust balance sheet and an improving cash position, Yamana is capable of pouring more money into asset development. This will be a key factor for Yamana if it is to improve its top line sales in the long run as demand for gold is slated to increase on the back of market volatility and low interest rates.
Now, the good thing is that Yamana is already on the path of improving its production. According to its latest production guidance issued earlier this week, the company announced that it sees substantial improvements in its gold production in the coming years. In fact, Yamana expects to deliver "FY 2016 total gold production of 1.264M-1.335M oz., 2017 output of 1.378M oz. and 1.455M oz. in 2018," which is good news for investors since Yamana will be able to capitalize on higher gold demand.
The increase in Yamana's gold production will be driven by the company's focus on more infrastructure development. For instance, Yamana is looking to improve the strength of its mines by way of infill drilling and testing for deep discoveries, apart from developing nearby mine extensions. As a result of these moves, Yamana Gold has been able to explore fresh deposits at Minera Florida where it is witnessing superior grades by extending the existing and identified mineral resources.
Conclusion
Therefore, apart from positive developments in the gold market, Yamana Gold also has strong business fundamentals. The company is focused on reducing debt and is looking to enhance its asset base. As such, these are some more reasons why investors should continue to remain invested in Yamana Gold.
Disclosure: I/we have no positions in any stocks mentioned, and no plans to initiate any positions within the next 72 hours.
I wrote this article myself, and it expresses my own opinions. I am not receiving compensation for it (other than from Seeking Alpha). I have no business relationship with any company whose stock is mentioned in this article.