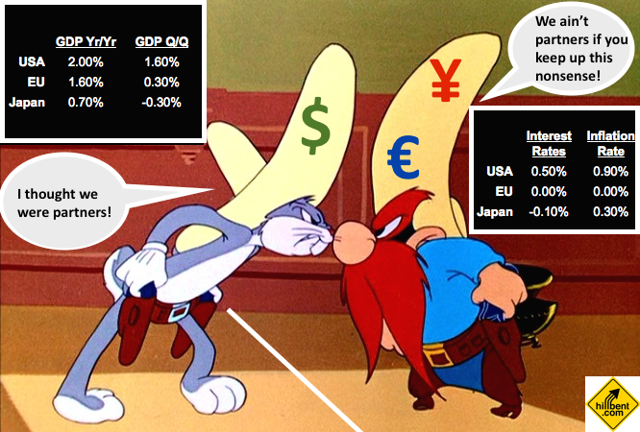 Market Commentary
This time the "Wabbit" with the gun is the US Dollar (NYSEARCA:UUP) as it appears to be gaining ground on both the Euro (NYSEARCA:FXE) and Japanese Yen (NYSEARCA:FXY). The currency wars never end and momentum in the dollar shifted into positive territory in today's trading session. Two days ago, momentum in the Euro crossed over to negative territory. Meanwhile, the Yen remains positive, but has been decelerating for the past three days.
In the capital markets, equities and commodities are typically the only asset classes capable of enduring upside or downside volatility over sustained periods of time. With currencies, it's quite different unless there are serious systemic risks to a sovereign nation or region. Such large swings can have a huge impact between trading partners and their balances. The US is the largest export partner for both the European Union and Japan.
(As a sidebar note, neither Japan or Europe can be too happy with the United Kingdom as the pound has weakened considerably lately or China which is struggling to maintain its growth rate while transitioning to a more services and consumer based modeled economy. If I were a doctor asking either of them where it hurts, all 3 export destinations - US, UK and China - might be named.)

As represented by exchange traded funds, the FXE gained +8.18% from its low on Dec-2-2016 to its high on April-11-2016. The FXY waited a little longer to make its move in earnest but when it did, the move was swift and powerful as it increased +12.79% from Jan-29-2016 through April-11-2016. Given that both economies, Europe and Japan are still struggling to attain a respectable level of growth, the last thing either of them needs is a weaker US dollar. Anticipate a price correction in both of these currencies as the dollar picks up strength.
Asset Class Performance Summary and Analysis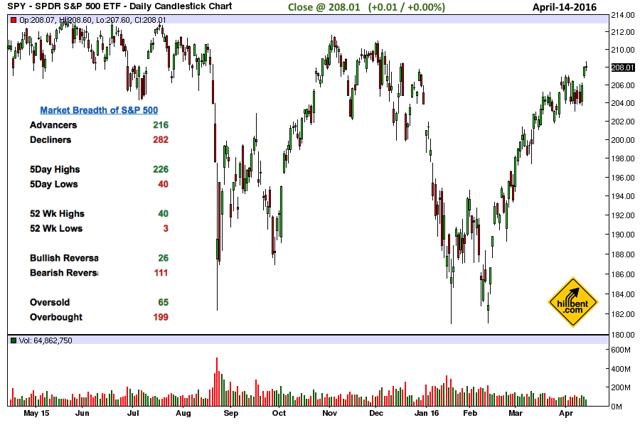 Equities: Trading in US Equities, i.e. S&P 500 (NYSEARCA:SPY), DJ-30 Industrials (NYSEARCA:DIA), Nasdaq-100 (NASDAQ:QQQ) and Russell-2000 (NYSEARCA:IWM) was relatively unchanged. On a positive note, their relative strength week-to-date has been remarkably strong. Latin America, which has had strong momentum, is showing signs of deceleration. Brazil (NYSEARCA:EWZ) and Latin American 40 (NYSEARCA:ILF) were unable to maintain their support from the previous sessions' lows. In Asian markets, Japan (NYSEARCA:EWJ), Pacific ex-Japan (NYSEARCA:EPP) and China (NYSEARCA:FXI) made new 3-month highs. The VIX (NYSEARCA:VXX) was also relatively flat unchanged today, even though it stooped to a new 6-month low. Overall, the new short-term trend for equities remains bullish, but is showing some signs of fatigue as volume is becoming weaker.
Sectors: None of the major equity sectors experienced any significant change in price. Six were positive, three were negative and one remained unchanged. Consumer Staples (NYSEARCA:XLP) closed below its 22-day moving average and has now followed Utilities (NYSEARCA:XLU) into a bearish trading pattern. Financials (NYSEARCA:XLF), Energy (NYSEARCA:XLE), Industrials (NYSEARCA:XLI) and Materials (NYSEARCA:XLB) continued to surge higher after yesterday's bullish breakouts and are now attempting to consolidate recent gains.
Fixed Income and Bonds: Bond ETFs in our VFTH universe finished the day in negative territory. 20+ Year Treasury (NYSEARCA:TLT), Aggregate Bonds (NYSEARCA:AGG) and Invest Corp Bonds (NYSEARCA:LQD) have displayed signs of topping in their recent pullbacks, but bullish channels remain intact and could find support at their uptrend lines. One exception and cause for concern is the Treasury Inflation Protection (NYSEARCA:TIP) which violated support at its 22-day moving average.
Currencies: The US dollar is advancing against both the euro and Japanese yen, both of which are in correction mode.
Commodities: If the dollar is advancing, then one would naturally expect a retreat in commodities, e.g. DB Commodities Index (NYSEARCA:DBC), and this is what occurred. Gold (NYSEARCA:GLD) closed below its 50-day moving average and crossed into negative momentum territory. The rally in the US Oil Fund (NYSEARCA:USO) has stalled as doubts begin to emerge as to whether the upcoming meeting in Doha between OPEC and Russia will result in any "material" changes in the supply-demand balance for energy.
Real Estate: Making a clear retreat today was the DJ Residential Index (NYSEARCA:REZ) as it broke below its 20-day moving average and made a new 1-month low to initiate a new short-term downtrend. Home Construction (BATS:ITB) is consolidating while the DJ Real Estate Index (NYSEARCA:IYR) is testing support at its 20-day moving average and continues to consolidate.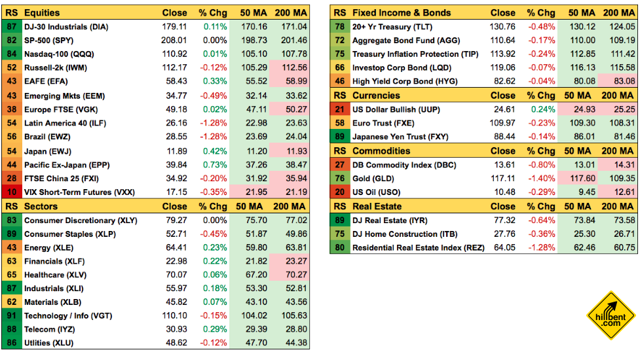 Disclosure: I/we have no positions in any stocks mentioned, and no plans to initiate any positions within the next 72 hours.
I wrote this article myself, and it expresses my own opinions. I am not receiving compensation for it (other than from Seeking Alpha). I have no business relationship with any company whose stock is mentioned in this article.