For investors who are analyzing the oil market, there really are two main components, beyond consumption, that have a material bearing on the outlook of the industry moving forward; domestic production and net imports (imports less exports). In this article, I decided to dig into the net import data, look at how that compares to production numbers, and I concluded that, despite a sizable cut to OPEC oil prices in recent months, there has been little evidence that we are likely at risk of inventory levels in the U.S. continuing to rise for much longer, a move that should be bullish for investors in the United States Oil ETF (NYSEARCA:USO) as well as in other energy-related companies and ETFs.
A look at the production and import trend
In the graph below, you can see the historical trend of domestic oil production and net product imports for the U.S. ranging from February of 1991 through most of March of 2016. What we can see is that, up until the start of the last financial crisis around a decade ago, the amount of product being imported into the U.S., after factoring in any exports, was only continuing to rise, driven largely by a growing economy with little alternative sources of energy for the nation.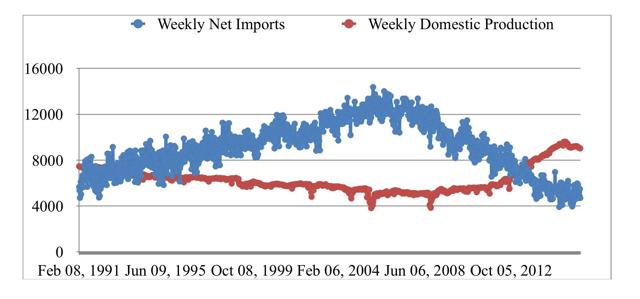 However, a major economic downturn (the likes of which we are still recovering from an energy consumption standpoint) pushed this number lower, most probably because demand at home had fallen. It was also around this time, when oil prices started rising materially, that the fracking industry in the U.S. began to ramp up, further softening demand for imported products since the country could now affordably support some (but far from all) of its own energy demand needs.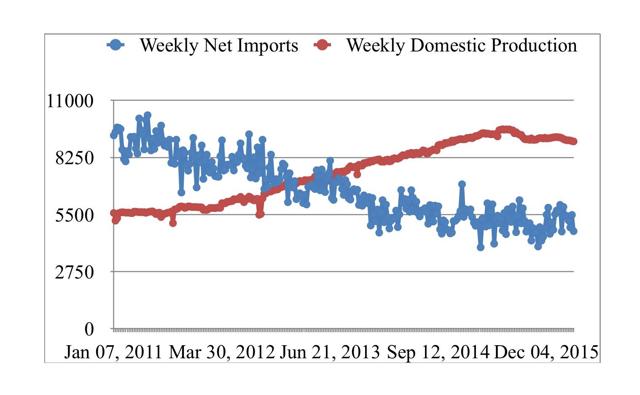 Looking at a shorter timeframe (posted in the graph above), from January of 2011 through today, reveals that this trend may be slowing or may have hit, for the moment, a lower limit that will not be passed near-term. One argument that makes sense is that, as the amount of crude being produced within the U.S. falls, something that I believe will become more pronounced this year if current trends persist, oil has to come from someplace to meet our needs. Certainly, this would likely take the form of inventory levels becoming more depleted but it could also be driven by higher import numbers from overseas. In the graph below, you can the side-by-side comparisons of net oil imports each year from 2011 through today.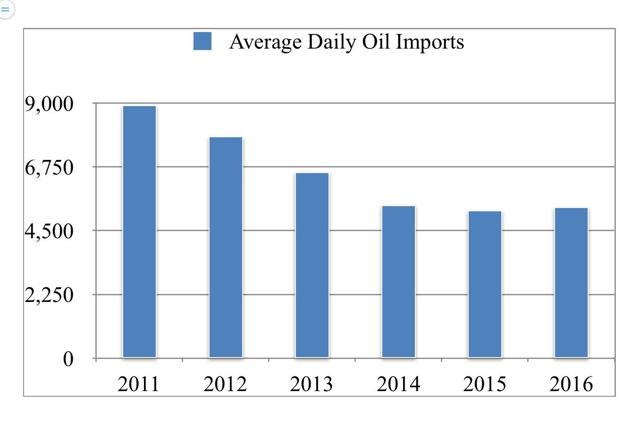 One key point that I believe, though, is that the leveling off of net imports has less to do with a decline in U.S. output and is more of a reason for that decline in production. In an effort to kill U.S. shale quicker, OPEC decided last year to ramp up their own production and has subsequently cut prices on their oil in an attempt to drive U.S. producers under faster. In the graph below, you can see the historical trend (using monthly data starting in February of last year) of the OPEC Reference Basket and how it stacks up against WTI. Starting in June of 2015, the amount OPEC oil sold for relative to WTI pricing began to rise and, in September of last year, the price of oil sold by OPEC dropped below the price of WTI. The spread has been increasing ever since, with the sole exception being the uptick that was seen during February of this year, presumably due to the possibility of an OPEC freeze and potential cut down the road.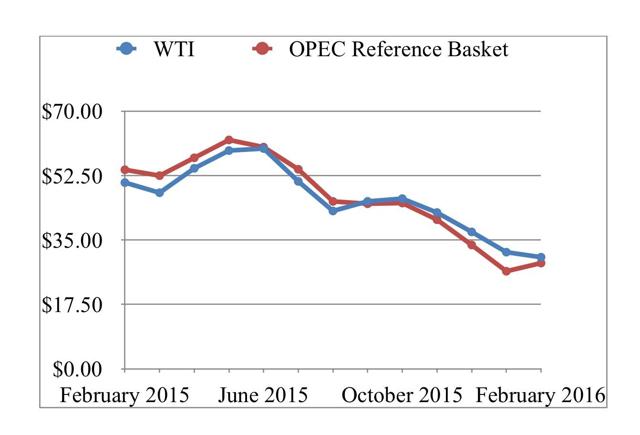 As a result of this change in pricing strategy, the percentage of net imports into the U.S. that has come from OPEC nations has risen even as total net imports have stayed more or less the same. In January of this year (the most recent month for which data is available), for instance, OPEC oil made up 58.1% of total net imports, up from 48.9% a year ago. This signals either a pricing component and/or a production limitation component that has led to non-OPEC members not importing as much as they were able to previously (a change of 0.433 million barrels per day) and it also suggests that any plan by OPEC to flood the U.S. producers with oil has come at a great cost to them and has had limited impact.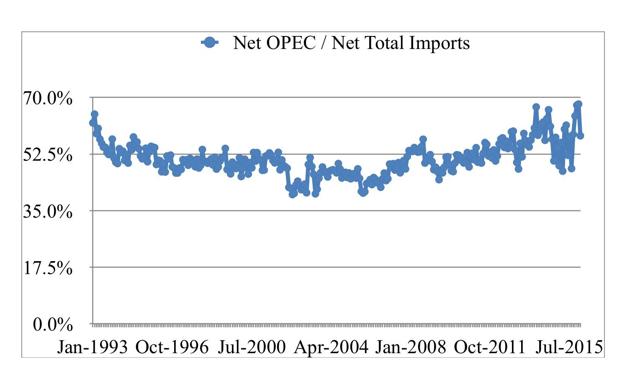 This does not mean that the U.S. has not been flooded with excess oil; it certainly has but it has been driven by our own production numbers rather than by policies implemented by OPEC. It could be argued (and likely rightfully so) that their alleged objective, which is to kill U.S. shale, has at least partially succeeded and could continue to partially succeed because more oil anywhere will lead to lower pricing and could destroy their competitors, but I believe the data suggests that the overall outcome has not been anywhere near as favorable as they would have hoped.
Takeaway
Moving forward, it will be interesting to see what happens later this month, not only with more weekly and monthly report data that will be released regarding production and consumption in the U.S., but also in regards to what takes place during the OPEC and non-OPEC meeting taking place in Qatar. Personally, I believe the realization has been made by these nations that the market hasn't behaved the way they thought it would and that it will create a much higher probability of a freeze, followed up by an eventual production cut.
Disclosure: I/we have no positions in any stocks mentioned, and no plans to initiate any positions within the next 72 hours.
I wrote this article myself, and it expresses my own opinions. I am not receiving compensation for it (other than from Seeking Alpha). I have no business relationship with any company whose stock is mentioned in this article.