Though media reports have indicated there could be up to 40 firms looking to buy Yahoo's (YHOO) core business, Fortune reports there will be less than ten first-round offers as of Monday's deadline, and that "most of those will be viewed by Yahoo's board as wildly insufficient," particularly if Yahoo is actually looking for a $10B sale price (as has been reported).
Fortune adds - in spite of reports of SoftBank's (OTCPK:SFTBF) interest and the logic of SoftBank wanting to buy Yahoo's Alibaba (NYSE:BABA) and Yahoo Japan (OTCPK:YAHOY) stakes to add to its existing stakes in the companies - SoftBank hasn't signed an NDA and doesn't plan to make an offer. It also states Microsoft (NASDAQ:MSFT), reportedly willing to provide financing to a Yahoo bidder, hasn't signed an NDA either, and is instead waiting to see how things unfold.
On top of all that, Fortune reports those actually interested in Yahoo are often quite unhappy with the sale process, with one P-E exec calling it "a f------ joke." Few suitors have been given a chance to talk to management - Verizon (NYSE:VZ), InterActiveCorp (NASDAQ:IAC), and Comcast (NASDAQ:CMCSA) are among the exceptions - and those that have struggled to obtain info. One bidder offers a cynical take. "Management is dragging it out to make it as difficult as possible for [activist Starboard Value]... [Yahoo] will have made an effort and talked to all these buyers. They'll say they ran this process for four months and no one was interested."
The NYT is providing its own dose of cold water. It joins Fortune in reporting Yahoo is reluctant to share business details (including 2017 projections), and states SoftBank and several other firms linked at some point to Yahoo (including AT&T (NYSE:T), CBS, Silver Lake, and KKR) are unlikely to bid.
Neither, unsurprisingly, is Google (GOOG, GOOGL), which (in spite of a WSJ report mentioning buyout interest) is said to be worried about antitrust scrutiny. Re/code previously reported Google, Facebook (NASDAQ:FB), and Twitter (NYSE:TWTR) had each taken a look at Yahoo - perhaps with the hopes of getting a peek at a rival's books - but weren't likely to bid.
Verizon is interested… and has its reasons
There's one big silver lining in the midst of all this: Both Fortune and the NYT state Verizon's interest in Yahoo is quite real. Fortune reports, "everyone agrees" Verizon is "a very interested front-runner" to acquire Yahoo. The NYT says Big Red "plans to press forward with a bid" in spite of Yahoo management's behavior during the sale process.
If you're wondering why Verizon seems intent on bidding for a company whose top and bottom lines have been steadily declining - 2016 revenue excluding traffic acquisition costs is expected to total $3.4B-$3.6B, down from $4.09B in 2015 and $4.4B in 2014 - a recent WSJ column on Verizon's recently-acquired AOL unit helps explain it. AOL chief Tim Armstrong is (with the help of Verizon's resources and consumer data) bent on significantly growing AOL's scale, and thus making it a credible rival to online ad giants Google and Facebook.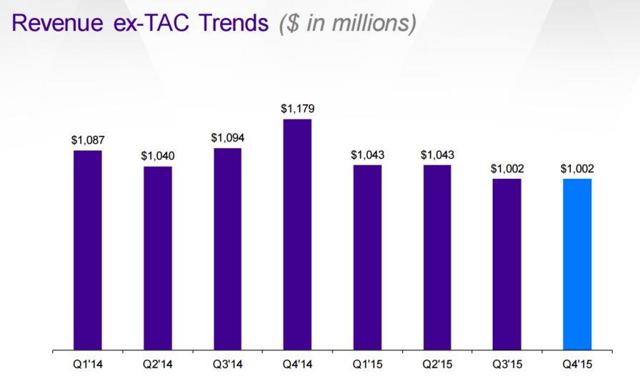 Only a business Verizon could love? Source: Yahoo's Q4 earnings slides.
Armstrong reportedly told advertisers he wants AOL to be the world's top mobile media company by 2020, one that reaches 2B users (up from a current 700M) and produces $10B-$20B in sales. For comparison, AOL was estimated by New Street Research to produce 2015 revenue of $2.7B. Buying Yahoo (expected 2016 GAAP revenue of $4.4B-$4.6B) would go a long way towards helping Armstrong reach his goal. Since its sale to Verizon, AOL has bought struggling mobile ad network owner Millennial Media for $248M.
As for why Verizon suddenly wants to be an online media giant, the company's Q4 report provides some insight. In spite of the AOL deal, Verizon's total service and other revenue - everything besides wireless equipment, which is sold at a loss - fell 1.2% Y/Y in 2015 to $114.7B. Wireless service revenue fell 3.1% - it was up a modest 2% if one factors hardware installment plan billings - thanks to high U.S. mobile penetration rates and tough low-end price competition from T-Mobile (NASDAQ:TMUS). Wireline revenue fell 1.8%, as landline disconnections and business service weakness offset FiOS growth. Clearly, Verizon needs a new growth engine.
Beyond all of that, there's a clear opportunity for a company that already has substantial online media/advertising operations (such as Verizon/AOL) to improve Yahoo's bottom line via cost cuts. SunTrust recently estimated Verizon could cut 40% of Yahoo's staff by eliminating Yahoo's G&A spend and eliminating duplicate sales/marketing and R&D functions. The firm thinks such a move would boost Yahoo's value to Verizon by $2B.
Of course, even then, SunTrust only values Yahoo's core operations at $8B, which is $2B less than what management is reportedly asking for in a sale (at least as an opening offer). It takes two to tango, and there's no guarantee Yahoo will agree to a sale price that satisfies Verizon's brass. But all signs point to Verizon - unlike many of the other names thrown around during Yahoo's M&A soap opera - bidding aggressively.
Disclosure: I/we have no positions in any stocks mentioned, and no plans to initiate any positions within the next 72 hours.
I wrote this article myself, and it expresses my own opinions. I am not receiving compensation for it. I have no business relationship with any company whose stock is mentioned in this article.
Editor's Note: This article discusses one or more securities that do not trade on a major U.S. exchange. Please be aware of the risks associated with these stocks.