The rise in crude oil prices this year has helped shale oil producer Penn West Petroleum (NYSE:PWE) record impressive gains on the stock market. In fact, over the past three months, Penn West's shares have appreciated close to 65%. But the good thing is that the rally in Penn West's shares is not the result of just an improvement in oil prices, as the company has taken enough steps to do well even in a low oil pricing environment, which makes it a sustainable investment for the long run.
As such, we will take a look at the reasons why Penn West Petroleum is an investment for the long run and why investors should continue holding the stock even after a terrific rally in recent months.
A low-cost production profile makes Penn West attractive
Penn West Petroleum's use of advanced drilling and completion technologies, along with other cost-cutting moves, has helped the company generate strong savings of late. For instance, last year, the company achieved well savings of $300,000 per well, which is quite impressive. The key reason why Penn West is focused on reducing its well costs is because the company is trying to improve its cash flow profile.
As a part of its initiative to strengthen the cash flow, Penn West has lowered its capital expenditure by a whopping 90% to $50 million in 2016. What's more, Penn West had spent $30 million less than its budgeted capital expenditure of $500 million for 2015. With this massive reduction in the capital budget for 2016, Penn West is focusing on economics and cash flow rather than production. This is a smart move as the company now has an impressive asset base that will allow it to reduce costs further and keep production at strong levels.
In fact, despite almost erasing its capital budget for 2016, Penn West will keep its production level at 62,000 barrels of oil equivalent per day at the midpoint of its guidance. This is a decline of only 19% from its production level of 77,000 barrels last year. The reason why Penn West will be able to keep its production at strong levels is because the company is seeing robust well economics at the Cardium and the Viking plays, where it can produce more oil at lower costs. The following chart indicates the positive NPV and IRR profiles of these plays: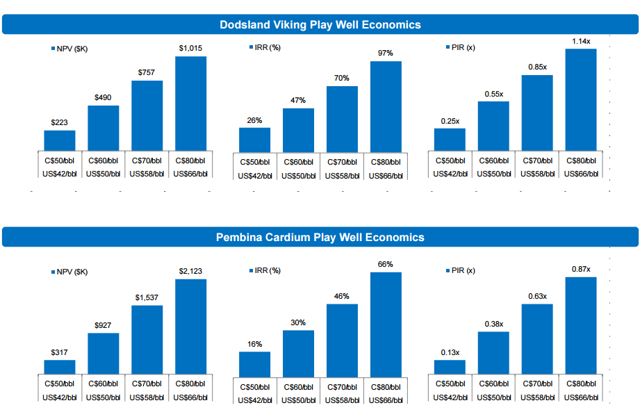 Source: Penn West Petroleum
What's even more important to note here is that Penn West believes that it can continue to reduce costs further at these two areas since its current type curve is lower. This is shown in the chart given below: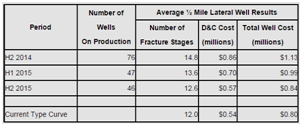 Source: Penn West Petroleum
Due to a lower type curve and further cost reductions, Penn West will see an improvement in its netbacks. In fact, even last year, PWE was able to generate netbacks of $18.50, $18.00, and $22.00 per barrel of oil equivalent from the Viking, Cardium, and Slave Point plays.
As a result of further improvement in netbacks this year, Penn West Petroleum will be able to further reduce the rate of decline in its gross margin and operating cash flow. The good thing is that the company has already been able to arrest the slide in its key metrics due to its cost reductions last year, as shown below, and the momentum will continue in 2016: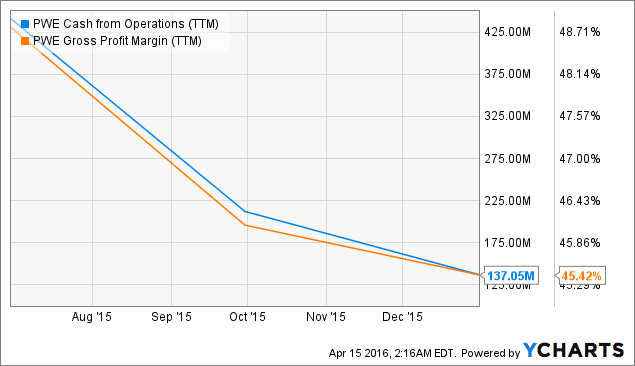 PWE Cash from Operations (TTM) data by YCharts
Penn West's hedge position is another tailwind
Penn West enjoys better margins due to its heavy oil, and therefore, it has a really robust hedging program in place that should help reduce the volatility in its funds flow from operations, and thereby improve its ability to align capital programs going forward. For 2016, the company has hedged approximately 25% to 40% of its crude oil exposure, net of royalties, and 40% to 50% of its gas exposure. The important thing is that all of its existing oil swaps are priced at around $70 WTI, as shown in the chart below: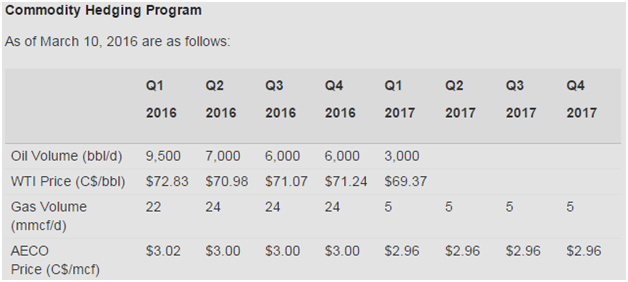 Source: Penn West Petroleum
Thus, due to the impressive hedging levels, Penn West should be able to mitigate some of the weakness in crude oil prices and achieve strong derivative gains.
Conclusion
Hence, apart from a recovery in oil prices, Penn West Petroleum will also benefit due to a lower cost base and a robust hedging position. As such, I think that investors should continue to remain long PWE as it is on track to get better on the back of its robust operational efficiency.
Disclosure: I/we have no positions in any stocks mentioned, and no plans to initiate any positions within the next 72 hours.
I wrote this article myself, and it expresses my own opinions. I am not receiving compensation for it (other than from Seeking Alpha). I have no business relationship with any company whose stock is mentioned in this article.
Editor's Note: This article covers one or more stocks trading at less than $1 per share and/or with less than a $100 million market cap. Please be aware of the risks associated with these stocks.