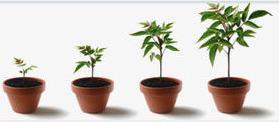 Image source: tencent.com investor relations site
The picture of the plants above represents Tencent Holdings (OTCPK:TCEHY) (TCTZD) growth. I like to use plants as an analogy for growth especially as I get my hands dirty in the spring pulling weeds from my flowerbeds, while admiring the beauty of the blooming tulips. Tencent is a company that has the potential to grow from a small plant into a large sturdy tree over time. Tencent's strong double-digit revenue and earnings growth is likely to drive the stock to grow at market outperforming double-digit rates.
Tencent is significantly undervalued as compared to more well-known social media companies. However, I think that this will change over time as the company continues its growth and gains more widespread exposure. Tencent represents a beautiful plant among the many weeds in the investment world in my opinion.
Tencent achieved great results in each of its segments for Q4:
% of Total

Revenue

Q4 Revenue Growth

Online Games

53%

33%

Social Networks

23%

37%

Online Advertising

19%

118%
Source: Tencent Q4 Conference Call Transcript
Tencent's acquisition of Riot Games gave the company a strong boost for its online games segment. Riot Games produces the popular League of Legends game, which has over 90 million monthly active users. The company has a way of encouraging user engagement and having users pay with in-game promotions.
Tencent has a variety of games in this segment including: shooter games, adventure, role-playing, puzzles, etc. The company also has a good pipeline of games in development, which will enable Tencent to continue its online game growth when they are released. The important thing is that the company is achieving strong double-digit revenue growth from this segment, which comprises more than half of Tencent's total revenue.
In social networks, Tencent's WeChat had about 650 million monthly active users as of November 2015. The monthly active users have grown steadily from under 200 million in the beginning of 2013. WeChat is more than just a messaging app. The company has been focusing on the needs of its many users. As a result, WeChat has millions of lightweight apps within its main app. The lightweight apps within WeChat allow users to order food for delivery, play games, summon a taxi, check in for a flight, order movie tickets, schedule doctor's appointments, etc. One key element that enhances WeChat usage is the WeChat Wallet feature, which enables users to quickly send payments to companies or people.
The revenue driver of the social networks segment is from digital content subscription services, virtual item sales, and from QQ memberships. As WeChat users continue to increase, the revenue generated from these services is also likely to increase. Tencent has a knack for getting customers to pay for virtual goods such as online stickers, gaming avatars, and other icons. Tencent is also a key provider of premium content such as video, music, and literature. I expect the Social Network segment to do well going forward as users continue to find value in the company's numerous offerings.
Tencent's online advertising segment is gaining growth from Qzone, WeChat accounts, and from WeChat Moments. Qzone's social networking features allows user to write blogs, listen to music, watch videos, and send photos. So, it is somewhat similar to Facebook (NASDAQ:FB), which is a successful advertising business that I expect to perform well. Just as advertisers seek out Facebook to place ads, I also think Qzone will continue to be sought after as a popular medium for ad placement. Qzone has over 650 million monthly active users. So, it is likely to continue to attract advertisers to the site.
WeChat Moments is pricier for advertisers than Qzone (Qzone has a cost per 1,000 views [CPM] of 0.2 to 1 RMB, while Moments ranges from 40 to 140RMB). However, Moments advertising is considered more conducive for well-known brands with visually attractive products. Since well-known established companies have more money to spend on advertising campaigns, Tencent stands to benefit from this visually appealing form of ads which appears within the newsfeeds. Established companies such as Coca Cola (NYSE:KO) and Daimler AG's (OTCPK:DDAIF) Mercedes Benz are already advertising on Moments. So, I see Moments as a good driver of growth going forward as big names continue to utilize this advertising platform.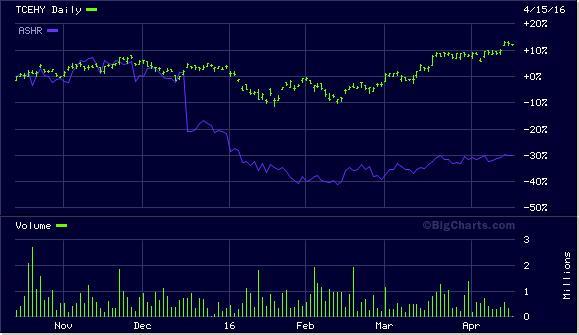 Tencent's stock thrived in the face of the Chinese market sell-off. Tencent is being compared to Deutsche X-Trackers Harvest ETF (NYSEARCA:ASHR) which seeks to track the performance of the China A-Share market. This shows that the company is a strong rock and less risky than the average China-based company. If the company thrives during a sharp sell-off, then imagine how it will perform during a bull-market.
Attractively Undervalued
Tencent doesn't get the same media attention as a company like Facebook does in the investing world. As a result, Tencent is trading at only 4.8X and 3.8X expected earnings for 2016 and 2017 respectively. Compare that to Facebook which is trading at 35X and 26.7X expected earnings for 2016 and 2017 respectively.
Tencent has strong expected double-digit earnings growth that averages 33% to 34% annually over the next two years, which is in the same range as Facebook's expected annual growth over the same period. Facebook has a better track record of exceeding its earnings estimates over the past year, while Tencent missed estimates in its past two quarters. So, that is a likely a factor for Tencent's lower valuation. The larger factor for Tencent's lower valuation in my opinion is that the company is just not as well-known Facebook in the investment world. Tencent may not be as trusted as Facebook since it operates in China.
I think that investors could be overlooking Tencent as just another risky China-based company. I don't think Tencent is as risky as most China-based companies. The company has proven itself with a growing visible business. Gamers, Qzone users, and WeChat users can witness how many others are on those platforms during their social interactions. If the advertising for these platforms wasn't working, then those companies would pull out. However, the evidence from recent earnings reports shows that advertising is Tencent's fastest-growing revenue stream.
Conclusion
I understand certain investors will stay away from buying stock in China-based companies. That may come from a lack of trust and a patriotic philosophy of only buying stocks based in the United States. However, I think that such an investing mind frame is the main factor that is keeping Tencent's valuation at bargain levels.
If Tencent was trading with Facebook's valuation, the stock would be $153 instead of the current price of $21. I don't think that Tencent will reach the same valuation level as Facebook. However, I do think that Tencent has plenty of room for PE expansion since it trades with just a single-digit PE. At the very least, I would expect the stock to increase approximately in-line with earnings growth. I think it would also be reasonable to add 10% annual growth to take some PE expansion into account. Therefore, it would be reasonable in my opinion for the stock to gain 43% to 44% annually over the next two years.
Disclosure: I am/we are long FB. I wrote this article myself, and it expresses my own opinions. I am not receiving compensation for it (other than from Seeking Alpha). I have no business relationship with any company whose stock is mentioned in this article.
Additional disclosure: If you like my analysis and want to see more, click follow at the top of the article near my name. This will allow my articles to show on your home page.
Editor's Note: This article discusses one or more securities that do not trade on a major U.S. exchange. Please be aware of the risks associated with these stocks.