In a recent article, I had focused on how an improvement in aluminum prices in the long run will prove to be a tailwind for Alcoa (NYSE:AA). In fact, driven by increasing demand for the metal across the globe and a cut in smelting capacity in China, the resurgence in aluminum prices is quite likely. Now, the good thing is that Alcoa is well placed to take advantage of an improvement in aluminum prices since the company has taken efforts to reduce its costs and improve margins.
As such, in this article, we will take a look at the cost reduction and margin enhancement moves of Alcoa that will play a key role in the long run.
Productivity gains are delivering results
Alcoa's focus on improving the productivity of its operations allowed the company to record gains of $232 million last quarter. As a result of these productivity gains, Alcoa was able to offset the decline of $283 million due to weak metal prices in its adjusted earnings. This is shown in the chart given below: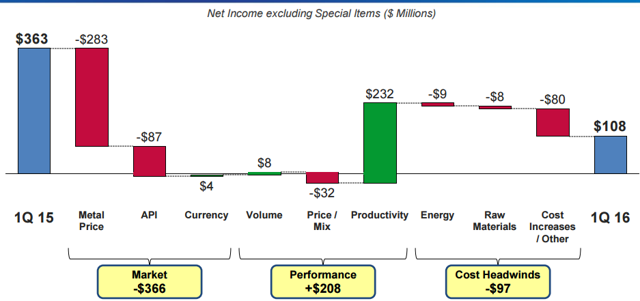 Source: Alcoa
These impressive productivity gains at Alcoa are a result of the company's focus on improving its technology. For instance, under its Micromill initiative, Alcoa has been able to improve its aluminum casting process by substantial margins. In fact, Alcoa's Micromill is the world's fastest and most productive method of casting and rolling aluminum.
Under this method, Alcoa needs to construct a mill that's just a fourth of the original size, but at the same time, it can produce an alloy that's 30% stronger and 40% more formable. More importantly, Alcoa believes that it will be able to record stronger productivity gains this year as a result of its technological improvements, expecting to record $400 million in productivity gains in 2016.
A smart move to improve margins and growth
Earlier this week, Alcoa announced that it will name the spin-off of its aerospace, automotive, building & construction, and commercial transportation businesses as Arconic. This is a smart move by Alcoa since these businesses carry higher margins and are anticipated to increase at strong rates in the coming years. This can be gauged from the chart given below: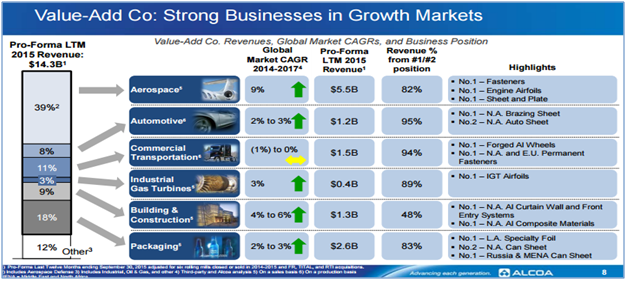 Source: Alcoa
As such, Alcoa has done the right thing by clubbing and separating these businesses since it will be able to pay more attention to the increasing usage of aluminum in these segments and unlock value for Arconic.
In addition, Alcoa is taking various measures to drive growth for Arconic. At present, the company has approximately 11,644 actions that are being executed this year to improve the efficiency of the Arconic business. The good thing is that these initiatives are working as Alcoa has already generated nearly $179 million in Arconic productivity in the first quarter of 2016. More importantly, Alcoa remains on track to generate approximately $650 million in Arconic productivity through its actions in 2016 itself.
At the same time, to strengthen the Arconic business, Alcoa has accelerated investments in the aerospace segment. For instance, during the fourth quarter last year, the company had secured about $9 billion in aerospace contracts, which is more than double the amount in 2014. To attack the opportunity in the aerospace segment, AA is making infrastructure investments.
For instance, Alcoa has inaugurated a state-of-the-art jet engine parts facility in La Porte, Indiana. This facility will enable Alcoa to manufacture nickel-based structural parts that are about 60% larger for manufacturing jet engines for large commercial aircraft. On the other hand, Alcoa has completed its jet engine expansion in Hampton, Virginia. The most interesting thing is that this facility includes technology that cuts the weight of Alcoa's highest-volume jet engine blades by 20%, thereby leading to an improvement in the aerodynamic performance of the aircraft.
In my opinion, this investment in infrastructure for large aircraft is a smart move by Alcoa since this segment is expected to record growth of 15% this year.
Conclusion
Thus, along with the expected improvement in aluminum prices, Alcoa looks like an attractive investment for the long run due to its moves such as the spin-off, productivity gains, and driving the end-market demand for aluminum. As such, I think that Alcoa remains a long-term opportunity that investors should not miss.
Disclosure: I/we have no positions in any stocks mentioned, and no plans to initiate any positions within the next 72 hours.
I wrote this article myself, and it expresses my own opinions. I am not receiving compensation for it (other than from Seeking Alpha). I have no business relationship with any company whose stock is mentioned in this article.