When the Fed met recently in March, it noted that risks stemming from overseas conditions were a significant factor contributing to the decision to take no action (i.e., not to raise interest rates) at that meeting. Recently, Fed Chair Janet Yellen further telegraphed in a recent speech that these worries about overseas markets and economies may perhaps keep the Fed from any aggressive tightening schedule - but, as always, indicated the Fed is data dependent. The Fed anticipates raising rates twice this year, but Fed funds futures from the CME indicate that the markets are uncertain of even one.
These worries aren't misplaced. Indeed, conditions here at home paint a portrait of decelerating economic activity, visible through a variety of metrics. What's more, these signals show declining growth rates occurring over the course of the past several years - this is not a new, sudden development. Note that a declining rate of growth does not mean the economy is actually contracting, and nor does it necessarily signal any incipient recession. What it does mean, though, is that the economy isn't likely strong enough to warrant higher rates right now.
An Interesting Puzzle
Let's explore using a graphical expression of economic data, covering consumer spending, manufacturing, commercial real estate, and housing. The outlier, though, is continued employment gains, which have even remained relatively robust while consumer spending growth slowed. This presents a puzzle to policymakers: If more consumers are working, and they are earning more, and they enjoyed a sharp drop in fuel prices, why aren't they spending it?
What's Decelerating?
With that in mind, we'll begin with consumer spending. As seen in the nearby graph, the year-over-year rate of change of spending at retail stores, while erratic, has steadily declined over the past several years. (Note that we are examining the growth rate, not the level. The growth rate has slowed, but that does not mean consumer spending is actually falling over a sustained period.)
This is occurring despite rising consumer confidence, as measured by the University of Michigan. We might expect these two indicators to move in tandem, but in recent years they've diverged remarkably, often heading in opposite directions, which makes little intuitive sense.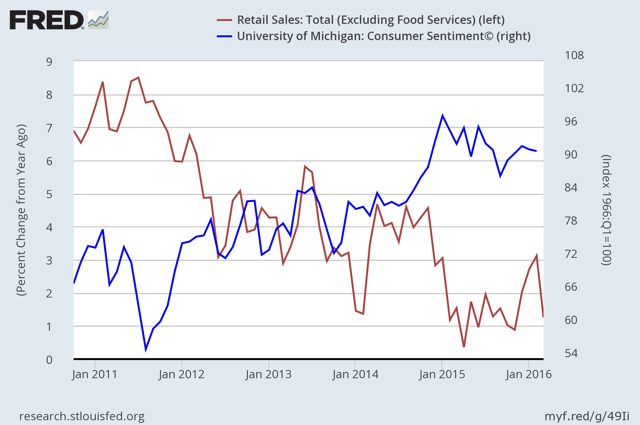 It's not just consumer spending growth that is soft. We also see deceleration in measures of investment. Take construction spending, for example. We can see slowing rates of growth in residential spending, as seen in the nearby graph. It's still growing at a healthy pace, measured year-over-year, but the growth rate is still definitely slowing.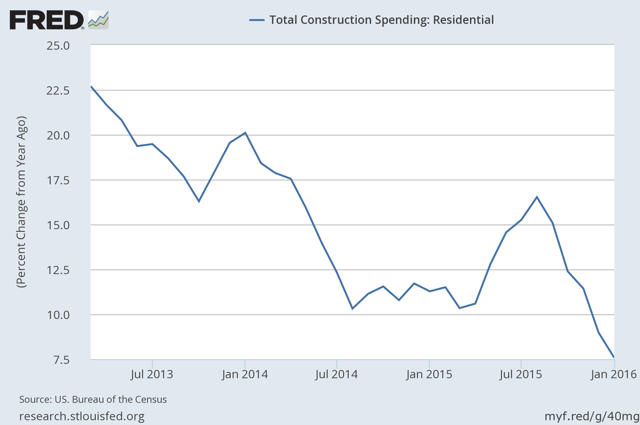 Then there is commercial construction. It, too, faces a slowing rate of growth, as seen in the nearby graph, and it even posted a small decline recently, measured from the same period in the year prior.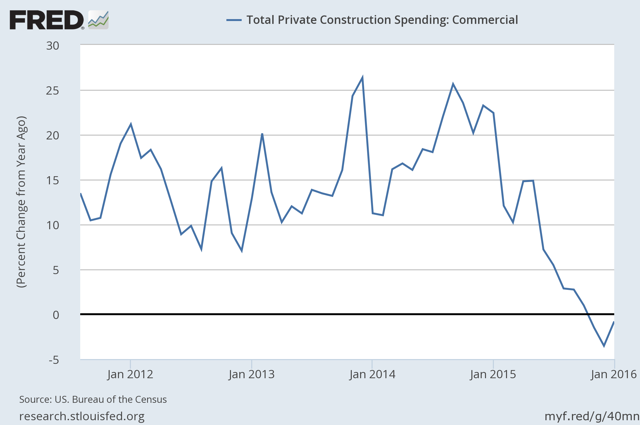 Industrial production for manufacturing has also decelerated, as measured from a year ago, as we see in this graph: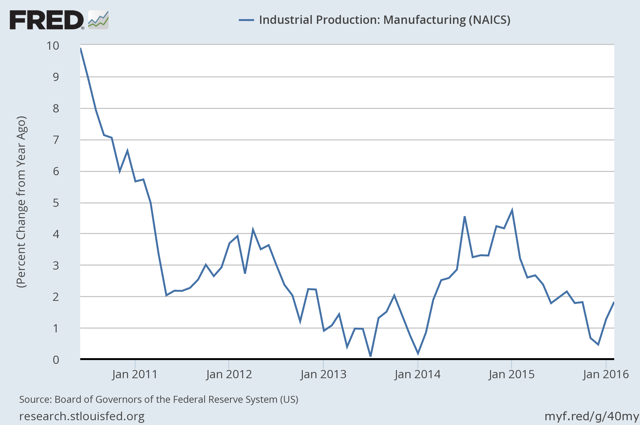 What Has Remained Strong?
What is robust is hiring. We see continued, relatively strong employment gains. Given that the rate of hiring is greater than the growth of the labor force, in data from the Bureau of Labor Statistics, the unemployment rate has come down since the end of the recession to its current 5%. This level is near where the Fed sees "full" employment; that is, one below which inflation might begin to emerge should employers need to offer higher wages to attract talent. (There is always some unemployment due to the natural frictions of people entering the labor force or changing jobs, either voluntarily or through discharges.)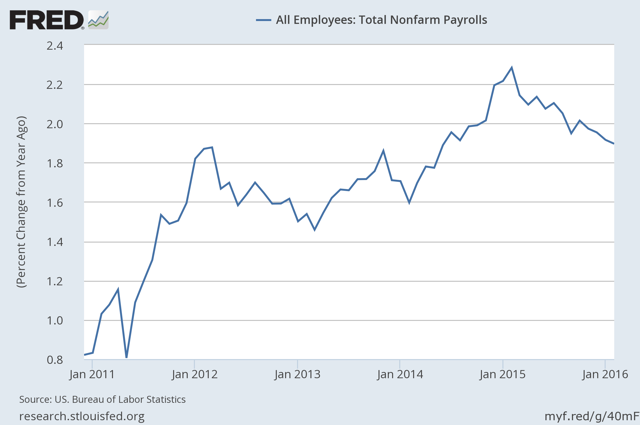 So far, however, companies have yet to offer employees the notably higher wages the Fed would like to see in its dual goals of full employment and an inflation rate that is reflective of healthy demand. It is near its goal in the first measure, but in the Fed's preferred gauge of healthy inflation (a rate around 2%), the economy has failed to cooperate. Until it does, the Fed might not see its mission as having been fully accomplished.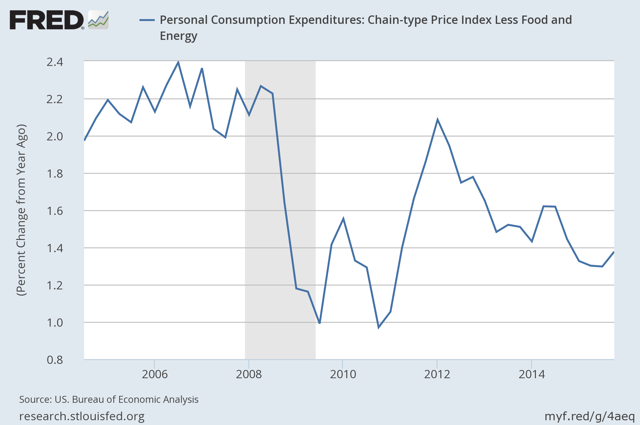 Lower Rates for Longer are Likely
None of these data indicate the economy is falling off a cliff by any means. They certainly don't indicate that a recession is looming. What they do indicate, however, is that the Fed may believe the economy can benefit from lower rates for a bit longer, and the Fed may follow a lower trajectory of rate hikes. The Fed even indicated as much in its recently policy communications. Following its meeting in December, the Fed saw four rate hikes in 2016. Now, just two.
For investors, that is likely good news, but for the wrong reasons. Theoretically, a faster rate of economic growth might boost companies' revenues, perhaps faster than borrowing rates might rise. Investors, however, have come to believe that low rates are always good - regardless of the reason. We will see as the earnings season progresses whether that view is correct.
Disclosures
Investing involves risk, including possible loss of principal, and investors should carefully consider their own investment objectives and never rely on any single chart, graph or marketing piece to make decisions. The information contained in this piece is intended for information only, is not a recommendation to buy or sell any securities, and should not be considered investment advice. Please contact your financial adviser with questions about your specific needs and circumstances.
The information and opinions expressed herein are obtained from sources believed to be reliable, however their accuracy and completeness cannot be guaranteed. All data are driven from publicly available information and has not been independently verified by United Capital. Opinions expressed are current as of the date of this publication and are subject to change. Certain statements contained within are forward-looking statements including, but not limited to, predictions or indications of future events, trends, plans or objectives. Undue reliance should not be placed on such statements because, by their nature, they are subject to known and unknown risks and uncertainties. Indices are unmanaged, do not consider the effect of transaction costs or fees, do not represent an actual account and cannot be invested to directly. International investing entails special risk considerations, including currency fluctuations, lower liquidity, economic and political risks, and different accounting methodologies.
© 2016 United Capital Financial Advisers, LLC. All Rights Reserved
unitedcp.com
Disclosure: I/we have no positions in any stocks mentioned, and no plans to initiate any positions within the next 72 hours.
I wrote this article myself, and it expresses my own opinions. I am not receiving compensation for it. I have no business relationship with any company whose stock is mentioned in this article.