"Investing is the intersection of economics and psychology." - Seth Klarman
Investing Discipline
For those that haven't figured this out yet, investing requires discipline. Shortcuts would be great. Sure, it'd be great if you could net out a 7-8% return without any volatility, it doesn't happen that way.
If you want equity like returns, you have to take some risk. You have to develop and maintain an investment strategy that will work for the long term and you have to stick to it. There aren't any crash diets in the markets that will let you earn 200% in 60 days and be set from there on out.
An investor's discipline is constantly being challenged. We are all products of those around us. We listen to the data around us and what is absorbed by our brain affects who we are, how we view the world, how we perceive the people around us. Media consumption, social media, friends, politicians, anyone who we trust and listen to shape our perspective. It's been shown that people tend to only listen to people who reinforce their previous beliefs. All of these things have a profound effect on our discipline.
I have subscribed to the theory that this is most dangerous when the influences around us are cynical, negative, bearish and constantly warning of coming doom.
Optimism always gives the appearance of being oblivious to risks, so by default, pessimism looks more intelligent.
However, I will continue to remind all that pessimism is an awfully dangerous thing for a long term investor and will make it extraordinarily difficult to find success.
I revisit this theme once again because I find myself listening to a lot of the same commentary from analysts and market pundits that I've heard for the last four plus years.
Since this secular bull market started, many investors have taken the pessimistic view with the belief that it sounds intelligent, insightful and helpful. Some believe that an opposite optimistic view can sound pollyannaish, naive and blind to the realities of the world.
The bears with the constant negative tone often sound like they are trying to save the bulls from disaster. That commentary continues today, and the optimistic folks that have had the story correct are still looked at as the group that needs to be questioned about their market view and strategy.
It takes discipline to weed out what is important and leave in what isn't. Filter out the noise and listen to what really matters. Every successful strategy is built around that principle. I will remind all that it is not as easy as it sounds to put into practice.
Another behavioral trait that impacts investor discipline is recency bias. It is a strong tendency to extrapolate recent events forward into the future, and investors do this all the time. Some look at data points, then lock in their perspectives and thereby come to the conclusion that trends just have to be this way and can never change.
"WTI is going lower and it will stay that way for a long period of time."

"The U. S. Dollar is strong and will get stronger in the current environment."

"U.S. Manufacturing is in a recession, the entire economy has to follow."

"Interest rates will rise quickly and dramatically, just like they always do after the initial increase."

"China's growth is slowing precipitously and it will lead the global economy into recession."
Any of this sound familiar? Just look around your everyday life experiences, rest assured things won't stay the same, and we will all need discipline to deal with all of the changes that do take place.
Jamie Dimon, CEO of JPMorgan Chase (NYSE:JPM), reminds us of that when he was recently quoted:
"The Great Recession is still front and center in people's minds, and the instinct to run for the exit may continue to be strong."
That sums up the mindset that has been prevalent. In my view, an open mind is the best way to approach the markets. Those that put blinders on at the lows are now wondering what went wrong.
Seasonality
Generally speaking, the second quarter of the year has been good for equities. Since 1980, the S&P 500 has averaged a gain of 2.7% with positive returns slightly more than 60% of the time. The only quarter that has been better for stocks is the fourth (+4.5%). Small caps and mid caps have seen even better returns than the S&P 500, although for these indices Q2 only ranks as the third best in terms of quarterly returns.
The Economy
Bespoke Investment Group shares their Economic Indicator Diffusion Index, which measures the pace in which indicators are coming in ahead of (or below) expectations over a 50 day period. The index provides a snapshot of how economic data is coming in relative to expectations. In other words, are economists too optimistic (negative readings) or too pessimistic (positive readings).
After dropping as low as negative 25 earlier this year, the Diffusion Index has come rocketing back in the last two months and just surpassed its prior 52-week high of +16 as we closed out the quarter.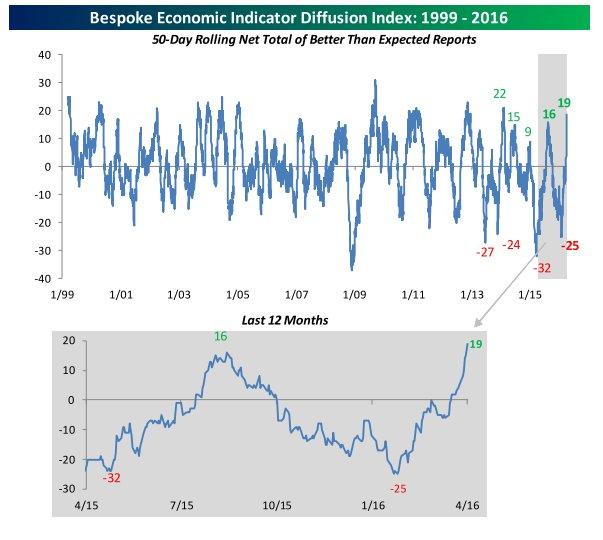 Charts courtesy of Bespoke
In fact, the Diffusion Index hasn't been this high in over two years (February 2010).
Last week I expressed that the U.S. Manufacturing sector may be finally emerging from what many are calling mid cycle slowdown.
Columbia Threadneedle Investments gives us their view on that topic.
"If there has been one narrative for the U.S. economy over the past several months, it's that the U.S. consumer is strong, but the industrial sector is experiencing near-recession-level weakness due to global turbulence and low commodity prices."

"However, U.S. manufacturing output is showing signs of life, even with global uncertainty and a strong dollar. Over the past 12 months, nominal U.S. manufacturing output has grown 3.3%, which is just slightly less than nominal gross-domestic product growth but not bad considering the tone of the market and the 6.1% fall in manufacturing exports."

"The U.S. Manufacturing sector is growing, and it's because of domestic demand, not exactly a sign of impending recession. In addition, the macro backdrop for the industrial sector is improving as the domestic economy is steady, destinations for U.S. exports are growing faster, and U.S. manufacturers are becoming more competitive."
The Empire State Manufacturing Survey came in at its highest level in over a year. For the moment, the disappointing series of reports from this region has been broken.
Retail sales for the month of March were released this week and came in weaker than expected across the board. On a headline basis, retail sales actually fell 0.3% compared to forecasts for a month/month gain of 0.1%. Most of this weakness was due to Autos. After backing out that category, sales grew 0.2%, but that was still below the consensus expectation of 0.4%.
I stumbled across this comment from "bbro" on SA this past week. It puts the retail sales picture into perspective.
"1st qtr 2015 to 1st qtr 2016...Non Seasonally Adjusted Year over Year Retail Sales ex Gasoline Stations, +5.25%"
This week's report on Jobless Claims shows that they are back down to 1973 levels. It's difficult to make the argument that it is a sign of weakness in the economy.
Federated Research reports:
"The Philly Fed State Coincident Indexes rose in 43 states, fell in 5 and were stable in 2, raising the 1 month average percent change for all states to 0.3%, the most in a year and above the 0.2% long-term average."

"The companion U.S. Coincident Index also rose 0.3% and is up 3.2% y/y, off its cyclical high of 3.8% a year ago but well above the average 2.3% pace at the start of the previous 5 recessions. This suggests the economy lost some momentum last year but is nowhere near a recession."
Similarly, Ned Davis Research's proprietary recession probability Model has edged down to 1.2%, indicating minimal odds of recession at this time.
My how the fear promoting recession gurus have gone silent.
Global Economy
The International Monetary Fund lowered its 2016 global growth forecast to 3.2% from 3.4% in its just published World Economic Outlook, April 2016, "Too Slow for Too Long".
Chinese exports for March were up 11.5% year over year, above consensus expectations looking for a 10% gain following last month's 25.3% contraction.
China's GDP came in at 6.7% in line with most estimates. The commentary surrounding this report had a positive tone:
"All this obsession with a Chinese hard landing I think is a bit too much."

"I think the March monthly statistics are overall very encouraging, you saw a rebound in industrial production and fixed asset investment, and of course GDP hit market expectations of 6.7 percent. What this shows is a stabilization of the old economy."
The takeaway, China isn't falling apart and it demonstrates that the negativity is overdone.
Earnings
With earnings season just started, we are beginning to hear a lot of earnings related commentary regarding the market. One such comment this past week was that "the most important thing to watch during earnings season is guidance." The commentator suggested that in order for the market to rally, guidance will have to be positive; if not, watch out.
I disagree. Starting with the premise that given the economic background and the headwinds that are still in place, no CEO is going out on the limb to be a hero or heroine and put forth rose colored guidance. One simple reason, they don't have to.
Secondly, while the premise on guidance sounds logical, the data suggests otherwise. The folks at Bespoke Group provide us with the chart below. The Net Guidance Spread column shows the spread between the percentage of companies issuing positive guidance versus those issuing negative guidance.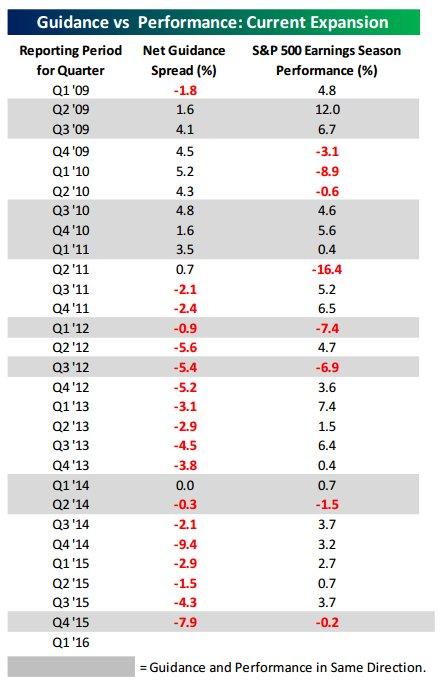 Source: Bespoke
Of the 28 reporting periods shown, the direction of the market during earnings season was the same as the net guidance spread only ten times (36%). Furthermore, in the last twelve quarters (3 years) the guidance spread has been negative eleven times, and the S&P 500 has been down during the corresponding reporting period just once.
As discussed in prior reports on the subject, when it comes to earnings season, what really matters is expectations heading in. When expectations in the form of analyst revisions are negative leading up to the start of earnings season, equities typically rally during earnings season, while positive sentiment leading up to earnings season sets a high bar to surpass. Bottom line, I don't get hung up on corporate guidance unless a corporation beats earnings handily, then raises their guidance.
From Thomson Reuters:
Forward 4 quarter estimate increased this week to $124.78 versus last week's (estimated) $123.50.

PE ratio: 16.4(x)

PEG ratio: 17.3(x) finally positive but not really indicative of core earnings growth.

S&P 500 earnings yield: 6.09% versus last week's 5.96%. The market seems to struggle any time the SP 500 earnings yield dips under 6%.

Year over year growth rate of forward estimate: +0.95% versus last week's -0.35% (estimated)
What really matters when we speak to the earnings picture is Energy. The sector is still about a 6% market cap weighting in the S&P 500. In my view, the energy sector is the key to this market and the key to 2016 S&P 500 earnings. This sector single-handedly turned the earnings picture very ugly. It will be necessary for Energy to now offer surprises on the upside, helping sustain the current market valuation.
Crude Oil
The graphic below shows that the severe downtrend from the highs right before the August 2105 collapse has clearly been broken. The downtrend line was broken back in mid March, but more importantly in the selloff that followed the rally, prices never dipped back below that downtrend line. In my view, that break of resistance and subsequent successful test (gray shaded circle) is another positive.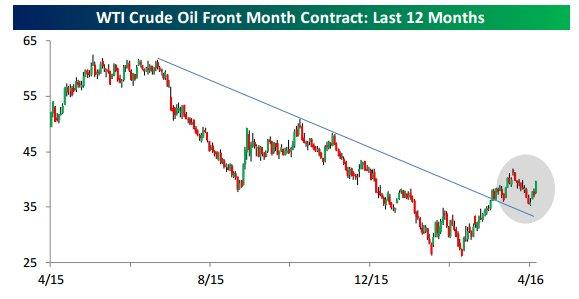 Source: Bespoke
Bolstering that view is the fact that WTI has now broken above its 200 day moving average. The price had been locked below that important trendline for 566 days, the longest streak ever.
Regarding the recent "on again, off again" global production cuts, I have now put this rhetoric in the same category as Fedspeak. It's all noise and there is no need to obsess over the banter. I'd rather pay attention to the charts and the price action. As an example when the headlines read "no production cuts", and U.S inventory levels showed a "build", the market reaction was muted as WTI was down $0.56 on the day. That may be a better "tell" on the present state of the oil market.
At this week's high, crude was up some 61% from its February 11th intraday low. WTI closed the week at $40.31.
Sentiment
When stock prices rally, investor sentiment usually follows suit. However, in this week's survey of investor sentiment from AAII, bullish sentiment actually declined from 32.19% down to 27.85%.
It is now 24 straight weeks where bullish sentiment has been below 40%. Furthermore, in the last 59 weeks, there has only been one week where bullish sentiment went above 40%. Given those statistics, I maintain my view that very few believe in this market and this rally.
Market Skeptics
We hear this all of the time.
"Corporate Buybacks are propping up the stock market."
My view: Corporations are buying back shares because their profits are near record levels and their resulting cash flows are high. Equity prices are high because future profit expectations are accordingly high. Buybacks are a pro cyclical result of this and do not necessarily reflect manipulated stock prices, but are merely the result of record high profits and cash flows. In fact, as a percentage of total profits, buybacks are not that close to the bubbly territory we saw before the Great Financial Crisis.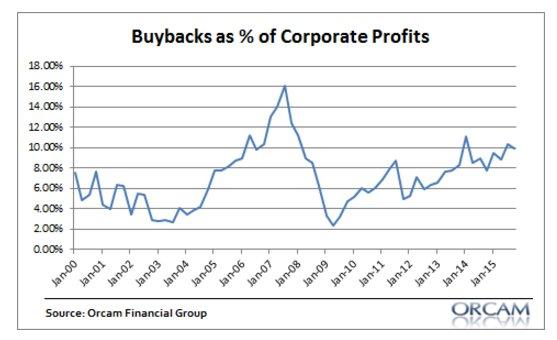 Corporations are buying back shares because they have determined this to be an efficient way to return capital to investors during a time when they have more cash than they know what to do with. So, every time you read a headline about buybacks "propping up the stock market" you can rewrite that as "Corporate Profits are Propping up the Stock Market."
Of course, that makes for a far less sexy and less controversial headline, but it's a much more accurate description of the current state of the stock market.
Stock buybacks are better thought of as a coincident indicator correlating to the state of corporate balance sheets and not necessarily a good predictor of future price levels. This does not mean, however, that stock buybacks will not peak with stock prices. In fact, as a coincident indicator we should expect this.
Some people might challenge the use of profits here, which is reasonable. Buybacks as a % of liquid assets tells much the same story however.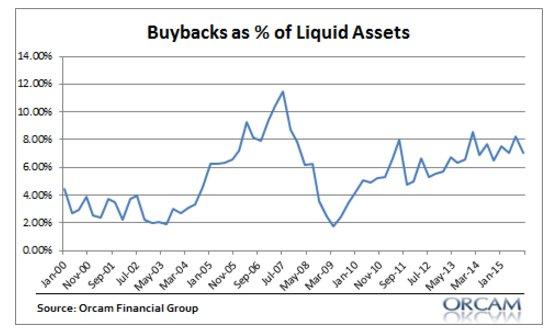 Finally, if buybacks are what is driving the stock market as so many say, then how is this chart explained?

Chart courtesy of Urban Carmel
It would seem difficult to explain that corporate stock buybacks are responsible for propping up the market, because the 10 companies with the largest buyback programs have underperformed the overall stock market.
In my view, the following example also destroys the skeptics' view of stock buybacks. It comes from David Kostin of Goldman Sachs.
He recently stated three reasons why he is bearish now. One of those reasons revolved around stock buybacks when he stated:
"The only demand source for shares is corporate buybacks."
He goes on to say that with corporations entering into the blackout period prior to this earnings season, it will leave stock prices vulnerable and on their own. He cited that there will be no help from corporations, as more than 75 percent of S&P 500 constituents are unable to execute discretionary buybacks now until early May.
Zerohedge also weighed in with their thoughts on this topic and according to these gurus, the S&P will now crumble before our eyes. Since that was written, the S&P is up 50 points in the blackout period.
The Technical Picture
Let's take a look at what still 'troubles' many market watchers and keeps the wall of worry firmly in place.
The skeptics keep raising the flag (and rightfully so) when looking at a longer term chart of the index shows the rounded top pattern that's been in place for the last few months. Until we can take out prior all time highs from last May, which is just a few percentage points high from here, the chart below is one that can't be totally ignored.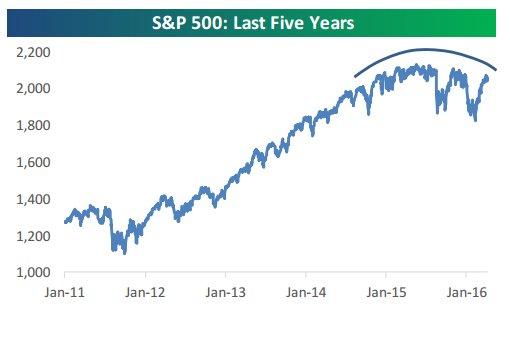 Source: Bespoke
What many investors may have missed, or chose to ignore, is the possibility for change. Positive change represented by higher WTI and a lower USD. When markets were testing their recent lows, no one with a negative slant to their outlook envisioned anything but their myopic view that these trends were cast in stone forever.
Here is another example of what could change when we start to look at select sectors of the S&P.
Like the broad S&P 500, most sectors remain stuck at the top of their downtrend channels even after experiencing huge rallies since early February. In a perfect (bullish) world, investors want to see these downtrends break before getting all giddy about future price action.
The Industrials sector (NYSEARCA:XLI) was declared dead a while ago as manufacturing entered into a recession. After presenting some research on this topic, I have since decided that this may have been just a mid cycle slowdown. Especially if I see more improvement down the road.
That view is now supported as the sector is one of the few that has managed to break out of its downtrend channel. Three charts for different time periods are presented below. They all have one thing in common, they are notably bullish in my view.
The YTD chart shows a nice uptrend higher since the end of 2015. The one year chart shows the break out above the top of the downtrend channel.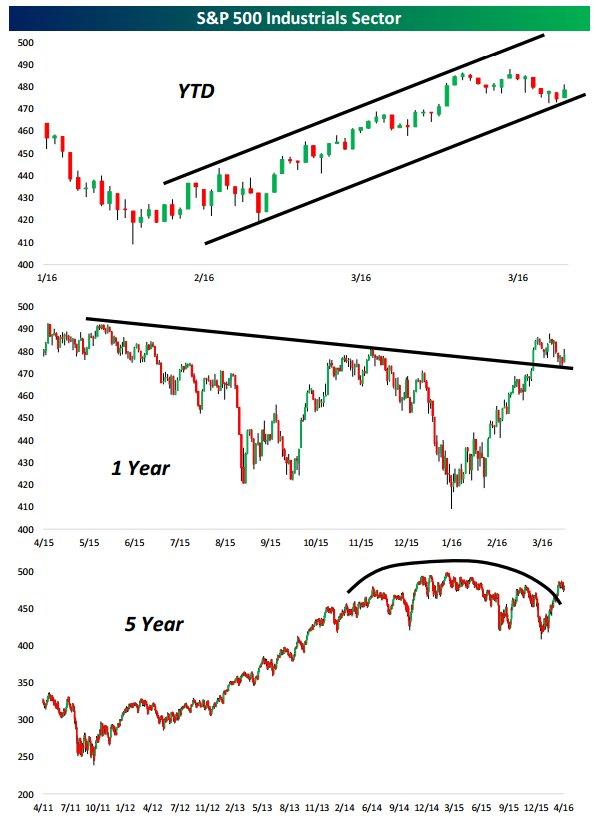 Source: Bespoke
The five year chart is the most interesting of the three. It shows that unlike the S&P 500 as a whole, the Industrials sector has managed to break out of a "rounded top" pattern that it had formed over the last two years.
Anyone who is bullish will look for this same pattern to develop for the S&P, as that will be a signal that the protracted sideways pattern may be broken to the upside. After all, Transports were supposed to lead the market down, why can't they now lead the market up?
Another key technical indicator is now flashing a green light. While the index itself is still below its May 2015 bull market high, one market internal that I look at has indeed already taken out its high. The market internal that I am referring to is the index's cumulative advance/decline line.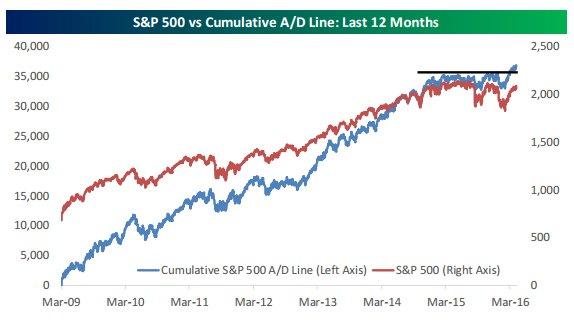 Source: Bespoke
This reading is basically the sum of the daily number of advancers minus decliners in the index since the bull market began on March 10th, 2009. It's a key indicator of underlying breadth. In general, when the index is making new bull market highs, you want to see the cumulative advance/decline line making new highs as well.
When you see the S&P making a new high but the A/D line not making a new high, it's a signal that underlying breadth (and the health of the market) is weak. Right now what we're seeing is the opposite, the cumulative advance/decline line has made a new bull market high after experiencing a big jump during the current rally, but the S&P 500's price has yet to make a new bull market high.
This suggests that the underlying health of the S&P is actually stronger than what the index's price is telling us, and the expectation is that eventually price could catch up with breadth and a new high will be made.
With the S&P at 2080, it is now 2% from the all time highs. There is strong resistance ahead sitting at 2103. If the S&P can't push through that resistance and falls back, near term support resides at 2033. It would take a solid breach of the 2019 level before I would start to get concerned.
Individual Stocks
I mentioned earlier that the month of April has historically been a good month for stocks. In terms of sector returns, Q2 has also been broadly positive. In fact, it is the only quarter of the year where the S&P 500 and all ten sectors have seen average returns of 2.5% or more.
For the Energy sector, though, it doesn't get any better than Q2. Since 1980, the sector has averaged a gain of 3.5% with positive returns nearly 70% of the time. On an absolute basis, the best performing sectors during Q2 have been Consumer Discretionary (4.5%) and Healthcare (4.2%), while the laggards have been Transports (2.6%) and Utilities (2.7%).
So far in April, small and mid caps have declined more than their large cap peers. If this rally continues I see money rotating into this area. Financials and Consumer Discretionary have been the underperforming sectors, while Healthcare has bucked overall market weakness.
I have reported that the financials are "Under loved, Under owned and Undervalued. When I stumble upon the three "U's" in any situation, the stock(s) deserves a good hard look.
JPMorgan kicked off earnings season for the banks with a better than expected report. Bank of America (NYSE:BAC) and Citigroup (NYSE:C) followed suit, and all three watched their shares rise this past week.
One of the reasons for the 6.6% rise in the S&P in March, West Texas Intermediate rose 13% in the month, and the 10% gain in the S&P's oil and gas sector represents 5.5% of the S&P's market capitalization.
But WTI's rally has stalled some, and for the moment energy stocks have followed suit. If the historical trend I mentioned earlier takes hold, then energy may have more to run. Despite what happens on that front, I believe the financial sector can pick up the baton as money may start to rotate into that undervalued sector.
Summary and Conclusion
There are six stages to a secular bull market. They are: Bear Market Low and Rebuilding, Guarded Optimism, Enthusiasm, Exuberance, Surreal, and Bubble Bust/Disillusionment. Clearly we are nowhere near Enthusiasm or Exuberance, so I believe we are only at the beginning stages of "Guarded Optimism."
I have seen a few pieces of evidence in recent weeks that the small individual investors are not buying into the rally over the past seven weeks. What I have been seeing in the data is buying a lot of 'put' option protection. Overall I don't perceive them as overly bullish, to the contrary, many are still very skeptical. The comment I am hearing the most from the investing public; "I'm waiting for a pullback." Clearly the sentiment levels that I posted earlier show how indifferent many are to the equity market rally.
Ever since the August 2015 lows, I have remained steadfast in my approach to the stock market. Simply following a "stay the course" strategy. Thus avoiding the pitfalls that come with making premature drastic changes in an investor's plan.
As a result, many questioned that approach, as the calls for lower lows were heard for the better part of seven months. While I put forth my ideas, I also maintain that investors should gather the data, make their own decisions, and not rely on others to make these decisions for them.
I mention that now because it is a reminder that with the S&P just below the all time highs, we have seen this movie before. The S&P has been rebuffed in earlier attempts to reach new highs. With the thought of keeping an open mind to all possibilities, investors will now have a chance to look over the landscape and decide how they want to play this situation.
It's best to assign a probability percentage to the scenarios that could unfold here. For myself, I now give a higher probability and more weight to the possibility of new highs than I would have 2-3 weeks ago. I'll list the reasons in a few simple bullet points.
Earnings estimates were too low, so I lean to upside surprises.

WTI and the USD trends continue to favor the bulls.

Sentiment is overly pessimistic, no one believes. Short interest is at record levels.

In early March I noted that this rally has a different feel to it. That continues, as market breadth is much improved since then.

I envision sector rotation to play a large part in the move, with financials joining the uptrend.
So I will continue with the strategy of concentrating on individual stock selection and look for the bargains that are present, while I "stay the course."
Best of Luck to all!
Disclosure: I am/we are long BAC,C,JPM.
I wrote this article myself, and it expresses my own opinions. I am not receiving compensation for it (other than from Seeking Alpha). I have no business relationship with any company whose stock is mentioned in this article.