Introduction
Back in January, I proposed to have a look at Bpost (OTC:BPOSF) (OTCPK:BPOSY), the Belgian postal services company. I argued that this company's dividend was safe due to the lack of real competition on the Belgian market, and the company's strong position on the parcel market. The Company has now released its financial results over 2015 (and the annual report was titled 'with confidence'), and I wanted to check in to see if the current dividend policy still makes sense.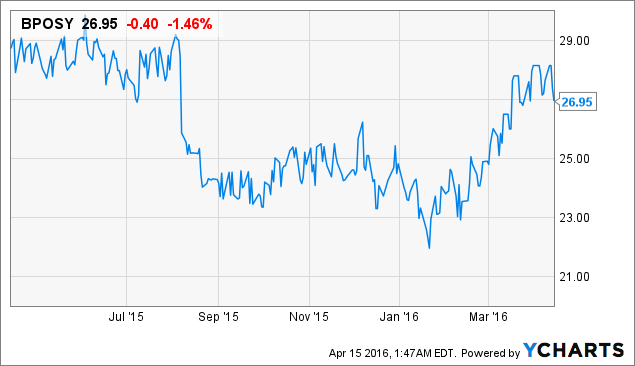 BPOSY data by YCharts
As a brief reminder, the company is part of the BEL 20 index and it makes so much more sense to trade in the company's shares to the facilities of Euronext Brussels. The average daily trading volume on the Brussels listing is in excess of 250,000 shares making this listing more liquid and the better venue to buy or sell stock. The ticker symbol in Brussels is BPOST.
Yes, the company generated quite a bit of free cash flow in 2015...
A lot of investors are currently shying away investing in mail companies, but it's a large part of my investment thesis in my article that has been published in January. It discussed the fact that Bpost would be able to compensate the declining mail volumes by increasing volumes in the parcel department. And even though the mail volumes decreased by approximately 5%, I was very pleased to see the parcel division to increase its revenue by approximately US$48 million, or an organic growth of approximately 14%. That's great, but this $48 million increase was not sufficient to cover the $70 million decrease in the domestic Mail revenue. Considering everything, the company's revenue decreased by approximately 1.3%, which is still acceptable considering the entire European mail business is suffering from lower mail volumes and Bpost is keeping its damage limited.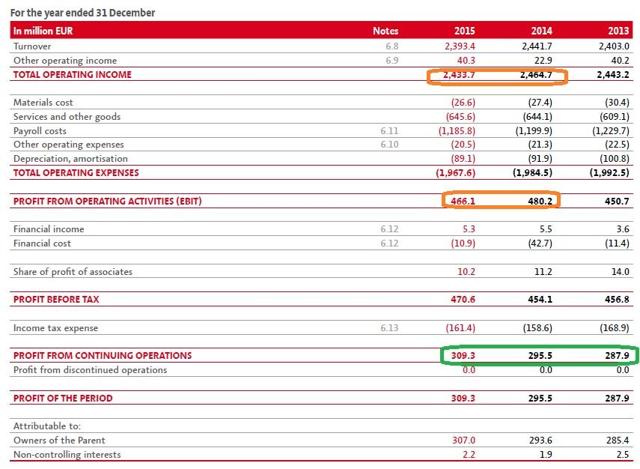 Source: annual report
The total revenue in 2015 was in excess of 2.4B EUR and as the operating expenses also decreased (thanks to the lower payroll expenses which have now been decreasing for several years in a row), the operating profit came in at 466M EUR ($525M). That was lower than in FY 2015, but still almost 4% higher compared to FY 2013.
That being said, as Bpost saw its financial expenses fall (due to a one-time cost related to benefit obligations in 2014), the net income increased by almost 5% to 307M EUR ($345M) (attributable to the shareholders of Bpost), or 1.54 EUR per share ($1.73). That's fantastic, and based on a payout ratio based on the EPS the dividend was definitely sustainable, but what did the cash flow statements say?
...but was this enough to fully cover the dividend?
A net income is very nice, but it doesn't tell or guarantee you much. Every decent accountant can make the bottom line say what he or she wants it to say, and as it's much more difficult to fool around with the cash flow statements, I always invest quite a bit of time into running those numbers and double-checking everything.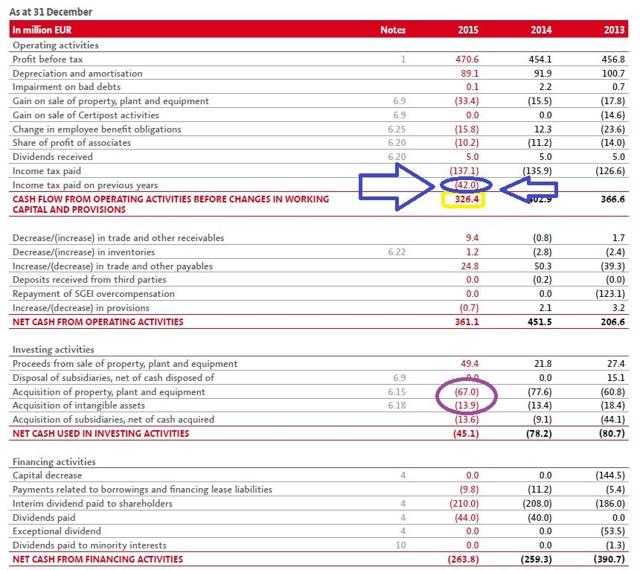 Source: annual report
At first sight, Bpost generated an operating cash flow of 326M EUR ($367M), and after deducting the 80M EUR ($90M) in capital expenditures, the adjusted free cash flow was approximately 246M EUR ($277M). That's approximately 1.13 EUR ($1.28) per share and even though that's a good result, it did not cover the full-year dividend of 1.29 EUR ($1.45) per share.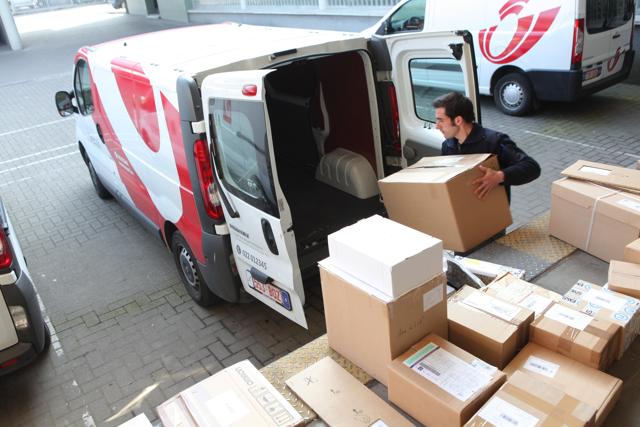 Source: company website
Back to the drawing board to see if I perhaps missed anything during my first read, and indeed, the FY 2015 cash flow statements also take a tax payment of 42M EUR ($48M) into consideration, which was a non-recurring event. According to the fine print in the annual report, this payment was related to a tax payment due in the FY 2013 period. So this was a one-time event and should not be taken into consideration to determine Bpost's adjusted and sustaining free cash flow.
If I would now re-adjust my calculation to take this into consideration, the sustaining free cash flow increases to 286M EUR ($322M), or approximately 1.43 EUR per share ($1.61). And ta-daaaa, the dividend was most definitely fully covered by the free cash flow Bpost was generating.
Investment thesis
I'm quite happy with Bpost's performance in the past financial year, and the numbers are reconfirming the fact the dividend was (and is) sustainable. Just like all the other post companies, Bpost will have to monitor the mail volumes very closely, but as the company expects an additional double-digit percentage growth in its parcel division, I am quite confident Bpost will be able to a) limit the cash outflow and b) keep the dividend stable.
I originally recommended Bpost as a safe dividend play, and after having combed through the annual report, I'm sticking with my original investment thesis. Be aware the share price has already increased by approximately 15% since that PRO-article, so it might be better to wait for a dip in the share price instead of chasing the momentum. And for the more sophisticated investors; there are options available on Bpost at its Euronext Brussels listing, so you might want to consider writing some put options.
Disclosure: I am/we are long BPOSY.
I wrote this article myself, and it expresses my own opinions. I am not receiving compensation for it (other than from Seeking Alpha). I have no business relationship with any company whose stock is mentioned in this article.