Introduction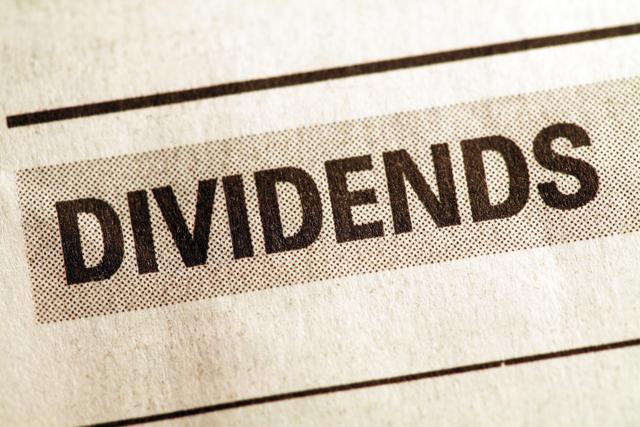 The past quarter was pretty volatile. As you know, it started with major declines in almost every index. The reason for the declines was fears over the Chinese economy and the stability of European banks like Deutsche bank (NYSE:DB). In the middle of February, as the fears faded, the markets started to rise again, and the whole quarter finished roughly where it began.
Over the course of these three months, my portfolio beat the market with a return of 5.17%. To be honest, as my portfolio is a dividend growth portfolio, I am more concerned about the dividend income, which actually dropped due to several dividend cuts among companies in the energy and basic materials sector. This was a crucial lesson for me, and it made reevaluate my sector allocations to reduce the exposure to price taking sectors and sectors that require constant access to the debt and equity market.
As I stated in the previous article, I divide my investments between my brokerage account where I manage my portfolio, my medium-term managed investment account and my managed pension account. I also have a short-term deposit in Bank Hapoalim, and an investment account in LendingClub (NYSE:LC).
Most of the money is in the brokerage account where I manage my dividend growth portfolio. My investments are dividend between short-term deposits, medium-term managed accounts, and for the long term, I have my pension, brokerage and LendingClub accounts. I make sure to transfer money to each account on a monthly basis. Here is the current allocation: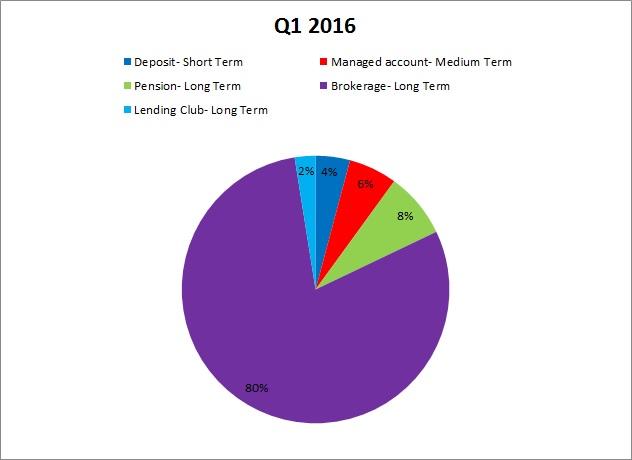 New Goals
My long-term goals haven't changed, and I am still looking to be a financially responsible individual. I save and invest money, minimize debts and use the rest of my salary for consumption. I try to accumulate assets in order to have more freedom and less dependence on others.
On the other hand, I am not living frugally, and I don't save 70% of my income. Right now, I have a short-term goal. I am saving in my short-term account for a 3-week trip in the summer. Therefore, I am allocating a little bit more capital to my short-term account, as I don't want to finance my trip with a loan.
Changes to my optimal sector allocation
The last quarter taught me a lot. It gave me a lesson in modesty, and improved my ability to analyze businesses. The dividend cuts by several key players in the energy sector and the basic materials sector taught me that I should be more conservative when I analyze cash flows and the ability to maintain them.
It also taught me to be even more conservative with companies that have limited pricing power like energy companies, or with companies that need constant access to the equity and debt market, many of them are risky REITs and MLPs.
I changed my optimal asset allocation according to what I have learned. I decreased the exposure to energy and basic materials, as these companies are very sensitive to commodity prices, which they cannot control. I also decreased a little bit my exposure to REITs due to their relative slower growth, and the fact that I am a young investor. If you are looking for REITs to consider, I recommend that you follow Brad Thomas who writes here and offers thorough analysis for many REITs. He gave me several great ideas for my REIT pickings.
Here is my current sector allocation:
| | | |
| --- | --- | --- |
| Sector | Current Allocation | Optimal Allocation |
| Consumer Staple | 27% | 20% |
| Health Care | 10% | 12.5% |
| Industrials | 13% | 12.5% |
| Financials | 12% | 12.5% |
| Consumer Discretionary | 10% | 10% |
| Energy and Materials | 8% | 10% |
| Information Technology | 6% | 8% |
| REITs | 8% | 7% |
| Telecommunications | 5% | 5% |
| Utilities | 2% | 2.5% |
Changes to my portfolio in the past quarter
Over the past quarter, I sold only positions that cut their dividend distribution. On the other hand, I used my monthly contribution to buy more companies together with the money I received from the dividend cutters.
I bought shares in healthcare companies and information technology companies in order to balance my exposure to the different sectors. I make sure to analyze each company, and I won't buy it just because it fits the sector I am looking for.
If there is an opportunity, I will buy shares in companies even if I am over allocated to the sector. I did it this quarter with the consumer discretionary sector and the financial sector, which usually trades for higher valuation. I took advantage of the fears about China and Europe to buy some more shares. On the other hand, I didn't buy a lot of IT companies, as most of them are pretty expensive in my opinion.
I also bought some energy sector companies to replace the ones I sold. I didn't manage to find suitable candidates for all my capital so my exposure to the sector declined from 14% to 8%. I must admit that I am much more comfortable with 8%. However, the decline in the exposure also led to a decline in dividend income. It was, as I said before, a great lesson for me.
Companies that I bought in Q1
Healthcare: Abbott Laboratories, Medtronic, Becton Dickinson and Pfizer. These four companies give me exposure to both healthcare equipment and medical devices and to pharmaceuticals, biotechnology and drugs. Together with Johnson & Johnson, I have broad and diversified exposure to healthcare. I have my concerns with Pfizer as the company cut its dividend back in 2009, but the strong fundamentals and the fact that I was able to buy it for a decent valuation convinced me to have a small position with this healthcare giant.
Information Technology: Apple, Qualcomm and Alphabet. I bought Apple when its price declined during the quarter, and at the same time, I bought just a little bit of Alphabet. As Apple started paying dividends in 2012, and increased them annually, it has all the potential to become a dividend growth company. I bought Alphabet even when the company doesn't pay any dividend. At the end of 2015, the company announced its first buyback plan, and I hope that in the future as the company matures it will offer a dividend as well. It was too hard to ignore the company when the price dropped below $700, and valuation seemed fair when taking into consideration the forecasted growth. Qualcomm is a decent company that suffered from some weaknesses lately. I decided to initiate a small position, as the fundamentals and valuation are compelling.
Financials: Bank of America and T. Rowe Price Group. I only increased my exposure to this sector due to the massive selloff in January and February. I believe that it was an over shooting, and some financial sector companies were trading for very compelling valuations. I bought shares in Bank of America that traded close to the $11 mark, and T. Rowe that offered a great entry yield during January. Moreover, I also initiated several option trades in order to take advantage of the volatility. I sold puts of Morgan Stanley (NYSE:MS), Citi (NYSE:C) and Bank of America for January 2017. I make sure to sell puts of companies that I want to own, so if I am wrong I don't get assigned with a company I wouldn't want.
Consumer Discretionary: V.F. Corporation and The Walt Disney Company. I bought these two for the same reason I bought financial companies. Both companies usually trade at high P/E ratios. The weakness in the markets allowed me to buy them for a more compelling valuation, and I wasn't going to pass on the opportunity to do so. I believe that when Disney trades for $96 after another amazing quarter, it is compelling. I believe that the fears over ESPN are overblown.
Energy: Exxon Mobil, Chevron Corporation and Magellan Midstream Partners. As I sold my positions in many energy companies, I concentrated on what I believe to be market leaders. The two largest super majors, the ones that I believe will be able to maintain the dividend payments. In addition, I still want to have a small exposure to MLPs, and I chose Magellan as it has a relatively high credit rating of BBB+, and it offers a sustainable coverage ratio for its enticing dividend yield.
Companies that I sold in Q1
Energy: Kinder Morgan (NYSE:KMI), ConocoPhillips (NYSE:COP) and National Oilwell Varco (NYSE:NOV). I sold all three companies for one simple reason. They all cut their dividends. I must note that I sold National Oilwell Varco in April, not Q1, but it is relevant for the other sells, so I believe it is important to note it. I really believed in the company, and thought that it will be able to deal with the hardships, but I was wrong, and that is where diversification proves itself again. I sell dividend cutters automatically, as it is very easy to convince yourself that the companies still have value, but it is important to be a disciplined investor, and maintain your strategy. If a company cuts its dividend, it is a sign for me that the management wasn't planning correctly, so why should I believe that the same management will act properly from now on.
Basic Materials: BHP Billiton (BBL; BHP). I sold this stock for the same reason I sold the other ones. The dividend cut resulted in an immediate sell. I wrote a year ago an article that was bullish on BHP. I really thought that it could weather the storm using cost cutting, and leveraging its balance sheet a little bit, as it is a very conservative one. The management decided otherwise, so I decided to part ways with the company, especially when I read the new dividend policy.
The portfolio
Here is my current portfolio:
| | | | | |
| --- | --- | --- | --- | --- |
| Sector | Company | Ticker | % of portfolio | % of income |
| Information Technology | Apple Inc. | AAPL | 1.27% | 0.72% |
| Health Care | Abbott Laboratories | ABT | 1.97% | 1.45% |
| Financials | Aflac Incorporated | AFL | 2.92% | 2.28% |
| Financials | Ameriprise Financial | AMP | 0.53% | 0.47% |
| Utilities | Avista Corp. | AVA | 1.01% | 1.05% |
| Financials | Bank of America Corporation | BAC | 1.82% | 0.83% |
| Health Care | Becton, Dickinson and Company | BDX | 0.53% | 0.28% |
| Energy | BP plc | BP | 1.68% | 4.17% |
| Industrials | Caterpillar | CAT | 2.33% | 2.89% |
| Energy | Chevron Corporation | CVX | 2.71% | 3.72% |
| Consumer Discretionary | The Walt Disney Company | DIS | 2.23% | 0.99% |
| REIT | Digital Realty Trust, Inc. | DLR | 2.68% | 3.18% |
| Industrials | Emerson Electric Co. | EMR | 2.86% | 3.10% |
| Industrials | General Electric Company | GE | 3.18% | 2.88% |
| Consumer Staples | General Mills, Inc. | GIS | 1.84% | 1.60% |
| Information Technology | Alphabet Inc. | GOOG | 0.85% | 0.00% |
| Information Technology | International Business Machines Corporation | IBM | 1.03% | 1.08% |
| Health Care | Johnson & Johnson | JNJ | 6.26% | 5.21% |
| Financials | JPMorgan Chase | JPM | 1.68% | 1.53% |
| Consumer Staples | Kimberly-Clark Corporation | KMB | 2.36% | 1.92% |
| Consumer Staples | The Coca-Cola Company | KO | 3.74% | 3.41% |
| Consumer Discretionary | McDonald's Corporation | MCD | 4.38% | 3.71% |
| Health Care | Medtronic plc | MDT | 0.71% | 0.42% |
| Industrials | 3M Company | MMM | 1.15% | 0.93% |
| Energy | Magellan Midstream Partners | MMP | 0.46% | 0.65% |
| Consumer Staples | Altria Group Inc. | MO | 4.37% | 4.71% |
| Industrials | Norfolk Southern Corporation | NSC | 1.77% | 1.56% |
| REIT | Realty Income Corp. | O | 2.02% | 2.32% |
| REIT | Omega Healthcare Investors Inc. | OHI | 1.63% | 3.31% |
| Consumer Staples | PepsiCo, Inc. | PEP | 4.16% | 3.66% |
| Health Care | Pfizer Inc. | PFE | 0.75% | 0.83% |
| Consumer Staples | The Procter & Gamble Company | PG | 1.92% | 1.86% |
| Consumer Staples | Philip Morris International Inc. | PM | 6.95% | 8.51% |
| Information Technology | Qualcomm Incorporated | QCOM | 0.70% | 0.88% |
| Telecom | AT&T Inc. | T | 3.10% | 4.67% |
| Consumer Discretionary | Target Corporation | TGT | 2.63% | 2.18% |
| Financials | T. Rowe Price Group | TROW | 0.84% | 0.75% |
| Industrials | Union Pacific Corporation | UNP | 1.26% | 1.07% |
| Information Technology | Visa Inc. | V | 1.79% | 0.39% |
| Consumer Discretionary | V.F. Corporation | VFC | 0.66% | 0.46% |
| Telecom | Verizon Communications Inc. | VZ | 1.47% | 1.89% |
| Utilities | Wisconsin Energy Corp. | WEC | 1.35% | 1.38% |
| Financials | Wells Fargo & Co. | WFC | 4.02% | 3.81% |
| Consumer Staples | Wal-Mart Stores, Inc. | WMT | 1.26% | 1.11% |
| REIT | W. P. Carey Inc. | WPC | 1.62% | 3.12% |
| Energy | Exxon Mobil Corporation | XOM | 2.86% | 3.05% |
While I suffered from my the dividend cuts, I did enjoy several dividend raises. They were not enough to offset the cuts, but I am looking forward. The dividend that I am worried about is BP's. The company recorded an enormous loss in 2015, and the chairman said this week, that it might need to reevaluate the dividend. If it cuts it, I will probably buy more shares of Magellan at the current prices, and the rest will be allocated to other sectors.
What am I looking for?
I am looking right now to buying companies in the healthcare sector and the information technology sector. I wouldn't mind buying stocks from other sectors if I find a compelling investment. I probably won't buy consumer staples companies as I am overallocated, and the whole sector is pretty expensive.
As I mentioned in the previous portfolio summary, I divide the dividend stocks into three main types. I mainly look right now for type 2 and type 1 stocks. I am looking for growth possibilities that hopefully will bring excessive returns in the future. I'm considering buying some more shares of Qualcomm next month.

Other stocks to consider
Another stock I might consider in the near future is Disney, which I believe is attractive under $100. You get a forward P/E of less than 20 for a company that shows double-digit growth. Another possibility is Apple. I still think it is a proper investment, but after the latest run, I prefer to wait for the reports to have a better understanding of the current trends. In the healthcare sector, I like Pfizer and Sanofi (NYSE:SNY). If I buy Sanofi, I will do it with Swiss Francs as I believe that it is important to diversify yourself with different currencies.
Conclusion
This article is very important to me. Sometimes I write in favor or against investments without buying or selling the stock. I appreciate every single reader that reads my articles, and I feel that I owe them this transparency.
Disclosure: I am/we are long ALL COMPANIES IN MY PORTFOLIO.
I wrote this article myself, and it expresses my own opinions. I am not receiving compensation for it (other than from Seeking Alpha). I have no business relationship with any company whose stock is mentioned in this article.