A vicious cycle turned virtuous. That's how I would describe the first quarter of 2016. In the first six weeks, risk markets and sentiment cratered over worries about falling oil prices, China's currency, tighter financial conditions, systemic risks from European banks, and plunging confidence in central banks. But then risk markets took a 180-degree turn, erasing losses (Figure 1). Oil prices stabilized, China's economy responded to stimulus, the odds of Federal Reserve (Fed) tightening declined, and the U.S. dollar weakened, taking pressure off emerging market currencies and commodities.
FIGURE 1
A vicious cycle turned virtuous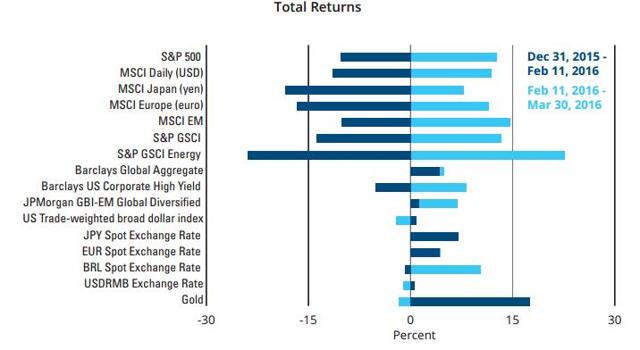 Source: Bloomberg
Past performance is not indicative of future results. Indices are unmanaged and not available for direct investment.
Interestingly, some safe-haven markets, such as the Japanese yen and gold, did not give up their beginning-of-year gains when risk markets rebounded, suggesting that investors are caught between their earlier concerns and the signs of a somewhat better economic outlook. I believe we have to acknowledge the improvement in fundamentals, including the five I discuss here. That said, some skepticism is deserved given the strains from China's excessive debt and slowing gross domestic product (GDP)1 and the uncertain ramifications of central banks' forays into negative yields. Overall, I believe we are in the latter stages of the economic cycle, but that recent improvements have postponed the downturn.
Given the more benign backdrop, I think adding some risk to portfolios is appropriate. I would consider doing so in oil-related assets, U.S. banks, and credit - areas that should benefit from the somewhat better environment, but have the potential to hold up reasonably well in a downturn if I am wrong or the risk rally stalls sooner than I expect.
What's changed?
I see five changes that are likely to help stabilize the environment over the next six to 12 months:
1. China has delivered a huge dose of stimulus
Beijing's macroeconomic policy stance is looser than the market expected. Most of the stimulus has come in the form of credit, with loans in the first two months totaling around 4.2 trillion renminbi, on pace to easily surpass the 15.3 trillion renminbi in new bank loan credit for all of 2015. This will surely boost growth in the coming months, and I expect property, construction, exports, and retail sales to improve. Our economist who covers China has raised his 2016 GDP forecast from 5.8% to 6.4%.
2. Oil prices appear to have bottomed
Oil has been negatively correlated to the U.S. dollar. Recent dollar weakening brought on by the reduced likelihood of Fed rate hikes has allowed prices to rise (oil is sold in U.S. dollars, so if the dollar rises, it becomes more expensive for countries with non-U.S. dollar currencies to purchase oil, demand declines, and so do prices.) In addition, deep cuts in capital expenditures should decrease production. As Figure 2 shows, the oil rig count (a proxy for capital expenditures) is down 75%. There are also some glimmers of hope that negotiations between Organization of the Petroleum Exporting Countries (OPEC) and non-OPEC members may lead to production freezes.
FIGURE 2
More U.S. oil production cuts to come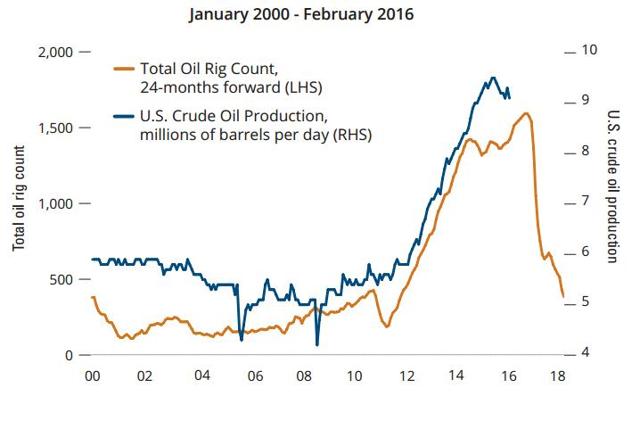 Sources: Bureau of Economic Analysis, Baker Hughes, Energy Information Administration
3. Central banks are more accommodative
Central bank policy is less divergent than feared last year, with the European Central Bank (ECB), the Bank of Japan (BOJ), and the People's Bank of China (PBOC) easing monetary policy and the Fed backing away from tightening.
In March, the Fed surprised markets by halving its expected rate hikes for 2016 and reducing them by two for 2017 while noting that "global developments pose risks." In my view, these actions reflect how cautious and reactive to market turmoil the Fed is currently.
Earlier in March, the ECB surprised markets with its announcement of a new lending program that lets banks borrow for four years at between 0% and -0.40%, meaning that the ECB will pay banks to lend if the lending benefits the real economy. The ECB also increased its quantitative easing (QE) program to €80 billion per month and expanded the eligible assets to include non-financial, investment-grade European corporate bonds. The shift to asset purchases and lending is significant in that it suggests that the ECB is more focused on reigniting domestic inflationary pressures and credit growth than moving deeper into negative yields and risking the health of the banking system. I expect the ECB to do more this year if conditions deteriorate.
The BOJ hinted in March that it could cut negative rates further in order to encourage consumption and investment. Japanese equities plunged, especially bank stocks, and the yen soared as investors interpreted the communication to mean that banks would suffer outsized earnings declines in an environment of increasingly lower lending rates. While unemployment is low and inflation has been rising, Japan has been hit by the emerging market slowdown.
Late last year, the PBOC sought to boost lending by allowing banks to use loans as collateral to borrow cheaply from the central bank and then lend to small and private businesses. This was on top of multiple interest rate cuts and multiple reductions in banks' reserve requirements.
4. The U.S. dollar has weakened
In addition to supporting oil prices, a weaker dollar should help emerging market currencies as U.S. dollar-denominated debts become less costly and improve the commodity outlook for exporters. U.S. corporate earnings should also get a boost as revenues from overseas benefit from the translation from a stronger to a weaker currency (excluding any hedging effects).
5. U.S. financial conditions have eased
"Financial conditions" is a term that typically includes inputs such as volatility, leverage, currency strength, oil prices, and asset prices in equity and credit markets. One of the big concerns in January was that tighter U.S. financial conditions were stressing the economy by increasing the cost of borrowing, reducing liquidity, and eroding confidence. With the rally in risk assets and reduced dollar strength, that concern has diminished (Figure 3).
FIGURE 3
Easing Financial Conditions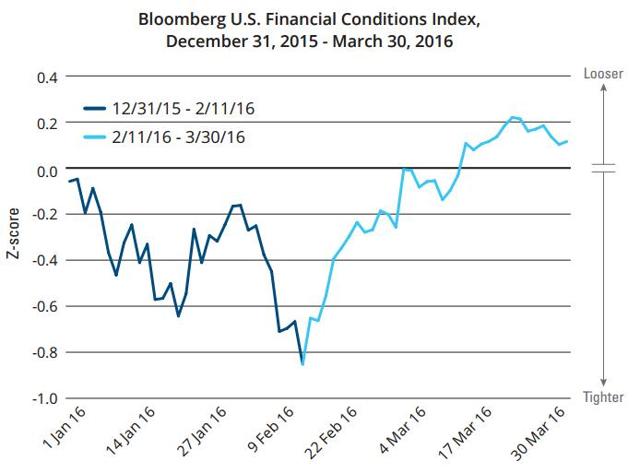 A Z‐score is a statistical measurement of a score's relationship to the mean in a group of scores. Bloomberg U.S. Financial Conditions Index tracks the overall level of financial stress in the U.S. money, bond, and equity markets to help assess the availability and cost of credit. (Sources: Bloomberg, Wellington Management)
What hasn't changed?
While I believe the fundamentals have improved enough to substantially reduce the risk of recession and to support risk assets over the near term, longer-term structural challenges persist:
1. Central banks in developed markets have fewer tools
Central banks have all eased monetary policy in an effort to stem the tide of deflationary forces, but the market's reaction suggests that market participants have less confidence in central banks' effectiveness. With interest rates near or below zero, policymakers must resort to more unconventional tools, which can produce adverse market reactions. Both the ECB and BOJ employed negative rates which produced higher volatility in markets.
2. China is still in a quandary
The government made clear in its updated five-year plan that it is determined to deliver at least 6.5% GDP growth in 2016, which is what is behind its expansionary fiscal and monetary policy stance. It is also clear that much of this stimulus is going to government-led infrastructure projects. This appears to be at odds with long-term structural reform goals of cutting excess capacity and reducing leverage in the Chinese economy. The government's expansionary strategy seems inherently problematic and something will eventually have to give. I think that something will be growth.
3. We're still closer to the end of the credit cycle than the beginning
Even with the improved fundamentals, I don't see a break-out in growth. Leverage levels in the credit markets continue to indicate that the cycle is in the latter stages. Downgrades are increasing relative to upgrades and there will be more liquidity stress if lending standards tighten further.
Investment Implications: Balancing the short term and long term
Add prudent risk exposure: I think the positives will outweigh the negatives over the next six-12 months, but the market's timing in refocusing on the negatives is uncertain. In addition, a full-fledged economic recovery is not my base case. For these reasons, I think asset owners should consider increasing their risk in assets that will benefit from an improved outlook and the potential rise in oil prices. I continue to favor quality assets that have the potential to hold up better when the cycle eventually turns downward. In addition, a focus on income, whether it is in credit or dividend-yielding equities, may also have the potential to hold up better against volatility.
Commodities, EM, and credit are attractive: In my view, these segments deserve higher allocations given the outlook for a weaker U.S. dollar, higher oil prices, and more central bank accommodation. Within commodities, I believe investors should consider oil-related assets such as exploration & production companies with strong balance sheets and high-quality assets. I am not suggesting a broader commodity or emerging market overweight though, because ultimately growth will slow in China. Emerging markets continue to be an area of differentiation based on countries' terms of trade, debt dynamics, and politics. Notably, currency depreciation has resulted in a large improvement in emerging markets' current account deficit over the past year, from $40 billion to $4 billion. This means that emerging market economies are less reliant on foreign capital, which should contribute to more stable currencies and falling inflation, a good combination for emerging local debt.
Oil-related currencies have upside potential: I expect the U.S. dollar will be rangebound - the country's relative economic strength and the resulting tilt toward monetary tightening will pressure it higher while the stress of a stronger U.S. dollar will cause the Fed to tilt away from tightening and pressure it lower. The euro and yen are likely to have a downward bias given continued expectations of monetary stimulus. Based on my higher conviction view that oil prices will rise, I think oil-related currencies like the Canadian dollar, Norwegian krone, Russian ruble, and Mexican peso have upside.
Favor equities over bonds: I favor equities given the lower recession risk, and I continue to favor U.S. equities over European and Japanese equities. The U.S. is relatively stronger than Europe and Japan. The U.S. consumer remains a bright spot for the global economy. Within U.S. equities, I like banks, which are trading at attractive valuations relative to the market and are not given sufficient credit for their healthier capital ratios and lower leverage. They also have substantial exposure to the U.S. consumer and housing sectors.
European credit could go higher: I still expect interest rates will remain low but I now think there is credit spread-tightening potential due to the more benign economic outlook. European credit is set up for a huge buyer - the ECB, which announced it would expand its asset purchases to this asset class. In the U.S., mortgage-backed securities spreads benefited greatly from the Fed's QE asset purchases, and I think European credit could experience a similar dynamic. While high-yield spreads have recently narrowed sharply, they are in the 80th percentile even excluding energy, which suggests further return upside and a potentially superior risk-return tradeoff relative to equities. In the U.S. investment-grade corporate market, banks, and oil-related companies are attractive.
It may be time to consider TIPS: Asset owners should also consider shifting their government bond allocation to include more Treasury Inflation-Protected Securities (TIPS) since the potential for higher inflation is underappreciated by the market. I think the Fed will allow inflation to persist at somewhat higher levels than their target of 2% before hiking rates, and given my expectation of higher energy prices, TIPS should outperform nominal U.S. Treasuries.
Risks
The primary risk is that China's fundamentals don't improve further or the market discounts them and the rally ends more abruptly than I expect. Policy mistakes remain a risk too. Markets will be hypersensitive to poor communication given the inherent uncertainty of unconventional tools and, in China's case, the opacity of the government. If the Fed were to turn more hawkish, a stronger US dollar could limit the upside for risk assets or leave them struggling again.
Political risks could also be a market mover with a vote on June 23 as to whether or not the United Kingdom will withdraw from the European Union (the so-called Brexit), continued tension over immigration in Europe, and the possibility of a contested U.S. Republican National Convention in July. Our macroeconomics team puts the risk of Brexit at 25% with potentially huge economic costs. Leading up to the vote, tensions over immigration policy may intensify with the risk affecting the Eurozone more broadly. The pull toward nationalism and non-centrist parties is not confined to Europe. The U.S. primary debate could also tilt toward populist values. Already, global trade has slowed, and further isolation would intensify this trend.
The views expressed here are those of Nanette Abuhoff Jacobson. They should not be construed as investment advice or as the views of Hartford Funds. Please contact a financial or tax advisor about your own particular situation.
1 Gross Domestic Product is the monetary value of all the finished goods and services produced within a country's borders in a specific time period.
S&P 500 Index is a market capitalization-weighted price index composed of 500 widely held common stocks.
MSCI World Index is a free float-adjusted market capitalization weighted index that is designed to measure the equity market performance of 23 developed markets.
MSCI Japan Index is a free-float adjusted market-capitalization index designed to measure large- and mid-cap Japanese equity market performance.
MSCI Europe Index is a free-float adjusted market-capitalization-weighted index designed to measure the equity market performance of the developed markets in Europe: Austria, Belgium, Denmark, Finland, France, Germany, Greece, Ireland, Italy, the Netherlands, Norway, Portugal, Spain, Sweden, Switzerland, and the United Kingdom.
MSCI Emerging Markets Index is a free float-adjusted market capitalization index that is designed to measure equity market performance of emerging markets. The MSCI Emerging Markets Index consists of 21 emerging market country indices.
S&P GSCI Commodity Index consists of 24 commodity futures on physical commodities across five sectors: energy, agriculture, livestock, industrial metals, and precious metals.
S&P GSCI Energy Index, a sub-index of the S&P GSCI, provides investors with a reliable and publicly available benchmark for investment performance in the energy commodity market.
Barclays Global Aggregate Bond Index provides a broad-based measure of the global investment-grade fixed-rate debt markets.
Barclays U.S. Corporate High Yield Bond Index is an unmanaged broad-based market-value weighted index that tracks the total return performance of non-investment grade, fixed-rate publicly placed, dollar-denominated and nonconvertible debt registered with the Securities and Exchange Commission.
JP Morgan GBI Emerging Markets Global Diversified Index is a comprehensive global, local emerging-markets index, and consists of liquid, fixed-rate, domestic-currency government bonds.
U.S. Trade-Weighted Broad Dollar Index is a measure of the value of the United States dollar relative to other world currencies.
USD/JPY Exchange Rate is the U.S. Dollar exchange rate for the Japanese Yen. USD/EUR Exchange Rate is the U.S. Dollar exchange rate for the Euro.
USD/BRL Exchange Rate is the U.S. Dollar exchange rate for the Brazilian Real. USD/RMB Exchange Rate is the U.S. Dollar exchange rate for the Chinese Renminbi.
Investors should carefully consider the investment objectives, risks, charges, and expenses of Hartford Funds before investing. This and other information can be found in the prospectus and summary prospectus, which can be obtained by calling 888-843-7824 (retail) or 800-279-1541 (institutional). Investors should read them carefully before they invest.
All investments are subject to risk, including the possible loss of principal. Fixed Incomerisks include credit, liquidity, call, duration, and interest-rate risk. As interest rates rise, bond prices generally fall. Obligations of U.S. Government agenciesare supported by varying degrees of credit but are generally not backed by the full faith and credit of the U.S. Government. The value of inflation-protected securities generally fluctuates with changes in real interest rates, and the market for these securities may be less developed or liquid, and more volatile, than other securities markets.Investments in high-yield ("junk") bondsinvolve greater risk of price volatility, illiquidity, and default than higher-rated debt securities. Mortgage and asset-backed securities' risks include credit, interest-rate, prepayment, and extension risk. Foreign investments can be riskier than U.S. investments due to the adverse effects of currency exchange rates, differences in market structure and liquidity, as well as specific country, regional, and economic developments. These risks are generally greater for investments in emerging markets. Commoditiesmay be more volatile than investments in traditional securities.
The views expressed here are those of Nanette Abuhoff Jacobson. They should not be construed as investment advice or as the views of Hartford Funds. They are based on available information and are subject to change without notice. Portfolio positioning is at the discretion of the individual portfolio management teams; individual portfolio management teams may hold different views and may make different investment decisions for different clients or portfolios. This material and/or its contents are current at the time of writing and may not be reproduced or distributed in whole or in part, for any purpose, without the express written consent of Wellington Management.
All information and representations herein are as of 04/16, unless otherwise noted.
119599 MFGS_0416
Disclosure: I/we have no positions in any stocks mentioned, and no plans to initiate any positions within the next 72 hours.
I wrote this article myself, and it expresses my own opinions. I am not receiving compensation for it. I have no business relationship with any company whose stock is mentioned in this article.