Sometimes the best opportunities are surfacing when the market doesn't fully understand a company or its story, and I think Canacol Energy (OTCQX:CNNEF) is one of those companies. The company is a relatively small producer of oil and gas in South America, and the market has been shrugging off its performance in the past few years, but in this article I will explain why Canacol deserves more than just a quick glance.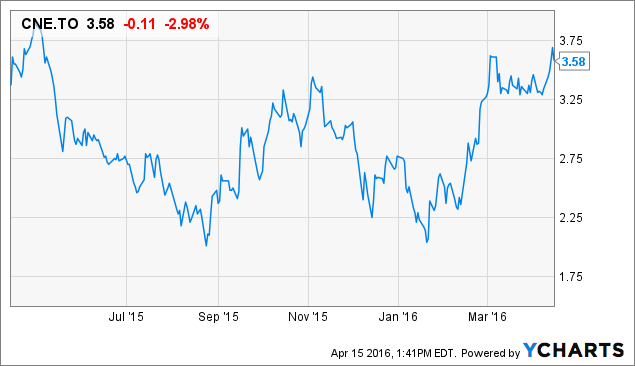 Again, this is a Canadian company and its US listing is pretty illiquid. It would be a much better idea to trade in the company's shares through the facilities of the Toronto Stock Exchange, where the company is listed with CNE as its ticker symbol. The average daily volume is approximately 400,000 shares, and the current market capitalization is US$435M.
2015 was a year to forget, and all eyes are on 2016
In the first six months of the current financial year (which ends in June 2016), the company generated $39.5M in revenue which would have been pretty decent if the company would not have seen some non-recurring events impacting its P/L statements. First of all, the depletion and depreciation rate (a non-cash charge) of $26.5M was relatively high, but more important is the $51M that has been deducted as an impairment charge as well as a loss on foreign exchange rates. So, yes, Canacol's bottom line was showing a huge net loss of $103.5M but this doesn't provide you with a clear and fair idea of how the company is really doing.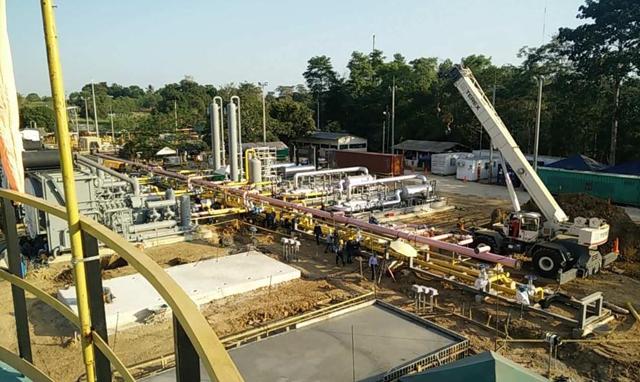 Source: company website
And that actually also doesn't matter. You should consider Canacol to be in the 'warming up phase' right now. The company is having some fun and gaining experience in Colombia, but the big bucks will only roll in from the current calendar year on.
The first half of 2015 has now passed, so why am I focusing to intensively on 2016? What will happen this year? The answer is pretty clear once you really understand what this company is about. Canacol started small, but had big plans for the Colombian gas sector. As importing gas into Colombia had a total fully-loaded cost of $7-9/mcf for its end users, Canacol was able to price its domestically produced gas just below that level to ensure it would have enough offtakers for its production. And why would you sell it at the world market price, if the market price inside Colombia is so much higher? Fellow contributor Market Mirage described this phenomenon extremely well in his article, and I'd encourage you to read it!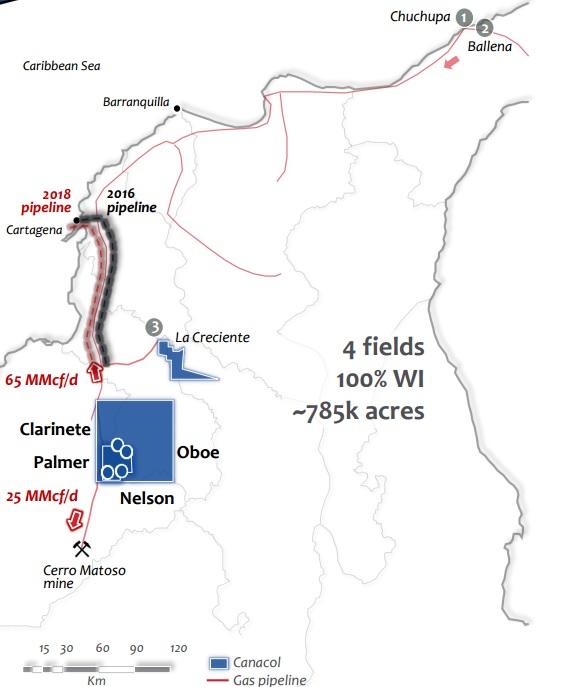 Source: company presentation
Canacol will receive a gas price of $5+, whereas the Henry Hub gas price is currently still trading below $2.25. Not only did this premium pricing incentivize Canacol to continue to do business in Colombia, it also means it is about to reap the rewards from doing so, as the gas production rate is expected to increase substantially in the next few weeks. Yes, it's a matter of weeks.
You might have noticed I'm getting really excited when I was writing this, as I am extremely impressed by the expected operating margins. Due to the 'protected' sales price of the gas, Canacol expects to generate an operating margin of $4.56/mcf. So based on an average production rate of 90MMcf/day and 360 days per year, the operating income could easily be somewhere in the $100-$140M region, and that's quite a bit of cash for a relatively small company with a market cap of $435M.
The recent reserve report confirmed my expectations. This company is a 'go'
I had very high hopes for the company's updated reserve statement, and I wasn't disappointed after seeing the results of an update dated December 31 2015. The total PDP reserves (Proved Developed Producing) have more than doubled to almost 30 million barrels of oil-equivalent whilst the total 2P reserves increased to almost 80 million barrels of oil-equivalent.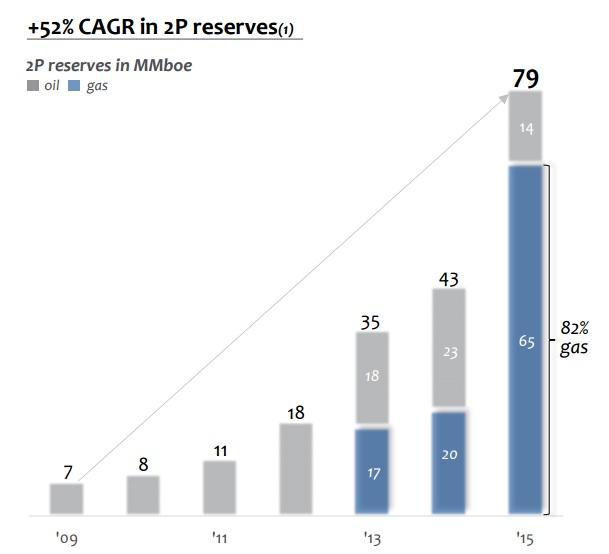 Source: company presentation
The reserve life index (based on these proved and probable reserves) was 24 years based on the average production rate in 2015, but this might not represent a fair expectation considering Canacol Energy will boost its 2016 production rate by a substantial amount. And based on the 90MMcf/day the company hopes to produce from here on, the reserve life index still is a very respectable 10 years. And keep in mind the company has only explored a minor part of its land package, and these reserve results and reserve life index do NOT take the recent Oboe 1 well into consideration, which once again highlighted the potential of Canacol's acreage.
Indeed, the best part of all of this? Canacol has a substantial land package which could (and very likely will) contain more gas. This is confirmed by the recent success at Oboe-1, where new gas wells produced at a rate of 66 MMscfpd earlier this year, which means the gas production rate could increase by another double-digit percentage in the very near future.
And that's where the Jobo gas processing plant comes in. Even though Canacol is aiming to produce 90MMscfpd from now on, the Jobo plant will allow the company to DOUBLE the production rate once again, to 180 MMscf per day.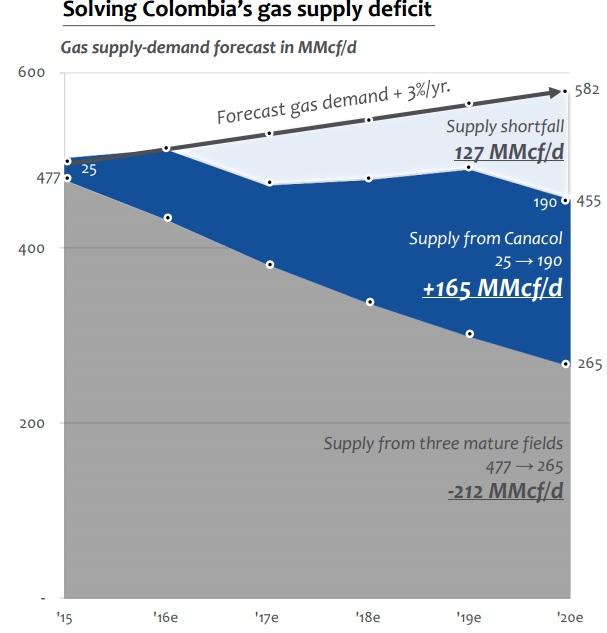 Source: company presentation
The initial production increase to 90MMcf/day will increase the revenue to $163M and should Canacol decide to quickly increase its production rate to the 180-190MM, its full-year revenue would increase to in excess of $300M, and now we're talking! The new pipeline that could increase the production rate should be ready by 2018-2019.
And even if we would currently assign zero value to Canacol's land package, the net present value of the current reserves is humongous. The after-tax NPV10 of the PDP reserves is $393M, but if you'd take the 2P reserves into consideration (which I would dare to do, considering I definitely believe Canacol will be able to discover and recover more gas), the after-tax NPV10% increases to $872M.
Investment thesis
After deducting the net debt from the equation, Canacol's NAV is still $660M, or approximately US$4.10 per share. This means the fair value is approximately 46% higher compared to the most recent closing price and that's a good enough reason for me to get in, especially as I'm confident the reserves and the production rate will increase. As such, I would consider the NAV/share of $4.10 to be just a starting point, and as long as Colombia plays by the rules and 'protects' the gas price, Canacol will be destined to do great things. Starting now.
I have a small long position in Canacol Energy but intend to increase it in the next few days and weeks, as I do expect to generate a return of 50% on this position within the next 24 months as Canacol will see its cash flow expand and increase its gas reserves. As soon as the market realizes the real potential of this company, I doubt we'll continue to trade at these levels for a longer period of time.
Disclosure: I am/we are long CNNEF.
I wrote this article myself, and it expresses my own opinions. I am not receiving compensation for it (other than from Seeking Alpha). I have no business relationship with any company whose stock is mentioned in this article.
Editor's Note: This article discusses one or more securities that do not trade on a major U.S. exchange. Please be aware of the risks associated with these stocks.