Investors are always looking to get more for less, and there is no need to settle. Intense competition among brokerages resulted in a small handful of excellent dividend ETFs for investors to choose from. There are five that quickly come to mind as strong options for the investor seeking a solid yield and growth in the dividends paid. Of course, these five wouldn't be so compelling if they came with a high expense ratio. These are five of the best dividend ETFs for the investor that wants to protect themselves from high expense ratios without giving up a strong yield or a diversified portfolio. I see these as the top 5 dividend ETFs for 2016.
| | | |
| --- | --- | --- |
| Ticker | Name | Index |
| | Schwab U.S. Dividend Equity ETF | Dow Jones U.S. Dividend 100™ Index |
| | Vanguard High Dividend Yield ETF | FTSE High Dividend Yield Index |
| | Vanguard Dividend Appreciation ETF | NASDAQ US Dividend Achievers Select Index |
| | iShares Core Dividend Growth ETF | Morningstar® U.S. Dividend Growth Index |
| | iShares Core High Dividend ETF | Morningstar® Dividend Yield Focus Index |
How Cheap Are They?
The expense ratios start as low as .07% and run up to .14%.

For the frugal investor, any of these options would be a reasonable choice so long as they are happy with the rest of the characteristics of the portfolio.
Dividend Yields
You wouldn't be here if you didn't like dividends from your ETFs, so the next step needs to be comparing the dividend yields: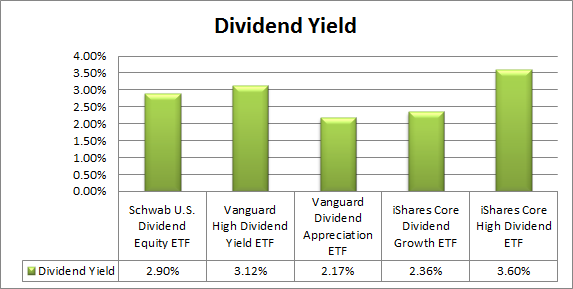 The winner for highest dividend goes to the iShares Core High Dividend ETF with a 3.6% yield. The substantial lead over VIG and DGRO might make it look strange to keep them in the competition, but remember that these funds offer exceptionally low expense ratios and still focus on companies that have a history of growing their dividends significantly over time.
How Does HDV Do It?
That exceptionally strong yield in a period of low treasury rates and after the market rallied substantially over the last couple of months should bring investors to a more careful examination of the fund to determine if that yield can be grown safely over the coming years.
The holdings of HDV tell the story quickly: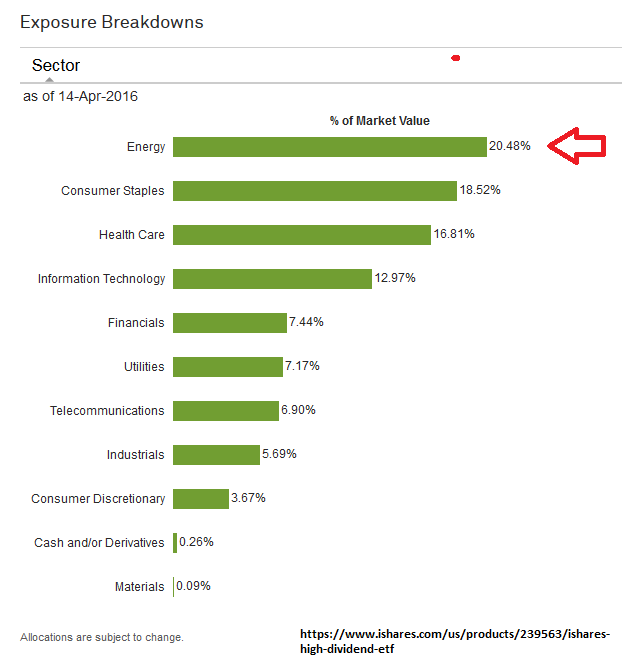 The red arrow points to energy exposure. The exceptionally low oil prices seen over the last 6 months or so are leaving several oil companies with a distinct lack of incoming cash. The dividend yield looks great on HDV, but I'm concerned the sustainability could be in doubt unless oil prices move higher.
On the other hand, I see the 18% exposure to consumer staples very favorably and the heavy health care exposure remains a fairly defensive allocation as well. On the other hand, VYM also includes the telecommunications sector which is excluded or heavily marginalized (less than 1%) in some of the competing funds. Since AT&T (NYSE:T) and Verizon (NYSE:VZ) are stuck in a price war with Sprint (NYSE:S) that neither T nor VZ wanted, I expect dividend growth to be slower there unless the competition dies down. Even if VZ and T had extra cash, it would make more sense to use it to buy back shares at the lower prices resulting from the price war with Sprint rather than raising dividends immediately.
Is VYM The Same?
VYM holds a portfolio that has less exposure to the oil risk. That should make the dividend stronger if oil prices remained depressed, though higher oil prices would lead HDV to easily outperforming peers.
The VYM portfolio is shown below with a yellow box indicating the energy exposure: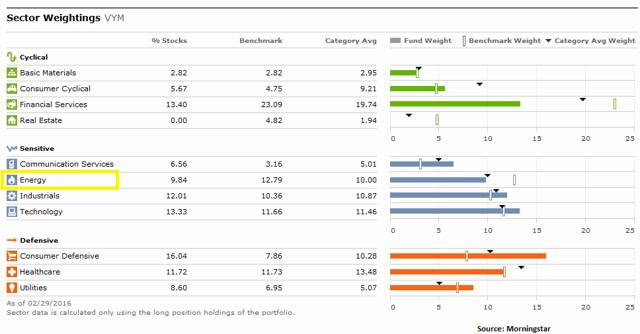 The consumer staples here (labeled as consumer defensive) remain a very large allocation and they are the highest single sector weight in the portfolio. However, VYM also takes on the communication services sector, so the same exposure is present there.
VIG Marginalized That Exposure
The portfolio of VIG demonstrates an ETF that opted out of that risk. The bright blue box highlights both energy and communication services: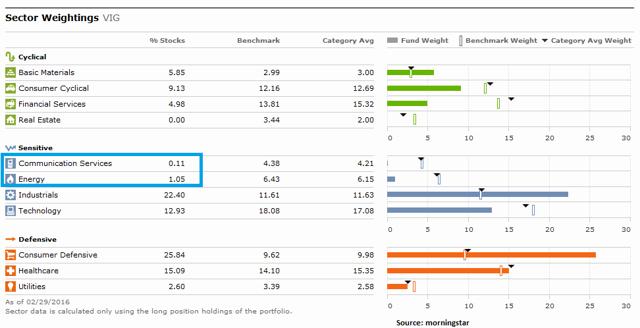 VIG carries just over 1% of the portfolio across these allocations. That suggests fairly safe dividends despite the lower yield. It also allocates nearly 26% to the consumer defensive sector. Perhaps the biggest weakness for an investor in VIG is the very small exposure to the utilities sector. I would suggest investors in VIG brush up on picking utilities and add a few to the portfolio.
Given the way VIG structures their portfolio, it is hard to imagine any serious analyst preparing a list of the best dividend ETFs for 2016 without including VIG.
SCHD
SCHD is the dividend ETF in my portfolio. Since I've highlighted energy and telecommunications a few times, I think investors can find them quickly: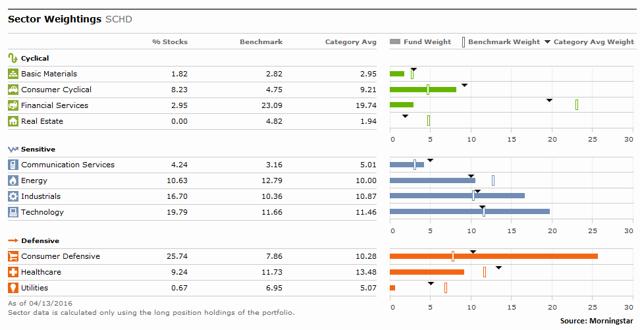 The allocation to both sectors is much higher here. That is another reason for SCHD to demonstrate a higher yield than VIG. It has the same weakness in utilities, and I should probably be looking to buy a few utilities for my portfolio. However, my portfolio is also lacking individual picks for the energy sector so I don't mind the allocations too much. If an investor wants to grab some Exxon Mobil (NYSE:XOM) or Chevron (NYSE:CVX) and pick out a few utilities, then I think VIG makes more sense than SCHD.
DGRO
DGRO joins VIG in being a dividend ETF with a lower yield and there is some clear similarity in the portfolios: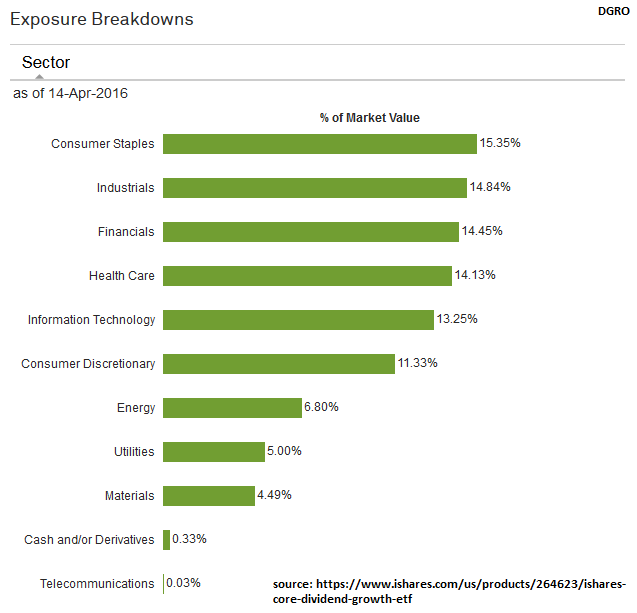 Like VIG the allocation to telecommunications is very small and energy is fairly low as well. The one concern I have in this portfolio is that I'd like to see consumer staples with a heavier weight. DGRO offers some utility exposure, but the allocation is still fairly small at 5%. My biggest concern in this case would be the relatively low allocation to consumer staples. Despite being the top single sector, it is still only around 15% of the portfolio. The first thing I would add to DGRO in an equity portfolio is Altria Group (NYSE:MO) and Philip Morris International (NYSE:PM). Altria Group is already one of the heavier allocations with 1.74% of the portfolio, but I would still add more. Phillip Morris is completely absent from the fund, and that seems like the biggest hole in the allocations since Phillip Morris provides strong dividends, solid growth, and exposure to foreign markets since all of their sales are outside the United States.
Free Trading
If investors are being careful with their cash and keeping an eye on factors like the expense ratio, then they may find free trading to also be very appealing. For the investor that is regularly investing more than $10,000 the commissions would cease to be a material factor, but for the investor that wants to be able to make several small purchases to keep building up their position each month for years the impact of commissions will add up.

Can Anyone Displace Them?
There are some other solid dividend ETFs, but I don't see any of these 5 falling out of the list for the best dividend ETFs. The substantial advantage in expense ratio makes these ETFs natural choices.
Conclusion
I see these dividend ETFs as all being very solid choices. I'm concerned that broad index prices currently are not representing much risk aversion. I'm happy to add to my allocations when the funds are cheaper by about 10%, but I'm waiting for that opportunity before pouring more money. When market prices dive, I like to leave open limit orders to buy high quality ETFs. Since I'm using a Schwab account and wanted to be overweight on consumer staples, SCHD is my natural choice for those opportunities. In addition to my allocation to SCHD, I also have material allocations to both MO and PM.
If you want to know more about my portfolio, why not have a look inside?
If you appreciated this piece, I'd love to get some social shares (see buttons at the top of the article) of my work to boost the search engine rankings for the best dividend ETFs for 2016.
Disclosure: I am/we are long SCHD, PM, MO.
I wrote this article myself, and it expresses my own opinions. I am not receiving compensation for it (other than from Seeking Alpha). I have no business relationship with any company whose stock is mentioned in this article.
Additional disclosure: Information in this article represents the opinion of the analyst. All statements are represented as opinions, rather than facts, and should not be construed as advice to buy or sell a security. This article is prepared solely for publication on Seeking Alpha and any reproduction of it on other sites is unauthorized. Ratings of "outperform" and "underperform" reflect the analyst's estimation of a divergence between the market value for a security and the price that would be appropriate given the potential for risks and returns relative to other securities. The analyst does not know your particular objectives for returns or constraints upon investing. All investors are encouraged to do their own research before making any investment decision. Information is regularly obtained from Yahoo Finance, Google Finance, and SEC Database. If Yahoo, Google, or the SEC database contained faulty or old information it could be incorporated into my analysis.