Mr. Market hasn't been kind to Macy's (NYSE:M) lately. In the last 12 months, shares have fallen by no less than 40%. Currently, Macy's stock price is sitting nearly 3%, 4% and 17% below its 20-day EMA, 50-day EMA, and 200-day EMA, respectively.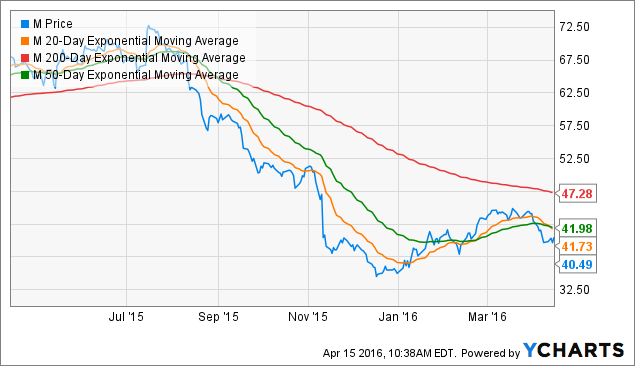 A number of analysts believe Macy's can bounce back from a dismal 2015 as it is planning to aggressively grow its omnichannel business and monetize the real estate at its disposal. I believe these expectations are justifiable. M's stock as well as business performance can improve in fiscal 2016 and beyond. Thus, given that the shares are languishing at depressed levels right now, Macy's may turn out to be a fine bet.
2015 was a disappointing year for Macy's in terms of profitability and top-line growth. Traffic, as measured by the number of transactions, fell by 4% in Q4 2015, due in part to total sales for the quarter being down an ominous 5.3% from fiscal 2014. EBITDA for the year declined too pushing the company's leverage ratio up to 3X, above the target range of 2.6-3.0X. Unfortunately for Macy's, despite the increase in financial leverage, return on equity dropped by roughly 4% compared to the previous year due to falling net margin and asset turnover. All this is certainly not encouraging but one must not forget that Macy's made considerable SG&A investments in 2015 and at the moment the company is still in the midst of an ongoing restructuring process. The SG&A investments should lead to a $400 million reduction in SG&A, which will improve EBITDA substantially. Stockholders will need to be patient because not all benefits of these cost-saving initiatives will materialize this year.
Going forward Macy's is striving to operate more efficiently. In addition to closing 40 or so unproductive stores in 2016, Macy's has been adding backstage stores which are likely to improve margins. The downside, however, is that the marginal contribution of these stores to the company's top-line might not be too large. Nevertheless, M's omnichannel business has a lot of potential to drive revenues and margins in the future. The astounding growth in sales on mobile devices in 2015 was some of the best news for M's shareholders in recent times. Despite the obvious challenges, including the fact that a number of people find it difficult to buy clothes online, I believe M's omnichannel investments will pay off and digital growth will play a meaningful role in helping the company broaden its customer base.
But are investors getting excited about Macy's just because of the things mentioned up till now? The answer is a resounding 'No'. M's real estate assets are worth $21 billion and the company is planning to separate them to create significant value for shareholders. When real estate assets are split into two or more joint ventures, appropriate entities will be attracted to pay the highest amount for different types of assets. A joint venture structure will provide Macy's with an enormous amount of cash - enough to cover all of its net debt. The resulting financial flexibility will put the company in an unbelievably favorable position to boost shareholder returns and make larger investments. Thus, a real estate transaction would be very much like an equity raise at a big premium. I expect Macy's to create two JVs with a renowned real estate firm; one for its iconic stores, which are a major source of value creation, and another one for its less illustrious mall locations. The resulting value creation could propel its share price to somewhere near $70 as illustrated below.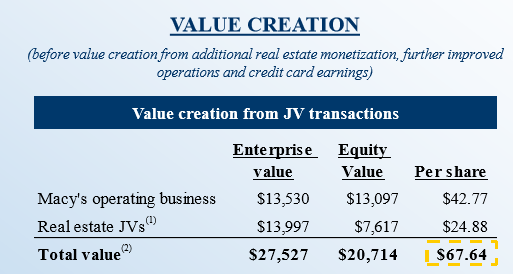 (Source: Starboard Value presentation)
We will have to wait till the fourth quarter of fiscal 2016 until we get to see Macy's carrying out major real estate transactions.
M's regular dividend, which is yielding an impressive 3.6% versus the industry's 2.6% is another reason why people are attracted to this company. Macy's has consistently managed to grow dividends every year despite inconsistent growth in FCF. The payout ratio, over the years, has crept up but it is nonetheless well below 50%, implying that there is ample room for dividend expansion. I consider a payout ratio of greater than 60% unsustainable.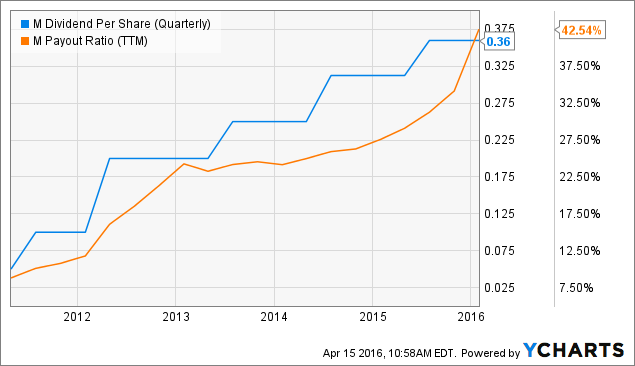 As far as sustainability of the dividend is concerned, Macy's is generating enough FCF to easily cover its dividend obligations. Despite the Bluemercury acquisition last year, M's CFO, net of investing activities, was a whopping $892 million. This is something that can only be expected of a company with a history of generating around $5 for every $100 in sales.
The chart below shows that M's FCF coverage, the proportion of FCF consumed by dividends, currently, stands below 50%. From 2011-14, FCF coverage was below 30%. Hence, even if M's FCF were to fall drastically, it would still be enough to cover dividends.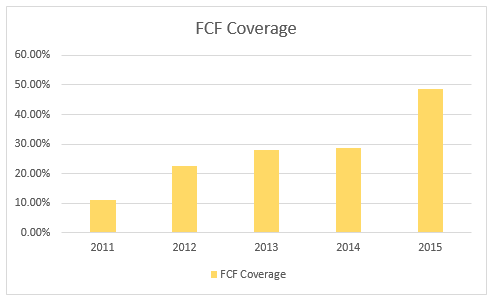 (Source: Morningstar)
Conclusion
2015 might have been M's local minimum. The acquisition of Bluemercury, which will help Macy's augment its presence in the luxury beauty products market, and stellar digital growth can, however, still be seen as two consequential positives from 2015. Looking ahead, M's restructuring program will be conducive to improvements in the company's operating productivity. As an investment though, what really sets Macy's apart from other retailers in the department stores industry is the company's large and extremely valuable real estate portfolio. Macy's could realistically create $10 billion of shareholder value if it pursues a JV transaction. Considering all the possible catalysts mentioned, M's stock, trading for a modest 10.2X next year's forecasted earnings, is undervalued and definitely worth buying.
Disclosure: I/we have no positions in any stocks mentioned, but may initiate a long position in M over the next 72 hours. I wrote this article myself, and it expresses my own opinions. I am not receiving compensation for it (other than from Seeking Alpha). I have no business relationship with any company whose stock is mentioned in this article.