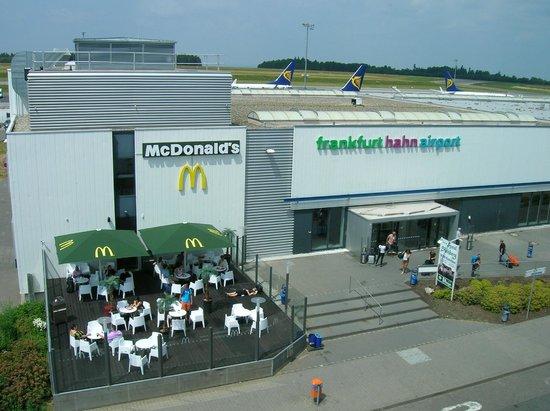 Img 1: Frankfurt Hahn Airport
While much of the media was focused on the Amazon (NASDAQ:NASDAQ:AMZN) airline operation in the United States over Christmas, Amazon was quietly running a similar operation in Europe, linking Poland, Germany and the UK with a Boeing 737 freighter.
As Amazon tries to move deeper into the freight industry in Europe in addition to the United States it has been reported that Amazon is one of three bidders for the Frankfurt Hahn Airport, in Germany.
Frankfurt - Hahn Airport
The facility in Hahn, Germany, just outside of Frankfurt is positioned ideally for an Amazon airline to connect all of Europe. Ownership of the airport would give Amazon in Europe, what it has got in the United States with its air operation in Wilmington, Ohio, at the former DHL facility.
The Hahn airport, which hosts several low cost airlines along with a few cargo airlines is currently loss making, with ownership having previously changed in 2009 when owner Fraport sold 65% of the facility for a symbolic €1 including €120 million in debt. This debt has increased since the previous deal and Amazon would likely have to take it on in any buyout. Airlines have cut service to the facility and cargo, which is a large focus of the airport has fallen 28% at the airport in recent years leading the owners of the airport to try and sell it.
FedEx (NYSE:FDX), UPS (NYSE:UPS), and DHL (OTCPK:DPSTF) all run large air cargo operations in Germany due to its status as Europe's largest economy and also due to its ideal geographic location, positioned almost in the center of Europe.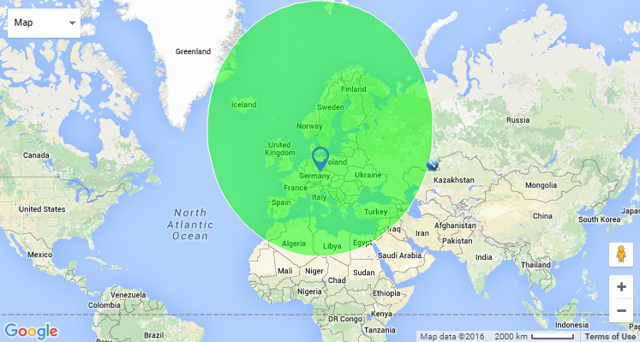 Img 2: Boeing 737-300F Range From Hahn Airport
The green circle shows the operating range from Hahn of a Boeing 737-300 freighter, the Boeing 737 freighter aircraft with the least range. Taking a closer look at the airport and its geographic location shows that using this Boeing 737, Amazon would be able to easily connect the airport to any city in Europe. Amazon could link cities near all of its European warehouses to this airport, meaning that for instance a package could be delivered to Poland from a warehouse in Spain overnight via one stop in Hahn, Germany. This could make the Amazon Prime program much more attractive to many customers in Europe.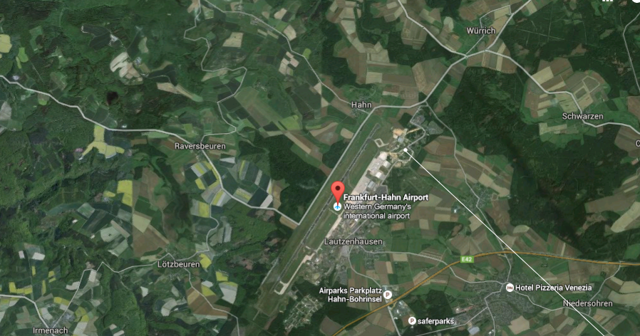 Img 3: Aerial View Of Frankfurt - Hahn Airport
Taking a closer look at the airport on Google Earth shows that it is in a very rural area, surrounded by very little other than fields which is an ideal location if Amazon needed to build additional warehouses in the area to support growth of the air hub. This is an important attribute as airports in much more built up areas such as London's Heathrow airport see much needed expansion endlessly blocked due to its location in a built up area.
Amazon Europe
One of the major issues with Amazon in much of Europe is its lack of products relative to its offerings in the United States.
| | |
| --- | --- |
| Country | Products |
| Amazon.com ((USA) | 232 million |
| Amazon.co.uk (UK) | 132 million |
| Amazon.de (Germany) | 118 million |
| Amazon.fr (France) | 99 million |
| Amazon.it (Italy) | 70 million |
| Amazon.es (Spain) | 67 million |
Table 1: Amazon Products For Sale By Country
Having a system in place that could efficiently move products from a warehouse in the UK for instance to one in Italy could allow the retailer to list more items in many of these other countries.
In addition, the TTIP, a free trade agreement in the works would remove customs duties on many goods shipped between the United States and Europe. This could make it possible in the future if implemented for Amazon to fly goods to Europe overnight from its U.S warehouses for products that it does not stock in Europe. This could increase the number of products available in its European markets substantially, making it a more attractive platform for Europeans to shop on and in turn increasing sales.
Amazon Supply Chain Operation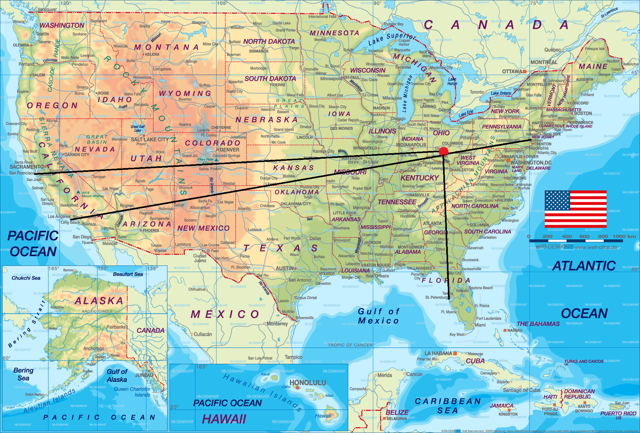 Img 4: Amazon Airline U.S Network
The above map shows the current Amazon Airline operation in the United States. The current operation, though small, allows the company to easily move goods to any region of the United States overnight from any of its warehouses.
The operation, internally called project "Dragon Boat", aims to have Amazon control much of its supply chain. Bloomberg has reported that the initiative may be formally launched as early as sometime this year as "Global Supply Chain By Amazon." Earlier this year Amazon announced a deal with ATSG to lease 20 Boeing 767 aircraft and also registered with the US Federal Marine Commission, allowing the company to sell ocean freight services.
Eventually, a network of shipping, trucking and aircraft could allow Amazon to become a global shipping powerhouse, and as I described in my in depth analysis here, could lead to a $870 million revenue improvement by reducing shipping costs only 10%. Despite the positives there are many potential issues for such a project. A rebound in oil could have severe financial implications for the project, while FedEx and UPS could make life very difficult for Amazon if they believe the company is becoming a threat to them. DHL tried to run an air operation out of Wilmington, Ohio for its U.S cargo business, and while the operation at its peak handled 1 million packages per day and employed 9,500 it was eventually deemed a failure and shut down. This is from a company which serves almost every market on earth from North Korea to the United States. So time will only tell if the Amazon bid for a German airport turns its retail empire into a supply chain empire, or the operation goes the way of the Amazon Fire Phone.
Editor's Note: This article discusses one or more securities that do not trade on a major U.S. exchange. Please be aware of the risks associated with these stocks.