Source: Philip Morris International
Following its spin-off from Altria Group (NYSE:MO) in 2008, Philip Morris International (PM) has produced an attractive yield and consistent dividend growth that has made it a favorite holding of dividend growth investors.
Unfortunately, the company has struggled to grow earnings in recent years in the face of a strong dollar, declining volumes, and legislative efforts by foreign governments to increase taxes and reduce the power of its brand name. The currency issues are outside of its control, but I believe it has a silver bullet to counter the other headwinds, and this makes the company a buy, despite its apparent overvaluation.
Company Background
Philip Morris International "PMI" began trading as a stand alone company in March of 2008 when it was spun off to shareholders of Altria Group. This move allowed Altria to focus on U.S. operations while creating a standalone company in Philip Morris that was the world's leading international tobacco company and 4th largest global consumer packaged goods company. Since then, PMI has continued to grow its international operations through joint ventures and brand acquisitions and, in 2012, it became the most profitable publicly traded tobacco company in the world.
It has done this on the back of Marlboro, the most popular cigarette brand in the world, which has higher volumes than the next two largest brands combined. Additionally, PMI also owns the L&M brand (#3 globally), as well as 4 other top 15 international brands: Bond Street, Parliament, Philip Morris and Chesterfield.
PMI sells its products in approximately 180 countries in the European Union, Eastern Europe, the Middle East, Africa, Asia, Latin America, and Canada.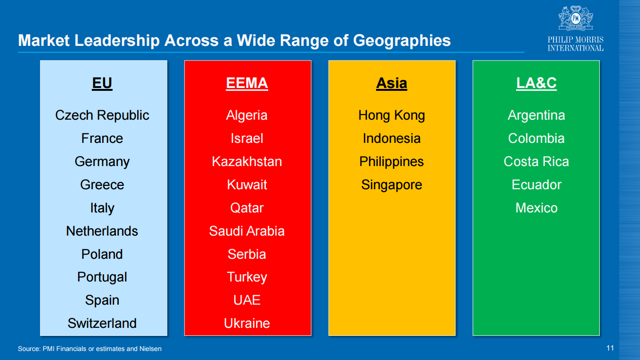 Source: 2/17/2016 CAGNY presentation
Unique Structure Leads To Currency Exchange Volatility
Philip Morris is headquartered in New York, NY, which makes it a unique situation in that it is a U.S. based company that derives all of its revenues from international sales. As a result, it is highly exposed to fluctuations in the dollar. This had a fairly significant impact in 2015, as unfavorable currency impacted reported earnings by $1.20.
PMI released guidance along with that earnings report, and the company expected EPS in the range of $4.25-$4.35 for 2016 based on the prevailing exchange rates at the time. Fortunately, the currency situation has improved since the beginning of the year, as the dollar has weakened materially against both the Japanese yen and the euro.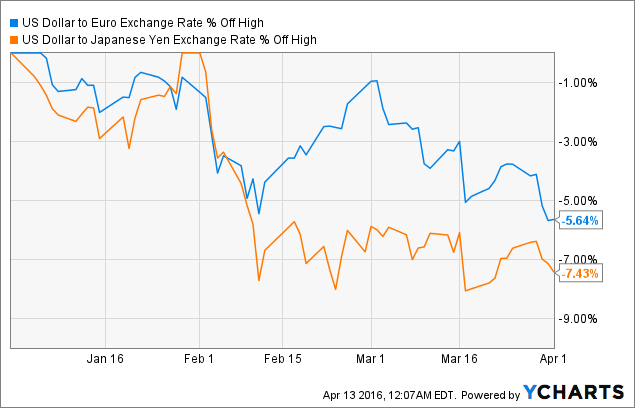 US Dollar to Euro Exchange Rate data by YCharts
This currency shift should have a positive impact on reported earnings for Q1, and analyst estimates are just beginning to reflect that. Looking at both the current quarter and current year, the EPS estimates have begun to creep up over the last 30 days, and the consensus for 2016 earnings is now $0.14 higher than the mid-point of company guidance.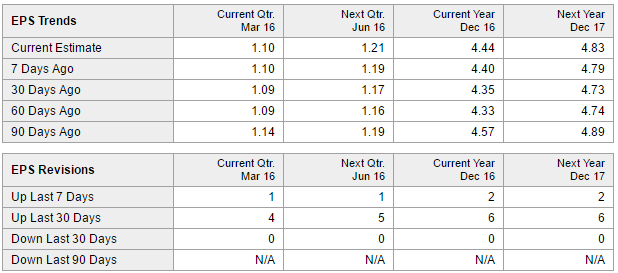 Source: Yahoo Finance
Should the current trend in a weaker dollar continue, I expect these estimates to continue moving higher in the coming weeks.
iQOS: The New Standard For Alternative Products
With currency concerns abated, the focus will now shift to what I see as a game changer for the Philip Morris, and the tobacco industry as a whole: Risk Reduced Products "RRPs". According to the company, RRPs are products that have the potential to reduce individual risk and population harm by users.
In recent years, the most visible products in this category have been e-cigs and vaporizers. These products are similar in that they are both battery operated and heat a liquid to produce vapor rather than smoke.
These products are decent alternatives for smokers who are trying to quit because they offer a product that is similar in shape and size to a cigarette while also providing an appealing vapor flavor and the all-important nicotine that they crave.
Philip Morris has significantly increased its R&D spending since the spinoff from Altria, and has spent $2B to date working on its own RRP products. The company began introducing the first of these products, iQOS, in the second half of 2015 and the results thus far have been promising.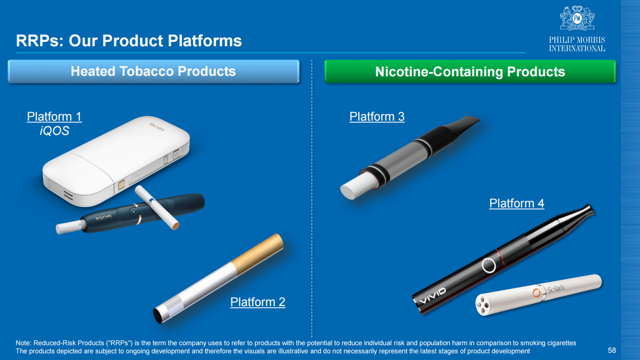 Source: 2/17/2016 CAGNY Presentation
iQOS is similar to the previous generations of e-cigs and vaporizers in that it is electronic and doesn't produce smoke, but that is where the comparisons end. iQOS is much different in that it actually uses tobacco as the source of consumption, rather than a liquid that produces a vapor.
This comes in the form of "HeatStick", which is a specialized tobacco product that is inserted into iQOS and heated to less than 350 degrees Celsius, which produces a flavorable nicotine-containing aerosol for the user. The appeal of this system is that it provides the taste and nicotine of a regular cigarette without actually combusting the tobacco and creating smoke.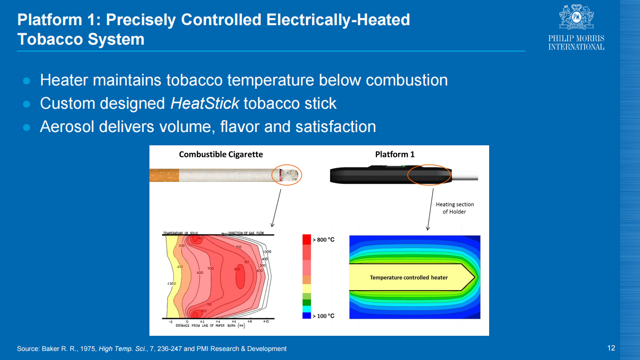 Source: 6/26/2014 Investor Day Presentation
As you would expect, since there is no combustion and no smoke inhaled, this form of consumption has less adverse health effects for the user than traditional cigarettes. Smartly, Philip Morris has poured R&D dollars into quantifying these health improvements, something that has been sorely lacking with e-cigs and vapes.
As you can see, harmful or potentially harmful constituents "HPHCs" and chemical toxicity were reduced by greater than 90% compared with the reference cigarette. These results are based on studies done in vivo, using mice.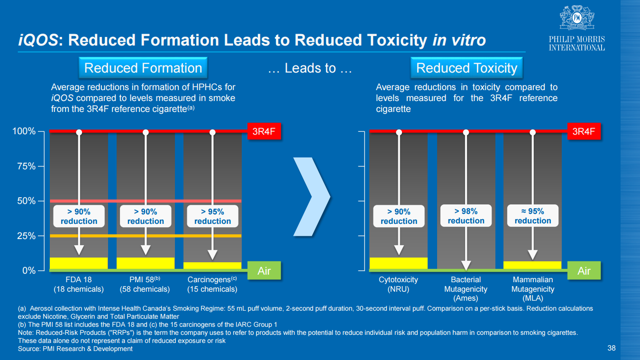 Source: 2/17/2016 Investor Day Presentation
Similar results were also found when moving the study to a real-world setting, when two 3-month studies were completed with adult smokers in Japan and the U.S. Here you can see how the reduction in biomarkers of exposure were similar between cessation and switching to iQOS: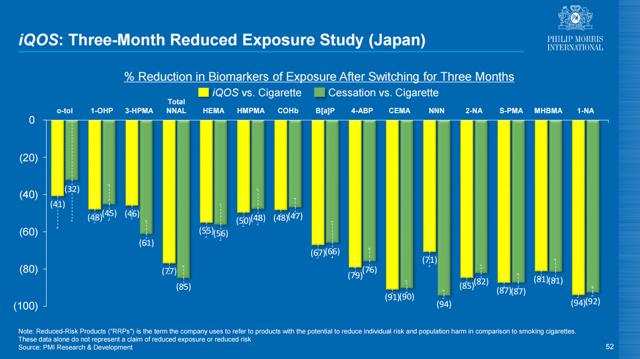 Source: 2/17/2016 Investor Day Presentation
According to management, PMI plans to publish these results, along with the results from the U.S. counterpart study, in a peer-reviewed scientific journal later this year.
I believe this will be the first step in getting the product introduced to U.S. markets, and the hope is that the reduced risk profile will see favorable treatment from the FDA. Philip Morris currently expects to submit an Modified Risk Tobacco Product "MRTP" application the FDA near the end of 2016, which is the first step in getting the product into U.S. markets.
Initial iQOS Roll-out Encouraging
In September of 2015, Philip Morris began the rollout of iQOS in Japan and the results thus far have been encouraging. In just 5 months, iQOS has already managed to grab 2.4% of the market share in Tokyo and 1.6% in the overall expansion area.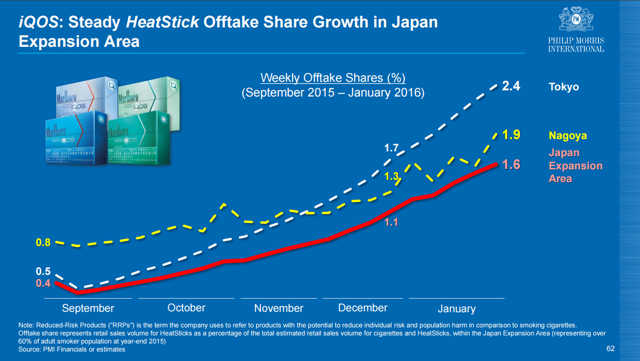 Source: 2/17/2016 Investor Day Presentation
It has done so with an impressive conversion rate, as more than half of those who try the product convert to using it as their primary source of tobacco consumption.
A concern is that this product cannibalizes Marlboro sales, which is the leading product for the company. However, management expects margins for HeatSticks to be comparable to traditional cigarettes, so there should be little negative impact in that respect.
The upside, however, is the potential customers who switch from a competitor's traditional product to the lower-risk iQOS platform. This increase PMI's overall market share and leads to incremental revenues for the company.
Management is targeting 3-5% market share for iQOS in its current markets, which would lead to $720M to $1.2B in additional margins by 2020.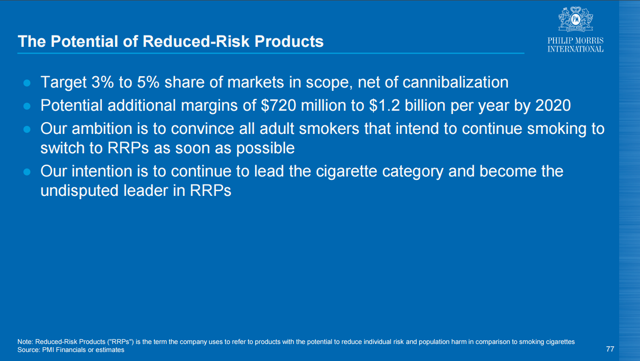 Source: 2/17/2016 Investor Day Presentation
Keep in mind, this projection is just for sales in PMI's current markets, and does not include potential sales in China or sales associated with licensing to Altria in the U.S. Adding those numbers to the fold makes the upside even more appealing.
Management's target of 3-5% may also end up being conservative, as iQOS has already grabbed 1.6% market share in its initial expansion area in Japan, and has done so in less than 6 months on the market.
Valuation And Potential Upside
Due to its exposure to currency fluctuations, Philip Morris is a bit difficult to value at this time. Just looking at earnings, it appears to be overvalued, as it is trading for 22.5 times expected 2016 earnings, which is well above its normal PE of 16 seen over the last 5 years.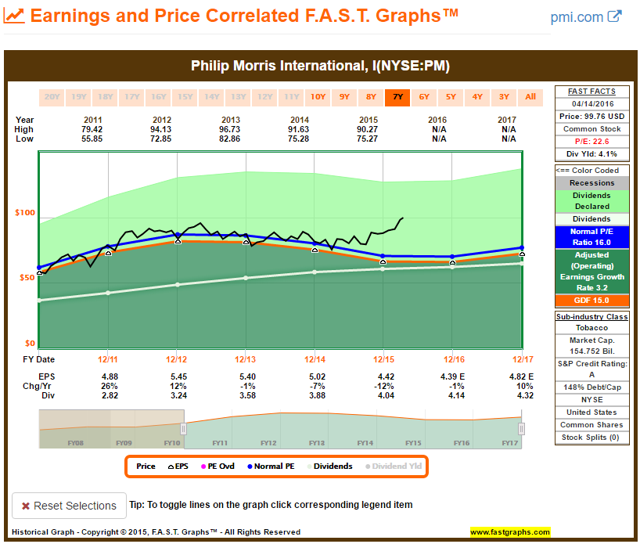 Source: FASTGraphs.com
Looking at recent history, you can see how strongly correlated the company's revenues and earnings are with the dollar index. Since July of 2014, the dollar index has appreciated by more than 18%, which has resulted in the company's reported earnings and revenues dropping by 14 and 15%.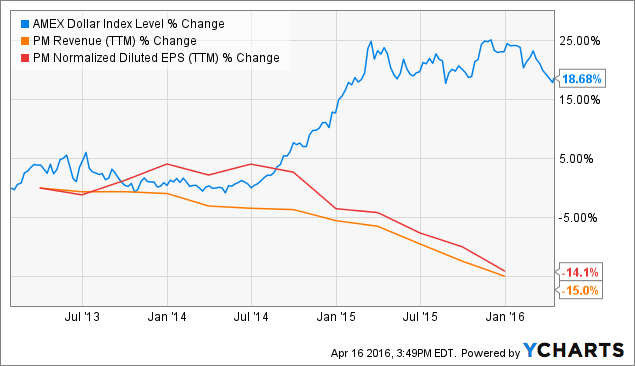 The dollar index has moderated since the beginning of 2016, and I expect that 2016 earnings will end up higher than the $4.39 that is currently projected by analysts. This doesn't change the fact that the stock is trading at a rich valuation, which is a common theme in today's market as investors search for yield in a low interest rate environment. This is quite apparent when looking at some of the top dividend paying companies in the sector.
I maintain a watch list of what I consider the top 25 stocks in the consumer staples sector. From this list, just 4 of the 25 companies are trading near what I would call "fair value".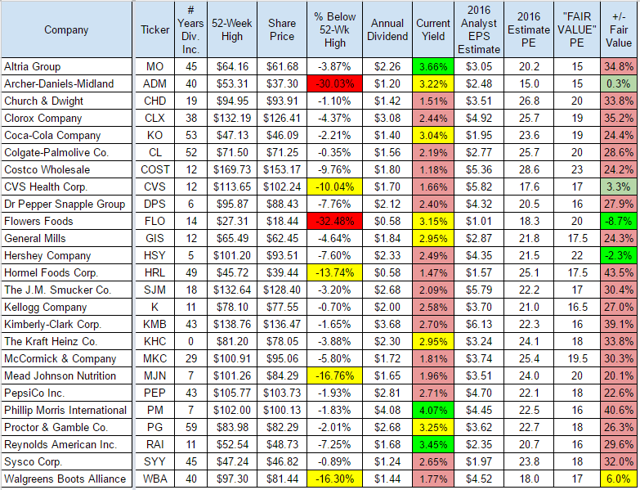 Source: Spreadsheet created by Eric Landis
As you can see, Philip Morris is trading well above its "fair value" PE, and for investors looking at the stock as a capital gains play, this might not be the best time to buy.
However, for those looking strictly for income, there really aren't any better options in the sector right now. PMI is the only stock in the group that is yielding over 4%, and the only others near even a 3.5% yield point are its tobacco selling brethren, Altria and Reynolds American (NYSE:RAI).
While Philip Morris may be trailing those two a bit in the dividend growth metric right now, it certainly makes up for it in yield. I suspect that as PMI returns to positive earnings growth and adds the kicker of iQOS market share expansion, it too will once again see the 6-10% annual dividend growth that investors had become accustomed to.
Conclusion
Years of high R&D spending appear to finally be paying off for Philip Morris. With the introduction of iQOS off to a roaring start, and additional RRP products in the pipeline, the company is poised to return to sales growth once again. Add in a now weakening dollar that provides tailwinds to earnings, and 2015 looks like it will mark the low point in the earning's cycle.
Valuation levels are cause for some concern, but in an expensive market, it's hard to find many better opportunities for income investors. The stock is already one of my highest weighted positions, so I won't be adding to my own stake other than my quarterly dividend reinvestment, but if I was building an income portfolio from scratch, I wouldn't hesitate to start a position, even at these prices.
Disclosure: I am/we are long PM, MO, RAI.
I wrote this article myself, and it expresses my own opinions. I am not receiving compensation for it (other than from Seeking Alpha). I have no business relationship with any company whose stock is mentioned in this article.
Additional disclosure: I am an engineer by trade and am not a professional investment adviser or financial analyst. This article is not an endorsement for the stocks mentioned. Please perform your own due diligence before you decide to trade any securities or other products.