Buffalo Wild Wings (BWLD) is a company that operates sports bars that specialize in chicken wings - an appealing concept. Upcoming earnings make this stock worth a watch. The number one reason investors need to look closely at this stock is the low debt/equity ratio, especially when considering the current economic climate. BWLD's total debt/equity stands at 17.55% now and this is very good when comparing with the industry value of 155.19%.
Fast Casual Restaurants Will Continue To See Growth
If you're going by the trends in the last decade, then the fast casual restaurant is a wonderful business. This market is only going to explode and become more popular as we move forward this year. It is an awesome concept as people have always wanted to eat on the run. Healthier options are now demanded by several consumers. What is more, the fast casual segment has been strong during times of economic downturn, with customers opting for healthier menus and inexpensive meals.
Sports Bars Have Become Indispensable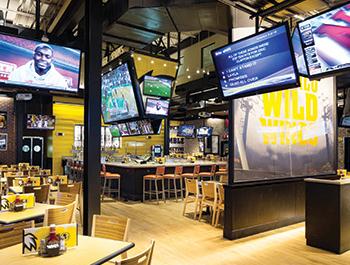 Sports is a year-round season in America and in much of Europe. In the U.S., there is always something to look forward to, from the Rose Bowl in January to the NBA playoffs in June. It is then not surprising that sports bars are some of the fastest growing businesses in the country. BWLD had a great year in 2013, with the stock jumping 40 percent before backtracking a little bit.
Buffalo Wild Wings Value Proposition - Spicy Food and Sports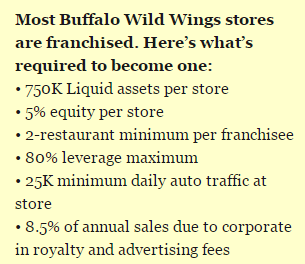 When looking at consumer trends, there seems to be an increase in the demand for spice in the palette. Interest in sports in the U.S. continues to grow and this trend is not going to change. Buffalo Wild Wings does appear to be in a great position to capitalize on this interest.
As long as a customer's desire to eat on the move and get their food fast is met, fast casual restaurants will see good business. BWLD looks like a solid value investment.
Downside Factor: P/E ratio is rather high
When it comes to fundamental ratios, the P/E is very valuable. As an investor, the best strategy is to pick the stock with the lower P/E. Right now, the P/E for BWLD stands at 29.17 which is on the high side. Generally, this is acceptable in the fast casual and sports bar industry. But it makes for a tough scenario for investors when deciding whether to buy the stock or not. Additionally, there is the P/B ratio which is not acceptable at a value of 4.20.
At the same time, the big thing to love about BWLD is the positive free cash flow that the company continues to generate. Free cash flow growth has averaged ~56% over the last four years, indicating a strong period of growth for the fast food giant.
Strong Balance Sheet Is The Plus Factor
The one noteworthy thing about B-Dubs is that there is less debt in the balance sheet. This is a particular favorable time to be investing in companies with lower debt levels as money is hard to come by this year. The company can look to formulate a solid growth strategy that doesn't reek of desperation when it has less debt to deal with. At a time when most people and companies are drowning in debt, the best strategy is to move away from excessive debt levels and leverage. B-Dubs gives an investor this opportunity. As mentioned earlier in this piece, the low debt/equity ratio is indicative of a strong balance sheet.
Restaurant Sales Have Risen, But So Have Costs
Restaurant sales have gained over the last two years. In FY 2015, restaurant sales made up 94.6% of the revenue. This has been a step-up from FY 2014 (~93.9%) and FY 2013 (~93.6%). When looking closely at the numbers, restaurant sales went up by $292 million, or 20.5%, to $1.7 billion in 2015 from $1.4 billion in 2014. The increase in restaurant sales was directly attributed to the 107 company-owned restaurants that were opened or acquired in 2015.
On the costs side of things, cost of sales and labor expenses increased, rising by $93.9 million and $98.6 million, respectively. Cost of sales increased because of the higher average price of chicken wings in 2015 as compared to the previous year - $1.83 per pound. Labor expenses shot up because of the increases in wage rates and benefit costs. During the last year, there was also an addition of Guest Experience Captains.
Global Economic Spectrum: People Always Have Money For Food
There are two main issues that are impacting the world right now. One is the issue with European banks that caused the global stock selloff earlier this year. The other predicament has been the weakness in the Chinese economy. In Europe, the problem has been demography, with a situation arising where there are 60 retirees for every 100 workers. Mature households have all the goods that they need and young people aren't able to find good jobs. As a consequence, the younger demographic doesn't have money to buy much. But there is always one thing that can sell like hotcakes and that is chicken wings and the like. This is it how it works in the United States and Canada as well.
Disclosure: I am/we are long BWLD.
I wrote this article myself, and it expresses my own opinions. I am not receiving compensation for it (other than from Seeking Alpha). I have no business relationship with any company whose stock is mentioned in this article.