Introduction
A raucous debate about Apple's (NASDAQ:AAPL) current valuation has erupted here on Seeking Alpha. Bulls have highlighted how its share price appears to trade at a discount given its absurdly low P/E ratio, especially when comparing it to the broader S&P 500. It is for this primary reason contributor Erik Bergseng has argued Apple is grossly mispriced and investors should take an overweight position in the company.
But other contributors have disagreed with this premise, noting Apple is fairly priced. Brad Kenergy uses a DCF model to argue Apple is fairly priced and Axiom Value Solutions uses a similar model to come to the same conclusion. Dana Blankenhorn argues that none of Apple's new products "represent vast new markets, higher sales or richer profits" and therefore it is "now just a consumer products company" producing products for a "well-defined niche."
Blankenhorn's assessment gets closest to why Apple is currently valued where it's at. But what all of these contributors miss is the central importance of leadership.
Apple's current CEO Tim Cook is not a visionary leader like former CEO Steve Jobs. Instead, he is a manager who knows how to keep Apple's core business churning and tries to keep Wall Street happy. But he ignores Main Street and fundamentally lacks a visionary outlook. Without visionary leadership, there is little forward-looking investors can get excited about Apple today.
Apple's Lost Mojo
In a superb TED talk by Simon Sinek on how great leaders inspire action, he argues that what makes companies successful is when people buy into the vision of great leaders. He persuasively argues that "people don't buy what you do, they buy why you do it."
People used to buy why Apple did what it did during the Steve Jobs era. Jobs was a visionary leader who led the revival of Apple. He made people believe in his vision and then in Apple's products. His vision led to the creation of transformative products like the iPod and then the iPhone. At the same time, devoted consumers believed in Apple and bought its products even though they had to pay a premium.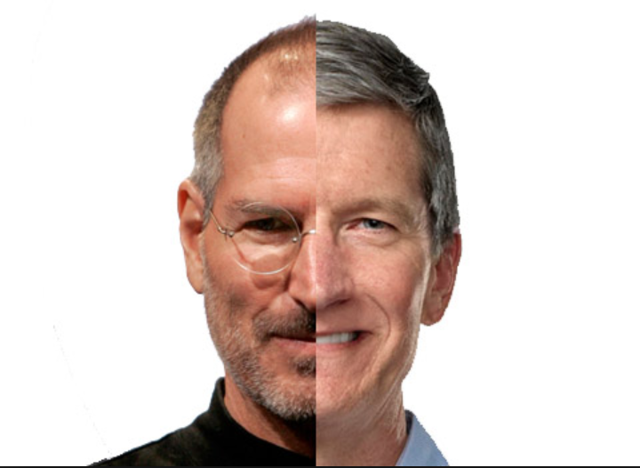 Steve Jobs versus Tim Cook, source: applegazette.com
But Apple under Tim Cook has been the opposite of Apple under Steve Jobs. Whereas Jobs did not want to pay a dividend to investors and instead accumulate cash to reinvest in the company, Cook implemented a cash dividend policy in 2012 shortly after taking over as CEO. Cook's focus turned first and foremost to investors and how to return as much cash to them as possible. Contrast this with Jobs who always focused first on consumers and how to provide revolutionary products that people love. Jobs focused on Main Street and ignored pressure from Wall Street.
Under Cook's leadership, Apple's biggest achievement has been launching and implementing the largest corporate share buyback program in history. At the same time, new products like the Apple Watch have failed to inspire investor or consumer confidence.
Apple under Steve Jobs was inspiring and innovative. Apple under Tim Cook is uninspiring and far too often derivative. Although Tim Cook continues to deploy Apple's massive resources to try and keep investors happy, his share buyback program and dividend policy is an uninspiring use of capital that could be reinvested into product development. As a point of comparison, in 2015 Apple spent $11.6 billion on dividends alone compared to just $8.1 billion on research and development. What is unfortunate for Apple investors today is Cook's attempts to appease Wall Street have not been able to boost its share price.
Conclusion
On a stock that is as widely followed as Apple, investors are already well aware of its financial details. But too many investors find comfort in analyzing numerical data and believe in rational markets. Investors often underestimate other factors that contribute to a company's valuation. Markets are not always rational, nor does numerical data always paint the entire picture. Effective leadership can often tell you more about the prospects of a company than any balance sheet ever will.
An example of a leader that follows Jobs' model of visionary leadership is Elon Musk. As I have argued elsewhere about Tesla (NASDAQ:TSLA), what sustains that company's sky-high valuation has little to do with its finances and everything to do with Musk's vision. Both investors and consumers believe in Musk. As such, Tesla trades at around $255/share, not $25/share. If Cook were more like Musk or Jobs, it is likely Apple's share price would be at least double where it's at today.
But Tim Cook is not like Musk or Jobs and lacks visionary leadership. In spite of a generous dividend policy and a gargantuan share buyback program, this has not led to significant share price appreciation. Ultimately, Apple's current valuation can best be explained by the fact that "people don't buy what you do, they buy why you do it."
Disclosure: I am/we are long AAPL.
I wrote this article myself, and it expresses my own opinions. I am not receiving compensation for it (other than from Seeking Alpha). I have no business relationship with any company whose stock is mentioned in this article.