Seeking Alpha contributor Robert Lehar's recent article, Fitbit: Does It Stand A Chance Against Apple?, asks readers/investors a basic question. The author's premise and sentiment seemingly dismiss Fitbit (NYSE:FIT) as a one-trick, single purpose "pony" that will have difficulty measuring up to Apple's (NASDAQ:AAPL) usual and early success with new products and categories. I happen to agree with the author of the article - Fitibt will have difficulty competing with Apple in the smartwatch sub-category of wearables… just not the way some may think.
Consider the following the above-linked article:
Fitbit's portfolio is mostly made up of single-purpose devices, which focus on casual health and fitness, and does not include a smartwatch product with a rich variety of apps and use cases. At the same time, Park is aware of attrition problems and slowing growth in its business (I wrote about this in Fitbit: 5 Things Bulls Are Missing). The more sustainable and growing smartwatch category would offer Fitbit a solution to both problems."
The aforementioned statements need clarifying as they are largely subjective and use subjective terminology to describe products and business operations. The fact is that Fitbit does offer consumers a smartwatch with its Surge and now the newly launched Blaze. While it may be that these smartwatch products by Fitbit don't offer GPS and social media apps to name a few, the consumer's engagement with smartwatches has remained limited to their health & fitness related applications and usage features. In other words, one way to view the Fitbit smartwatches may be to understand that they were developed with the consumer in mind and more aptly to this degree than the Apple Watch or other smartwatches. The smartwatch has only been around for roughly 36 months in the mass-market and to date every smartwatch manufacturer has found sales disintegrate past the launch period of the product. Reasons for the failed predecessor smartwatches are varied, but most suffer from similar issues related to connectivity, pricing and the ability to offer applications that are differentiated from that of the accepted smartphone. Furthermore, let's now focus on the statement offered regarding the "sustainable and growing smartwatch category" in the graphic below.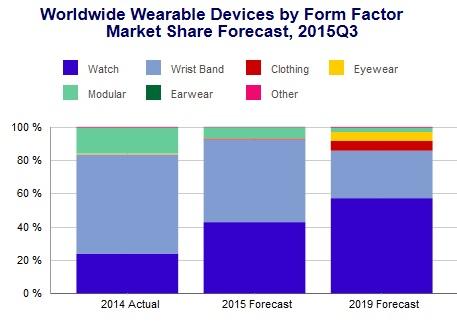 Source: IDC, December 2015
What I would ask readers/investors to consider with regard to this graphic is that there is no pricing recognition offered to the smartwatch or any product in the wearables category the company is using for this forecast and market share graphic. The only variable I would agree with regarding the IDC graphic is that clothing will never represent a meaningful percentage of the wearables category. You try washing sensors and electronics and tell me how that works out for you. Sorry Under Armour (NYSE:UA). I realize your company has spent well over $750mm aimed at the transformation of the wearables market over the last 3 years and to date all the company has to show for it is yet another wearable for the wrist. Maybe the Under Armour fitness tracker currently being positioned in Under Armour shoes will find something greater than development and actual deployment into the marketplace. While such technology won't achieve mass adoption, at least the company can finally say we went from A-Z with a wearable product beyond the wrist, as the company has spent considerable investor monies.
The other thing the IDC graphic above doesn't inform readers/investors about is timing and product existence. With basic wrist band wearables coming to the market in 2008ish, they have been around for well over 7 years now and are ever closer to market saturation. Smartwatches have only come to be known by consumers in the last 3 years and with extremely limited brands and product choices. If a reader/investor doesn't recognize or interject this variable into the IDC graphic, they may not be able to understand that the "sustainable growth" for smartwatches is highly subjective and determined mainly by the newness of the product and the more recent Apple Watch deployment. If we extrapolate the Apple Watch launch from last year, the numbers for smartwatches erode mightily. The following graphic, from IDC also, validates that perspective and deeper consideration regarding smartwatches as a product segment: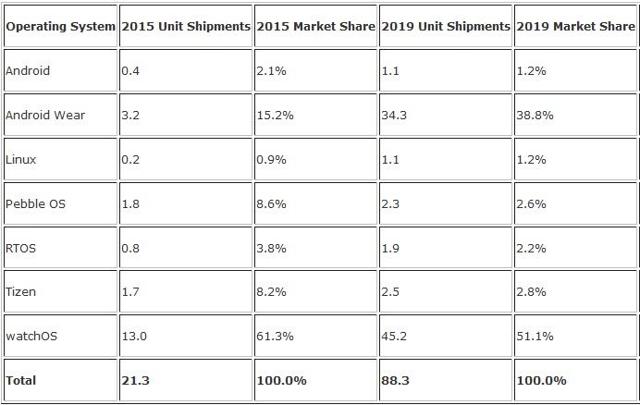 Shipments of smartwatches according to the IDC graphic are just awful when compared to the single, reported wristband wearables sales by Fitbit alone and without consideration of sales from that of other wearables companies. It's one thing to look at a graphic or chart and take it at face value, but I would encourage readers/investors to practice the "5 Why" rule that I apply to my research and analytics. When posed with opinions and/or facts, ask the question Why 5 times in an attempt to cover all considerations regarding those opinions and/or facts. An example of this exercise would be to ask why has Apple been able to ship such a disproportionate number of smartwatches during 2015 when compared to its peers. I would offer that with the name brand Apple supporting the Apple Watch and the healthy distribution network carried by Apple globally, the ability to sell-in Apple Watches is a pretty easy task for the company. What may not be so easy is selling-through those smartwatches.
Recall the following from 2014 when the Android Gear by Samsung launched:
Meanwhile, Canalys is estimating Samsung's Galaxy Gear made up the majority of smartwatch shipments- or what it calls "smart bands" - with 54% market share in the second half of 2013, followed by Sony (19%), Pebble (16%) and others (11%). About 1.6 million smartwatches shipped during the period.

"Samsung launched the Galaxy Gear with a major marketing push that gained significant consumer interest," said Chris Jones, VP and principal analyst at Canalys, in a statement from the company." Shipments of the device took Samsung to the top of the smart band category, though disappointing sell-through will necessitate more promotional activity in coming months. Basic band vendors have greater wearable expertise and have shipped greater numbers to date, but smart bands are already growing faster. Increasingly, smart bands will adopt basic band features as the two categories converge."
See what I mean. It is pretty easy to grab the top spot in the smartwatch sub-category of wearables through basic sell-in/distribution, but the sell-through is where these smartwatches are finding themselves troubled. I've offered this very valid and concerning factor regarding smartwatches in past Apple Watch articles.
In no uncertain terms have I offered that the Apple Watch has underachieved its expected sell-through rate. The proprietary sales data below is collected by Capital Ladder Advisory Group (subscription needed for total sales) and taken directly from retail point-of-sale systems. A quick look at Apple's largest retailer by sales volume (for Apple products on a retail sq. footage basis) shows just how poorly the product performs. While I'm not permitted to disclose the retailer by name and utilize a singular region to express the poor sell-through results, investors should understand the results are mirrored largely throughout the total chain and demanded upon them new pricing to increase sell-through. Unfortunately the JDA software utilized by this retailer does not have a truncate function to elicit totals at the bottom like other retailers i.e. Target Corp (NYSE:TGT), Wal-Mart (NYSE:WMT) or Bed Bath & Beyond (NASDAQ:BBBY). Just one of the many reasons this electronics retailer has struggled since the turn of the century and watched its chief competition in Circuit City go out of business many years ago. Enough clues? To be clear, the data was taken just before the recent price reduction and the most recent data post the price reduction will be offered in future publications. The territory exampled in the following screen shot is one of the largest sales producing regions for the retailer in the country, just shy of the sales generated in the south eastern portion of the United States.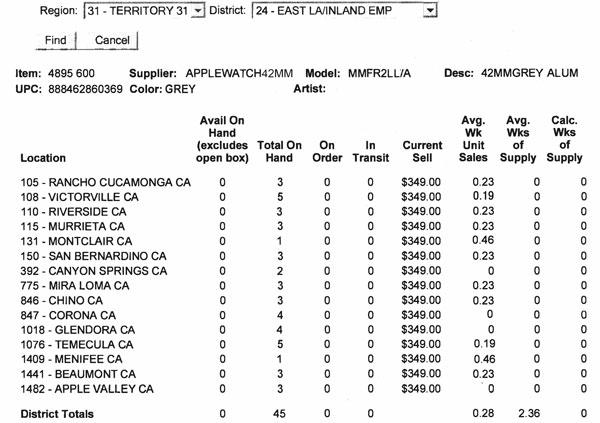 When your most important retailer in North America is selling less than one Watch a week, there is something severely amiss with the product. Apple is recognizing the shortcomings of the Watch in different ways, but none more telling than the sharp repricing of its entry level and largest sales volume producer for the product segment, Watch Sport. Apple has taken this price reduction without any articulation offered for a Watch 2 or second-generation product even though many speculate as to when Watch 2 will launch. By the time Watch 2 does surface, the original Watch will have had an average selling price (NYSE:ASP) of $299 and not $349, which was the original selling price. The reduced price of the product exhibiting the ASP is something that has never occurred for an Apple product since launching i-products that breed next generation products of the same application.
Where Apple has been able to dominate categories based on technology and design/fashion, wearables don't really offer such "necessities" tied to fashion. Remember, wearables in general are heavily used for health & fitness related activities. One of the reasons the Apple Watch has exhibited such poor sell-through is that it does little more than a smartphone and you have to own an iPhone in order to use the Apple Watch. For all the bells and whistles associated with the Apple Watch, those bells and whistles utilize a great deal of battery power. The small screen is less user friendly than an iPhone to boot. Combining the obstacles that rest within the Apple Watch, one can deduce just some of the reasons the concept of the smartwatch, as designed by Apple, is found wanting. And the consumer could achieve these obstacles for the former price of $349 at retail locations. Suggesting that fashion or design would be a critical advantage of Apple Watch to the likes of Fitbit seems far-reaching given the proven sales results of the two products. How long did it take Fitbit Blaze to usurp the Apple Watch on Amazon.com (NASDAQ:AMZN)? I think it was about a week, give or take a day.
Apple has missed the mark with the Apple Watch and allowed for Fitbit Blaze to enter the smartwatch category with a more consumer-oriented product, some might say. Apple has seemingly focused a great deal of the Apple Watch definitions on fashion as offered in "Fitbit: Does It Stand A Chance Against Apple?"
It is then not surprising that much of Apple's focus with the Watch has been on the product's fashion aspect, the easy-to-swap bands. Apple currently offers 55 different Watch bands (66 if including the Hermès collection) in various colors and materials, and at a level of quality which rivals the best watchmakers in the industry.
For all the fashion-forward and unique characteristics the Apple Watch offers consumers, it's clear that the Apple Watch focus should have been more consumer-centric. And I think that is what Apple Watch 2 will provide. The Apple Watch has a plethora of features to advantage consumers beyond that of a more simplistic Fitbit Blaze smartwatch. But the Apple Watch simply doesn't do much more than a smartphone, which the consumer already has by and large. Although the Samsung Gear isn't tethered to the Android smartphone platform, the product has found sales difficulty in the smartwatch segment of the marketplace. One of the reasons for this is that data usage on the Samsung Gear requires a second monthly service plan beyond that of the cell phone plan. The other issue is, of course, the duplication of smartphone technology that is unnecessary and solves no consumer problems. If untethering the Apple Watch was proposed to be the savior of the Apple Watch, Samsung's Gear is telling a different story. But even I will recognize that Samsung is not Apple. On that same token I will recognize that it doesn't have to be. Smartwatches…so embattled with deficient technological advancements that aim at solving real consumer problems!
The reality of the situation facing the Apple Watch is that it is forced to move downmarket in price. Fitbit is not moving upmarket either as offered by Mr. Lehar as the Blaze is actually priced lower than the former "Surge" Fitbit product. The consumer recognizes the duplicate technology of the smartphone offered in this Apple Watch and the sell-through results highlight consumer purchase intent. Suggesting that Fitbit will have difficulty competing against Apple in the smartwatch segment when Fitbit has already displaced the Apple Watch from its top sales position so quickly begs for readers/investors to consider what is more pertinent.
At the very beginning of this article I agreed that Fitbit would have difficulty competing with Apple in the smartwatch sub-category of wearables. I offered this because I believe the product segment will be challenged as a whole. Given Fitbit's attrition rate combined with its own sell-through issues for the total wearables product line, and as the leader in the wearables space, the entire category suggests a greater "fad" element than is generally considered. Nearly half of all wearables users stop using their wearable after 12 months as defined in Fitbit's quarterly reporting. Smartwatches are an extension of the wearables category, utilizing most of the same applications as more basic wearables… the tracking of health & fitness data. While this application is useful for some, it has proven less useful for an equal amount of people. Where you have that many consumers attritioning from a product/category, there has never been considerable, long-term sales growth. Not ever! In that, Fitbit and Apple Inc. will both have difficulty competing for sales in the wearables category, regardless of their respective product offerings.
The investor takeaway presently is that Apple is a much more diversified company than is Fitbit. As such, Apple is likely a better long-term investment than Fitbit. But timing is always relevant to investors and I don't believe Apple to be a strong investment presently. I would rather see AAPL shares priced below $100 before taking a position in the company. But that is very simply my strategy and may not be favorable to the masses. With the company reporting earnings this week, shares could surge or plunge depending on their quarterly results and forecast. With iPhone and iPad shipments expected to fall in 2016 a good portion of AAPL's share price appreciation may have to come from other products or business operations that may include increasing the dividend paid to shareholders.
Fitbit has dedicated itself to a singular product and business model to date. While that could certainly change in the future, such a change would likely come at the cost of investors. Using the Fitbit business model to date, once the company saturates its distribution channels globally, sales will likely decline as is the typical occurrence for consumer goods companies. For such companies with a singular product line, the impact on the balance sheet is greater than those companies that offer products in multiple categories. Having said that, shares of FIT will not likely exhibit peak appreciation for several quarters and until this forecast becomes more clear and present to the investor community. As such, given the long-term negative outlook for the company, FIT shares can make for a good trade with optimal timing.
Disclosure: I/we have no positions in any stocks mentioned, and no plans to initiate any positions within the next 72 hours.
I wrote this article myself, and it expresses my own opinions. I am not receiving compensation for it (other than from Seeking Alpha). I have no business relationship with any company whose stock is mentioned in this article.