By Dennis Coyne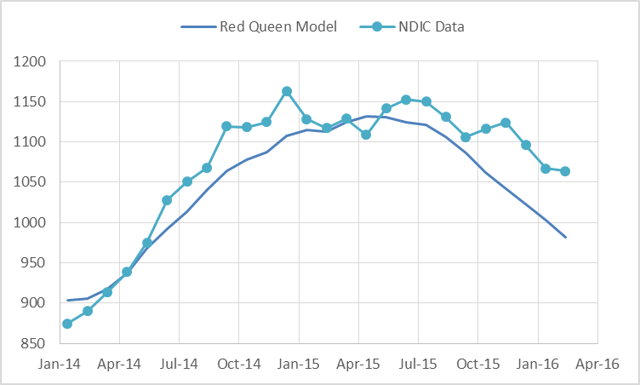 North Dakota data from the NDIC is out. Bakken Three/Forks data shown in chart above (NDIC Data) with a Red Queen Model (based on Rune Likvern's original work) using data gathered from the NDIC by Enno Peters to develop well profiles.
The model uses an estimate of the well profiles based on the NDIC well data. For February 2016, ND Bakken/Three Forks output fell by 3 kb/d to 1,064 kb/d; Lynn Helms estimates that 63 wells were completed in February. North Dakota output fell 4 kb/d to 1118 kb/d.
Clearly, the model has been underestimating output since September 2016. I do not have a good explanation; it may be due to variation in the monthly well profiles.
If we assume 63 wells per month are completed each month from March 2016 through January 2017, we get the following scenario, output is 840 kb/d in January 2017, or 160 kb/d less than the model output in January 2016 (1,000 kb/d).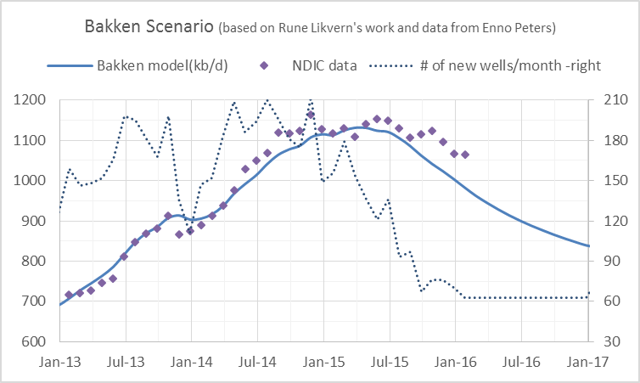 A few excerpts from the Director's cut:
Oil Production
January 34,796,333 barrels = 1,122,462 barrels/day
February 32,431,669 barrels = 1,118,333 barrels/day (preliminary)(all-time high was December 2014 at 1,227,483 barrels/day)
1,064,108 barrels per day or 95% from Bakken and Three Forks
54,225 barrels per day or 5% from legacy conventional pools
Producing Wells
January 13,141
February 13,012 (preliminary)(all-time high was October 2015 13,190)
10,898 wells or 84% are now unconventional Bakken - Three forks wells
2,114 wells or 16% produce from legacy conventional pools
Permitting
January 78 drilling and 0 seismic
February 70 drilling and 1 seismic
March 56 drilling and 4 seismic (all-time high was 370 in 10/2012)
ND Sweet Crude Price
January $21.13/barrel
February $18.07/barrel
March $26.62/barrel
Today $31.25/barrel (all-time high was $136.29 7/3/2008)
Rig Count
January 52
February 40
March 32
Today's rig count is 29 (lowest since October 2005 when it was 29)(all-time high was 218 on 5/29/2012)
Comments:
The drilling rig count fell 12 from January to February, 8 from February to March, and 3 more from March to today. Operators are committed to running the minimum number of rigs while oil prices remain at current low levels. The number of well completions fell from 71 (final) in January to 63 (preliminary) in February. Oil price weakness is the primary reason for the slowdown and is now anticipated to last into at least the third quarter of this year and perhaps into the second quarter of 2017. There was 1 significant precipitation event, 6 days with wind speeds in excess of 35 mph (too high for completion work), and 0 days with temperatures below -10F.
Over 98% of drilling now targets the Bakken and Three Forks formations.
The estimated number of wells waiting on completion services is 907, down 38 from the end of January.
The estimated inactive well count is 1,439.