MLPs rallied again this week, making it 3 straight positive weeks and 8 of the last 10. The AMZ finished the week with a 1.1% gain, although the gains were isolated to a 3.5% rally on Tuesday. Oil prices finished the week up around 2%, breaking above $40/bbl and staying above, despite fading late in the week as uncertainty regarding the upcoming meeting in Doha among major oil producing nations came into focus.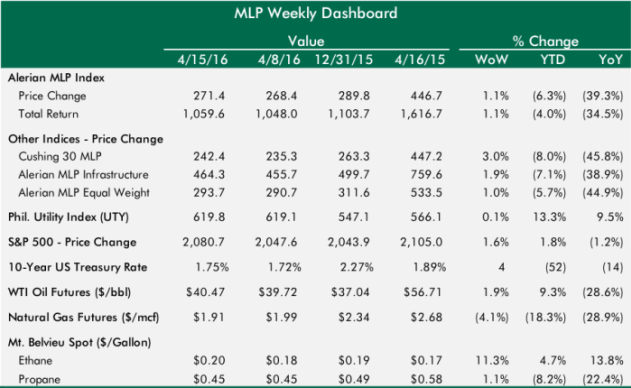 MLPs slightly underperformed stocks (S&P 500 +1.6%) and outperformed flat utility stocks (UTY +0.1%). MLPs showed some resilience in the face of an early 3%+ oil price decline on Friday, trading positive around midday before fading hard into the close as the Doha meeting stole focus.
On the commodity front, NGLs firmed up this week, with ethane way outperforming natural gas. Expect to hear much more about the lighter end of the NGL barrel as one of the few areas of optimism for certain midstream MLPs.
Doha! Doha! Got you All in Check!
Reports late Saturday indicated a preliminary agreement has been reached (among participating countries at the Doha meeting, but not Iran) that would freeze output at January output levels at least through October of this year (Reuters). In January, Saudi Arabia produced oil at a rate of 10.2 mmbbls/d (down from 10.5 mmbbls/d peak) and Russia produced 10.9 mmbbls/d (record levels).
Capping at these levels doesn't immediately change the supply and demand picture, especially if Iran's production continues to ramp up, but it does signal that the world's largest two oil producers are not comfortable with oil prices below $40/bbl and are willing to take steps to keep oil from plummeting further.
Poll Question Recap
Earnings season begins this week with Kinder Morgan (NYSE:KMI) on Wednesday. Based on your responses to last week's poll question, it's clear that leverage remains the primary focus above all else. When asked what you'd be most interested in hearing about this earnings season, 38% of respondents chose leverage, volume trends (25%) and counterparty risk (21%) also got a substantial number of votes. Margins (rate pressure, cost reductions and leverage to improving commodity prices) and External Growth received much fewer votes.
These answers make sense. As balance sheets stabilize and bankruptcies shake out, I imagine next quarter the focus will shift to volume trends as production declines flow through to midstream assets. The primary issue heading into 2017 will be the timing of volume recovery once rigs and completions start up again.
Earnings season offers an opportunity for certain MLPs to differentiate themselves with leverage, volume protection and disclosure that delineates counterparty exposure. New growth projects and M&A (outside of already expected drop-downs) will likely continue to be met with skepticism if uncertainty on the focus issues remains.
Winners & Losers
Rose Rock Midstream (NYSE:RRMS) and Williams Partners LP (NYSE:WPZ) both made the top 5 again this week. RRMS has been the overall leader in each week, while WPZ has been up double digits in each of the last 3 weeks. Both have significant cash flow underpinned by agreements with Chesapeake Energy (NYSE:CHK). Calumet Specialty Products (NASDAQ:CLMT) led all MLPs to the downside, and will likely lead all MLPs to the downside next week following their distribution suspension and very troubling EBITDA guidance released late Friday. Drop down supercharged MLPs like Dominion Midstream (NYSE:DM), Shell Midstream (NYSE:SHLX) and Valero Energy Partners (NYSE:VLP) made the bottom 5, another indicator that new money is flowing into value MLPs over growth at a premium.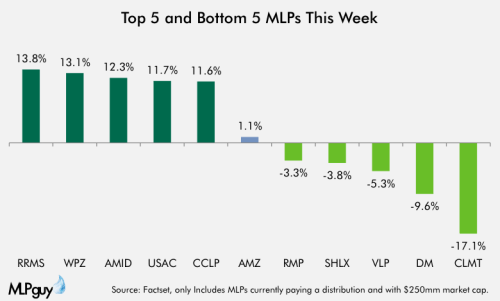 WPZ has now rallied for the last 8 days straight, is up 86% since bottoming on 2/9 (vs. 28% for the AMZ) and 39% since 3/28 (vs. +4.7% for the AMZ).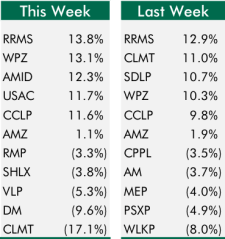 A very mixed bag of asset types on the year-to-date chart below. This will be CLMT's last week on the chart, because we try to limit the chart to MLPs paying a distribution, just to avoid muddying our weekly chart with the extreme volatility that tends to result after an MLP cuts its distribution.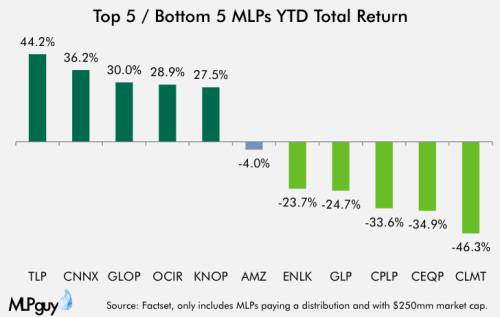 EnLink Midstream Partners (NYSE:ENLK) and Global Partners LP GLP joined the bottom 5 this week, replacing MPLX LP (NYSE:MPLX) and NGL Energy Partners LP (NYSE:NGL), which both rallied this week.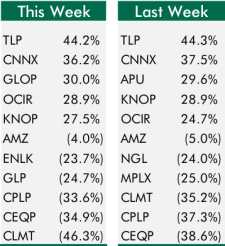 General Partner Holding Companies
Energy Transfer Equity (NYSE:ETE) led all GPs for a second straight week, this time Williams Companies Inc. (NYSE:WMB) came along for the ride as well, buoyed by a higher valuation for its L.P. stake in WPZ. EQT GP Holdings LP (NYSE:EQGP), Tallgrass Energy GP LP (NYSE:TEGP) and Spectra Energy Corp. (NYSE:SE) were the laggards among GPs for a second straight week, more evidence of a bias away from high growth or premium MLPs in recent weeks. TEGP's 21.4% quarter-over-quarter distribution raise this week wasn't enough to generate positive momentum on an absolute or relative performance basis.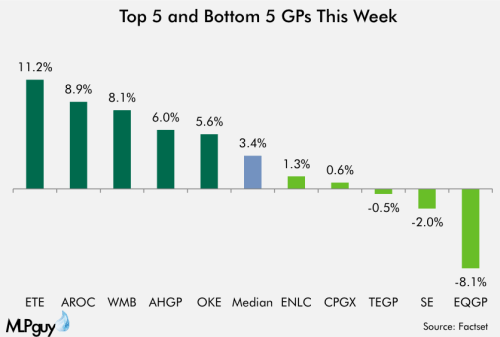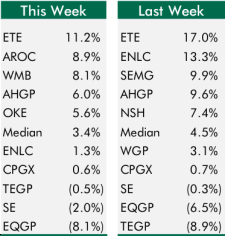 News of the (MLP) World
This week's news focus (outside of Doha rumors) was on producer borrowing base results (CHK received well) and bankruptcy filings (Energy XXI (EXXI), Goodrich (NYSEMKT:GDP) and Peabody Energy (NYSE:BTU)).
There were no energy MLP equity or M&A transactions this week. There were equity deals on the periphery of the MLP space though. Non-energy MLP StoneMor (NYSE:STON) priced a small equity deal, and Enbridge's (NYSE:ENB) Canadian income fund ENF priced a large offering. Rice Energy (NYSE:RICE), which sponsors a gathering MLP, raised equity in a public offering at a tight discount. Incrementally negative news for upstream MLPs was released as well, plus a late Friday distribution cut for an AMZ member.

Financing
StoneMor Partners priced public offering of 2.0mm common units at $23.65/unit, raising $47.3mm in gross proceeds (press release)

Priced at 4.1% discount to prior closing price, traded flat in the next session
Enbridge Income Fund (ENF) priced public offering of 17.7mm shares at C$28.25/share, raising C$500mm in gross proceeds (press release)

Bought deal, priced at 5.1% discount to prior closing price
M&A/Growth
TransCanada (NYSE:TRP) announced that it was awarded contract to construct $550mm natural gas pipeline in Mexico (press release)

Supported by 25-year transportation services agreement with Mexico's state-owned power company (CFE)
Expected to be in-service by early 2018
Other
Williams announced that the Delaware Court has granted WMB's motion to expedite the litigation commenced by WMB against Energy Transfer Equity challenging the private convertible preferred offering disclosed March 9 (press release)
Upstream Liquidity Updates
Memorial Production (NASDAQ:MEMP) announced results of borrowing base redetermination on its credit facility borrowing capacity, with a reduction of 21% from $1.175bn to $925mm (press release)

As of 3/31, MEMP would have had $131mm in borrowing capacity under these new terms
Linn Energy (LINE) announced that it made interest payments on several senior notes issues after delaying initial payment from the original due date of 3/15 (press release)

LINE will be negotiating a restructuring agreement with a target date of 5/11/16 to come to an agreement
BreitBurn Energy (BBEP) announced suspension of preferred distributions and defers payment of interest on senior notes pending discussions with secured debtholders (press release)
Editor's Note: This article covers one or more stocks trading at less than $1 per share and/or with less than a $100 million market cap. Please be aware of the risks associated with these stocks.