Last week was a great week for a pairs trade in iron ore.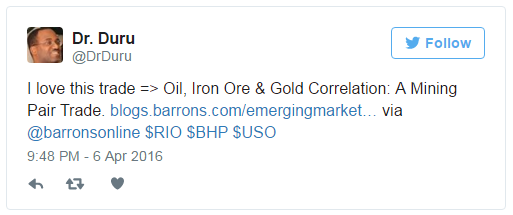 The consensus expectation for oil in 2019 is $62/barrel. The consensus for iron ore in 2019 is $55/ton. The current 6-year correlation between the daily prices of iron ore and oil is 0.72. If the correlation holds for the next three years, then analysts should expect iron ore to hit $89/ton in 2019. Since Rio Tinto (NYSE:RIO) is much more dependent on iron ore than BHP Billiton (NYSE:BHP) is, and BHP still holds substantial oil assets, an iron ore rally could favor RIO over BHP. BHP should lag relative to RIO if oil comes short. A pairs trade then goes long RIO and short BHP.
Note that Bernstein makes a strong assumption that current 2019 price forecasts are already baked into RIO and BHP, at least on a relative basis. The article does not even address a number of other important assumptions required to make this pairs trade work. For example, we do not know whether the same set of analysts have made the oil and iron ore forecasts (doubtful). Whatever the overlap of analysts, we do not know whether the relationship of forecasts across the analyst communities is stable over time. In other words, the current discrepancy may be trending up or down, or could even be a temporary aberration. We do not even know how these groups of analysts respond to the volatility and trends in prices. The article did not give a downside estimate for oil if a reversion to historical correlations sends oil down rather than iron ore up for 2019. There is also the issue of time frames: the article does not explain the use of 6-year correlation and 3-year forecasts, or how to properly structure trades given the extended nature of these time frames.
Regardless, I like the trading concept, even if all the mechanical details are not readily apparent. In this case, there is seemingly no fundamental reason for analysts to expect oil to trade a lot stronger than iron ore over an extended period of time. So, this pairs trade is a potentially robust way to play iron ore from the long side with a solid hedge. As it turned out, the Barron's article appeared right before a substantial lift-off in iron ore AND oil-related plays. This lift-off provided a very early payoff to the pairs trade. BHP is up 21% since the Barron's article. RIO has soared 18%. For reference, Cliffs Natural Resources Inc. (NYSE:CLF) has increased 44% since then. Vale S.A. (NYSE:VALE) is up 30%. United States Oil (NYSEARCA:USO) jumped 8%.
Note that the numbers on RIO's chart below represent approximate spot prices for iron ore on the given day. Although iron ore has significantly rallied from the December low, RIO and BHP have benefited little on net. All the iron ore plays even continued to trade lower into January, along with the global financial markets.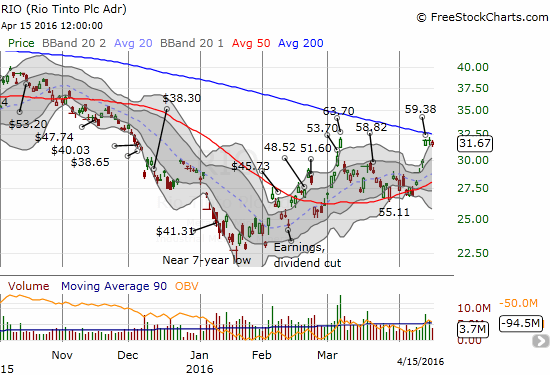 Rio Tinto held onto support at its 50-day moving average (DMA) and now faces a test of resistance at its 200-DMA.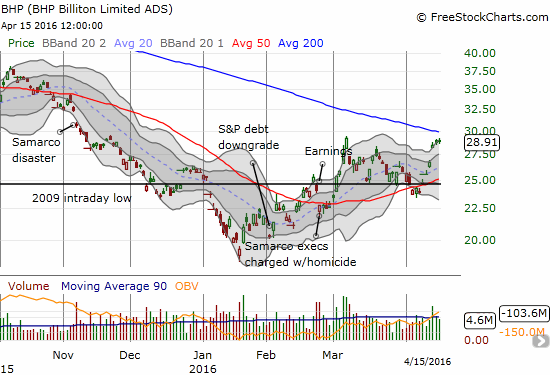 BHP Billiton Limited experienced a shorter test of its 50-DMA support than RIO. Like RIO, it now faces a critical test of 200-DMA resistance.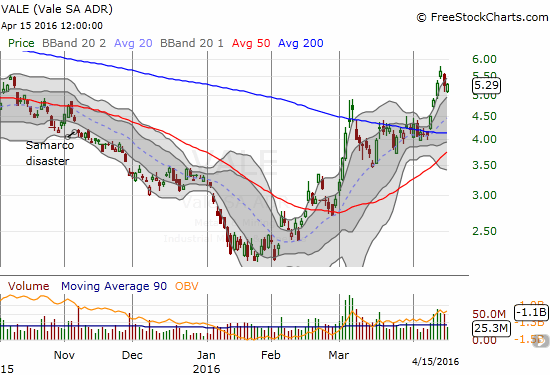 Vale first broke its downtrend from 200-DMA resistance in March. The current streak has confirmed that breakout, with the 50-DMA rapidly rising now. Political developments in Brazil could be key.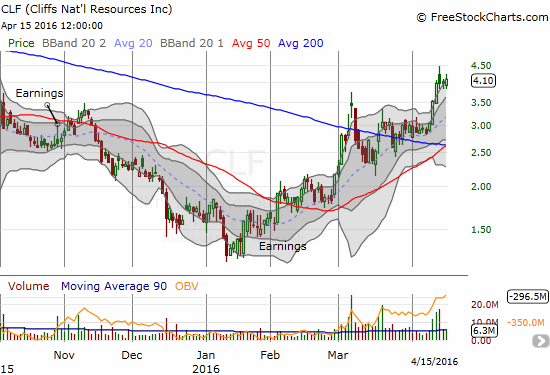 Cliffs Natural Resources Inc. looks similar to VALE and is probably equally speculative. Still, the convergence of 50- and 200-DMA support makes CLF an intriguing buy the dips trade.
Source: FreeStockCharts.com
Note that BHP slightly outperformed RIO over the week and a half, while the more speculative plays of CLF and VALE well outperformed their peers. I am assuming the outperformance of CLF and VALE comes from the tremendous underperformance going into this rally. Speculators like to dive into the most beaten-up names when the "risk-on" switch gets flipped to the positive side. The performance of RIO and BHP are close enough to call it a wash. My biggest lesson came from positioning the pairs trade using options - my preferred method.
For my first swing at this pairs trade, I started by going long RIO call options. I scaled into a BHP short position as the rally progressed. Given the large gains on the long side, I locked in the profits on the RIO call options as the stock approached presumed resistance at its 200-day DMA (see the chart above). With BHP also trading just below its 200-DMA resistance, I decided to extend the trade by sitting on my short position and capping the potential for further losses by buying out-of-the-money BHP call options.
I will holding the short side of BHP until/unless the stock breaks resistance the way CLF and VALE have already accomplished. I plan to buy the dips on RIO as long as I am holding the BHP short position. Note that I have NOT become bullish on iron ore. Instead, I am interested in more actively trading-related plays given the volatility. I am assuming that "over time," the apparent anomaly in analyst expectations for oil and iron ore prices will get resolved in favor of staying net short BHP and net long RIO. The volatility along the way will facilitate a dynamic approach to the trade.
The abiding and persistent strength in the Australian dollar (NYSEARCA:FXA) motivated me to trade aggressively on the long side to this pairs trade. Only the Japanese yen (NYSEARCA:FXY) has managed to trade more strongly in recent months. I took this forex signal as representing the market's lingering confidence in iron ore despite the massive blow-off in price that occurred in March.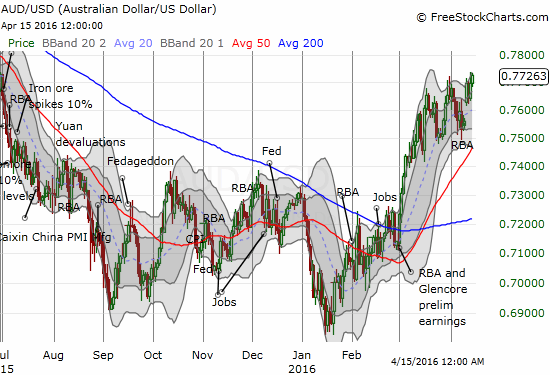 The Australian dollar continues to notch new multi-month highs against the U.S. dollar - strength that signals confidence in commodities. AUD/USD broke out above the 200-DMA downtrend 6 weeks ago.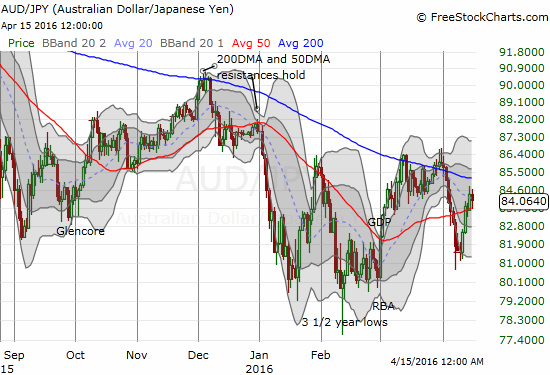 The Australian dollar is still struggling with the Japanese yen - a weakness that is typically a warning sign for financial markets. The spike higher from recent lows coincides with the strong surge in iron ore-related plays.
Source: FreeStockCharts.com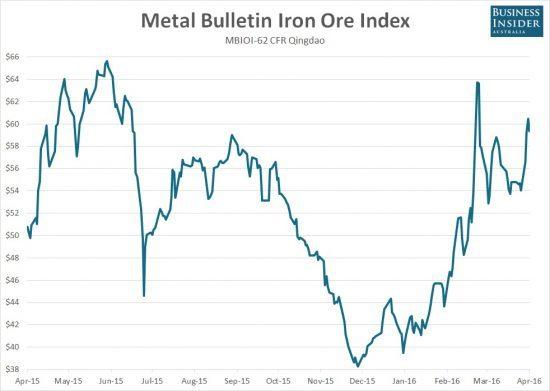 The parabolic run-up in iron ore last month predictably collapsed. So, is the latest rally a last gasp for buyers, or can it last long enough to print new highs and confirm a fundamental change in sentiment?
Source: Business Insider Australia
(According to Business Insider Australia, the spot price of iron ore is up 36.3% year to date.)
While I do not follow oil forecasts much - oil is a heavily manipulated market, where everyone seems to take turns being very wrong in their forecasts - I do follow iron ore commentary very closely. Iron ore's lasting bear market has definitely taken its toll on market participants. Skepticism and negativity are the rule, so much so that March's bizarre, parabolic run-up did not trigger celebrations or declarations of an end to the bear market. Instead, consistently, the major iron players expressed their own surprise and predicted prices would settle back down. Major analysts reiterated bearish forecasts and declared what any technician would say about the unsustainable nature of the price spike. Australia's Office of the Chief Economist recently weighed in with its March 2016 Resources and Energy Quarterly and confirmed why no one wants to chase this run-up:
"The price of iron ore averaged US$36 a tonne in the December quarter 2015, the lowest since 2006. Prices are projected to be higher over the projection period, but remain well below levels recorded during the height of the mining boom.

While prices briefly rebounded to US$61 a tonne in early 2016, increasing global supply coupled with lower demand from China's steel sector is forecast to result in prices softening by end of the year to average US$45 a tonne in 2016."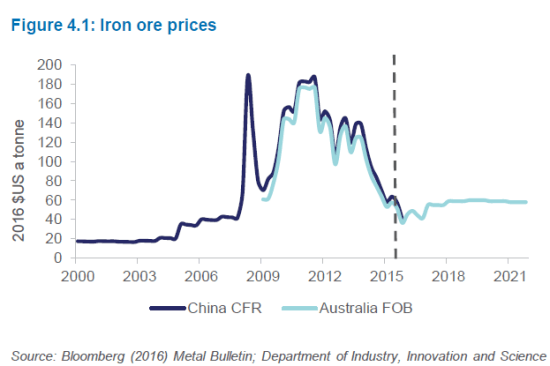 The Australian government has very modest long-term expectations for iron ore prices.
Source: Australian Government, Department of Industry, Innovation and Science - Office of the Chief Economist
On April 14th, Bloomberg published comments from Rio Tinto's CEO Sam Walsh that reiterated his sober near-term expectations for iron ore:
"Iron ore's rally from a record low isn't sustainable as output is set to increase, according to Rio Tinto Group, the second-biggest exporter.

Prices may fall in the second half as the new supply offsets improving demand from China, Chief Executive Officer Sam Walsh said. 'I've said all along that we expect the iron ore prices will be volatile. That's what we're seeing,' Walsh told reporters after the company's annual shareholder meeting in London."
The Bloomberg article included a reminder of the collective bearish expectations of analysts:
"Walsh's skepticism that iron ore's gains will endure is shared by some forecasters. RBC Capital Markets said April 12 global oversupply would continue to weigh on prices while lower steel production in China hurts demand. Capital Economics Ltd. has said it expects a large surplus this year.

Demand in China this year may have been 'front-end loaded and will taper off,' Liberum Capital Ltd. analysts wrote in an April 13 note, forecasting prices will fall below $40 before the second half. Iron ore may retreat to $44 in the fourth quarter, according to the median of 10 forecasts compiled by Bloomberg."
It is one thing to be bearish while prices are in free fall, but it is REALLY bearish when market participants do not take the bait of rising prices to end their bearish growling. The negativity is now finally so entrenched that I am finally willing to contemplate a bottom for iron ore prices. I still need to see a break in the self-reinforcing market dynamics before I actually flip from bearish to bullish per my (revised) playbook on the crash in commodities. However, I will look to the December lows to provide support for ending any future sell-offs. Moreover, as I demonstrated with my first trial of the BHP/RIO pairs trade, I am willing to go long iron ore plays at presumed technical support levels. In other words, while I am contemplating the bottom for iron ore, I am not going to sit still until 2019 on a single pairs trade configuration.
Increasing financialization is one reason iron ore should continue to be more volatile than real business and market conditions. The statistics on iron ore trading in China are absolutely stunning. From the West Australian "Traders put iron ore on wild ride" (March 26, 2016):
"The Dalian exchange is open only for Chinese nationals and companies but volume has more than quadrupled from about one million contracts in November to an average of 4.5 million currently and a peak of seven million early this month.

The Dalian exchange is physical delivery, as opposed to cash settlement in Singapore, so when contracts mature on the 10th trading day of the month, sellers still short need to deliver physical iron ore cargoes to Dalian warehouses, which they would likely have to source in the spot market, unless they were a producer with a cargo ready to sell."
The volatility in iron ore will in turn translate into ongoing volatility in the shares of BHP, RIO, CLF, VALE, and others. The Australian dollar could continue to provide the more steady beacon for the likely future direction or at least the resilience of iron ore prices.
Finally, the next big test of the BHP/RIO pairs trade should occur this week. At the time of writing, the Doha meeting of major oil producers failed to produce the market manipulation many likely hoped would help prop up current oil prices. The immediate reaction in currency markets sent the Australian dollar hurtling downward. If the pairs trade works as expected, BHP should trade down at a larger clip than RIO, assuming the failure in Doha delivers sustained pressure to oil prices. I am also curious to see to what extent oil and iron prices continue to move in a correlated fashion when oil receives such a large price catalyst.
Be careful out there!
Disclosure: I am/we are short BHP.
I wrote this article myself, and it expresses my own opinions. I am not receiving compensation for it (other than from Seeking Alpha). I have no business relationship with any company whose stock is mentioned in this article.
Additional disclosure: I am also long BHP call options, short USO put and call options, long USO call options. In forex, I am short AUD/JPY