As the legendary Benjamin Graham wrote in The Intelligent Investor, the value investor's purpose is to capitalize upon "a favorable difference between price on the one hand and indicated or appraised value on the other."
While it is impossible to eliminate all investment risks, Graham's methods greatly minimize such risks by filtering out disadvantageously positioned securities from the outset.
In his million-selling classic, Graham was asked what his reply would be if he were to distill the essence of sound investing into a single phrase. In response to the self-directed challenge, Graham writes three words all in caps:
MARGIN OF SAFETY
The practice of selecting sound investments through the application of the margin of safety method is a common thread woven throughout The Intelligent Investor: the wider the margin of safety, the lower the risk and the greater potential for gain.
For a value investor, the margin of safety represents an all-purpose risk minimization tool in which one can proceed with a fair degree of certainty that, regardless of day-to-day price movements, one's principal is likely to be secure.
The margin of safety applies to all securities, including Real Estate Investment Trusts. Even though Graham died in 1976, he did invest in REITs (formed in 1960 in the US) and he made this remark in The Intelligent Investor:
It is characteristic of all these enterprises (he was referring to "financial companies") that they have a relatively small part of their assets in the form of material things - such as fixed assets and merchandise inventories - but on the other hand most categories have shorter-term obligations well in excess of their stock capital…this in turn, has given rise to various forms of regulation and supervision, with the design and general result of assuring against unsound financial practices.
The first REIT to list on the New York Stock Exchange was Continental Mortgage in June 1965 and since that time the REIT sector has grown into a massive $938 billion industry (source: NAREIT).
Validating the strength and health of the U.S REIT market, equity REITs will soon be separated from financials and given its own GICS sector category - significantly raising the profile of an often misunderstood and under-represented asset class.
That's one of the reasons that my co-author (Stephanie Krewson-Kelly) and I decided to write a book that will soon be available either online or in bookstores. Just in time for the GICS move (in September), The Intelligent REIT Investor will serve as the definitive guide to REITs, providing a clear and concise resource for individual investors, financial planners, and analysts.
Just as Graham wrote his book with a priority of assisting most anyone to think intelligently about securities, my co-author and I are aimed to assist anyone who prioritizes dividend income and risk management as a major component to wealth-building; after all, everyone should "sleep well at night."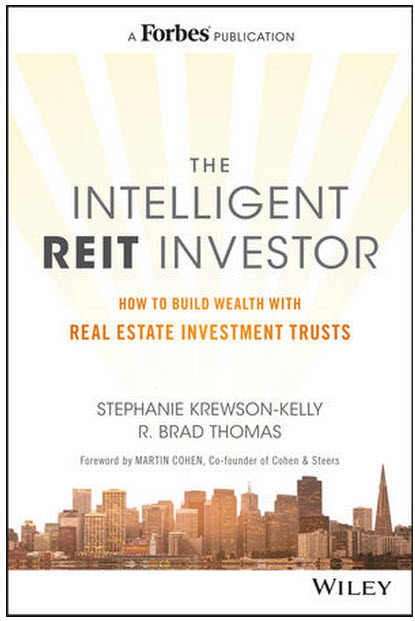 A Textbook Margin Of Safety
As Ben Graham wrote:
You are neither right nor wrong because the crowd disagrees with you. You are right because the data and reasoning are right.
Now we all know that Ben Graham knew how to value a business and by using the analogy of "Mr. Market," Graham pretended that every investor had a business partner that provides "real time" price quotes to either buy or sell shares in a business.
As Graham described, Mr. Market reacts on emotions from excitement (quoting a high price) to depression (quoting a low price). The parable of "Mr. Market" has helped transform many investors' perceptions of the stock market from a strictly computational paradigm to one on which psychology plays a prominent role. As Graham wrote in 1949:
Imagine that in some private business you own a small share that cost you $1,000. One of your partners, named Mr. Market, is very obliging indeed. Every day he tells you what he thinks your interest is worth and furthermore offers either to buy you out or to sell you an additional interest on that basis.

Sometimes his idea of value appears plausible and justified by business developments and prospects as you know them. Often, on the other hand, Mr. Market lets his enthusiasm or his fears run away with him, and the value he proposes seems to you little short of silly.
Like Mr. Market, the stock market has these same emotions you shouldn't let Mr. Market's views dictate your own emotions. In the words of Ben Graham, the market "will fluctuate" (sometimes wildly) but rather than running from volatility, take advantage of it and use it to your advantage. When asked what keeps most individual investors from succeeding, Graham had a concise answer:
The primary cause of failure is that they pay too much attention to what the stock market is doing currently.
As Graham wrote in The Intelligent Investor, the value investor's goal is to capitalize upon "a favorable difference between price on the one hand and indicated or appraised value on the other." Another way to say the same thing was when Joel Greenblatt (prominent value investor and Columbia finance Professor) summed up "the margin of safety" concept in a 2011 Barron's interview:
It's about figuring out what something is worth, and then paying a lot less for it.
As many of you know, I was fully prepared to take advantage of the mispricing in May 2013 when Highfields Capital decided to short Digital Realty. Here's what the hedge fund said back in May 2013:
Pricing is going lower, competition is increasing, and the company is tapping into capital markets as aggressively as they can…Do you want to pay three times book value for this?
Digital Realty (NYSE:DLR) is a textbook example of applying the margin of safety concept.
When I began to see DLR's price decline, it was obvious that the volatility had nothing to do with the company's fundamentals. There were no catalysts supporting the short arguments (see my recent article on Realty Income here) and to me, the pullback represented the "perfect storm" to capitalize on shares utilizing the value investor's definitive precautionary measure.
To put it bluntly, "I backed up the truck," and DLR became a core holding in my "durable income portfolio." I made a number of purchases in 2013 and my weighted average basis is around $45.00 per share.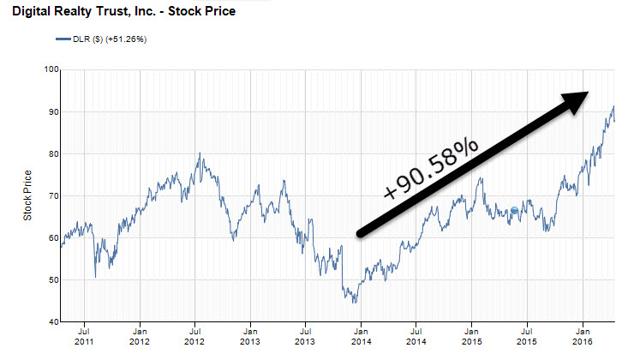 Would Ben Graham have purchased shares in Digital Realty?
Perhaps, but I do know he would have agreed with my rationale, and specifically my ability to strip away the obfuscation and superficiality to arrive at meaningful numbers - or a margin of safety. When asked what keeps most individual investors from succeeding, Graham had a concise answer:
The primary cause of failure is that they pay too much attention to what the stock market is doing currently.
Now Let's Focus On "Real Time"
It has been almost three years since Digital Realty's short attack, and although I'm quite pleased with my stake in the San Francisco-based REIT, I must always stay focused on stocks that I own considering whether or not shares are still worthy of ownership.
This involves some consideration of the Digital's industry, its current competitive position within that industry, and the "economic moat" around the company; that is, does this REIT still offer a sustainable competitive advantage that helps preserve long-term pricing power and profitability?
Including Digital, there are 6 REITs that make up the Data Center REIT sector with a market cap of $45.6 million and year-to-date returns of 13.0%, including a 3.01% dividend yield. Note: Equinix (NASDAQ:EQIX) is not included in the chart below.
Equinix converted to a REIT at the beginning of 2015 and is the largest data center REIT by market cap. The company owns 112 data centers in 33 metro areas. The firm reported better-than-expected fourth-quarter revenues and has provided guidance indicating 13% revenue growth in 2016 following the completions of its $3.8 billion acquisition of Telecity in January and Bit-isle in 2015.

Use of cloud services has become mainstream, and demand is growing at double-digit rates as businesses expand their use of cloud services, providers' scale is becoming more important. Data center REITs benefit from their presence in multiple markets. Efforts to obtain scale are also fueling industry consolidation and merger and acquisition activity.
Significant spending by public-cloud providers like Apple (NASDAQ:AAPL), Amazon (NASDAQ:AMZN), Facebook (NASDAQ:FB), Google (NASDAQ:GOOG) (NASDAQ:GOOGL), and Microsoft (NASDAQ:MSFT) are helping fuel the sector's progress. Banking, financial services, and insurance firms are other sources of significant demand.
Digital ranks second by market cap at $13.0 billion, but it is the largest data center REIT by portfolio size. It owns 130 centers with more than 25 million square feet of space. In 2015, it completed its $1.9 billion acquisition of Telx. Equinix is now one the largest tenants in Digital Realty Trust's portfolio. Here's a snapshot of DLR's top tenants: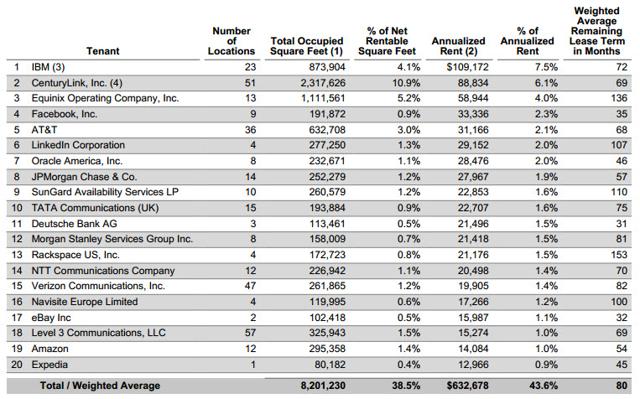 Digital is a global service infrastructure platform that delivers basic services to enable customers to service thousands of their customers.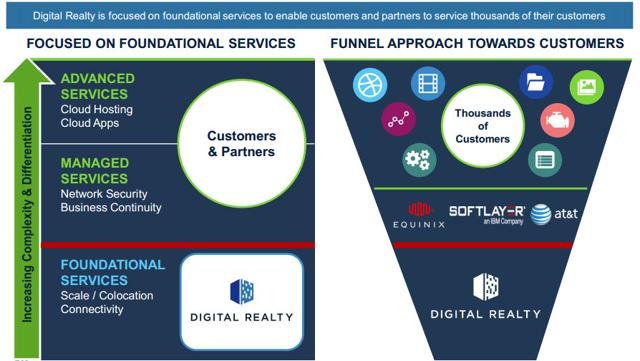 Graham's Golden Rules
As noted above, I was able to benefit from the margin of safety with Digital shares back in 2013; however, as Ben Graham argued, deep value investing is based on "defensive investor" rules focusing on stocks with good quality financial attributes. The "defensive investor" strategy is a stricter approach than Graham's enterprising strategy which seeks unpopular companies, special situations, and bargain issues.
The Defensive Investor has the goal of assembling a portfolio of quality stocks with long histories of profitability at low to fair valuations. The result is a low maintenance, low turnover portfolio of good companies. Here's a snapshot of Digital Realty's defensive requirement for the Intelligent Investor.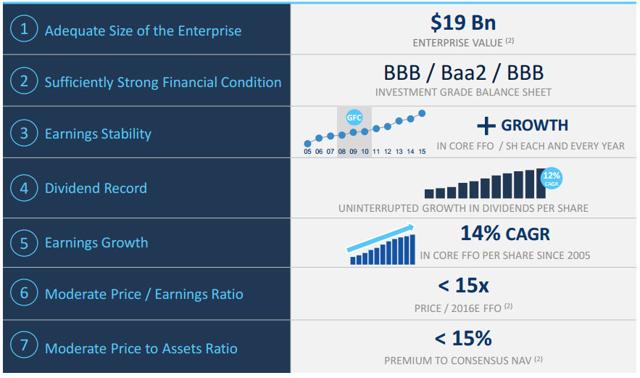 Of course, I knew that Digital was considered a "defensive" alternative, that's one of the primary reasons I own the stock today. However, I think it's prudent for me, as investor, or even prospective investor to take a closer look at the earnings stability of the enterprise. Simply said, let's check under the hood…
Checking Under The Hood
Clearly, Digital Realty has been quite busy in the capital markets space, especially after acquiring Telx last October at a cost of $1.89 billion. As you can see below, DLR reached its commitment for $15 million of expense synergies during the fourth quarter and the company expects to realize the full run-rate benefit of these savings in 2016. DLR also reached retention agreements with key personnel is well on its way to integrate the platforms.
For Q4-15, Telx generated $89 million of revenue, an 11% increase compared to the prior-year period. Revenues are split roughly 50-50 between colocation and interconnection. From its existing 20 locations and prior to expense synergies, Telx generated $33 million of cash EBITDA during Q4-15.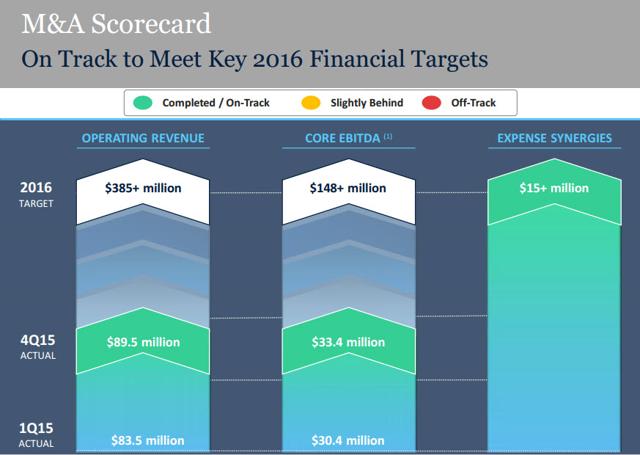 Also DLR sustained strong leasing momentum by signing leases totaling $36 million of annualized GAAP rent during Q4-15, including a $6 million contribution from Telx for space and power. In addition, Telx contributed $7 million of annualized interconnection revenue bookings during the fourth quarter.
Social, mobile, analytics, cloud and content accounted for more than 75% of the lease signings during the quarter. Notable highlights include a multi-megawatt lease with a hyperscale cloud service provider at the Franklin Park campus in Chicago.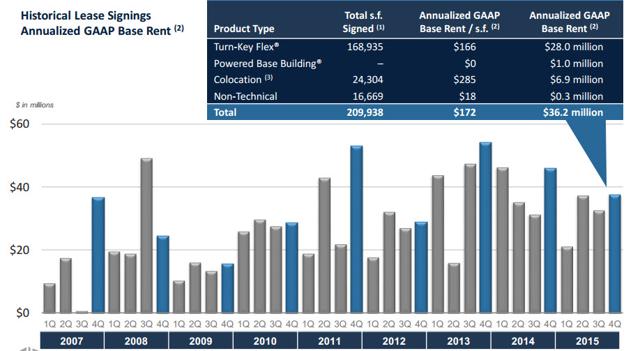 DLR's weighted average lag between signings to commencements were 4.5 months; and as shown below, the backlog of leases signed, but not yet commenced stands at $84 million, the bulk of which is expected to commence in the first half of this year.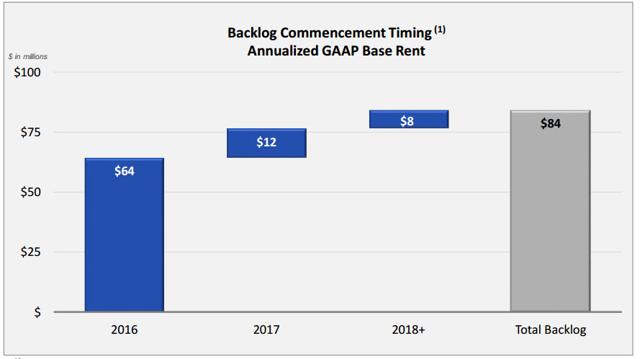 DLR's average cash re-leasing spread during the fourth quarter was a positive 15%, driven by robust mark-to-market on PBB renewals offset by a slight cash flow down on a much smaller sample size of Turn-Key renewals.
For the full year of 2016, DLR expects re-leasing spreads to be flat on a cash basis and up in the high-single-digits on a GAAP basis. DLR still has several remaining above-market scale leases, notably in Northern New Jersey and Phoenix and from time-to-time, individual leases can be large enough to swing the mark-to-market into the red in any given quarter.
On balance, it's evident that DLR has reached an inflection point and should continue to see improvement in the mark-to-market across the entire portfolio, driven by market rent growth and a steady progress made cycling through peak vintage lease expirations.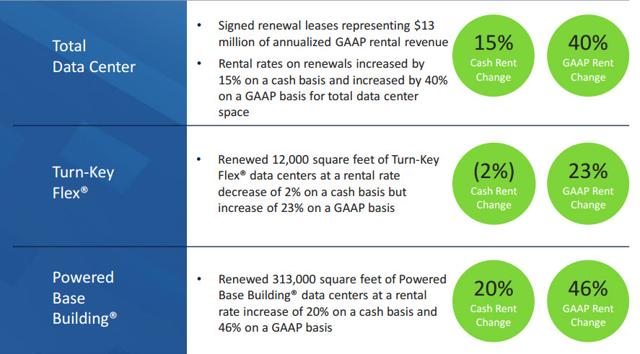 In Q4-15, DLR reported core FFO per share of $1.38 above the high-end of the company's guidance range. The outperformance was driven by a combination of several items, including a few cents for Telx operational outperformance during Q4-15 and $0.01 for early achievement on the expense synergy plan.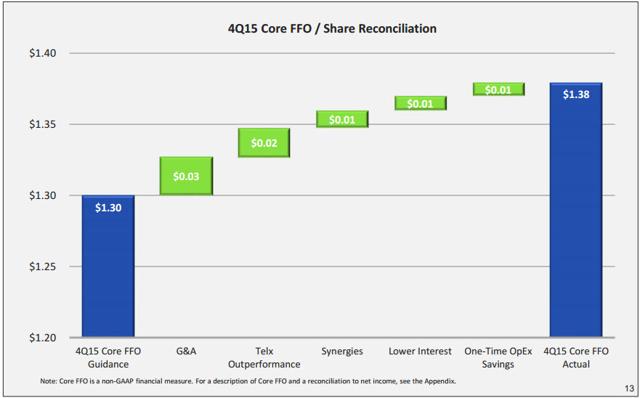 DLR manages currency risk by issuing locally denominated debt to act as a natural hedge. So, only net assets within a given region are exposed to currency risks from an economic perspective. As you can see below, DLR is well hedged, with 89% of net assets denominated in U.S. dollars.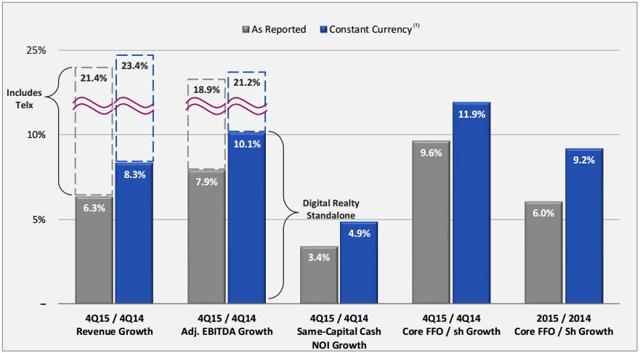 Generally, DLR utilizes excess cash flows to repay non-U.S. dollar debt or redeploy into local investment rather than repatriating back to the U.S. While the global portfolio it enables DLR to satisfy the data center requirements of cloud service providers and other strategic customers around the world, which represents a key competitive advantage.
In January, DLR closed on the refinancing of its global senior unsecured credit facilities. In the process, the company was able to tighten pricing by 10 basis points, extend the maturity date by more than two years, and upsize the term loan facilities by $550 million.
DLR also established access to a new tender within the bank loan market with a $300 million seven-year term loan. Also, just around a week ago, DLR priced €600 million of 2.625% guaranteed notes due 2024. The company plans to use net proceeds from the offering to temporarily repay borrowings under its global revolving credit facility. DLR now stays around $2 billion of capacity with no debt maturities for four years.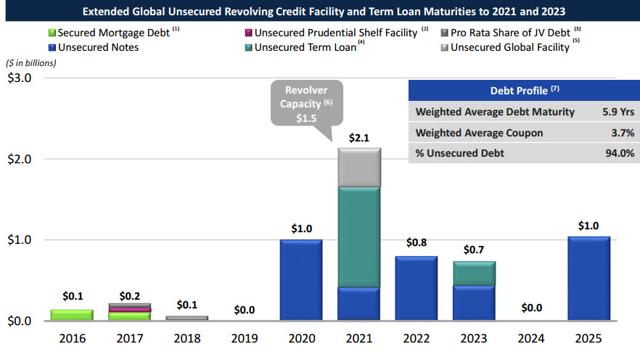 In addition, fully rate debt now represents less than 15% of total debt outstanding. DLR generates approximately $150 million of cash flow after dividends. The company expects to realize up to $200 million in proceeds from asset sales in 2016. IT has ample liquidity to fund capital requirements with debt to EBITDA at 5.2x as of year end.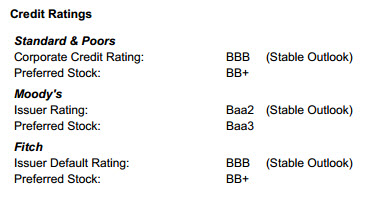 Keep The Dividends Coming
Perhaps one of the most important metrics for value investors as well as dividend growth investors is "dividend growth." Here's what Ben Graham had to say about dividends:
The defensive investor must confine himself to the shares of important companies with a long record of profitable operations and in strong financial condition.
Graham went on to explain:
One of the most persuasive tests of high-quality is an uninterrupted record of dividend payments going back over many years.
Let's take a look at Digital's dividend growth record:

How does DLR compare with the peers?

Here's the dividend scorecard:

It's obvious that Digital is a more mature REIT than the 4 other peers and the company does not enjoy the same double-digit dividend growth. Also, as you can see below, DLR's payout ratio is higher than the peers: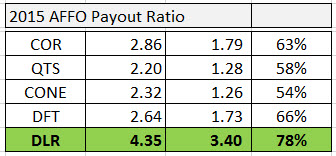 Again, I'm not alarmed, and in fact, I am pleased that Digital has been able to successfully grow earnings without sacrificing quality. By successfully closing and integrating the Telx acquisition, Digital has achieved global dominance while prudently financing the accretive (in year one) deal.
Simultaneously, DLR surpassed Q4-15 guidance and recently raised its dividend (11th consecutive year). I also feel better that DLR has a much broader pool of analysts (19 now) covering the name.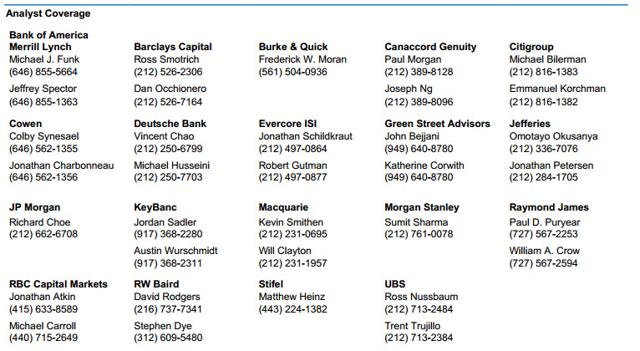 Now What?
Let's face it, Digital Realty and Realty Income (NYSE:O) share more than the name "Realty," they are both deemed "expensive" based on their earnings (or FFO) multiples and dividend yield. Here's how DLR compares with the peer group:

DLR is not the only Data Center REIT that has accelerated in value, here's how DLR and the other peers have traded over the last 12 months:

Here's the 90-day snapshot:

What about dividend yield?

Let me cut to the chase, I don't see a "margin of safety" with Digital Realty today. While I'm perfectly content owning my shares (with a rock solid basis), I am not interested in buying (or recommending you buy) more shares at the current price point. There are a number of nuggets of wisdom one can learn from reading The Intelligent Investor but I would be remiss if I did not tell you that there is no margin of safety with Digital Realty at this time.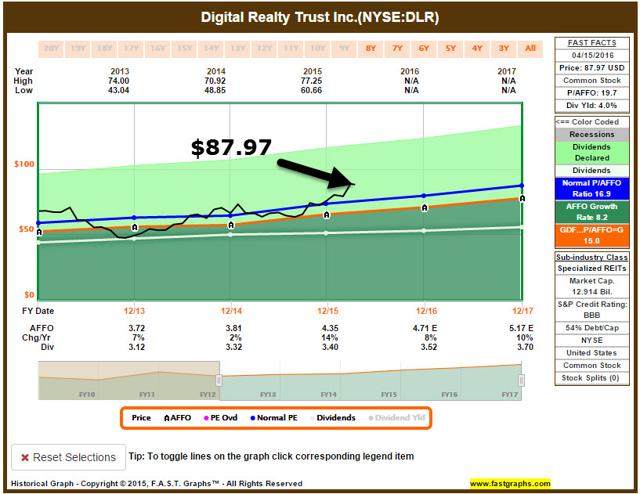 Please, please, please do not run out to short Digital Realty. Recently, I have witnessed a few high-rollers hoping to punch a lottery ticket by shorting Realty Income. There are absolutely no viable catalysts to support the argument that Digital Realty's share price will drop, other than an overall market correction. If you're going to gamble, your odds are much better playing blackjack, and at least you know all of the cards but one.
What about selling or trimming shares in Digital Realty?
I have already begun to trim a few shares in DLR, and I recently recommended a trade for my premium members this weekend. Also, DLR has a handful of preferred shares (I maintain a monthly REIT preferred portfolio in my newsletter, Forbes Real Estate Investor).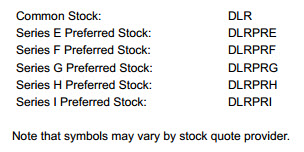 In closing, much of what set Benjamin Graham apart was his conviction that just because "the crowd" was pursuing a risky strategy, this should not suggest that such strategy was less speculative than the facts indicated. In terms of Digital Realty, that means "buying" and "shorting" are higher risk options and an intelligent investor should always remember:
An investment operation is one which, upon thorough analysis, promises safety of principal and satisfactory return. Operations not meeting these requirements are speculative.
Whenever the financial markets fail to fully incorporate fundamental values into stock prices, an investor's margin of safety is high. I can't tell you if Ben Graham would have purchased shares in Digital Realty but I do know this (Graham):
The margin of safety is always dependent on the price paid. For any security, it will be large at one price, small at some higher price, nonexistent at some still higher price.
Author's Note: I'm a Wall Street writer, and that means that I am not always right with my predictions or recommendations. That also applies to my grammar. Please excuse any typos, and I assure you that I will do my best to correct any errors if they are overlooked.
Finally, this article is free, and my sole purpose for writing it is to assist with my research (I am the editor of a newsletter, Forbes Real Estate Investor) while also providing a forum for second-level thinking. If you have not followed me, please take five seconds and click my name above (top of the page).
The only guarantee that I will give you is that I will uncover each and every rock I can in an effort to find satisfactory investments that "upon thorough analysis promises safety of principal and satisfactory return. Operations not meeting these requirements are speculative." (Ben Graham).
Sources: SNL Financial, F.A.S.T. Graphs, and DLR Filings.
Disclaimer: This article is intended to provide information to interested parties. As I have no knowledge of individual investor circumstances, goals, and/or portfolio concentration or diversification, readers are expected to complete their own due diligence before purchasing any stocks mentioned or recommended.
Disclosure: I am/we are long O, DLR, VTR, HTA , STAG, GPT, ROIC, HCN, OHI, LXP, KIM, WPC, DOC, EXR, MYCC, BX, TCO, SKT, UBA, STWD, CONE, BRX, CLDT, HST, APTS, FPI, CORR, NHI, CCP, WSR, CTRE, WPG, KRG, SNR, LADR, HCP, PEB.
Disclosure: I am/we are long O, DLR, VTR, HTA , STAG, GPT, ROIC, HCN, OHI, LXP, KIM, WPC, DOC, EXR, MYCC, BX, TCO, SKT, UBA, STWD, CONE, BRX, CLDT, HST, APTS, FPI, CORR, NHI, CCP, WSR, CTRE, WPG, KRG, SNR, LADR, HCP, PEB.
I wrote this article myself, and it expresses my own opinions. I am not receiving compensation for it (other than from Seeking Alpha). I have no business relationship with any company whose stock is mentioned in this article.