Welcome to the third edition of "Buy on Weakness?", a weekly series of articles that sifts through the underperformers of the week to find potential investment opportunities in the tech world.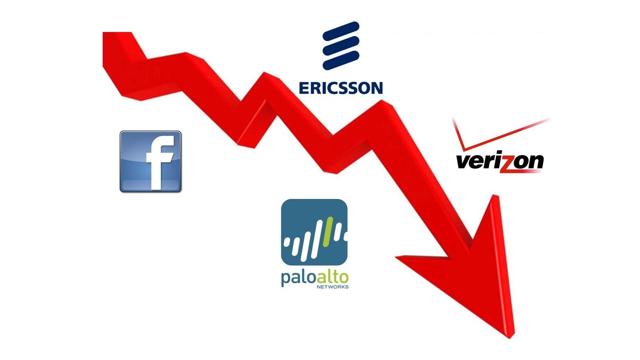 Credit: DM Martins Research montage using company logos
My goal is to help investors, particularly those focused on value plays, think through fresh ideas for the coming week. You may also want to check out the second and the first editions of "Buy on Weakness?" for insights into prior weeks' "tech losers".
The table below highlights the top 20 tech companies - worth $10 billion or more in total equity value - that have performed the poorest in the previous five trading days.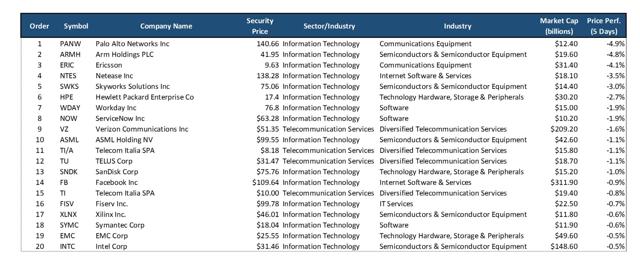 Source: DM Martins Research, using market data compiled through Fidelity
Overall, tech outperformed last week
The week of April 11th was a solid one for the large-cap technology group, up 1.7% overall. More than $116 billion in market value was created, and the big winning sub-sector was internet and software services, propelled largely by the 2.7% rise of Alphabet (NASDAQ:GOOG)(NASDAQ:GOOGL).
Only the communications equipment sub-sector ended the week in the red. The culprits were Ericsson (NASDAQ:ERIC) with a 4.1% dip; and, once again heading the "loser list", Palo Alto Networks (NYSE:PANW) with its 4.9% drop. Other notable underperformers include Verizon (NYSE:VZ), down 1.6% and losing $3.3 billion in market value; and Facebook (NASDAQ:FB), down a more modest 0.9% but losing $2.8 billion in value.
So which of these short-term losers should investors consider adding to their portfolio to take advantage, in the long run, of the price pullback? And which should they avoid, despite the price drops?
As usual, let's start by looking at the valuation of the top 20 names.
Sifting through the data
The top 20 tech losers of the week have a median forward P/E of 19.8x, compared to the S&P 500's median trailing P/E of 14.6x and the overall tech sector's 25.3x. The group is expected to grow EPS in 2017 by 12.6%, and the companies generate an average dividend yield of 1.3% (12 of the 20 companies are dividend-payers).
The table below highlights, in green font, the top three tech companies in each of the following metrics: projected EPS growth, dividend yield and forward P/E.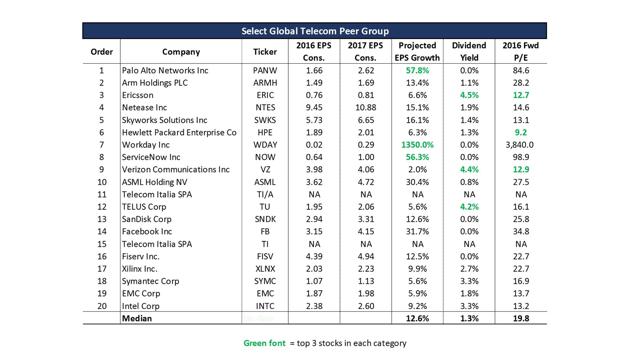 Source: DM Martins Research, using data from Yahoo Finance, Nasdaq and Market Watch
At first glance, one theme appears to emerge: the market seems to have turned away from the higher-growth, higher-risk tech stocks this time around. Three of the top 10 losers this past week are valued at a P/E higher than 50x, while none of the top 10 "winners" are. The same three losers are expected to grow 2017 EPS at 50% or more, while all the top 10 "winners" of the week are expected to grow earnings by 40% or less.
It seems to me that the market, at least this week, has gone a bit more defensive on their tech bets and favored value over growth plays. Of course, one week does not make a trend. So I will keep an eye on what happens in the upcoming weeks and report back on the next edition of "Buy on Weakness?".
Staying clear of potential losers: Palo Alto, Facebook, Verizon
Now let's take a closer look at the top 20 "biggest loser" list.
Cybersecurity company Palo Alto Networks once again headed the pack - #1 two weeks in a row. Last week, I reported on how analysts seemed to have disapproved the company's lower-than-expected op margin expansion guidance shared during the company's analyst meeting. While I thought the margin guidance did not appear to fully justify the pullback, I continue to have few reasons to believe that the stock will bounce back to trading near 100x forward earnings again. I believe that the market's "risk-off" behavior that I described above may be reflecting in shareholders continuing to unload PANW. I still think that investors (definitely those with a value bias) should stay away from this stock, at least until valuations reset at more reasonable levels.
Social media giant FB continued its slow descend, losing another 0.9% in market value on the same week that the company held its F8 developer conference. I continue to be largely bearish on FB not for the company that it can be, but for the company that it is today: heavily dependent on advertising dollars (97% of revenues) and, subsequently, on user growth maintaining its healthy pace. My key concern is that FB is priced for near-perfect execution of its current business model, or for upside from other revenue streams that are currently still in vision mode or in the very early stages of their lifecycles (e.g. virtual reality, artificial intelligence).
Last on my list of non-favorite "losers" is Verizon Communications . Involved in a potential bid to acquire Yahoo's (NASDAQ:YHOO) core business, "Big Red" seems to be looking to diversify away from the increasingly-competitive telecom business. It's a noble effort, but one that would involve VZ leveraging its recent AOL acquisition to go head-to-head with Facebook and Google and become an online media giant. Quite an ambitious plan. But in this big-dog fight, I am not willing to side with VZ. The stock is relatively cheap (12.9x forward P/E) and the 4.4% dividend yield is highly attractive. But in the telecom sector, I am much more interested in AT&T's (NYSE:T) idea of growing by taking their core operations global, or even by Orange's (NYSE:ORAN) solid fundamentals, now that the European carrier has put the troublesome acquisition attempt of Bouygues (OTCPK:BOUYY) behind it.
And betting on one potential winner: Ericsson
And it is in the communications equipment sub-sector that I find my "favorite loser". Ericsson , down 4.1% last week, has been recognized by rival Nokia (NYSE:NOK) as one of only three radio and core networking players to have real scale to compete at a global level. Although ERIC has recently revised its total addressable market growth forecast down to only 2% to 4%, the company's stated focus on cloud services, IP networking, TV and media equipment, and carrier OSS/BSS software might send ERIC down a more prosperous path. A consensus EPS growth of nearly 7% in 2017, not too bad for a well-established equipment provider, seems to corroborate. The company's plan to generate up to 25% of its revenues from non-carrier clients by 2020, up from 10% in 2014, is also great news to me.
ERIC is trading at a forward P/E of only 12.7x, while it pays a generous dividend of 4.5%. The stock has unfortunately run away a bit recently, up 14% since February 11th. But I believe it is not too late to take a closer look at this interesting value play and jump in while the stock is still attractively priced.
Disclosure: I/we have no positions in any stocks mentioned, and no plans to initiate any positions within the next 72 hours.
I wrote this article myself, and it expresses my own opinions. I am not receiving compensation for it (other than from Seeking Alpha). I have no business relationship with any company whose stock is mentioned in this article.
Editor's Note: This article discusses one or more securities that do not trade on a major U.S. exchange. Please be aware of the risks associated with these stocks.