Oil prices soared higher on April 12th, largely in response to news that Russia and Saudi Arabia intend to freeze oil production even if Iran does not change its current stance on the production issue but has since hit a wall. However, one other key contributor to the rise in oil prices during this period, in my opinion, is news from the EIA (Energy Information Administration) that shows, for the most part, a far more favorable view on the oil market than what we saw just one month ago. In what follows, I will dig into the EIA's data and show what this data means and how it should impact long-term investors in the oil space, especially those invested in the United States Oil ETF (NYSEARCA:USO) and in other oil-related ETFs and companies.
Good and bad news for the U.S.
First and foremost, let's start here at home. In its Short-Term Energy Outlook, which is published once per month, the EIA has made some modest revisions to oil production expectations in the U.S. According to the organization, oil production in 2015 averaged 9.43 million barrels per day here (the same number as what they gave last month) but this is now expected to fall to 8.60 million barrels per day during 2016.

This compares favorably to the 8.67 million barrels per day the EIA stated they anticipated last month and represents an annual decline in oil production of 25.62 million barrels (including the extra day for this being a leap year). In 2017, the picture looks even better, with production likely to come in at 8.04 million barrels per day if they are correct, an improvement over last month's forecast of 8.19 million barrels per day (or 54.75 million barrels for the year).
Downward revisions have become a common occurrence for the EIA recently when it comes to oil output and I honestly think there's a good chance that this trend will only continue to improve in the months to come unless the oil rig count begins to climb now that prices are higher than they were earlier this year. Despite this change, however, total inventories for crude plus petroleum products in the U.S. should come out to 1.305 billion barrels per day this year, up from last month's forecast of 1.297 billion barrels. In 2017, they are now expecting 1.268 billion barrels, up just slightly from last month's 1.266 billion barrels.

Better news globally
On the international stage, we should see even more good news compared to what was estimated by the EIA last month. Assuming their forecasts turn out to be accurate, global oil supply this year should come out to 96.27 million barrels per day. This represents a sizable decline from the 96.44 million barrels per day previously anticipated. At the same time, global oil demand should average about 94.86 million barrels per day, just a hair above last month's number of 94.85 million barrels per day. This implies that the excess supply on the market this year should come out to 1.41 million barrels per day, down meaningfully from their previous hope of 1.59 million barrels per day.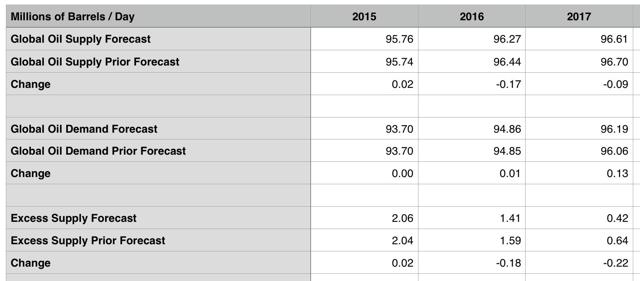 In 2017, the trend is looking even more positive. If the EIA is accurate, oil supply for the year should come out to 96.61 million barrels per day, representing a decline compared to their previous estimate of 96.70 million barrels per day. Meanwhile, demand is expected to firm next year, coming out to 96.19 million barrels per day, an increase over the 96.06 million barrels per day the EIA had anticipated. As a result of this revision, the amount of excess supply next year should be just 0.42 million barrels per day, down from the prior number of 0.64 million barrels per day.
On top of the global picture, OPEC is expected to contribute somewhat to the changes. If the EIA is accurate in its assumptions, crude production from the group this year should be 32.21 million barrels per day compared to a prior estimate of 32.35 million barrels per day. Next year, production should be 32.71 million barrels per day versus last month's call for 32.80 million barrels per day. Thanks to all of these changes, total OECD inventories this year should be about 3.222 billion barrels per day in 2016, down a bit from the 3.239 billion barrels the EIA had anticipated a month ago, while 2017's inventory levels should be 3.253 billion barrels per day, down 49 million barrels from March's estimate of 3.302 billion barrels.

Takeaway
At this moment, many things are looking up for oil. First and foremost, you have the freeze discussion that's going on among OPEC and non-OPEC nations, but you also have some significant changes being made to the global supply/demand imbalance situation. Sure, these numbers still show that a glut exists and will continue to grow if something doesn't change (faster production declines in the U.S., and OPEC cut, and/or stronger demand growth) but, just as we've been seeing lately, I believe a cut by OPEC is fairly probable within the next 12 months and I also think that further downward revisions by the EIA will be made in the months to come, both of which could be extremely bullish for long-term oil investors.
Disclosure: I/we have no positions in any stocks mentioned, and no plans to initiate any positions within the next 72 hours. I wrote this article myself, and it expresses my own opinions. I am not receiving compensation for it (other than from Seeking Alpha). I have no business relationship with any company whose stock is mentioned in this article.