Johnson & Johnson (NYSE:JNJ) is about to announce its dividend hike for this year in the next few days. Another stalwart, Procter & Gamble (NYSE:PG), disappointed its shareholders a few days ago, when it raised its dividend at the lowest pace ever, i.e., 1%. The big question is whether Johnson & Johnson will disappoint its shareholders too or it will maintain its exceptional streak of meaningful dividend raises.
First of all, Johnson & Johnson is one of the very few traditional stalwarts that has achieved meaningful growth of its earnings per share [EPS] in the last few years. To be sure, the company has grown its EPS by 42% in the last 3 years and would have achieved an even higher growth rate if the dollar had not strengthened so much. During the same period, most other traditional stalwarts, such as Coca-Cola (NYSE:KO), Procter & Gamble , Wal-Mart (NYSE:WMT), General Mills (NYSE:GIS) and Philip Morris (NYSE:PM), have failed to grow. This is a striking difference between Johnson & Johnson and the other dividend aristocrats.
It is also worth mentioning that Johnson & Johnson has grown its adjusted operational earnings for 32 consecutive years while it has raised its dividend for 53 consecutive years. While the company has maintained such an exceptional growth record, it has returned 70% of its free cash flow to its shareholders and has maintained an AAA credit rating. In addition, it generates 70% of its total sales from the Nr 1 or Nr 2 market share position. Moreover, it has 24 brands with revenue above the $1 B threshold while 25% of its sales come from products launched in the last 5 years.
While all the above features render this stock exceptional, the best part for its shareholders is that the company does not rest on its laurels. Therefore, although it is really hard for a company with a market cap of $303 B to achieve meaningful growth, the company always manages to find ways to grow. More specifically, the company builds strong relationships with local governments and health systems and implements strategic acquisitions and partnerships with local players. In this way, it takes advantage of the booming middle classes in emerging economies and the aging population in general. At the moment, the company intends to launch 10 new products in the next 3 years, which have the potential to reach $1 B of revenue per year. In the last 6 years, the company has launched 16 new products, which have achieved total cumulative revenue of $41 B, while 6 of these 16 products have exceeded $1 B revenue in the last 12 months.
It is also worth noting that the stock does not bear the typically high risk of a pharmaceutical stock, even though the pharmaceutical segment is the largest segment of the company. More specifically, while the company experienced a 28% plunge in its operating profit from infectious diseases last year due to the launch of Sovaldi of Gilead Sciences (NASDAQ:GILD), its adjusted total operating profit from pharmaceuticals rose 4.2%. This only proves the benefit of the great diversification of the company, which is the result of its broad pharmaceutical portfolio.
All the above factors form a rosy outlook for the upcoming dividend hike. Moreover, the dividend payout ratio currently stands at 53%, which is not excessively high by any measures. Even better, the EPS are expected to grow by approximately 5% per year in the next two years. Therefore, the company has ample room to raise its dividend this year and for many years ahead. In reference to the most likely dividend growth rate for this year, it is worth noting that the company has raised its quarterly dividend by $0.04 or $0.05 in the last 4 years. Therefore, given that the company has maintained its growth pace near its recent levels, it is reasonable to expect a similar raise this year. Consequently, the company will almost certainly raise its quarterly dividend by $0.04 or $0.05 this year, to $0.79 or $0.80, respectively.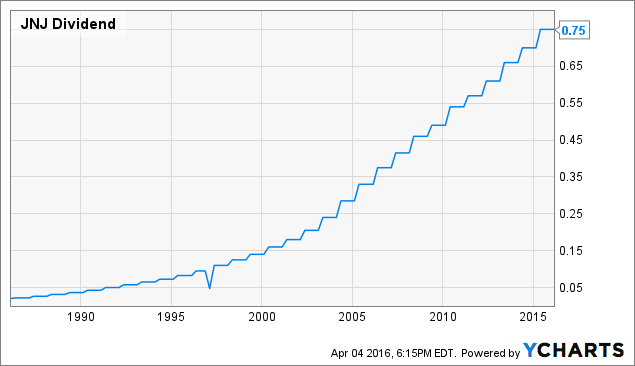 To sum up, while most other stalwarts have faced pronouncedly intense competition and have failed to grow in the last 3 years, Johnson & Johnson has maintained its growth trajectory. Therefore, it is only reasonable to expect that the company will announce a similar dividend hike this week, within the range $0.04-$0.05, just like the raises of the last 4 years. Even better, there seems to be ample room for similar dividend raises for the foreseeable future.
Disclosure: I/we have no positions in any stocks mentioned, and no plans to initiate any positions within the next 72 hours.
I wrote this article myself, and it expresses my own opinions. I am not receiving compensation for it (other than from Seeking Alpha). I have no business relationship with any company whose stock is mentioned in this article.