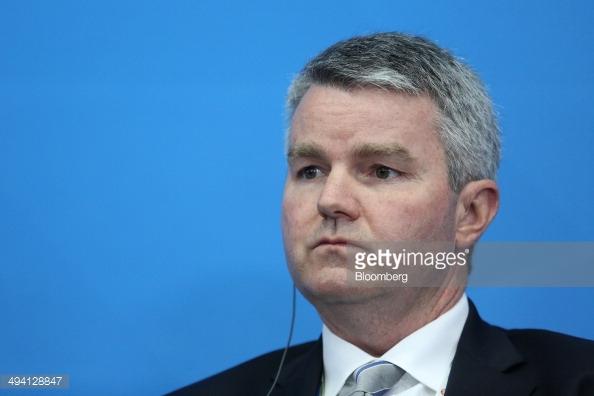 National Oilwell Varco CEO Clay Williams
National Oilwell Varco (NYSE:NOV) has been punished by the decline in oil prices and corresponding E&P. I predicted the decline in cash flow and liquidity would warrant a cut in its dividend. Less than a month later the company slashed its dividend by 89%. Recently CEO Clay Williams gave an indication that he would be willing to make a billion-dollar acquisitions amid the downturn:
National Oilwell Varco is considering making billion dollar acquisitions amid the oil price downturn, CEO Clay Williams said Monday in comments reported by Bloomberg ... Speaking in an interview at the Scotia Howard Weil Energy Conference on Monday in New Orleans, Williams said, "We've had some larger acquisition opportunities we've looked at...We have a lot of liquidity and a lot of access to capital, so I think we have a broad range of things that we can consider."
Talk of a billion-dollar acquisition might energize NOV bulls, but I think it sounds like a bunch of happy talk.
$1 Billion Deal Would Be Silly For The Following Reasons:
An Acquisition In The Offshore Market Is Too Risky
National Oilwell has a nice mix of equipment and services for both land drilling on offshore markets. Overall, the business has suffered.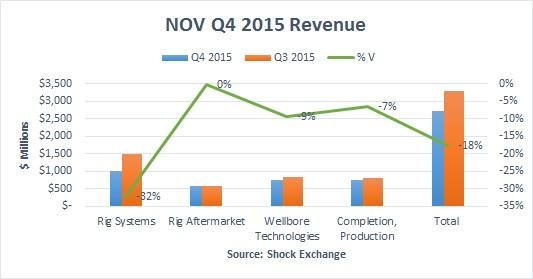 Total revenue last quarter was off 18% while its two largest segments - Rig Systems and Completion & Production fell 32% and 7%, respectively. It's too risky to make an acquisition in the offshore equipment market which Rig Systems has outsized exposure to. With oil prices sub-$50 many offshore drilling projects are simply not economical. There has been a dearth of new orders, and analysts have voiced concerns that equipment spending won't return until 2018.
With long development times offshore equipment spending has been more stable than the land drilling sector. However, National Oilwell is accommodating customers who want to delay delivery of rigs. According to Barclays, offshore equipment spending could fall 20% to 25% in 2016, following the 16% decline last year:
Some international oil companies have cut exploration spending and moved frontier programs further down on agendas, while others have left areas altogether or renegotiated contracts, including newbuild delivery dates, to steady financial footing. Lower day rates along with reduced services and subsea costs, could push offshore spending down by 20% to25% in 2016, Barclays said in its global E&P spending outlook. This follows an estimated 16% spending decline in 2015.
A large acquisition in the offshore market this year would imply that National Oilwell thinks it can pick the bottom. That's risky. Barclays' 2016 estimate assumes Brent oil at $50 a barrel. If oil prices remain in the $30-$40 range for a sustainable period, then offshore E&P could be disastrous for 2016 and beyond.
Why Acquire Land Drilling Market Share When You Can Take It?
The decline in the North American rig count has ravaged the sector for land drilling equipment and services. To stem cash burn drillers have been drilling, yet not completing wells. That has hastened revenue declines for National Oilwell and competitors. Through Wellbore Technologies (sells rental and drilling equipment) and Completion & Production (equipment for hydraulic fracking), the company has exposure to land drillers; these two segments represent 55% of total revenue.
There were 41 oil & gas bankruptcies through mid-December of 2015. Many that remain - particularly shale plays - are struggling to stay afloat. Larger firms like Halliburton (NYSE:HAL) and Schlumberger (NYSE:SLB) are offering price concessions that lesser-capitalized firms might find hard to match. National Oilwell's $2.1 billion in cash - though down from $3.5 billion in 2015 - still gives it a competitive advantage vis-a-vis small to mid-sized oil services firms. It could potentially leverage its balance sheet to take share in the oil patch as well.
Taking share could be cheaper and less risky than going the M&A route. An acquisition would require thorough due diligence of the target company, deal fees, and management's time and efforts. Post-deal, there would still be no guarantee the company would receive an acceptable return on investment or that the corporate culture of the target would fit well with National Oilwell's.
It Could Get The CEO Fired
Amid the downturn I believe preserving capital is of the essence. The rating agencies believe so as well. Moody's recently downgraded National Oilwell's debt to Baa1 from A2. If its cost of capital rises it could hurt earnings even further. While management has talked up its access to more liquidity to fund a deal, more debt could result in further downgrades from Moody's:
The stable rating outlook is based on Moody's expectations for free cash flow generation and debt reduction. If net Debt/EBITDA rises above 3x then NOV's ratings could be downgraded. If NOV were to make large acquisitions without substantial equity funding or conduct further share repurchases then its rating could be downgraded. In order for the ratings to be upgraded, gross Debt/EBITDA would need to be sustained below 2.5x, while maintaining sizable cash balances.
At $27.68 NOV is about 8% above its 52-week low of $25.74; my price target is $18. If National Oilwell raises equity for a deal the additional dilution could drive the stock lower. These are precarious times in the oil patch. A large acquisition could hurt National Oilwell's liquidity. Add in the additional interest expense incurred from a potential debt downgrade and I believe a $1 billion deal would be too high of a risk.
National Oilwell has a reputation for having an excellent management team. However, in my opinion, its share repurchase program has been a major misstep. From 2014 to 2015 the company squandered $3 billion on share repurchases - that's about four years' worth of dividend payouts. In my opinion, the buybacks have been a complete waste of money. Instead of attempting to buoy the stock price management should have focused on what's most important - preserving capital in order to survive the downturn in the oil & gas industry.
While bulls believe the dividend cut was designed to preserve cash for a deal, I believe the move portends bigger problems. The company's earnings, cash flow and liquidity position will likely continue to fall. A large acquisition would almost require perfect execution. It would have to price so that it would not jeopardize the company's debt ratios. The target would have to hit the ground running and be additive to cash flow and earnings. If the deal was funded with new equity investors might not be willing to stomach potential dilution. Besides, an equity raise at sub-$30 after share buybacks at average prices in the $50s would look odd.
After squandering $3 billion on buybacks I would not trust management to put another $1 billion at risk. A large acquisition that's not a home run out of the gates could be the last deal Clay Williams does.
Disclosure: I am/we are short NOV, SLB.
I wrote this article myself, and it expresses my own opinions. I am not receiving compensation for it. I have no business relationship with any company whose stock is mentioned in this article.