The meeting scheduled to take place in Doha on Sunday grabbed most of the attention this past week as both WTI Crude and Brent Crude retreated after their monster rise from early February lows. Going into the meeting, I had little hopes of an encouraging deal considering the lack of interest from both Saudi Arabia and Iran. Iran simply couldn't care less about the freeze given the fact that the country just left production "purgatory" and has all eyes set on becoming a powerhouse in the oil market again.
Fast-forward 48 hours later, we find ourselves observing a childish and petty feud between 16 producers who just can't seem to respect each others interests and goals. They're all aiming for a miraculous recovery in the price of oil, but most realize that the least effected producers are the ones sitting in the driver seat. It's no surprise that the Saudi's have been relentlessly and aggressively pumping oil even after the devastating decline in oil since 2014, and frankly, they have no reason to be worried. The Saudi's boast the lowest cash production cost for a barrel of oil amongst the rest of the major powerhouses. Next in line is ironically…You guessed it, Iran! who also displayed zero interest towards a production freeze. That specific combination certainly wasn't a recipe for success at the Doha summit.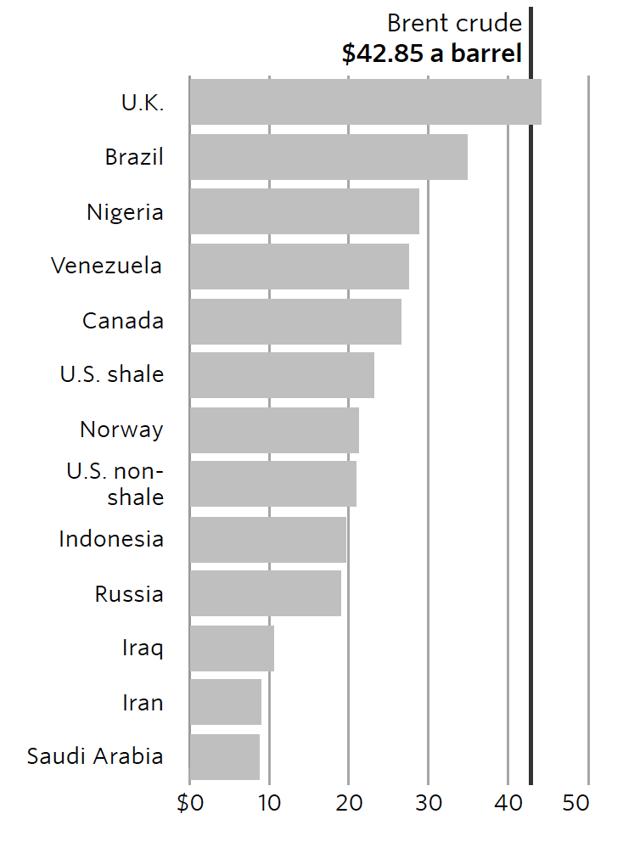 (Source: Wall Street Journal)
Now given the fact that WTI Crude is nearly 38% off its intra-day low of $26.05 (hit on February 11, 2016), one would think that a significant portion of the latter part of the rise was based on hopes of an agreement between the producers. In addition to the low production costs for Saudi Arabia, Iran, and Iraq, all three countries conveniently pay nearly zero taxes on the oil being pumped out, only adding to their competitive advantage on the market. Society is driven by capitalism, and the Middle Eastern countries simply couldn't care less if it drove most US oil drillers out of business given the fact that they'd be salivating at even sub-$20/barrel oil.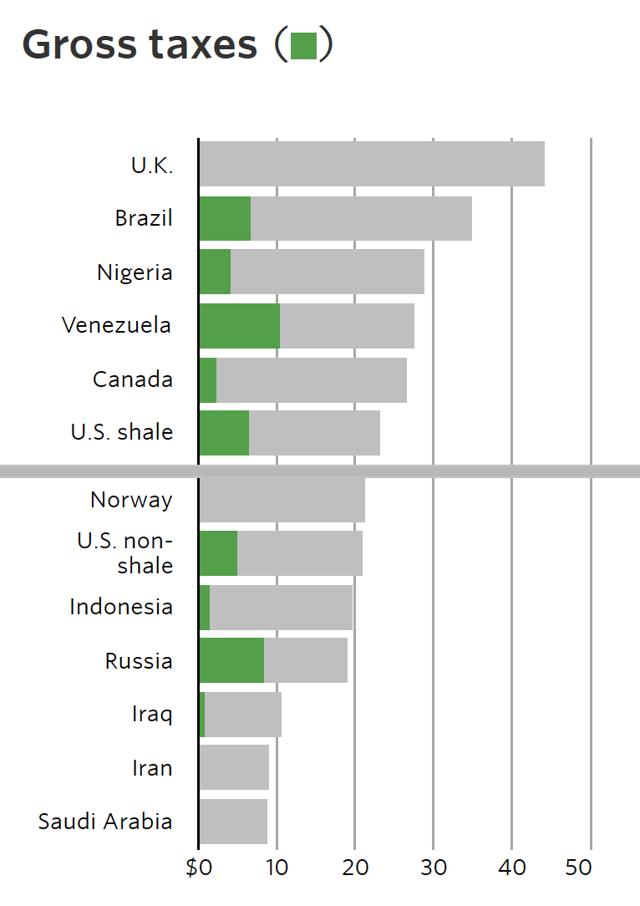 (Source: Wall Street Journal)
Survival of the Fittest in the Energy Sector
With no plans of a freeze in the near future, I'd expect oil to retreat to the mid $30's. If production shows signs of growth, expect further decline and stress on the majority of drillers in the USA. Refiners won't be immune to the decline either, especially if US production ramps.
In a spotty oil market, it's important to identify cash-rich companies with healthy balance sheets that will aid in weathering the storm. If oil fails to find a "floor" like the majority of the street predicted it would in 2016, I'd prefer scaling into the following companies:
Chevron (NYSE:CVX) hasn't been immune to the rapid decline in profits from the obliteration of the price of oil, but the company's diversification of operations has helped weather the storm. Chevron participates in almost everything related to oil, whether it be upstream exploration, midstream transportation, or refining. The company sports a healthy debt/equity ratio of only 22%, compared to an industry average of 40%. Combine the impressive financial health with a juicy yield of 4.40% and a below industry PE of only 23.6 and you have yourself a bargain.
Engaged in similar activities to Chevron, Exxon Mobil (NYSE:XOM) is arguably the healthiest integrated energy company in the industry. With that said, its returns will certainly be capped towards the upside, but, the converse scenario wouldn't hurt too much as well. With a debt/equity ratio of only 10%, low oil hasn't been too much of a factor for the company's stock price. Since the peak in the summer of 2014, Exxon's only down around 20%, which is remarkable considering the aggressive declines seen among the rest of its competitors.
With the recent rally in oil came hopes of relief for several off-shore drillers and/or normal producers like Seadrill (NYSE:SDRL), Chesapeake Energy (NYSE:CHK), and Oasis Petroleum (NYSE:OAS). All three companies are up over 100% off their February lows.
Just this past week, Peabody Energy (NYSE:BTU) filed for Chapter 11 bankruptcy. The debt-ridden company was in desperate need of relief from the massive debt horde and the failed sales of its New Mexico and Colorado assets didn't help either. Over the next few months, I expect the amount of energy companies filing for bankruptcy protection only to increase if many can't find ways to amend their debt covenants.
Now given the fact that all three share the characteristic of being significantly leveraged (over 100% debt/equity), a renewed decline in oil only adds to the story of an imminent bankruptcy. Chesapeake announced this past week that it had reached an amendment agreement with some of its lenders revolving a $4 billion credit facility.
I hate to kill the idea of a massive recovery but the amendment only helps if the price of oil recovers simultaneously. The company's financial health will continue to deteriorate if the decline in oil resumes. I'd expect all three companies' stock prices to fall significantly and make for enticing short opportunities if crude fails to find a floor, which is likely given the tensions among OPEC and the rest of the producers.
Macro Markets Are Still Tied to Oil Movement
Although oil's decline started back in 2014, the tracking action of the major indices to the commodity only started back in late December 2015 to early January 2016 as fears of a global recession grew to new highs. While we've had some days where oil has completely ignored the macro picture, it's clear that the major indices are still tracking its movement.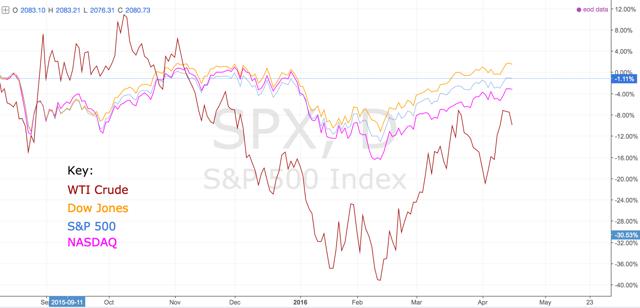 The massive sell-off to start the year was certainly induced by massive amounts of fear (which sell-offs aren't?), and it's hard to digest that we're sitting close to 15% off the intra-day low set on February 11. Who knew bear market rallies could be this vigorous?
Unfortunately, I have little to no faith in this rally, considering the fact that companies aren't doing their fair share of contributing growth to the market. Most banks exhibited drastic slowdowns in their general business operations yoy and had alleviated some of the shock by warning of the potential slowdowns at the start of the year. Bank of America (NYSE:BAC) appears to be the bank most at risk of further decline, given its massive exposure to the energy industry. This just goes back to how a further decline in oil may mean additional trouble for the banks and the macro economy, forcing banks to increase their cost-cutting endeavors.
As earnings season pushes into full-swing this week, it's important to keep in mind that the estimated earnings decline for the S&P 500 (NYSEARCA:SPY) is around 8.5%, according to FactSet. However, even with the first quarter potentially being the fourth consecutive quarter of negative earnings growth, the S&P 500 boasts a trailing PE of 24 versus 21 just a year ago. Moreover, the index currently sports a forward PE of 18.5, despite the fact that a potentially dismal earnings season is a unanimously-projected occurrence. To put the rally euphoria into perspective, on December 31, 2015 the expected earnings growth rate was 0.8%, according to FactSet. Given that all ten sectors providing downward revisions for Q1, we're now expecting a significant decline in revenue and earnings, a drastic change from the sentiment exhibited by most analysts just months ago. Yet, we're inching closer to previous all time highs set last year despite the massive bearish sentiment. If you still don't believe markets are irrational, think again.
Given the fact that all major indices have erased their losses YTD, many investors find themselves questioning this rally. The "buy the dip" strategy prevailed once again, but we got fairly close to it not working this time around. Following the pattern being set by the Dow Jones Industrial Average (NYSEARCA:DIA), S&P 500, and Nasdaq (QQQ), I'm expecting lower lows, and a revisit to the low of 1810 on the S&P. The CBOE Volatility Index or "VIX" (NYSEARCA:VXX) is now at levels last seen in August 2015. The VIX has demonstrated that it doesn't like to hang around low levels 13-15, and I expect a move back to the 20's.
Bear markets too can have rallies at points, which goes back to the point of timing the market being impossible. Selling rallies and buying dips has worked numerous times in the past, and we are approaching significant technical resistance along with macroeconomic uncertainty with oil and emerging markets. If you took a leap of faith and bought equities hand over fist during the decline earlier in the year, props. However, I'd suggest trimming off positions depending on your time frame and taking into account that many underlying factors of the market aren't cooperating with this rally.
Disclosure: I am/we are short SPY.
I wrote this article myself, and it expresses my own opinions. I am not receiving compensation for it (other than from Seeking Alpha). I have no business relationship with any company whose stock is mentioned in this article.
Additional disclosure: I am/we are long volatility.
Editor's Note: This article covers one or more stocks trading at less than $1 per share and/or with less than a $100 million market cap. Please be aware of the risks associated with these stocks.