Introduction
OPEC's much vaunted summit in Doha failed to achieve a much-needed oil production freeze. This is a tremendous setback for hopes that the oil cartel's proposed freeze could begin to diminish the problems of the current oil supply glut.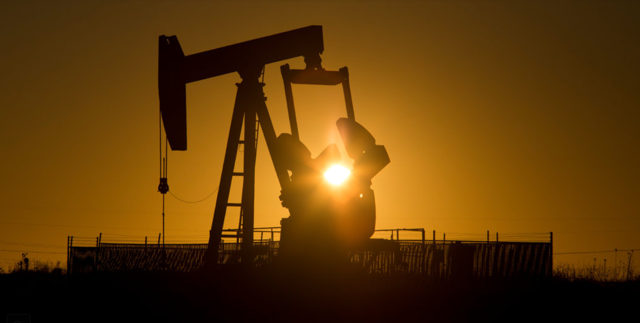 Source: The NY Times
Back in January, oil hit 12-year lows and both WTI and Brent Crude were trading below $30/bbl. In February, news that Russia, Saudi Arabia, Venezuela, and Qatar had tentatively agreed to freeze oil production at January levels led to a relief rally, which helped propel oil back above $40/bbl this month. But the failure in Doha to achieve an oil production freeze at January levels means that oil prices are heading back below $30/bbl.
Failure at Doha
The talks in Doha failed because of a disagreement over coordinating a uniform oil production freeze among OPEC members. Saudi Arabia wanted all OPEC member states to agree to a production freeze. Iran, which is a member of OPEC but did not attend the meeting, maintains a standing policy against any production freeze.
From the Iranian perspective, an oil production freeze makes little sense. Iran only produces 3.2 million barrels of oil per day compared to Saudi Arabia which produces over 10 million barrels per day. With sanctions being lifted on Iran, it wants to increase oil production to over 4 million barrels per day by next year. Iran needs to increase production in order to bring in much-needed revenue to help its battered economy.
Ultimately, OPEC's Doha meeting failed because Saudi Arabia and its Gulf allies did not want to freeze production without a commitment from Iran to do the same. The next possibility for an oil production freeze will not occur until OPEC's next meeting in June. In the meantime, the oil supply glut will continue to get worse.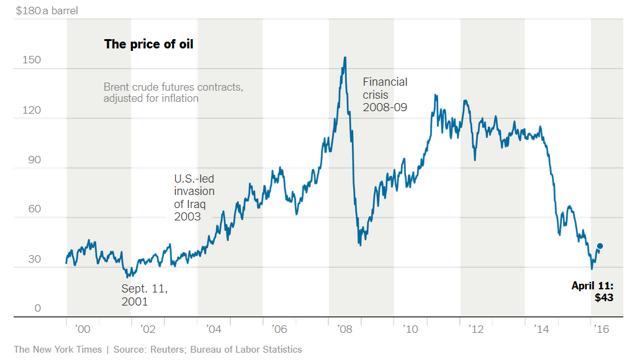 Preparing for $30 Oil
An oil production freeze is seen as critical to bring the massive imbalance between oil supply and demand back in order. But since this is not going to happen anytime soon, commodity investors need to prepare for oil prices heading back below $30/bbl.
The primary reason why oil is headed back below $30/bbl is because of a massive oversupply glut. As I argued earlier this month, the oversupply glut is driven by several factors. Above all, oil production has outstripped demand by an average of 1.5 million barrels per day since the end of 2014. The excess production has led to oil storage problems, with record amounts of oil being held in various storage facilities across the country and globe. Excess production is so high that millions of barrels of oil are being held in massive offshore tankers. On top of all of these problems, all five supermajor integrated oil and gas companies have not taken any steps to significantly cut production.
As investors, now is the time to take action to respond to the upcoming decline in oil prices. Oil ETFs like the United States Oil ETF (NYSEARCA:USO) should be shorted or avoided. Broader energy sector ETFs like Energy Select Sector SPDR ET (NYSEARCA:XLE) should also be shorted or avoided.
Investors should tread very carefully with any companies in the oil sector, including the five supermajor integrated oil & gas companies. Exxon Mobil (NYSE:XOM), Shell (NYSE:RDS.A), Chevron (NYSE:CVX), BP (NYSE:BP), and Total (NYSE:TOT) have all seen significant share price appreciation since hitting lows back in January. Looking at the percent change since then indicates a few interesting trends.
| | | | |
| --- | --- | --- | --- |
| Company | 1/20/16 | 4/15/16 | Change |
| RDS.A | $36.87 | $51.72 | 40.3% |
| CVX | $78.98 | $97.23 | 23.1% |
| TOT | $40.21 | $47.92 | 19.2% |
| XOM | $73.18 | $84.97 | 16.1% |
| BP | $28.46 | $30.65 | 7.7% |
Shell has seen the strongest upward momentum and bulls remain convinced that it will head higher given potentially stronger downstream earnings. At its current share price, it provides a generous 7% dividend that appears very attractive to yield-focused investors.
All of the other supermajors have seen solid share price appreciation. However, BP continues to lag behind. As I have previously argued, BP is in a weaker position because of the false operating assumption that oil will trade at $60/bbl this year and its management team's trenchant refusal to cut its dividend in spite of balance sheet pressure.
But in spite of the relief rally for these companies and the broader energy sector, investors should expect to see declines as oil prices head lower.
Conclusion
The abysmal failure of OPEC at Doha will send oil prices lower. With no significant cuts planned by any major producers, this means the oil oversupply issue will continue to get worse. Consequently, investors should carefully prepare their portfolios for the upcoming decline in the price of oil.
Disclosure: I am/we are long XOM. I wrote this article myself, and it expresses my own opinions. I am not receiving compensation for it (other than from Seeking Alpha). I have no business relationship with any company whose stock is mentioned in this article.