On April 13 CSX (NASDAQ:CSX) reported their FY16 Q1 results. As other contributors have summarized here, here and here; the quarter was mostly positive. As a current shareholder in the company there were several aspects in the report and conference call that stood out and deserve more attention from other shareholders. The company remains appealing with a historically high dividend and a strong balance sheet but I do believe I'll wait to add any shares.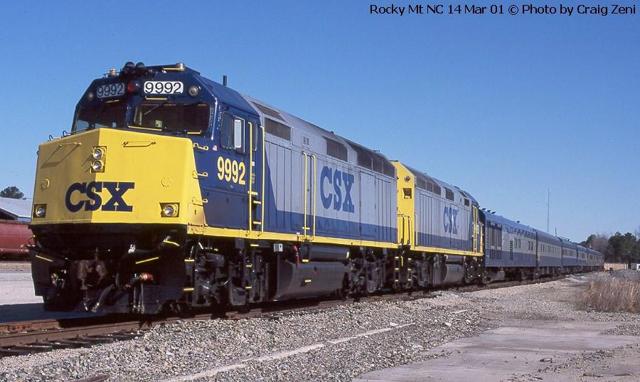 Volume was down 5% overall QoQ with agricultural, metal and coal down 9%, 18% and 31% respectively as the loss leaders. Common explanations are given to provide background on the drops; high inventory, strong US Dollar, and low commodity prices among other reasons. One issue that seems to be effecting the railroads is the cost of fuel making over-the-road trucking more competitive with rail intermodal. James Sands recently published a very helpful breakdown on the industry and container traffic which provides more color to the current market. Bottom line is the railroad saw a drop in volume and a drop in pricing power overall.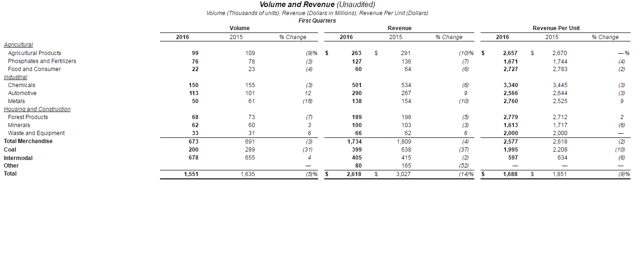 Screenshot taken from the 10-Q.
Deteriorating revenue per unit has been an ongoing issue for CSX for several years now but seems to have accelerated this quarter. There is little that can be done on that front, if they raise prices they risk pricing themselves out of the market. A volume increase would allow prices to rise and margins to expand but they can't force more goods to be moved. As investors we are left just watching but it is still worth keeping a close eye on. To offset dropping revenues the company has been active in controlling expenses and increasing efficiencies.
They managed to bring expenses down by an impressive $270 million YoY to fall at $1.9 billion. There are some things that management really can't control on the expenses such as fuel (mostly) and the weather impacts, luckily for us a mild winter aided in reigning in expenses. What is encouraging here is their gains in efficiencies resulted in $133 million being saved, almost half of the total overall. Efficiency is one area of any company that can always be improved through continuous process improvements and the company has done great.
Their train length initiative has resulted in a 16% overall growth in length up to about 6,400 feet, there is little room for improvement now however due to siding length caps on certain tracks. Increasing their density on the tracks has likely had secondary and tertiary follow-on effects such as on-time originations and arrivals increasing as well as a rise in average train speed. The cost savings of about $65 million from the trains getting longer comes mostly from personnel and training costs, maintenance and upkeep and support function requirements.
The train length initiative as well as capitalizing on other efficiencies has allowed the company to store 400 locomotives and about 13,000 cars. Saving costs on labor and maintenance is a necessity with the drop in volume. Management has done a fine job reducing the number of locomotives and cars to offset this drop but it also allows the company to easily adjust should demand rise again. The company also accepted new locomotives, 26 of 100 ordered were received this quarter. The newer locomotives aid in increasing efficiencies and savings on fuel and maintenance as well.
During this quarter we saw a drop in revenues due to a drop in volumes but a drop in expenses thanks to an increase in efficiencies to help offset the former. There is little that can be done about the loss in revenues, as a shareholder that is frustrating. What is encouraging is managements swift response to the market challenges. On the other hand there isn't much more than can be done to increase the length of trains and lower fuel prices are a double edged sword thanks to the competition from trucking. Most concerning is the scenario where volumes do not increase this year and management is not able to reduce expenses as much. After all, cutting expenses by eliminating waste and increasing efficiencies does have a limit before it leads to damaging the business over the long-term. This is what I will keep a close eye on as a current shareholder. I'd like to see their pricing power come back up and of course a rise in volume before adding anymore. During the conference call CFO Frank Lonegro confirmed their EPS guidance for the complete year making it easy for me to declare this a "hold" for my portfolio.
The company remains a safe investment over the long term. With a down year regarding EPS and the continued challenges facing railroads as a whole there could be more downside in the share price and I don't see a whole lot of room for upside right now. That said, the dividend at 2.8% is respectable and beats the 1.75% 10 year treasury yield handily. We should also see an increase announced very shortly. There is also the expansion of the Panama Canal expected to be complete in June of this year and the intermodal yard construction in Pittsburgh that is ongoing to keep investors encouraged. As always your time reading is appreciated and I look forward to the conversation in the comments.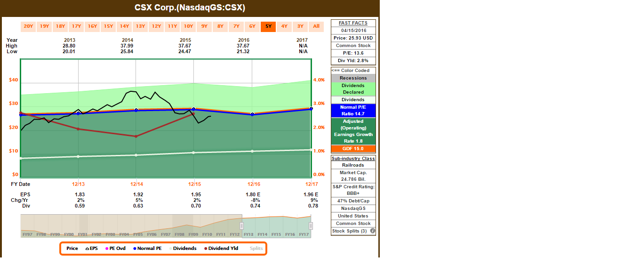 Disclosure: I am/we are long CSX.
I wrote this article myself, and it expresses my own opinions. I am not receiving compensation for it (other than from Seeking Alpha). I have no business relationship with any company whose stock is mentioned in this article.