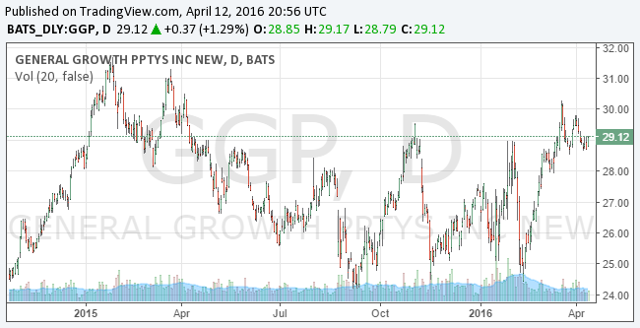 By The Valuentum Team
General Growth's Investment Considerations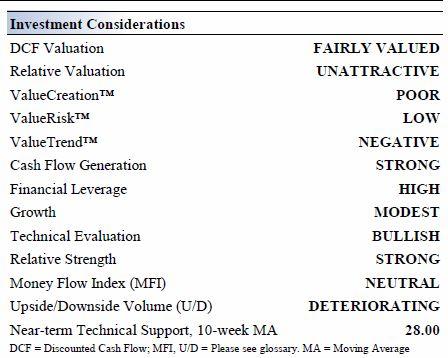 Investment Highlights
• General Growth (NYSE:GGP) strives to be an owner/operator of best-in-class malls. The majority of its properties are in the US. The REIT has a checkered past with a bankruptcy filing late in the last decade. However, we think the company garners an attractive Economic Castle rating on look-forward basis.
• The entity is the second largest property REIT with ~$40 billion total enterprise value as of the date of this writing. The senior executive team has been together since 2011 and each member averages about 25 years in real estate. We think General Growth is in good hands.
• 2015 was a solid year for General Growth Properties despite its same-store leased percentage being down slightly at the end of the year compared to the end of 2014. The firm increased same store NOI by 4.8% on a year-over-year basis, while EBITDA advanced 5.4%. Funds from operations (FFO) per diluted share grew 8.7% from the year-ago period to $1.44, and it expects this metric to grow by ~7% in 2016.
• Management estimates that Class A and Class B+ malls comprise 88% of its same store NOI. The firm's portfolio makes up nearly 20% of the high-quality malls in the US. Such quality should help the REIT meet long-term goals: grow annual EBITDA at 4%-5% pace, recycle capital into high-quality retail assets, develop at a 9%-11% expected ROI and drive occupancy rates higher.
• Unemployment, increased federal income and payroll taxes, increased state and local taxes, weak income growth, tight credit and the need to pay down existing obligations can negatively impact consumer spending. In fact, such a combination drove General Growth to bankruptcy in 2009. This speaks of the risk to its operations.
• Though e-commerce proliferation may be a long-term threat to traditional malls, firms such as Zara, H&M, UNIQLO, Cabela's (NYSE:CAB) and Dick's Sporting Goods (NYSE:DKS) continue to add units. New store concepts such as Apple and Pink also represent upside.
Business Quality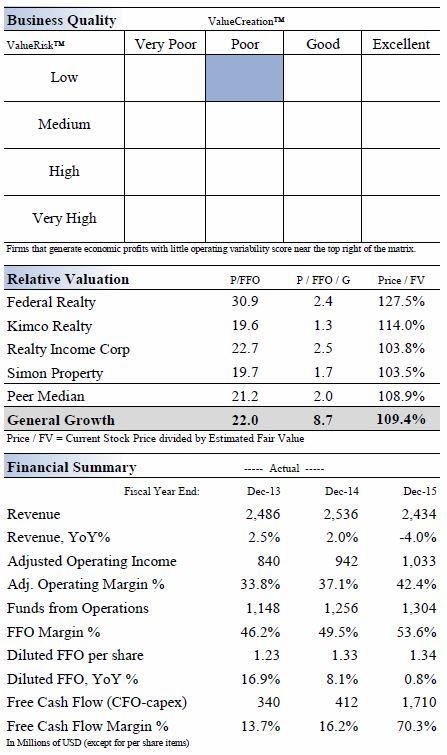 Funds From Operations Analysis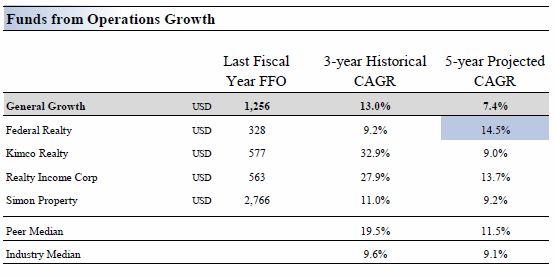 General Growth's FFO expansion has trailed that of its peer group but has been greater than that of its industry group during the past three years. We expect the firm's pace of FFO growth to fall below that of both its peer group and industry group during the next five years. Federal Realty (NYSE:FRT) sports the highest expected FFO growth rate among peers.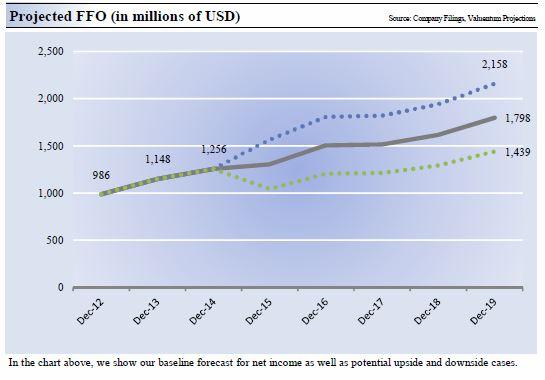 Valuation Analysis
This is the most important portion of our analysis. Below we outline our valuation assumptions and derive a fair value estimate for shares.
Our discounted cash flow model indicates that General Growth's shares are worth between $22-$32 each. Shares are currently trading at ~$29 per share, in the upper half of our fair value range. This indicates that we feel there is more downside risk than upside potential associated with shares at this time.
The margin of safety around our fair value estimate is derived from the historical volatility of key valuation drivers. The estimated fair value of $27 per share represents a price-to-earnings (P/E) ratio of about 20.3 times last year's earnings and an implied EV/EBITDA multiple of about 25 times last year's EBITDA.
Our model reflects a compound annual revenue growth rate of 2.6% during the next five years, a pace that is higher than the firm's 3-year historical compound annual growth rate of 1.9%. Our model reflects a 5-year projected average operating margin of 45.7%, which is above General Growth's trailing 3-year average.
Beyond year 5, we assume free cash flow will grow at an annual rate of 2.8% for the next 15 years and 3% in perpetuity. For General Growth, we use a 7.4% weighted average cost of capital to discount future free cash flows.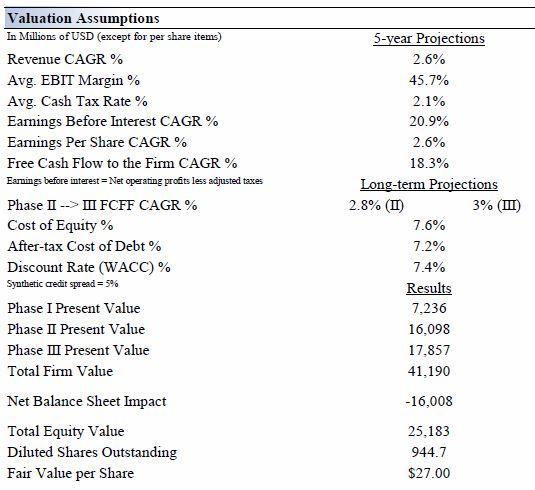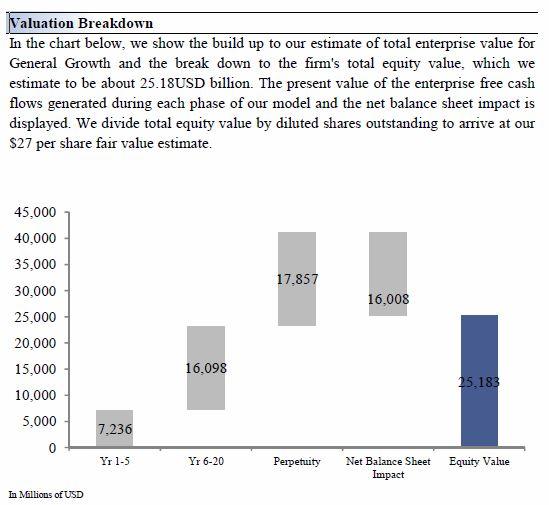 Margin of Safety Analysis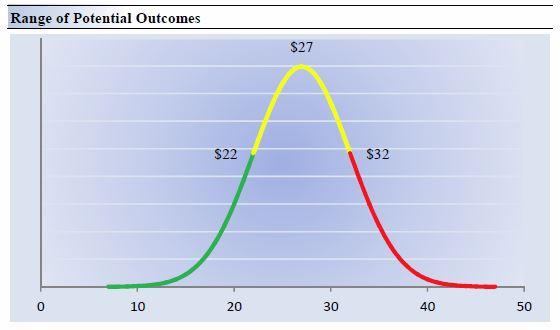 Our discounted cash flow process values each firm on the basis of the present value of all future free cash flows. Although we estimate the firm's fair value at about $27 per share, every company has a range of probable fair values that's created by the uncertainty of key valuation drivers (like future revenue or earnings, for example). After all, if the future was known with certainty, we wouldn't see much volatility in the markets as stocks would trade precisely at their known fair values.
In the graph above, we show this probable range of fair values for General Growth. We think the firm is attractive below $22 per share (the green line), but quite expensive above $32 per share (the red line). The prices that fall along the yellow line, which includes our fair value estimate, represent a reasonable valuation for the firm, in our opinion.
Future Path of Fair Value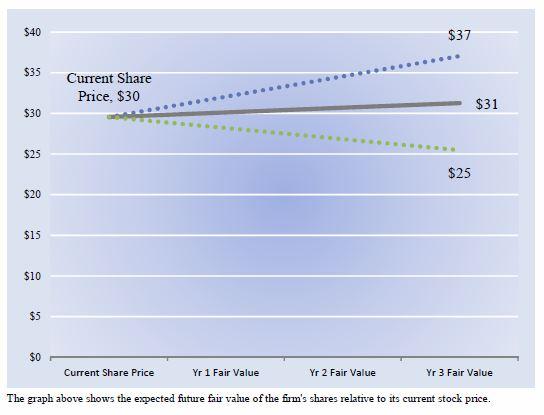 We estimate General Growth's fair value at this point in time to be about $27 per share. As time passes, however, companies generate cash flow and pay out cash to shareholders in the form of dividends. The chart above compares the firm's current share price with the path of General Growth's expected equity value per share over the next three years, assuming our long-term projections prove accurate.
The range between the resulting downside fair value and upside fair value in Year 3 represents our best estimate of the value of the firm's shares three years hence. This range of potential outcomes is also subject to change over time, should our views on the firm's future cash flow potential change.
The expected fair value of $31 per share in Year 3 represents our existing fair value per share of $27 increased at an annual rate of the firm's cost of equity less its dividend yield. The upside and downside ranges are derived in the same way, but from the upper and lower bounds of our fair value estimate range.
Wrapping Things Up
General Growth has an attractive, high-quality portfolio and is the second largest property REIT with ~$40 billion total enterprise value as of the date of this writing. The company does face risks that eventually led to its bankruptcy in 2009. Unemployment, increased federal income and payroll taxes, increased state and local taxes, weak income growth, tight credit, and the need to pay down existing obligations can negatively impact consumer spending at the mall. These risks were on full display amid the Great Recession in 2009 when they forced the firm to file for bankruptcy.
Though e-commerce may be a long-term threat, firms continue to add units to traditional malls. Though there's a lot to like about General Growth, valuation matters, and in this light, we're not interested in the REIT at current price levels, unfortunately. Its unadjusted Dividend Cushion ratio is not attractive either, revealing the REIT's pendency on the external capital markets for dividend payments, which we feel properly exposes the underlying risks of REITs relative to general corporates. The entity's relative valuation is unattractive as well. General Growth currently registers a 6 on the Valuentum Buying Index - it's not the worst rating, but we'd wait for a higher measure before growing interested in shares.
This article or report and any links within are for information purposes only and should not be considered a solicitation to buy or sell any security. Valuentum is not responsible for any errors or omissions or for results obtained from the use of this article and accepts no liability for how readers may choose to utilize the content. Assumptions, opinions, and estimates are based on our judgment as of the date of the article and are subject to change without notice.
Disclosure: I/we have no positions in any stocks mentioned, and no plans to initiate any positions within the next 72 hours.
I wrote this article myself, and it expresses my own opinions. I am not receiving compensation for it (other than from Seeking Alpha). I have no business relationship with any company whose stock is mentioned in this article.