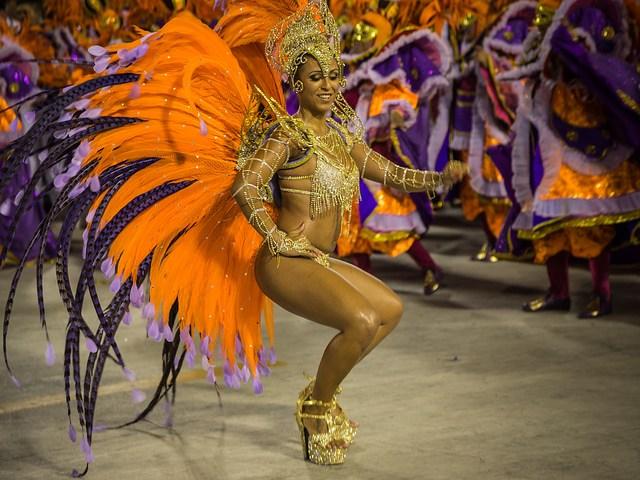 Samba, especially if nothing else works. Good luck to Brazil, the country needs it.
Resource Sector Digest
(Vol. 32 - April 18, 2016) Brought to you reliably as every week by Itinerant and The Investment Doctor.
Regular readers know the drill, for all others here is what awaits below. We shall:
Set the scene,
highlight actionable ideas,
comment on news releases, and
link to relevant articles.
And right now is a good moment to pause and consider our cordial invitation to join Itinerant Musings for exclusive access to actionable research on mining and energy stocks. You might get it at half price if you read this to the end.
In case you missed out on previous editions of this newsletter, simply click here, here, or here to catch up.
Setting The Scene
Your humble scribe is finding himself sitting in an airport lounge writing these lines, on his way to a mine visit in Brazil. And as we are putting this ink on paper the country's president Dilma Rousseff is still in power - whether or not that will be the case when we touch down in just a few hours is anyone's guess. Arguably both left-leaning leaders Ms. Rousseff and her predecessor Mr. Lula da Silva, have done the country more good than bad during their combined tenure, but by all looks this era is coming to its end. With lots of uncertainty involved. For those interested in the general economic picture, and a blow-by-blow report on the evolving train wreck, we recommend fellow author Ian Bezek's Daily Briefings, perhaps starting with this one.
Brazilian stocks (NYSEARCA:EWZ) have rallied off their January lows, and even the relentless weakening of the country's currency has paused - presumably on expectations of Ms. Rousseff's dismissal. How the specter of such an event can make anyone genuinely optimistic is beyond our comprehension. In any case, we are not attributing much more potential to this run. Either the news will be sold when it happens; or longs will bail if it doesn't. How can this not end a long way to the South from here?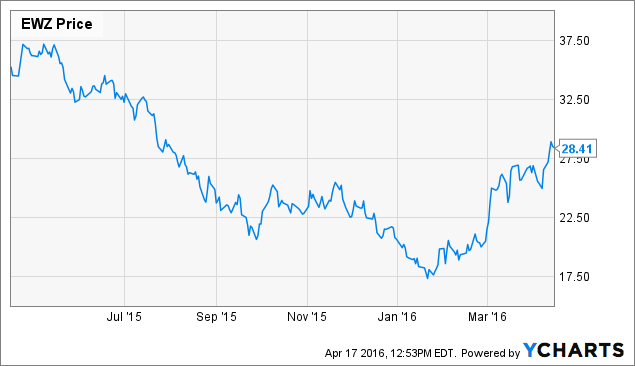 EWZ data by YCharts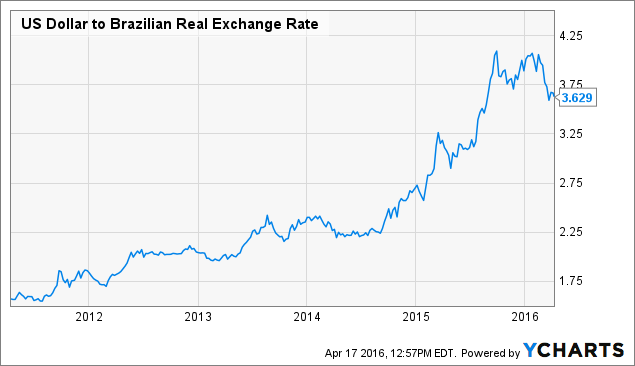 US Dollar to Brazilian Real Exchange Rate data by YCharts
Brazil is an important provider of natural resources, including a large range of metals and oil. Political stability would be desirable for resource sector investors but this is a luxury that has alluded the country of late and will probably not return any time soon, irrespective of Ms. Rousseff's fate. Muddling the picture for resource investors further, we note that the country's major oil company Petrobras (NYSE:PBR) is deeply entangled in the current political crisis, and is struggling to manage its debt load at the same time. And Brazil's largest miner Vale (NYSE:VALE) has been able to keep itself out of corruption scandals so far, and faces trouble of a different kind but also of its own making. Vale, in conjunction with BHP Billiton (NYSE:BHP) and Rio Tinto (NYSE:RIO), has driven down iron ore prices to levels even painful to these three lowest cost producers; and at the same time Vale is facing serious questions (and claims) after a tailings dam failure at the Brazilian Samarco mine which it operates in JV with BHP.
The rapid weakening of the Brazilian real should be a significant advantage for miners in the country since metals are typically priced in US-dollars, whereas local costs are incurred in reals; but inflation rates around the 10% mark are eroding much of these gains. How all this is playing out in balance is difficult to gauge from a distance, and your humble scribe will be spending the coming days putting pieces of the puzzle together.
Actionable Ideas
The Investment Doctor finds Canacol Energy (OTCQX:CNNEF) worthy of an exceedingly bullish article. He is right more often not, so check out his article when you get a chance.
And we found this unlikely bull case for Cheniere Energy (NYSEMKT:LNG) by Aleksander Hansen, worth considering among the host of bear cases on this stock available on Seeking Alpha.
News Releases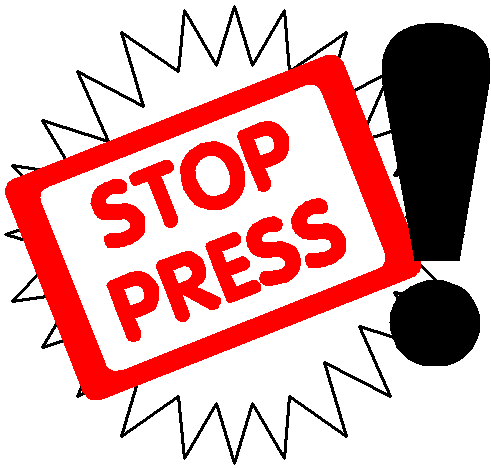 It's getting close to boarding, so we will keep this section short. Feel free to add whatever important news item we omit in the comment section, best contribution receives a 50% discount on a 1-year subscription to Itinerant Musings as alluded to in the title.
Sunridge Gold (OTCPK:SGCNF) is inching closer to divesting its Asmara copper-gold project to Sichuan Road & Bridge Mining Investment Development Corp. Chinese regulatory approvals are close to complete, and a legal dispute with Delizia Limited is working its way through the Canadian court system.
Reservoir Minerals (OTCPK:RVRLF) has released yet another spectacular set of drill results from its Cukaru Peki Deposit in eastern Serbia which it is developing in JV with Freeport-McMoRan (NYSE:FCX). More importantly, investors are awaiting the company's decision with regards to Lundin Mining's (OTCPK:LUNMF) offer to buy a lion share of Freeport's slice of this pie to which Reservoir has a first right of offer that will expire in early May.
Blockage of Torex Gold's (OTCPK:TORXF) El Limon-Guajes Mine in Mexico has been resolved for now, putting the spotlight back on the company's progress that has brought this mine into commercial production ahead of schedule, and under budget. Community relations appear calm on surface for now, but it will take more for the company to improve its neighborly relations in a sustainable manner.
Pilot Gold (PLGTF) is finding oxide gold at its Goldstrike project in Utah. This project developer has been flying under the radar lately, and its share price has lagged peers year-to-date. The same team has been very successful, however, creating value for True Gold (OTCQX:RVREF) investors by selling the company to Endeavour Mining (OTCQX:EDVMF). A move that was also celebrated by Sandstorm Gold (NYSEMKT:SAND) which had another asset upgraded from junior miner to mid-tier miner as the operator. And sticking with the same bunch of operators we point to exploration results from Pure Gold Mining (OTCPK:LRTNF) from the Madsen project near Goldcorp's (NYSE:GG) Red Lake mine. The latest set of results appears to confirm the company's re-interpretation of this deposit, which will deserve some attention going forward.
And speaking of Endeavour Mining, the company has announced its decision to go ahead with construction of its Hounde mine in Burkina Faso, which it plans to finance from available liquidity and cash flow. Impressive as always, we think, and we are looking forward to what else this African powerhouse will get up to in 2016.
Golden Arrow Resources (OTC:GARWF) has released an updated resource statement for its Chinchillas silver project in the Jujuy province of Argentina. Silver Standard (NASDAQ:SSRI) is paying for the ongoing exploration and development program, with a goal of merging the nearby Pirquitas mine with the Chinchillas project. If it goes ahead Golden Arrow Resources will own 25% of the merged entity. Itinerant Musings subscribers will be treated to a more in-depth update in due time.
Klondex Mines (NYSEMKT:KLDX) has provided an update from its newly acquired Rice Lake project. Project development activities are advancing on schedule and on budget with expectations of reaching a production decision in the second half of the year.
Lucara Diamonds (OTCPK:LUCRF) is keeping close to our Top Idea script, most recently by announcing results of its first exceptional stone tender of the year, netting the company $51.3 million. The share price has performed very strongly since we wrote out our bull case, and there is no reason to sell just yet in our opinion.
Roxgold (OTC:ROGFF) says its Yaramoko mine in Burkina Faso is 84% complete. The company is on track to pour first gold before the end of H1 - on time, and apparently still on budget. This will be the second gold mine to start production in Burkina Faso within just a few weeks after True Gold's Karma mine announced first gold not long ago. Anyone betting on these two gold miners during the political crisis of last year has seen considerable returns on both.
And that's it for today, our plane has been called and we are signing off. Don't forget to leave a comment with your favorite news release that we have ignored. Next week the good Doctor will take care of all you faithful readers. See youse all again in due time.
Disclosure: I am/we are long SAND, LUCRF, GARWF.
I wrote this article myself, and it expresses my own opinions. I am not receiving compensation for it (other than from Seeking Alpha). I have no business relationship with any company whose stock is mentioned in this article.
Editor's Note: This article covers one or more stocks trading at less than $1 per share and/or with less than a $100 million market cap. Please be aware of the risks associated with these stocks.