The management team at Linn Energy (NASDAQ:LINE)/LinnCo (NASDAQ:LNCO) announced on April 15th that the company had reached some agreements with its lenders, a move that some investors hope will help to shore up the company's finances. In this article, I figured it would be a wise idea to dig into the events and talk about what this seems to imply for Linn and its shareholders in the weeks and months to come.
Another debt agreement
Previously, I wrote an article here on Seeking Alpha about the fact that management had reached an agreement with its Second Lien holders and that, according to that agreement, the business would once again be paying interest expense on those debts and that it would work more closely with those lenders throughout the restructuring process. I did, however, specify that while any such accord is a positive one, it was disappointing to see Linn strike up a deal with one of the easier sets of lenders as opposed to the more challenging set (the credit facility lenders). Now, fortunately, that has come to fruition.
In its press release, Linn's management states that the company had struck an amendment with both credit facility lenders on a short-term basis. In essence, certain events that may occur between now and May 11, 2016 will not be classified as an event of default under either its LINN facility or its Berry facility. On top of this, and more importantly in my opinion, the borrowing base under both the LINN facility and the Berry facility will remain unchanged between now and that timeframe but this will be subject to any decreased caused by asset sales and/or termination of hedge agreements.
What this signifies to me is that Linn may do some things I've suggested in the past. On the one hand, they may make the decision to sell certain assets (at a discount most certainly) to its Quantum joint venture, whereby it will receive a working interest and will also get cash from in order to pay down its credit facility. The other (and simpler) approach for Linn is to sell some of its long-term hedges in order to pay down debt. Based on my current estimate, using oil prices of $40.40 per barrel and natural gas of $1.91 per Mcf, Linn could get around $112.94 million from its 2018 natural gas hedges and, if it were to sell hedges worth 10% of 2017's natural gas production, it could get another $54.02 million. Collectively, this would reduce debt outstanding under the credit facilities by $166.96 million.
Another interesting point from all of this is that, as part of its amendment, Linn is getting the right to tap into $45 million of its restricted cash under its Berry facility. In order to keep its Berry facility lenders satisfied, Linn had, in the past, placed $257.36 million in a restricted cash account that would be there (guaranteed) to protect the Berry lenders should Linn ever go under. Now, recognizing the importance of cash and likely with some strategic purpose in mind, the lenders are loosening up a bit, probably because they know Linn could otherwise let itself go into default. Also, one other noteworthy mention is that the company has agreed to keep its credit facility lenders in the loop regarding restructuring efforts, with Linn promising to "negotiate in good faith."
Some bad news
Overall, this news is very good and is a promise that Linn will have more time to figure out the best steps (if any) to recovery. This does not, however, mean that the company will survive beyond the May 11th date. To get the point across of how dangerous this situation can be for all stakeholders, Linn also decided to exercise its 30-day grace period on certain classes of debt. Effective April 14th, Linn will not make interest payments totaling about $31 million on its 8.625% 2020 Senior Notes, $18.2 million on its 6.25% 2016 Senior Notes, or $8.8 million on its 6.75% 2020 Senior Notes.
This move follows a decision by management to pay up on its 7.75% 2021 Senior Notes (about $30 million), its 6.50% 2021 Senior Notes ($12 million), and its 2022 Senior Notes ($18 million). A little more than a month ago, the company had elected to postpone these payments by exercising its 30-day grace period under which payments had to be made (and were made). A failure to follow through with this would have pushed Linn into default for good, accelerating most, if not all, debt security repayments. My own guess regarding the new 30-day grace period for Linn is that the company is trying, once again, to play hardball with its credit facility lenders. By threatening default even in a time when management can ensure repayments, Linn is trying to make it harder for the credit facility lenders to not work with them on their terms.
What does the future hold for Linn?
At this moment, investing in shares of Linn would be very, very risky, especially due to the fact that investors could be hit by cancellation of debt income (a.k.a. CODI). Shares of LinnCo appear to be far more reasonable right now because, although there's a high probability that Linn will go bankrupt if it does not find a better way to restructure its debt, there's not a direct impact to shareholders of LinnCo should the company be hit with CODI.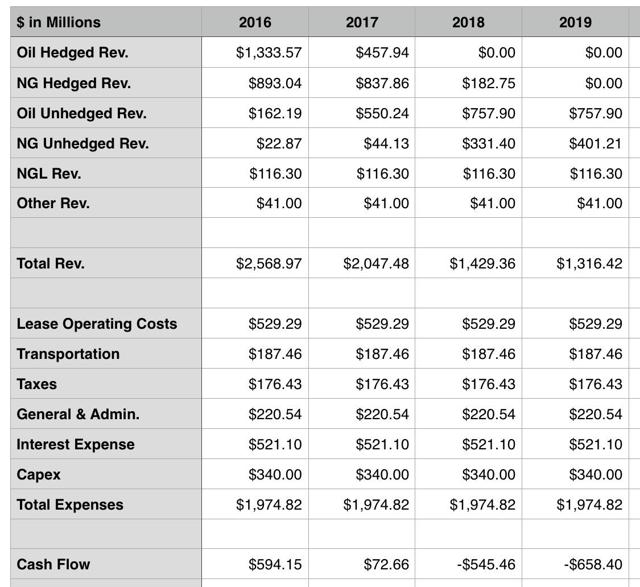 By now, many of you may conclude that bankruptcy may be the only path for Linn and you may be right. However, when you look at the cash flow picture, that isn't necessarily true. In the table above, you can see the cash flow that should be generated by Linn if the company continues to operate as is. Including interest payments and $340 million in capex (which could be cut to near-zero if management is willing to see production fall), the company should generate cash flow this year of $594.15 million and $72.66 million in 2017 at current energy prices. In 2018 and 2019, however, the business is most certainly dead if energy prices do not rise and/or if operating and/or interest costs don't come down.
It is with this mind, and with the news releases pertaining to its debt situation, that I draw the conclusion that Linn may restructure its debts without entering bankruptcy. Looking solely at the possibility of hedge sales, for instance, the company could make the aforementioned moves at the levels I describe above, and reduce debt without impacting 2016's cash flow. 2017 cash flow, if management were to sell the hedges, would fall to $23.65 million, which is a negative. On the other hand, being able to sell off hedges while not impacting this year's cash flow and not changing the fact that Linn cannot survive in the current environment past the start of 2018 at the absolute latest, will mean that the company can satisfy, to some extent, the demands of credit facility lenders without impacting (realistically) its probability of survival down the road.
Takeaway
Right now, many investors are scared of what's happening with Linn and they have a right to be. Unless oil prices recover and unless operating costs come down to some degree, Linn will most certainly not survive. Given its lending picture, the end could even come quicker than cash flow predicts. However, the strong cash flow the company should generate this year, combined with the modest cash flow it should generate next year, along with the ability to cut capex, sell assets, and its new amendments for its credit facilities, suggest that there may be a light at the end of the tunnel. For now, I am not invested in shares of Linn and I don't intend to in the near term but, if I do make an investment in the company, it will likely be in the form of LinnCo shares or nearer-term Senior Notes, both of which have more upside potential and which would avoid CODI.
Disclosure: I/we have no positions in any stocks mentioned, and no plans to initiate any positions within the next 72 hours.
I wrote this article myself, and it expresses my own opinions. I am not receiving compensation for it (other than from Seeking Alpha). I have no business relationship with any company whose stock is mentioned in this article.
Editor's Note: This article covers one or more stocks trading at less than $1 per share and/or with less than a $100 million market cap. Please be aware of the risks associated with these stocks.