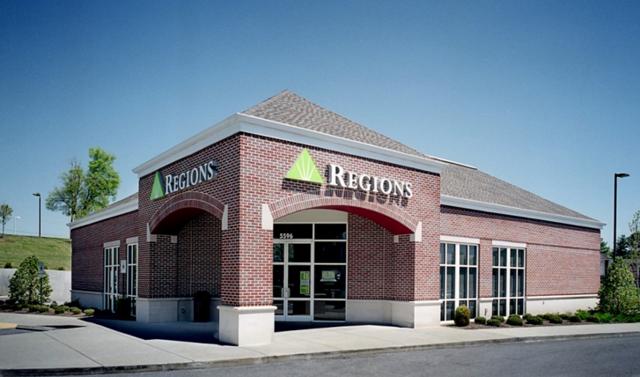 Back in January, after Regions Financial (NYSE:RF) had just reported a very nice quarter, I said the bank's shares were at a trough valuation and coupled with its strong fundamentals, meant that RF was due for some upside in 2016. The market rout that took place earlier this year subsequently took RF to new lows but since that time, shares have rebounded nicely and are now back near $9. The company's Q1 report was quite strong and is responsible for the recent flurry of buying but has the rally already occurred or is there yet more upside, as I said in January?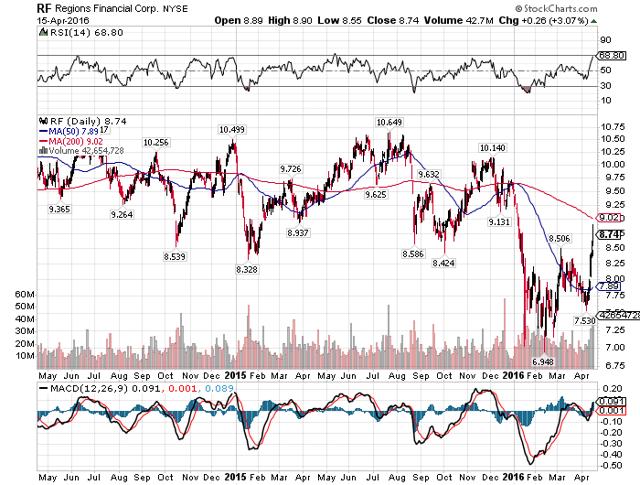 My bullishness on RF in January was due to the combination of a very low valuation on a tangible book and PE basis and the fact that RF is offering investors real growth in a space where growth is very hard to come by. The company's turnaround strategy is working beautifully after the bank struggled during and after the crisis. Those days are gone, however, and that means RF is well on its way to building and returning capital in a meaningful way, something I think the market has overlooked.
Q1 saw 7% top line growth, a torrid pace in the banking space these days. RF has been exhibiting strength in the top line for several quarters now as it continues to build its loan book aggressively but prudently. Average loans and leases were up 5% during the quarter as RF continues to chase share and while gaining share is important, credit quality is as well. We all know that loans with poor quality will eventually lead to unfavorable outcomes and given that RF suffered from just that affliction in the not-so-distant past, it is important that we understand the bank's credit metrics as well because we know the top line is in very good shape.
Net interest income growth was almost 6% during Q1 as not only did the company's loan balances rise, but NIM was up nicely as well. RF's NIM of 3.19% was up 11bps against last year's Q1, a very strong performance indeed considering just how weak rates have been in the interim. Indeed, RF's 11bps gain and its overall level of 3.19% are both in the top tier for rates of the banks that have reported so far this year. RF's move to gain yield has worked tremendously well and this is a big reason why I'm bullish; RF has figured out a way to gain share and margin in this terrible environment.
On the fee side, revenue flew almost 8% higher as the major segments all showed gains with the exception of a small loss in mortgage revenue. The fee portion of the business is smaller for RF than some other banks at about 37% of combined NII and fee revenue so fees are less important to the success of the business. However, the fee business is also growing more quickly than NII so at some point, we may see that number creep into the 40s. That would be terrific as fee income generally has higher margins and can be a sustainable source of growth over time. But for now, RF's noninterest income business is performing admirably as well.
RF's expenses were kept well in check in Q1 as well as its noninterest expenses saw a fractional gain despite revenue moving so much higher. This is the ideal situation for any bank as revenue is moving significantly higher against flat expense levels, creating profit in the process. A big portion of RF's turnaround has been paring down unnecessary expenses and the bank is reaping the fruits of those labors now. I love the company's focus on profitable revenue growth and an integral part of that strategy is low expenses.
On the credit side, RF produced a bit of a mixed bag in Q1. Net charge-offs were down 4bps from Q4 to 34bps but nonaccrual loans moved significantly higher. That metric saw a 26bps move up from Q4 and 20bps higher against last year's Q1 to 1.22%. That's a fairly alarming move but given that this quarter has the bulk (or entirety) of banks' collective energy-related exposure built in, the move is expected and understood. RF's credit quality has been pretty stellar up until now and if we see a move down to more normal levels in Q2, we'll know that RF is still on track. I certainly didn't like the deterioration of RF's credit metrics in Q1 but the beating the energy sector has taken of late has claimed the banks as victims and RF is no exception. So long as it doesn't get worse, RF is still in good shape.
RF's credit base continues to build as well, although more slowly than one would hope. The fact that RF is still busy turning its business around means its absolute level of earnings is still low but despite this, its CET1 ratio in Q1 was 10.9%. That is more than sufficient and it means RF should be able to ask the Fed for a sizable capital return in its CCAR submission. Those submissions are in already, of course, but I'm hoping that RF asked for a buyback allowance given that the stock is so cheap and that it has the capital to spare.
Tangible book value is now $8.97 against the current price of $8.74 but that is after a substantial rally brought the share price back in line. Still, at TBV RF represents tremendous value. This is a bank that is continuing to prove that its turnaround is working and producing great results and the runway for earnings growth is very long here. RF was a mess during and after the crisis but after some hard years, RF's work is bearing fruit in the form of rapid revenue and profit growth.
I said in January that estimates for this year were too low and indeed, after Q1, analysts have bumped their collective estimates for 2016. At 10.7 times this year's earnings, RF doesn't look particularly cheap against other banks but for a regional with the growth runway that RF has, it is indeed cheap. Given its top line growth that is second to none in the TBTF space and its focus on improving margins, RF could easily trade for 13 times earnings, on par with the top tier of large banks. In short, at TBV and under 11 time earnings, the rally is certainly not over and I think we'll see RF in the double digits before the year is out.
Disclosure: I am/we are long RF.
I wrote this article myself, and it expresses my own opinions. I am not receiving compensation for it (other than from Seeking Alpha). I have no business relationship with any company whose stock is mentioned in this article.