On April 8, I visited TerraVia's (SZYM) headquarters in San Francisco. This was my third visit in five years, and the other two visits can be found here and also here. I was given the opportunity to interview CEO Jonathan Wolfson, CFO/COO Tyler Painter, and SVP of Food & Ingredients Mark Brooks. The following is a combined reflection of my conversation with these executives and my own thoughts on the experience.
The Past Two Years
It is important to first acknowledge that TerraVia has undergone a significant amount of change in a short amount of time. After more than a dozen years as Solazyme, the new company name reflects just a glimpse of the rapidly changing landscape that the company has had to navigate. Over the last two years, a large manufacturing facility in Iowa was opened and subsequently closed before making a meaningful difference.
The primary production facility in Brazil continued to be hindered by construction woes. Falling commodity prices restricted target market opportunities in the present. A decent-sized portion of the company's staff had to be dismissed in cost-saving efforts. It is fair to say that stability was nowhere near to being found for investors, and the company's share price fell dramatically.
Yet over the past year, the company has begun to roll out its first new products in food and nutrition. It has developed new brands and entered into a new partnerships with strategic investors who are actively playing a role to further the company's market adoption through synergistic efforts. Above all, the company's most important partners have now doubled down their commitments in full support of TerraVia. It is in this landscape that the investor must now evaluate what is the company's outlook going forward.
Unilever and Bunge Double Down On TerraVia
In late October 2015, agribusiness oligarch and TerraVia's joint venture partner Bunge (BG) expanded its relationship with the company formerly known as Solazyme. This action occurred after more than a year of struggle at the joint venture's primary manufacturing facility in Brazil where basic utilities hindered the company from ramping up its new production facility.
After numerous redundancies were installed, the company continued to execute upon its initial 10,000 MT supply agreement with Unilever (UN) that was expected to be fulfilled by early-to-mid 2015. In March 2016, Unilever vastly expanded this arrangement by signing a multi-year supply agreement valued in excess of $200 million, an arrangement that represents several multiples of the initial supply agreement's production volume. This represented a clear vote of confidence by both of TerraVia's strategic partners in terms of their view of the company's technology platform.
"Just to put it in perspective, Unilever has been working with us for 8 years through multiple JDAs. Then they went into the 10,000 tonne initial supply agreement and then they signed this much larger agreement with different pricing - this one is cost-plus. They understand the pricing, and they understand the cost structure. What I will tell you is that between them and Bunge, and particularly with the announcement of the deal, people should now have a lot more comfort about where we are from a production standpoint and a cost standpoint. That wouldn't have happened if we hadn't dramatically descended that cost curve."

-Jonathan Wolfson
Wolfson further elaborated that there should be no mistaking that the company has already fully ramped the facility at Moema in Brazil. They have not. The plant is still ramping, but based on my conversation I believe contrary to common belief that this can be taken as a good thing at this point in time. Moema is still seeing bigger improvements in various systems and still in a place where it is seeing increases in volume ramps. Yet at the same time, it has improved past the point in which its largest partners who have had a front-row seat of the company's progress have now indirectly vouched for TerraVia. They have done so by extending and significantly increasing their commitments. The plant has shown enough progress to warrant such large-scale supply agreements, and it continues to improve daily.
Wolfson would go on by addressing the idea that there is an axiom in regards to fermentation within industrial biotechnology where a company normally improves their cost structure roughly 2-4% every year without any changes in equipment. As a result, companies that made no changes to their equipment two decades later were still improving and actually producing a multiple of their original nameplate capacity. Yet his point in bringing up this idea was that TerraVia was still nowhere close to this slow normalization of consistent growth.
The company was still making dramatic improvements as witnessed by the 50% decline in variable costs announced in October. More so, the recent announcement of the Unilever supply agreement and the significant expansion of the JDA with Bunge serve as key milestones that attest to just where the company is on their cost structure today. As Wolfson referenced above, these things shouldn't have happened if the company hadn't descended that cost curve to the point that would justify such a large commitment by both of these industry giants.
"There is still some work [to do] at the plant, but the bottom line is that the plant runs. It's shipping products. It's shipping tanker trucks today. Unilever is making and selling products based on routine deliveries coming out of that plant. I guess the only thing to say is that 'I am happy... with Moema'. We are delivering on time, in-full, on-spec."

- Jonathan Wolfson
The Changed Perception Of How To Run Moema
I further inquired as to where the plant at Moema was in regards to its ramping schedule. Are we on course for reaching nameplate capacity? Is nameplate capacity even still on the agenda? This was further explained through a reminder that nameplate capacity is determined by product mix. Of course, the more products you make at a plant, the less production that plant is expected to deliver. Yet in TerraVia's instance, their growing product diversity also represents growing opportunities as their more valuable oils enter into production. It was clear that the long-term picture remained fully in the sights of management in light of existing production capability.
"If you go back a couple years ago, volume was absolutely the critical metric - how quickly can you bring costs down the line and ramp volumes. You're looking [then] at some of these markets where it's all about getting that massive volume into play. As we look at the product mix coming out of Moema [now], some of these markets are going to take time to build. So some of them like the Unilever deal are base load, some of them will be very large out of the gate, and others are really, really valuable new oils from a revenue standpoint. It's not just about 'Can we get this margin out of this much more volume and then expansion and other things.' It's about 'Let's have the right product mix that builds out the long-term strategic direction."

- Tyler Painter
Wolfson further guided the conversation upon the key difference found in management's perspective on capacity utilization. The evolution of thinking had clearly changed as low-margin markets were placed on a lower priority list. As a result, this required a redeveloped look at how to use existing production capacity more effectively. For investors, I believe this should naturally equate to a slower rate of overall production growth than what was originally conceived, but a much more efficient use of existing capital for growth and expansion.
"If I would say there's one difference between how we thought about things a couple of years ago and how we think of things today, it's 'Run the plant to optimize margin'. It's not 'Run the plant to optimize volume'. When you started following us, we were looking at one or two products that we could sell [at Moema]. The thinking was that your goal is to make this thing, to make as much of it as you can, and as low-cost as you can, and to sell it for as much as you can. The platform is a lot more powerful now. We have, as you know, oleic oils. We obviously have lauric oils that are being used in personal care applications. We have what you know is coming, which is the SoS and the MCTs. We have a little bit that you don't know that is substantive. And of course we have AlgaVia. We look at it from the perspective of how do you take the product mix and how do you turn that product mix into the most dollars on a contribution basis."

- Jonathan Wolfson
With that thought exists the switch to quality over quantity. The company's product lines have much more flexibility with margin as TerraVia treks through the existing market environment. It means that there will be times in which the company will actively opt to not sell out the plant in order to reserve capacity for more meaningful opportunities down the road.
It also suggests that while the company could likely have maxed out the plant's capacity commitments today, staying flexible would require restraint on order sizes. I am not suggesting that the plant is laying idle in some areas as it is clearly still ramping, but rather that the size of the demand demonstrated through purchase orders may actually be discounted to its actual amount. Speaking of the new supply agreement with Unilever, Wolfson had the following to say:
"Understand if you look at how much Unilever uses in at least the same category of ingredient, everybody has an ambition that this can be a lot bigger. For us, we have to be thoughtful of not committing all the capacity of that plant. Remember it's a cost-plus arrangement which is good and bad. For us, it's almost exclusively a positive today because it's a base load. But if you were going to think about overall margin optimization... Overall margin optimization doesn't happen on cost-plus arrangements. You're giving up some of your upside in order to protect yourself from the downside."

- Jonathan Wolfson
Building Out The Demand With A Product Mix
With the closing of the Clinton facility in Iowa, a question mark was placed on the amount of demand that existed for the company's products. Yet a better way to look at this is to split that thought between existent demand right now and the overall demand after product formulation. A key issue that hinders TerraVia today is the length of time it takes for clients to develop their products with a new formulation. For example, some companies will actually want to see the shelf life of a new product degrade in real time. Product development cycles vary on the basis of company size. Your industry giants can take up to 3 years to develop a new product formulation. Yet smaller companies can sometimes move in a matter of months.
"There is distinction between the demand at the purchasing order level and the number of customers and projects that are sitting in the pipeline. And the number of customers and companies that are sitting in the pipeline for the oils and for AlgaVia is phenomenal. We cleared regulatory in the oil about 15 months ago. You know the big companies generally have a development cycle of 2-3 years."

- Jonathan Wolfson
In that sense, looking at the company's overall demand profile today is somewhat akin to looking at a pharmaceutical company's new drug pipeline. Just as there are multiple clinical trial stages for drug candidates, TerraVia's future clients are progressing through their product development stages. Smaller clients will progress through their requirements faster than those with well-established brands to protect. Therefore, as we look at the company's customer profile today, we can reasonably presume that new product introductions will emerge from even larger companies in the coming months.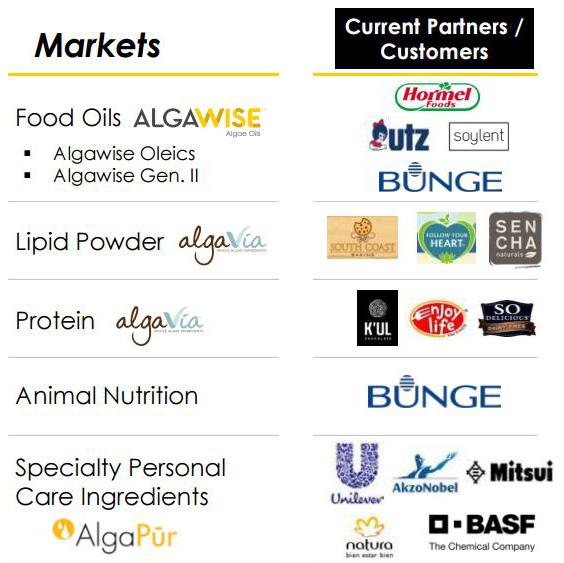 In the end, it comes down to balance. Do you commit your capacity to the most ready oils now or do you prepare the way for the more profitable ones to come? Yet the bigger question for investors in light of an apparent capacity commitment gap that is known today is if it even matters in the long run. What matters is if the eventual demand exists at all, and that appears to be likely so.
In my walk around the building, I was told by an employee that they believed the last updated number in the project pipeline was a little over 200. While I was unable to verify this number elsewhere, I do recall the company's project pipeline had grown from 65 to 120 by October 2015. Of this amount, only 17 of the former 65 projects had dropped out at that point in time. If proven true, a progression past the 200 project mark within the pipeline would continue to demonstrate strong growth in demand.
"We're building demand. We can make more of these food oils than we can sell today. We're in a process of still building these markets. That's part of the work that we're doing on our own. But like I said, some of the products really have probably more demand than we would want to fulfill and others we're growing. We're building a market in some of these things."

- Jonathan Wolfson
In the process of building out that demand, TerraVia has received strong interest from a unique group of proven entrepreneurs in this industry space of food and nutrition. With the company's latest press release, it has become abundantly clear that its newest investors are actively attempting to utilize TerraVia's ingredients as a value enhancer towards new and upcoming brands.
With a rich investment history, VMG Partners has already proven to wield its investment capital wisely. For example, in July 2015, VMG Partners sold its stake in Vega to WhiteWave (WWAV) for $550 million. Interestingly enough, Vega utilizes Chlorella in its products, which is a type of algae that TerraVia now specializes in. To make this even more intriguing is the fact that Charles Chang, one of the founders of Vega, has also joined VMG in investing in TerraVia.
The fact that VMG has now effectively invested in TerraVia and partnered with the company to create TerraBrands already stands as a convincing vote of confidence in the company's prospects. This isn't exactly VMG's normal style of investing after all. Yet the partners appear convinced that TerraVia's products can be a significant differentiator in taking new brands to the next level. It also remains a further vote of confidence to see other key investors who have created categories on their own play an active role in leveraging their expertise in order to build value utilizing TerraVia's ingredients.
"With respect to what we're doing with VMG, as building an algae movement requires bringing other people in - bringing great entrepreneurs who have great product that can be better products. They can be better products if you infuse them with our ingredients. And so that's the thought process as we take their brand-building expertise. We take their investment capital. We take our ingredients and our formulation understanding and expertise. You bring the pieces together, and we think there's a ton of value to be created."

- Jonathan Wolfson
Ongoing Improvements To The Product
As much of the attention Solazyme has gotten for its work in algae-based biofuels over the years, the lack of publicity on the company's food was no fair reflection on the amount of product development that had gone into refining the ingredients and branded products now being introduced by TerraVia. It's also fair to say that the transition toward food ingredients was no last-minute switch as the fall in crude oil prices effectively eliminated the replacement value found in the company's premium-priced industrial oils.
"As we were doing the other work, we were developing these food ingredients. We were taking them through extensive safety work. We were taking them through extensive regulatory work. We were building plants, which as you also know was extremely painful. Then figuring out how to run them. After all of that, we also went through a final round of process development to really nail taste and texture. Because it doesn't matter how sustainable it is. It doesn't matter how nutritious it is. And it doesn't matter if you can make it economically accessible if it doesn't taste good. If people feel as if they're sacrificing, they won't eat it."

- Jonathan Wolfson
Innovation in food takes a significantly long time, particularly when you're talking about new ingredients for formulators to work with. After all, it was indeed a full 8 years ago in which a company employee first baked a cake with leftover algae oil for co-founder Harrison Dillon. Since that light-bulb moment in which food became a possible avenue to explore, the company has continually sought to develop new ingredients and refine its growing process in order to optimize customer acceptance.
To my surprise, even in the two years since I had last visited the company, the ingredients had been further improved. As I went down to taste another round of displayed test products in the company's kitchen, I was impressed to hear of some developments that had taken place. This was especially the case since I had remember being quite pleased in my former visit with the products that were available at the time.
(Author's Image)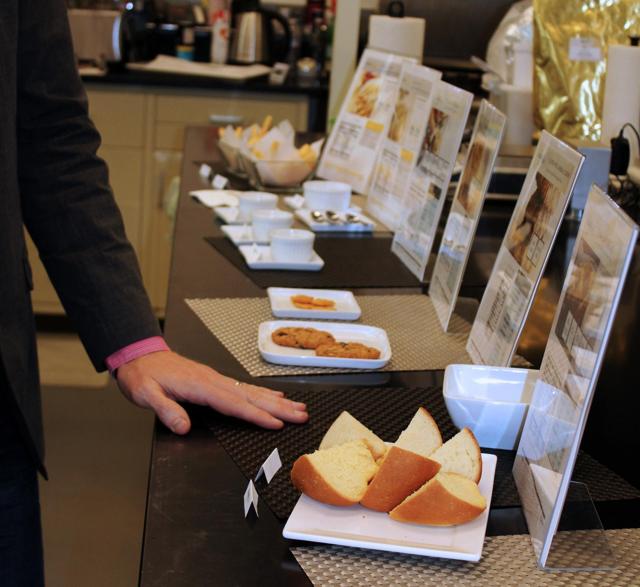 For AlgaVia, further screening and various adjustments to the downstream processing had helped in some instances to deliver more ideal products for particular clients in the pipeline. For example, this had enabled some prospective customers to significantly improve the amount of algal protein they could incorporate into their formulation.
"There's a point where you don't want your food product to have more structure. We can put [our protein] in, because it's all locked within that cell. It doesn't interact at all which means we can put a lot more in. You can get more protein in than you could before with any other protein. It's naturally encapsulated. Other people have tried to encapsulate protein to try to do the same thing, but its costly and a difficult process."

- Mark Brooks
While often not thought about, there are many distinct limitations to incorporating ingredients into a product formulation found in degrees of taste, color, smell, and texture. The amount of lipid powder in Product 'X' may fit comfortably when you add 'Y' grams, but a few adjustments to the characteristics of that lipid powder may allow for 'Z' more grams of the same lipid powder to be added.
One by one, the company has been overcoming those limitations through small adjustments in the fermentation and the downstream processes. It is becoming increasingly clear that TerraVia's ingredients carry a significant advantage in terms of overcoming many of these limitations while also providing a significant value proposition found in increased nutrition, improved sustainability, the development of a cleaner label, etc.
I was also impressed that much of the improvements to these products were not being handled from techniques that some would consider to be offensive. Rather than some form of genetic manipulation that customers might find to be offensive or use of an unfriendly sounding chemical, mere tweaks in the growing processes can result in significant changes to the overall output.
For example, the mere shutting off and turning on of nitrogen during the growing process cycle could be the difference between developing lipid rich powder (formerly known as whole algal flour) and whole algal protein. That range of flexibility and the expertise to control the ingredient's development is what makes TerraVia's know-how so valuable to the overall product it is trying to improve.
Final Thoughts
When Solazyme first went public, the company had three paths in front of it on the trail towards profitability's viewpoint. It could go down the route of the low-margin, commodity-like oils where there were high capital expenditures required but a near limitless amounts of volumes to sell. This seemed like the easiest and most tried path. The company could also go down the middle route where food ingredients largely existed. Here the margins were above average and the volumes were more than acceptable, but the regulatory, safety, and marketing barriers were limiting and a significant amount of time would be required.
This path appeared to be a bit more challenging. Last of all, the company could go down the path of the high-margin business, in which it could build its own brands with the opportunity cost of a much smaller market size. This would have required extensive marketing and would also have also carried a significant risk profile in terms of consumer acceptance. This appeared to be the most difficult path with the most questionable result.
In essence, management took the company down all three routes with the expectation that one or several would prove to be successful. They could do this because of their inherent flexibility found in their platform and their large cash reserve. Undoubtedly, this was an expensive choice but it left the company's options open. The low-margin path ultimately proved to be the most disastrous as the large boulder of falling commodity prices came tumbling down, and there remains several public companies that continue to lie dying on that road today.
The high-margin path proved to have mixed results, but at least today, it appears to be somewhat limiting in terms of the opportunity ahead. Yet along the challenging middle road the newly formed TerraVia had taken, the journey appears to be the most promising. All of the limitations and barriers have now been addressed, and there remains to be only the time needed to complete the journey.
As I depart from this last visit to the company, I leave with a strong sense of optimism that the company does remain in experienced hands and that its future prospects remain intact and potentially lucrative. Yet there is much disappointment to be had in terms of how this journey has thus far played out. Like a trader, I'd rather be the one to embrace the final view rather than to have endured any of the journey's burden at all. But in a somewhat odd sense, there remains some lasting satisfaction in knowing there is much good that can be and is being accomplished here. More so I am personally reminded of the critical role the long-term investor continues to play in that development.
Some of the fruits of that labor is already being revealed, and I for one have already liberated my household from the shortcomings of extra virgin olive oil to the undeniable benefits of Thrive algae oil. Yet for all the critics past and for all the naysayers to come, I still leave knowing where this company is headed and stand on my own accord to continue to place my dollar where my mouth has tasted and my eyes have seen. As a long-term investor, I am willing to cautiously add to my portfolio (largely through sold put options) knowing full well that the potential for some dilution is likely to still be around the corner. After all, the company itself recently proposed expanding the authorized share count in a recent SEC filing.
Yet when I consider the actual $165 million market capitalization today based on the current share price of $2.02 as of April 15, I find this company to be far below its future worth. Even when I hypothetically take into account the remote possibility of a fully diluted authorized share count of the future to be outstanding, the thought of this company being worth only a mere $455 million still appears to fall far short of what I believe to be possible and likely in just a few short years.
Can this company truly be worth less than Vega, which VMG formerly invested in and sold for $550 million? After all, TerraVia has created a whole new ingredient portfolio and will be the owner of several brands in addition to that portfolio. The company now stands on the brink of creating a major food category. Indeed, it is still targeting very large markets with very comfortable double-digit margins in play across multiple product lines.
After almost 13 years, TerraVia has raised approximately $600 million. It has done a superb job in developing the intellectual property, embracing the process expertise, creating the product formulations, developing the individual brands, uniting strong and willing partners, defending against outright theft (from former partner Roquette), gaining safety and regulatory acceptance, scaling into unprecedented manufacturing capability, and now having product that is selling on the shelf. Management has finally been able to claim that they are solely focused on improving financial performance.
When I inquired Wolfson about whether the company could be profitable, he was understandably constrained in what he could say, and indeed to have made any promises would have suggested no learning at all. He did correct me, however, in saying that I likely wanted to know "when" and not "if." Yet in what he did say, remains another testament to the conviction of the things to come:
"We wouldn't have done the things we just did, unless we really believed that the products were there, that the demand for the products is there. This along with the quality, the cost structure, the manufacturing, and the regulatory. And the other thing, Kevin, and I know this isn't really addressing your question... but I'm trying as carefully and closely as I can, but the world is really moving toward a place that we've been developing for over a decade... This is a sincerely held belief, it's also a founder and a CEO and you're welcome to take it all with a grain of salt. I wasn't right about our timelines in the past. But I am very convinced that we are sitting at the beginning of a very big wave - a movement into algae as a major part of our diets."

- Jonathan Wolfson
TerraVia now has the necessary pieces in place and the demand appears to be rapidly growing. For additional capital, the company is exploring strategic alternatives for some of its industrial product lines. Even now, TerraVia is gaining new partners and institutional investors that are willing to accelerate the company's market adoption. There is true value distinction in the company's ingredients, and committed investors now realize of its potential. As such, I find this company to be very much a long-term hold and a cautious buy as events unfold.
Disclosure: I am/we are long BG, SZYM, UN.
I wrote this article myself, and it expresses my own opinions. I am not receiving compensation for it (other than from Seeking Alpha). I have no business relationship with any company whose stock is mentioned in this article.
Additional disclosure: I am also long and short several calls and puts in SZYM.