Caterpillar (NYSE:CAT) stock has really been on the rampage since crude oil bottomed in mid February. In fact, the machine manufacturer has almost outperformed the ascent in the price of crude which is up 28%+ since the 11th of February last (see chart).

Can it last is the question? Well commodity prices will have a huge bearing on the outcome and with oil prices down 4.72% today in pre-market (due to OPEC members again not reaching an agreement), Caterpillar stock will undoubtedly be adversely affected. The company announces earnings on the 22nd of this month for its first fiscal quarter in 2016 and the general earnings per share consensus is $0.66. Caterpillar received some unfavorable press a few weeks ago when guidance for the first quarter was cut. However Caterpillar didn't cut its own guidance (as it had previously only given its annual guidance which was an EPS of $4) but instead cut analyst's guidance which was far too much for the first quarter ($0.3 too high).
When analysts are given a yearly figure, they try to divide it up among the four quarters but Caterpillar has already stated that it will have significantly higher earnings in subsequent quarters this year because it hasn't changed its yearly guidance. This is crucial and a bullish indicator in my view. In 2015, Caterpillar had to dial down its yearly guidance but 2016 seems to be off to a good start (despite starting from a low base) which is why there is a good possibility that the manufacturer could beat earnings in this first fiscal quarter.
If we look at a chart of crude, we can see that the 5 day RSI indicator became oversold, which usually means a correction is imminent but I do not see us breaking though the April lows. Why? Well I have explained in previous articles why I believe oil has printed its 3 year cycle low (in February) and also has started its own intermediate rally. Intermediate cycles usually last 20 weeks plus and since we only are on week 10, this cycle should run at least another 10 weeks. Now intermediate cycles usually have 3 daily cycles and I believe we have already completed one which bottomed on the start of April.
Furthermore we only are in the initial stages on this daily cycle which should last from anything up to 50 days. Therefore if my thesis is correct, we should not break through the $36 level (the 200 daily average should act as support) but in fact see higher prices until this intermediate cycle tops. The higher high printed this month also illustrates a bullish pattern so I would urge my followers not to buy into all the "supply glut" theories that are calling for lower lows in the not too distant future.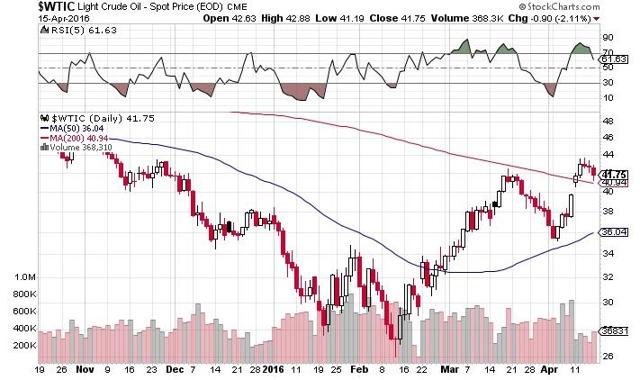 If crude oil gets to $50 a barrel over the next 10 weeks, it will be bullish for Caterpillar as demand for new equipment is bound to increase meaningfully. Furthermore impending sales should really affect earnings in a positive way due to
The company from all the cost cutting it has done in recent years (supply chain, squeezing suppliers, restructuring, pension changes, etc.), should see sales being more profitable going forward. We can already see this with gross margins in 2015 which rose to 28.2% from 27.9% in 2014.
Caterpillar has managed to gain market share during the slump in commodity prices which is bullish for future sales.
Revenues in the resources division (mining) dropped by 23% to $1.83 billion in the fourth quarter last year. However the mining sector (NYSEARCA:GDX) has had a huge move since January (see chart) so a sales tailwind should also take place for 2016 in this division also.

So here is how I would play Caterpillar going forward. Even though I'm bullish on oil prices in the near term, I believe US shale players will keep the price capped at around the $50-$55 level at least for the foreseeable future. Therefore one could sell the January 2017 - 85 call (277 days to expiration) for $325 which would mean that you would forfeit your shares at the $85 level if Caterpillar was trading at those levels at expiration. This covered call strategy assumes you already have 100 shares of stock or will purchase 100 shares once you open the trade.
What are the risks? Well firstly by collecting the premium, you have reduced your cost basis by $325. Furthermore the dividend payments for 2016 should at least amount to $308 (will be more as the company will raise in the Summer) so your "real" purchase price (assuming you buy today at $79 a share) would amount to $79 - $6.33 = $72.66 over the 12 months. After the run-up the stock has had, this strategy enables you to have the option to take some capital off the table (which would be a profitable trade) or buy the stock at a healthy 8% discount.
To sum up, we are going to sell our Hess (NYSE:HES) position at the open and open our covered call trade as described above in Caterpillar . I'm going to be adding a few good dividend and growth stocks to the elevation portfolio over the next several weeks, when I see value. It's imperative that they are not correlated and all don't have similar valuations, to ensure that income is brought in every month, which, over time, will increase our share count. Follow along by pressing the "Follow" button above.
Disclosure: I am/we are long CAT, IBB, IBM, CSCO, EMR, SSRI, GDX, WDC, WMT, AXP, CVX, FOLGF, MOS.
I wrote this article myself, and it expresses my own opinions. I am not receiving compensation for it (other than from Seeking Alpha). I have no business relationship with any company whose stock is mentioned in this article.