The biotech indices had another up week as both the S&P 500 and oil hit yearly highs. The biotech sector has been one of the strongest performers so far in the second quarter but still is off some 30% overall from its peaks in July.
This week could get off to a somewhat rocky start as oil is down below $39 a barrel again as talks over the weekend in Doha failed to achieve an agreement on production freezes. Throughout 2016, falling crude prices have created a headwind in general for the market and in particular for high beta sectors within equities such as biotech. We will have a chance to see if this trend holds today.
Countering this is increasing speculation about M&A picking up. The Sunday times reported AstraZeneca (NYSE:AZN) has held internal talks about acquiring Medivation (NASDAQ:MDVN) in what could be a $10 billion deal but has not made a formal offer yet. Possible M&A activity is also a key theme in this Monday's Biotech Forum Daily Digest.

The IPO window might have closed for small biotech companies so far in 2016 and demand for secondary offerings is much more tepid than it was during the same period of 2015. However, "animal spirits" for the small companies in this innovative part of the industry are alive and well in the venture capital space. VC's pumped some $1.8 billion into 118 biotech deals tracked in the first quarter, according to the MoneyTree Report by PricewaterhouseCoopers and the National Venture Capital Association, based on data from Thomson Reuters.
Now that large mergers seem to off the table thanks to the derailment of Allergan (NYSE:AGN) and Pfizer (NYSE:PFE) tie up by the Treasury Department, I think we will see an uptick in M&A activity in small and mid-caps in the sector. If that occurs, expect the biotech sector to continue to recover from its bear market lows and eventually IPOs to return in the second half of the year. The demand for promising young biotech concerns still is out there, just not in the public markets at the moment.
A program initiated at the FDA to speed up generic drug approvals seems to be working as intended - nice to say that about a government program every now and again. The agency approved slightly more than 700 generic drug applications in 2015; an all-time high.
This included 99 in December alone the highest monthly number of approvals and tentative approvals since the generic drugs user-fee program started a few years ago. Interesting factoid, generics account for 88% of the scripts dispensed in the United States last year.
Reuters reported that Valeant Pharmaceuticals (NYSE:VRX) has called in the investment bankers to look at what assets it could sell to help it bring down its $30 billion in debt without impairing the long term growth opportunities of the company.
Valeant renegotiated a good portion of its debt with creditors earlier this month in order not to go into default due not being able to file its annual report yet. Those discussions resulted in higher debt servicing costs including a fee of $50,000 per $10 million of loans and another 1% on the overall interest rate. I would expect the company to have numerous bidder for parts of its business including Allergan now that it is no longer going to merge with Pfizer.
A regulator doing something to help the investment case for Gilead Sciences (NASDAQ:GILD)? After months of political rhetoric around drug price gouging using the company's $84,000 list prices for a hepatitis C cure, it seems one part of government might actually be doing something to expand the possible pool of hepatitis C patients that could receive coverage. Politics as they say does make strange bedfellows.
The New York Attorney General's office is suing health insurer CDPHP for breaking the law by delaying coverage of hep C treatments until patients are in advanced stages of the disease, The Times Union reports. The AG's office said in a suit filed in a state Supreme Court that the Albany, NY-based insurer did not pay for medically necessary care and deceived members about their coverage. This will be an interesting development to watch for Gilead shareholders as if this movement spreads, more hepatitis C patients could wind up being treated sooner.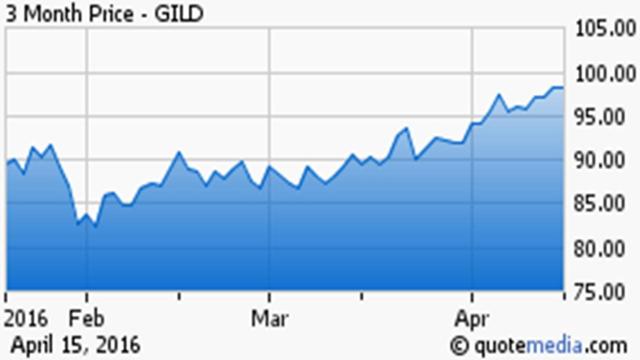 The stock is very cheap at under 8 times earnings, is buying back an average of more than $1 billion a month of its own stock, will have a free cash flow yield north of 10% this year and pays just under a two percent dividend yield to boot. In addition, the shares have acted better of late.

Raptor Pharma (RPTP) certainly has seen a rash of analyst activity over the past month or so and there certainly are divergent views among the analyst community. Raptor has a market capitalization of roughly $500 million and focuses on developing and commercializing transformative treatments for people affected by rare and debilitating diseases.
The company has two commercialized products on the market and a developing pipeline. It has a recurring and growing revenue stream but is not profitable as of yet.
I have looked at the shares as a possible investment but have passed on them to this point. Analysts seem all over the place on this one. Last week Cowen & Co. reiterated a Buy rating and $8 price target on Raptor. On April 7th, Oppenheimer maintained its Perform rating even as it thought the company could fetch a decent premium if it pursue a sale which the company is currently evaluating. That same day JMP Securities upgraded the shares to an Outperform. A few days before that Leerink Swann reissued its Buy rating and $11 price target. Rounding out the analyst coverage over the past month, FBR maintained their Market Perform on the shares of March 17th.
Note: If anyone has a strong opinion either way on Raptor, please post them in the comments section; it might get a nice conversation started.
Sarepta Therapeuticals (NASDAQ:SRPT) is likely to be one of the most volatile and talked about stocks in the biotech sector this week. It has what promises to be the most attended Ad Comm panels in history coming up for its compound eteplirsen aimed at Duchenne muscular dystrophy ('DMD'). There is a lot of uncertainty on whether the drug can attained expedited approval.
On one side, you have a very small sample size (12 subjects) of the last trial. This is countered by a very passionate base of parents of boys who has this disease with no known treatment. This disease affects some 15,000 boys and young men in the United States. It usually puts the afflicted in wheelchairs in the early teens and leads to death by 30. Biomarin's (NASDAQ:BMRN) attempt earlier this year at DMD was rejected by its Ad Comm.
The FDA briefing document should be released a few days before the Ad Comm panel meets on April 25th. The contents within could cause a spike or downturn in the stock quite easily. If the drug gets recommended, the shares could easily double. A rejection could mean the stock gets cut in half. It is a huge inflection point for Sarepta.
Not surprisingly analysts all over the map on Sarepta's prospects at the moment. Since March 10th there have been three Buy ratings, three Hold ratings and one Sell initiated or reiterated on this stock by analyst firms. Oppenheimer is the most enthusiastic with a $60 price target (raised from $45) and a Buy rating as it believe approval is in the offing. JMP Securities downgraded the shares to Underperform recently. Interestingly, both analysts are five-star ranked (TipRanks). One of them will be wrong, which one I cannot tell you. Given the lack of "shots on goal" and this binary outcome; this is not one I hold. However, it is a stock that will be much talked about this week.
Note: New analyst ratings are a great place to start due diligence, but nothing substitutes for deeper individual research in this very volatile sector of the market. Many of the small cap names highlighted in the "Analyst Insight" will eventually appear in the "Spotlight" section, where we do deeper dives on this type of promising but speculative small cap concern.

Today's spotlight feature will be on a small biopharma called Synergy Pharmaceuticals (NASDAQ:SGYP). Late last week rumors surfaced that drug giant Allergan was interested in purchasing this gastrointestinal concern. As mentioned in a previous section, I would expect there will be plenty of speculation in coming weeks on what Allergan will be acquiring now that its $150 billion merger with Pfizer has been kiboshed.
Although this is a promising company, and one I own a small stake in; this is one of the few pieces of good news Synergy has been a recipient of recently. The stock has been knocked down this year in part as it converted a good part of its debt to equity in Mid-March. This was not the most opportune time to execute this time of maneuver given the volatility of the high yield credit markets earlier in the year.
Indeed, Synergy had to pay a steep price as it exchanged "$79.8 million in aggregate principal amount of the Notes, representing approximately 50% of the outstanding aggregate principal amount of Notes, Synergy issued 35.3 million shares of its common stock (the "Shares"). Synergy also issued approximately 872,000 Shares in payment of accrued and unpaid interest on Notes accepted in the Exchanges from the applicable last interest payment date to, but not including, March 28, 2016. A total of 25.6 million shares carried a conversion price of $3.11 pursuant to the existing terms of the Notes. The overall average price per share on the total shares issued was $3.02."
Obviously this is a significant amount of dilution for a company with under a $350 million market capitalization. However, given the conditions of high yield credit markets and lack of demand for secondary offerings in this space; the company did not have nearly the options it would have had before the biotech and biopharma sectors went into a bear market decline late last summer.
This move did reduce the company's overall debt by more than half and save some $24 million in future interest costs on the debt converted. After this conversion, Synergy has $71.5 million of these notes outstanding. This debt carries a 7.5% interest rate and is due in 2019.
This developmental concern filed for FDA approval of its first potential commercial drug "plecanatide" for the treatment for chronic idiopathic constipation ('CIC') late in January. This drug had less side effects than Lizness from Ironwood Pharmaceuticals (NASDAQ:IRWD). Lizness generated over $450 million in sales for Ironwood in 2015 and the company believes the drug will achieve over $1 billion in revenues by 2020. Ongoing studies for the use of plecanatide in irritable bowel syndrome with constipation (IBS-C) should have final results available sometime this year as well. If they're positive as expected, the company plans to file for approval in that indication as well would greatly expand the market for the drug.
Both BTIG and Rodman & Renshaw reiterated their Buy ratings after details of the debt deal became known. BTIG has a $11 price target on Synergy and Rodman reduced their price target a dollar to $16. There has been no analyst activity since then.
Where Synergy goes from here will depend on the approval and commercial success of plecanatide going forward. I am holding my stake in Synergy but not adding at this point. The stock has several upcoming catalysts. First the FDA should issue a formal notification of acceptance for its NDA for plecanatide very shortly. I also expect the compound to be approved by the FDA later in 2016. Based on analyst comments the company could release phase 3 data for trials around plecanatide in IBS-C and for a second candidate dolcanatide at the Digestive Disease Week conference in May of this year.
Given the possibility of these catalysts and the possibility of a buyout I plan to hold my shares for the time being. I will reassess after the first half of the year to see if the lay of the land has improved for Synergy if the company is not acquired by that time.

Thank You & Happy Hunting
Bret Jensen
Founder, Biotech Forum
Disclosure: I am/we are long AGN, GILD, SGYP.
I wrote this article myself, and it expresses my own opinions. I am not receiving compensation for it (other than from Seeking Alpha). I have no business relationship with any company whose stock is mentioned in this article.