The title sounds strange, doesn't it? How could Frontier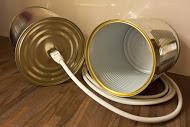 Communications (NYSE:FTR) acquisition from Verizon (NYSE:VZ) be off to a poor start? It was only on April 1st that Frontier announced the:
...completion of its $10.54 billion acquisition of Verizon Communications, Inc. wireline operations providing services to residential, commercial and wholesale customers in California, Texas and Florida. The acquired businesses include approximately 3.3 million voice connections, 2.1 million broadband connections, and 1.2 million FiOS ® video subscribers, as well as the related incumbent local exchange carrier businesses. New customers will begin receiving monthly bills starting in mid-April.
That same announcement included the following quote by CEO Dan McCarthy:
This is a transformative acquisition for Frontier that delivers first-rate assets... It significantly expands our presence in three high-growth, high-density states, and improves our revenue mix by increasing the percentage of our revenues coming from segments with the most promising growth potential.
There is no question that this was a transformative acquisition. The sheer size would almost double the company's revenue and customers. However, there appears to be a disconnect between some of the numbers and statements about "high growth" and "first-rate assets".
Frontier first announced the purchase on February 5, 2015 and projected that it would close "in the first half of 2016." Well, it was right on target with the closing date, but other expectations appear to be falling short. That February announcement noted the size of the business being acquired included:
... 3.7 million voice connections, 2.2 million broadband connections, and 1.2 million FiOS® video connections.
If it's such a high growth area with first-rate assets, why has Verizon lost 0.4 million (10.8%) voice customers, 0.1 million (4.5%) broadband connections and shown no growth in FiOS video connections in the past 14 months? And, more importantly, why has the dividend coverage deteriorated from the expectation when the transaction was first announced?
When first announced, the company noted that the acquired properties generated revenue of more than $5.7 billion in 2014 and also stated it
...expects the transaction to be 35 percent accretive to free cash flow per share in year one and to improve Frontier's strong dividend payout ratio by 13 percentage points.
In mid-September of 2015 Frontier filed an 8k with information presented at an investor conference. It noted that
(a) Frontier's estimated weighted average cost of debt for financing the acquisition ... is approximately 9.1% per annum, right in line with the modeling assumptions that Frontier used in its original analysis; and (b) Frontier continues to expect that the Verizon transaction will be more than 30% accretive to leveraged free cash flow per share in the first full year following the consummation of the acquisition and expects that the Verizon acquisition will improve Frontier's dividend payout ratio by more than ten percentage points in the first full year following the consummation of the acquisition.
Since the cost of debt was in line with the modeling assumptions, and both the dividend coverage and accretive cash flow gains appeared to have declined, the reasonable conclusion is that the revenue expectations had deteriorated. And, if this had occurred between February and September, how much further has the accretive leveraged free cash flow and improved dividend coverage deteriorated since then?
There is also a disconnect in the headcount figures. Based on data from a chart used in the investor presentation made at the time of the initial announcement, Frontier had ~17,400 employees and the Verizon acquisition would be adding ~11,000 employees for a combined total of ~28,400. The April 1st announcement now shows the company
...is pleased to welcome from Verizon approximately 9,400 employees.
and,
Frontier's approximately 28,600 employees are based entirely in the United States.
Notice that Frontier now is within 200 employees of the anticipated ~28,400 employees, but is only adding 9,400 from Verizon. Why did Frontier add 1800 employees in the past 14 months? At first I thought that Frontier might have been hiring replacement personnel ahead of time so it could implement its go to market strategies day one. That turned out to be incorrect, but the data raises some questions: Did ~1600 employees from Verizon retire or leave for other reasons in the past 14 months? Has Verizon been understaffed? Will Frontier need to go on a hiring spree?
Frontier will routinely boast about its workforce as part of its press releases. Tracking the increase in employees since the acquisition was first announced shows:
On the Q3 conference call a question was raised about the increase in personnel and whether it was related to work being done to convert the Verizon billing systems. The answer by CFO John Jureller was:
...most of that head count was related to our Frontier Secure strategic partnership support. We've been driving great incremental revenue with our strategic partners and so we had some head count to support that offering. That's proven to be very profitable for us from a revenue perspective and driving incremental EBITDA. So, the head count was primarily around that.
Perhaps the headcount is needed to provide incremental revenue and EBITDA, but it's hard to see the justification based on the results I looked.
The Dividend
Frontier has added significant headcount, but the non-regulatory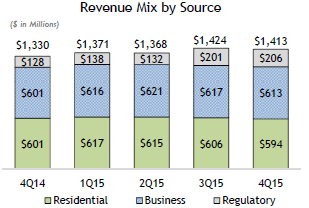 revenue continued to decline throughout 2015. That can't be good for improving the dividend coverage. And, for this investor, Frontier is all about the dividend. It's a dividend that was slashed from $1 to $0.75 following its first acquisition from Verizon, and subsequently slashed again to $0.40 as that Verizon transaction failed to produce the expected results. It was subsequently increased to $0.42 last year as the company completed its integration of the acquisition of certain properties in Connecticut from AT&T (NYSE:T).
With the dividend at $0.42 and the current stock price sitting at $5.38, the yield is 7.8%. While the yield is somewhat attractive in today's low interest rate environment, I'm not convinced that Frontier can turn around the business in the acquired territories and would suggest that it may not be worth the risk. This is a change in my view from early January when the shares were trading at $4.69 and the yield was almost 9%.
To be clear, this is not only about a change in the risk of a dividend cut over the next year, which I still view as extremely unlikely. This is more about the price of the shares which have climbed 15%. And, even back in January, the recommendation was not to make a straight purchase, but to take a safer path by buying the shares and selling the January 2017 covered call. At the time I wrote about reducing the risk, lowering the up-front investment, and increasing the yield:
it is fairly simple to lower the cost basis, provide downside protection and increase the yield. How does one do this?

By selling a $4.50 covered call option expiring in January of 2017 against the purchase of Frontier shares. Those calls were recently trading at $0.65 Bid and $0.80 Asked. In my experience, one can usually put in an order at just below the mid-point between the Bid and the Asked and have the trade executed. In this case, let's assume one can sell the call for $0.70. That puts the net cost to acquire the shares at just below $4, and now, the $0.42 dividend yields 10.5% on that net cost.
I followed my own advice, and a few days later bought shares at $4.62 and sold calls for $0.65. The net cost after commissions was $3.98, so the yield on net cost is 10.55%. So far, that strategy has paid off and one dividend has already been collected. If the price declines to $4.50, there will still be three more dividends and $0.52 of net long term capital gains (a $0.12 loss on the shares and a $0.65 gain on the calls) and a total return of more than 20%. (And, yes, I have lost out on the opportunity to make a bit more with $0.76 of the capital appreciation from $4.62 to $5.38, but this was, and still is, about reducing risk.)
As noted above, that change in view has been driven by the 15% increase in the share price. So, while I am still not concerned about a dividend cut over the next year, I am more concerned about the share price declining, perhaps dropping back below $5, or simply stagnating at the current level. That still leaves a covered call strategy available, and one that can still generate substantially better returns over the rest of the year than most other alternatives.
For investors that are still interested in a fairly safe double digit yield, a similar covered call strategy is available. Instead of using the $4.00 strike price, one would use the $4.50 strike price as follows:
Buy Frontier shares at $5.38, and simultaneously sell the January 2017 $4.50 call. That option is currently trading at $1.05 Bid and $1.25 Asked. It has been my experience that placing a Limit Order using the midpoint of the spread - $1.15 - would result in the trade being executed. So, with the price at $5.38 and the call at $1.15, the net cash outlay is $4.23. The dividend of $0.42 would yield just over 9.9% on that cash outlay.
If the share price holds above $4.50, there will be a $0.27 capital gain in addition to three dividends totaling $0.315.
The total of the dividends and capital gains of $0.585 on the $4.23 cash outlay represents a return of 13.8% in just 9 months, or an annual percentage yield ("APY") of more than 18%. That would happen even if the share price declines by 16% from its current level! Are there risks?
Sure. The price could fall back below $4, like it has done briefly on a couple of occasions over the past three years. Or, the company could be forced to cut the dividend. Neither of these seems likely over the time period discussed.
There is also the possibility that the purchaser of the call option will exercise the call and buy the shares from you before expiration. This is unlikely to occur because of the way options trade. It is typically more profitable for the option holder to sell the option rather than exercise the call provision and buy and sell the shares. The exception is when the option holder is also short the stock and wants to unwind the position. (I have had this early exercise occur once in more than 30 years of trading covered calls.)
However, even if the call gets exercised before you collect a single dividend, the call premium would generate an even higher double digit APY. The $0.27 gain on a net outlay of $4.23 would occur within three months (the first dividend would be paid at the end of June), and the cash on cash return is 6.4%. That 6.4% in less than three months would be an APY of ~30%.
This is not the same type of dividend investment as other telecom favorites of mine. AT&T at 5% with more than three decades of annual dividend increases or Verizon with its 4.4% dividend (a dividend that has increased more rapidly than AT&T's over the last decade) are both safer from a long term perspective and require less attention.
Summary
Frontier may have more difficulties in achieving the benefits of the Verizon merger than originally anticipated, but these difficulties are unlikely to impact its ability to continue its dividend at the current level over the next couple of years. There is also McCarthy's statement made at the end of his prepared remarks on the Q4 conference call:
In summary, Frontier's Q4 2015 operating results, our preparations for the California, Texas and Florida acquisition, our prudent capital investments and expense management all provide a strong cash flow base and a solid financial platform for supporting and investing in our business. We have ample capital to invest in and enhance our competitive infrastructure, service our debt and comfortably sustain our dividend and maintain the dividend payout ratio superior to others in the telecom sector.
I have had trust issues with statements by Frontier management for more than 5 years. However, Frontier has a new Chairman and McCarthy has only been CEO for just over a year. I will take McCarthy at his word that the dividend can be "sustained"... at least for the next year. And that's more than enough time for the recommended covered call strategy to deliver an outstanding return.
Disclosure: I am/we are long FTR, T, VZ.
I wrote this article myself, and it expresses my own opinions. I am not receiving compensation for it (other than from Seeking Alpha). I have no business relationship with any company whose stock is mentioned in this article.
Additional disclosure: I have covered calls written against the majority of my FTR positions. I may execute the recommended strategy in this article at any time.