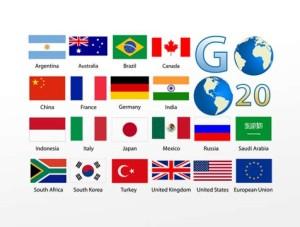 It appears that having low expectations going into this weekend was correct as nothing substantive came out of either the G-20 meetings among financial leaders in DC and the major oil producers in Doha.
Even though the IMF lowered its growth target for world GNP for a fourth time in a year to 3.2% in 2016 and 3.5% in 2017 and warned of added risks to the downside, all the leaders could agree on was the need for tax transparency amongst nations and a commitment once again to "use all policy tools-monetary, fiscal and structural-individually and collectively to foster confidence and strengthen growth." Sounds good, but where is the beef?
The IMF suggested that the major economies draw contingency plans to stimulate growth but unfortunately did not offer any concrete suggestions. In addition, the IMF said that "the efficacy of monetary policy instruments has reached its limits and that its pass-through has not been seamless." It concluded "the time is ripe for a re-evaluation of the fiscal policy space, with greater emphasis on public investment."
The bottom line is that growth in the United States, China and India will be needed to bolster aggregate global demand as fears exist that neither Europe, due to potential exit of Britain from the ECB, and Japan, due to a large fiscal deficit and an impending retail tax increase, will be able to break out of the box.
I hope that the Fed is listening!
My estimate for world growth remains at 2.5-3.0% for 2016 and higher next year only if governments start to change their mindsets and enact spending bills and tax/regulatory reforms to stimulate growth. Germany has to ease up on its demands that the Eurozone sticks to its previous deficit targets and lets governments stimulate consumer demand and capital investment. We need to burst through the stagnation that exists in most of the world and unless the industrialized nations grow, the emerging nations will continue to suffer too.
Interestingly, lower energy prices that may result from the failure for the major energy producers to reach a deal in Doha will boost global growth from what it otherwise would have been if energy prices continued to rise AND also push down inflation and inflationary expectations. Remember that the world consumes approximately 100 million barrels of oil per day!
It became clear after Saudi Arabia's Deputy Crown Prince Mohammed bin Salman said in an interview over the weekend that "if all major producers don't freeze production, we will not freeze production". And, he also said there would be trouble reaching a deal in Doha as Iran did not even attend the conference.
I mentioned 7 weeks ago when Saudi Arabia proposed freezing production that Iran would not go along with the deal until they reached production levels prior to sanctions. I added that the only deal that would work and be sustainable would be if the major producers cut back 1% or approximately 1 million b/d to permit Iran to return to pre-sanction levels and regain its historic global market share.
No deal happened as Saudi Arabia just could not permit its long-standing religious and political rival to return to its past market share. I am not surprised by each of their actions. How do you shift a mindset that has existed for centuries? Not so easy nor fast!
My fear is that Saudi Arabia escalates a price war by boosting production as mentioned by the Saudi Crown Prince in his weekend interview. I had hoped for price stability in the $35-$45 dollars per barrel as the best of both worlds. Excessive moves in either direction will be disruptive to global growth and stability.
So where does this leave us?
These two events overwhelm any and all data that was reported last week. The bottom line is that it remains to be seen how Saudi Arabia acts tomorrow and whether it will disrupt the global energy markets and economies. If left to its own devices, I believe that energy supply and demand would have come into balance sometime in the first half of 2017 as supply was dropping in many parts of the world, especially in the U.S., while demand continued to modestly increase. However the supply/demand balance could easily change if Saudi Arabia ramps up production dramatically which I doubt.
But then again, lower energy prices are largely a benefit to global growth and lower inflation than it otherwise would be. The winners and losers are easy to pick too.
Emphasize the consumer over the producer!
So let's go back to some of our core beliefs and see what/if any changes are in order:
Monetary ease will continue longer than anticipated benefiting financial assets over hard assets.
The Fed is on hold longer than generally expected
The economic cycle will be extended albeit at lower rates of growth and with lower than anticipated inflation;
The yield curve will flatten even more as inflationary expectations come down;
M & A activity will continue at high levels as both the buyers and the sellers are winners
Speculation will continue to decline and risk assets will be reduced especially in Europe, Japan and emerging markets.
Emphasize companies going through positive change with dividend yielding over 3% and growing and remain short those companies not changing and with financial flexibility declining
Energy prices will remain under pressure until there is a supply deal so that supply/demand comes into balance.
The consumer is the beneficiary of lower energy prices while producers suffer.
Banks with excessive loan exposure to energy will remain under pressure.
I will be writing another blog on Wednesday after more information comes out regarding the position of Saudi Arabia and the other major oil producers.
So remember to review all the facts, take a long pause to reflect, consider the proper asset allocation with risk controls and finally do in-depth research on each investment opportunity and…
Invest Accordingly!